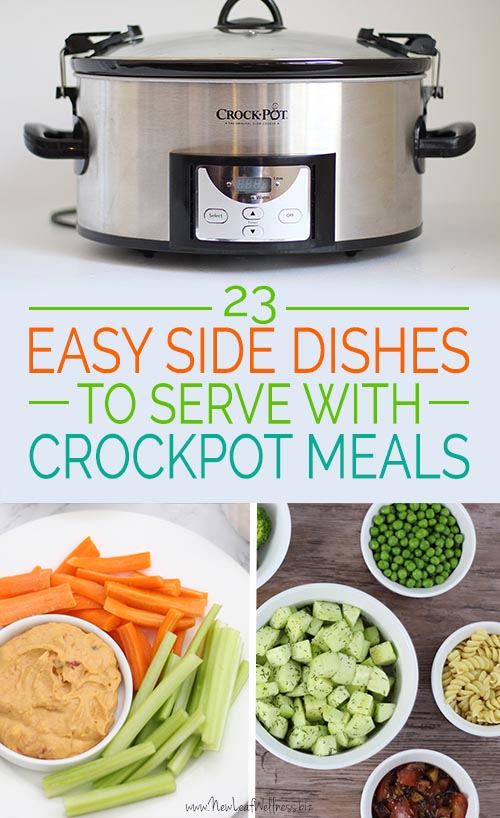 Crockpot recipes are the best thing ever because they're so easy.  I can come home after a long day and relax because dinner is done.  And, boy, does my house smell amazing!
Pot roast can be cooked in the crockpot with carrots and potatoes, but I'm always on the lookout for other quick side dishes to serve with my crockpot recipes.  It doesn't make sense to come home to finished meal in the crockpot and then spend another hour preparing the side dishes.  That would defeat the whole purpose of making a crockpot meal ahead of time, wouldn't it??
I have some go-to side dishes that we eat every week and I asked my cousin Kelly what she serves with her crockpot recipes.  Here's a list of our favorites that can each be made in 15 minutes or less.  Bon Appétit!

23 Easy Side Dishes to Serve with Crockpot Meals
Steamed Broccoli
Fresh Garden Salad
Frozen Peas…cooked, of course 😉
Corn on the Cob with butter and salt OR lime juice and chili powder
Tortilla Chips with Melted Cheese (add jalapeños for an extra kick)
Garlic Bread
Applesauce (this Slow Cooker Cinnamon Applesauce can be made ahead of time and stored in the fridge)
Roasted Asparagus – Toss in olive oil, salt, and pepper, place on a baking sheet, and roast at 350° for 15 minutes.  Or add crumbled gorgonzola on top (omit spices) before placing in the oven…SO YUMMY
Sautéed Zucchini with butter and your favorite spices
Cucumber Dill Salad – 2 cubed cucumbers, 1/4c rice wine vinegar, 1t dill, and a pinch of sugar
Corn and Black Bean Salad – 1 drained can of corn, 1 drained can of black beans, 1/2t cumin, 1/2t chili powder, 1/2t garlic powder, and 1T chopped jalapeños
Rice – try the Uncle Ben's microwave packs or cook dry rice in a programmable rice cooker
Egg Noodles
Carrots and Celery with Ranch Dressing or Hummus (My kids would happily eat this every night!)
Easy Pickled Kidney Beans or Red Beets – 1 drained can of kidney beans or red beets, 1T olive oil, 1/4 c vinegar, 1t basil, 1/4 thinly sliced onion, and a pinch of sugar.  (The longer it sits, the better so mix it up in the morning or the night before)
Steamed Green Beans
Buttered Carrots with Brown Sugar – slice carrots and boil for 15 minutes.  Strain and return to pot with butter and brown sugar until melted.
Salt Potatoes – Boil small red potatoes with skin on for 12-15 minutes and then strain.  Toss in butter and kosher salt.
Olives, Cheese, and Crackers
Fruit Salad
I hope these ideas help you continue to feed your family healthy and delicious dinners.
If you have any questions or sides dishes of your own, please leave a comment below.  I'd love to hear from you. 
---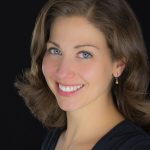 Jill Petrush Rogers is an artist and former bookbuyer/seller. Jill recently moved back to her hometown of Pittsburgh, PA with her husband, Tom, and their two energy-filled boys. Jill loves to channel her creativity by coming up with recipes as a contributing writer for New Leaf Wellness.