Here are 10 crockpot chicken freezer recipes with the same simple combination of chicken breasts, fresh veggies, and seasonings.  They're healthy, delicious, and so easy to make!!


CLICK HERE FOR A PRINTABLE VERSION PLUS GROCERY LIST
The great thing about these recipes is that they're each made with two pounds of chicken breasts and five simple ingredients.  You can add everything to your crockpot in the morning or to gallon-sized baggies for the freezer.
If you've never made crockpot freezer meals, here's why I love them:
There's no cooking required ahead of time so they're super easy to make.
They cook for the first time out of the freezer and don't taste like leftovers at all.
I can save money by buying the ingredients in bulk.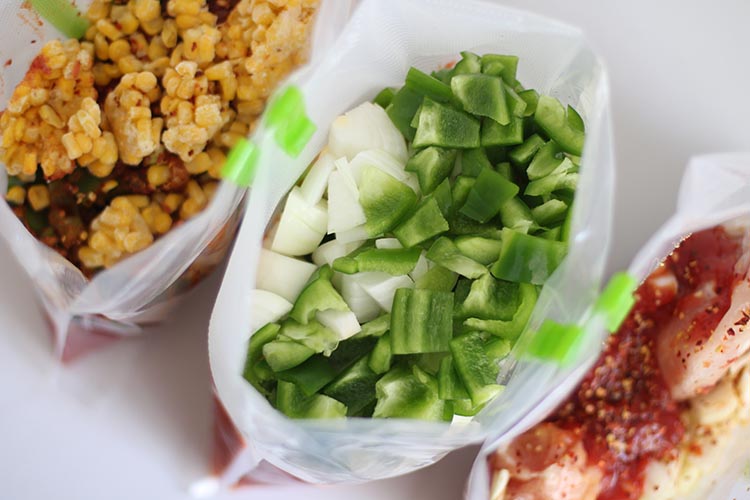 I know what you're thinking.  Is it safe to freeze raw chicken and veggies together?
Yes!  I did a lot of research when I was writing my No Cook Freezer Meals cookbook and the USDA Food Safety and Inspection Service explains that freezing to 0 °F inactivates any microbes present in food (such as bacteria, yeasts, and molds).  That means freezing raw meat with vegetables, sauces, and spices is perfectly safe. (You can find more info on food safety here.)
For perfectly moist chicken, cook the meals in your crockpot for 8 hours on the "low" setting.  If your crockpot is large, I would decrease the cooking time to 4-6 hours so you don't dry it out.  (My favorite crockpot cooks chicken in 4 hours, so I program it to switch to "warm" after that.)

If you're looking for more easy chicken crockpot recipes, check out these posts:
Thoughts or questions?  Please leave a comment below and I'll respond as soon as I can. I'd love to hear from you.
---
P.S. Many thanks to contributing writer Jill for coming up with these amazing recipes!