Here's one of my favorite simple soup recipes with sausage, potato, and kale.  It's slightly spicy, slightly salty, and absolutely delicious!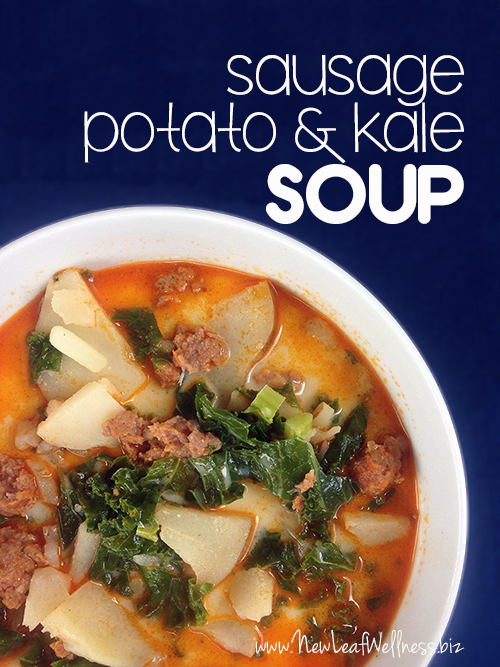 This recipe is an update to the Sausage Potato Kale Soup Recipe that I posted last year.  It's a one-pot wonder that I make over and over again!  The recipe hasn't changed much, but now I add the entire bunch of kale (instead of half) and a full eight cups of chicken broth (instead of six) because I hate having leftover ingredients.
We had this soup for dinner last week, and it was so good that I knew I needed to share the updated version.  Even my 8 month old and 3-year-old loved it!
Sausage, Potato, and Kale Soup
Ingredients
1 pound ground spicy sausage
3 large russet potatoes, washed and sliced (No need to peel.)
1 bunch of kale, washed and chopped
1.5 teaspoons fennel seeds
1.5 teaspoons paprika
1 teaspoon black pepper
1 teaspoon onion powder
1 teaspoon garlic powder
8 cups fat-free, low sodium chicken broth
1 cup half and half (or heavy cream)
Directions
In a large pot, brown the ground sausage.
Add the remaining ingredients (except half and half) and bring to a boil.
Turn down to a simmer and cook 15 minutes, until potatoes are soft and kale loses all of its bitterness.
Add half and half, stir, and serve.
To Freeze and Cook Later
Combine all ingredients (except chicken broth and half and half) in a gallon-sized plastic freezer bag and freeze for up to three months.  When ready to eat, thaw in refrigerator overnight.  Add to slow cooker with chicken broth, and cook for 4-6 hours on "low" setting.  Add half and half and stir to heat through.
Enjoy your soup plain or with a side of crusty garlic bread.  YUM.
Thoughts or questions?  Please leave a comment below and I'll respond as soon as I can.  I'd love to hear from you.