This sausage, potato, and kale soup recipe is the perfect winter soup.  It's pure bliss in a bowl.  Slightly spicy, slightly salty, and so easy to make!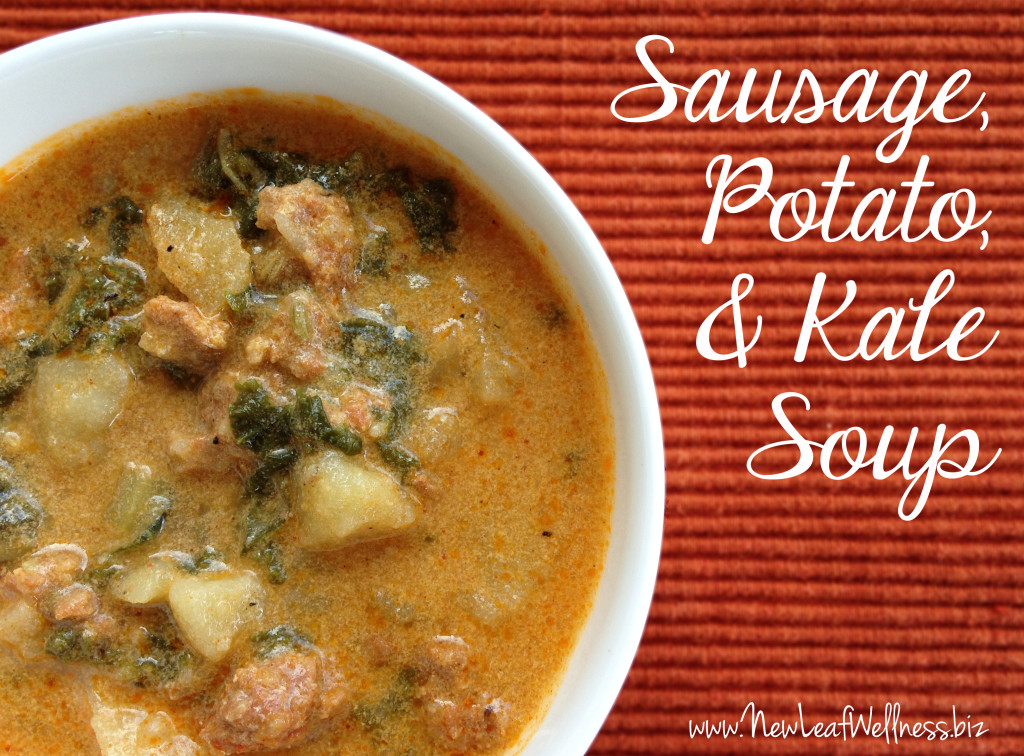 My inspiration to make a sausage, potato, and kale soup recipe started with a lunch date with my husband at Olive Garden.  We ordered the soup, salad, and breadsticks.  Our server recommended the "Zuppa Toscana" soup, which was described as "spicy sausage, russet potatoes and cavolo greens in a creamy broth." Sounds great, but tastes even better!
I decided to experiment with a homemade version until I achieved sheer sausage, potato, and kale soup perfection.  I'll admit that it doesn't taste exactly like what you'll find at the Olive Garden, but it's so amazingly delicious that you won't care.
Enjoy!
Sausage, Potato, and Kale Soup Recipe
Ingredients
1 pound ground spicy sausage
3 large russet potatoes, washed and sliced (No need to peel.)
1/2 bunch of kale, washed and chopped (Go ahead and wash and chop the other half, and store it in a plastic freezer bag for a second batch of soup in the future.)
6 cups fat-free, low sodium chicken broth
1 cup half and half (or heavy cream)
1.5 teaspoons fennel seeds
1.5 teaspoons paprika
1 teaspoon black pepper
1 teaspoon onion powder
1 teaspoon garlic powder
Directions
In a large pot, brown the ground sausage.
Add the remaining ingredients and bring to a boil.
Turn down to a simmer and cook 15-30 minutes, until potatoes are soft and kale loses all of its bitterness.
Serve with crusty bread.
Thoughts or questions?  Please leave a comment below.  I'd love to hear from you.