I finally conquered making homemade chicken broth in the crockpot!  It's so easy – I don't now why I didn't try making it sooner.  Here's everything you need to know to make some broth yourself…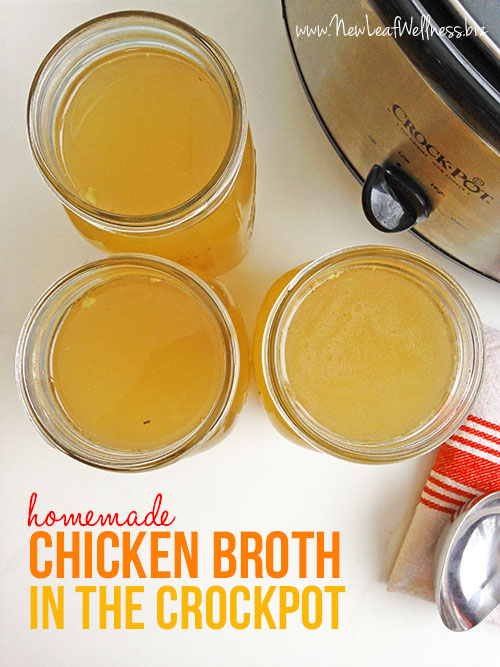 I started buying whole chickens to make salads for my husband's lunch and knew I needed to make broth with the bones.  I've been reading a lot about the health benefits of homemade bone broth, but I was more even more motivated by the cost savings.  I buy at least one carton of chicken broth at the grocery store each week, and even the cheapest containers cost $2 (on sale).
Since I'm addicted to my crockpot, I knew I had to make my chicken broth in it.  It seemed much easier and less intimidating than the stovetop.  Plus, I can leave the house instead of hanging around a boiling pot all day.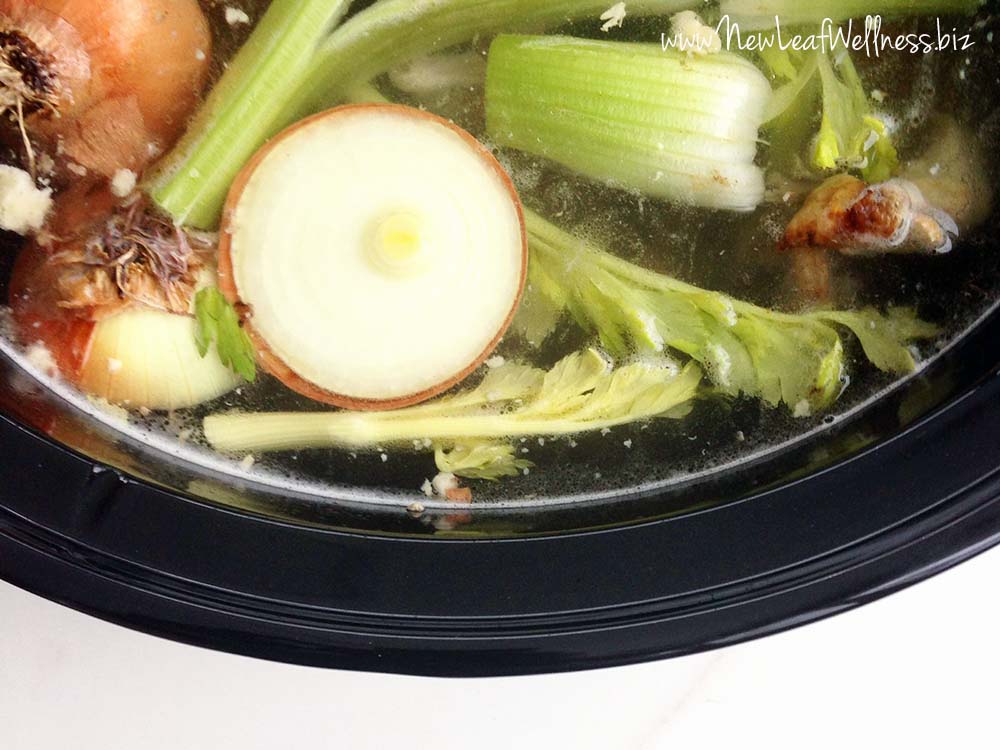 My mom told me that she saves scraps from carrots, celery, and onions to flavor her broth, so of course I had to do the same.  By making this crockpot chicken broth with bones and washed ends of carrots, celery, and onions, it's literally free.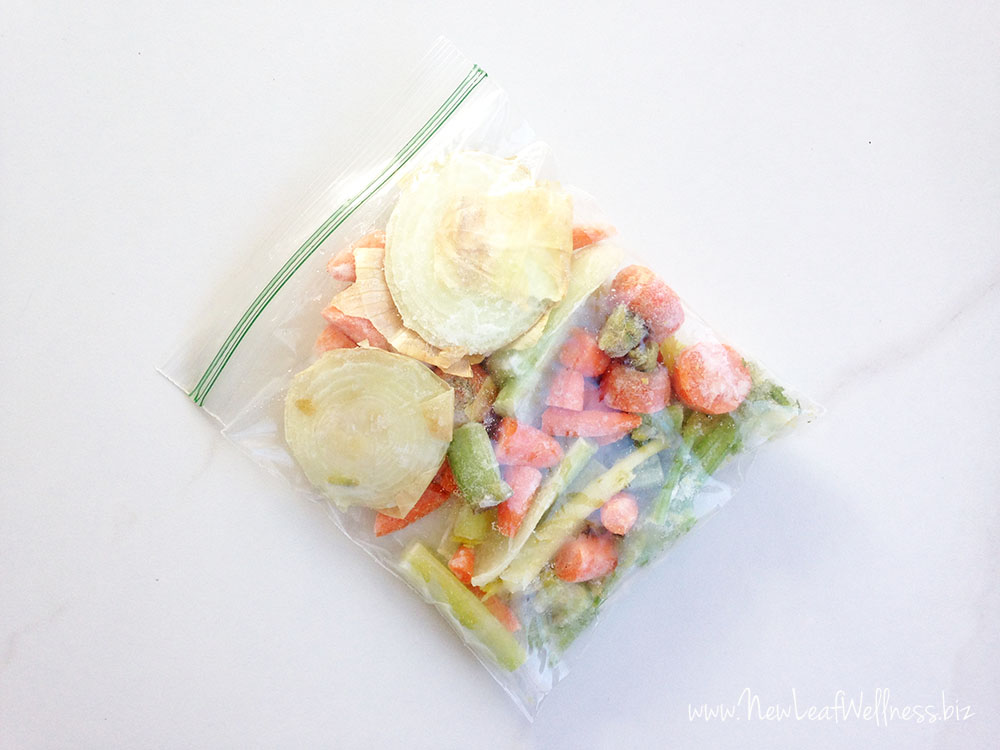 If you don't have any scraps on-hand, never fear – Just make your broth with fresh veggies as described below.  Then, save your scraps in the freezer from here on out.
Homemade Chicken Broth in the Crockpot
Ingredients
Bones from one whole chicken (I either cook a fresh chicken in my crockpot first or buy a rotisserie chicken at the grocery store and eat the meat for dinner or in salads at lunchtime.)
1 carrot, washed and chopped*
2 celery ribs washed and chopped*
1 onion, washed and chopped*
*I substitute a few handfuls of veggie scraps
Directions
Add all of the ingredients to your crockpot and and fill with water until about an inch away from the top.  (My crockpot holds 7-quarts so I add about 16 cups of water.)
Add lid, and cook on low 8 hrs or on high 4 hours.  You will know when the broth is done because it will take on a darker color and smell amazing.
Strain out the bones and vegetables and discard. (I do this over a big pot to catch the broth.)
Use broth immediately or save for later.
If you're going to save your broth for later, cool it to room temperature and then add to your refrigerator or freezer.  Most of my soup recipes call for four cups of broth, so I use quart-sized freezer bags.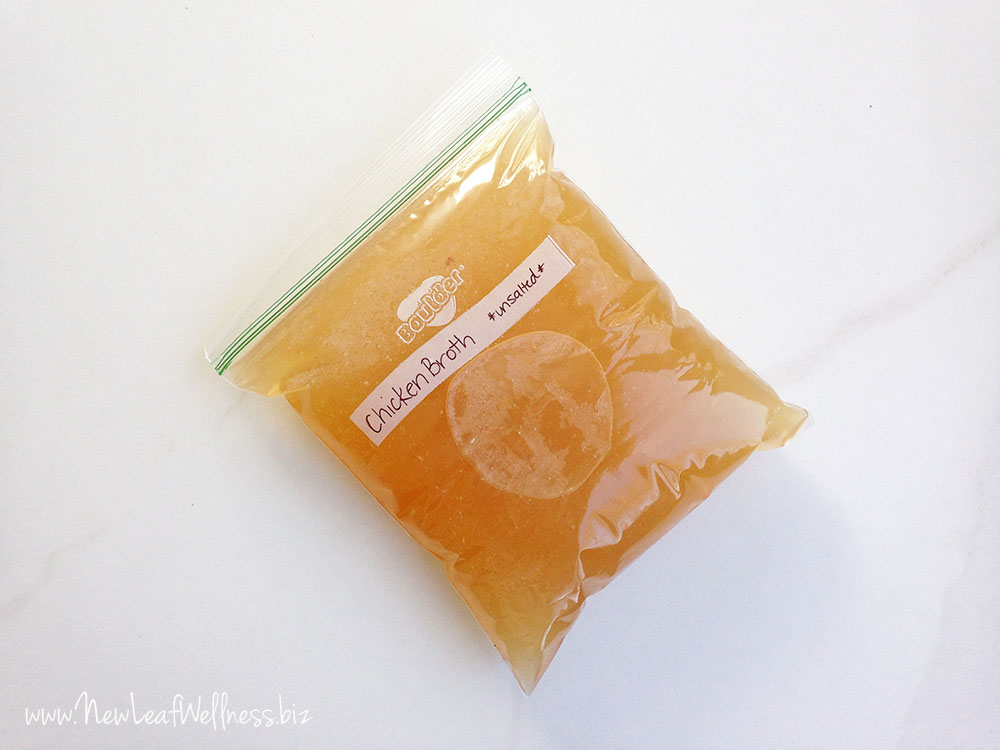 I don't add any salt to my broth when I'm cooking it.  I'd rather add add salt to taste based on the soup recipe that I'm making.
If you're looking for some good new crockpot soup recipes, here are some of my favorites:
The total amount of chicken broth will depend on the size of your crockpot, but I get about 12 cups of broth from my 7-qt crockpot (affiliate link).  I've been making my own broth for a month now and haven't needed to buy any at the grocery store.  Yay!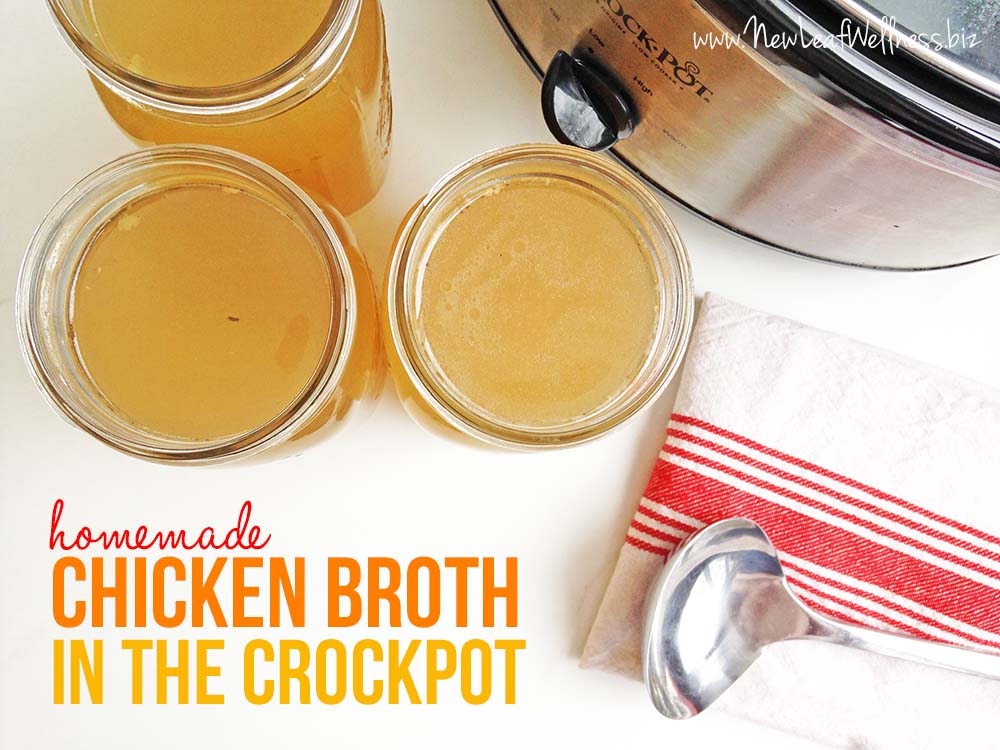 Thoughts or questions?  Please leave a comment below.  I'd love to hear from you.