Here's everything you need to know to make your own solid perfume sticks.  These solid perfume sticks are all-natural and so easy to make!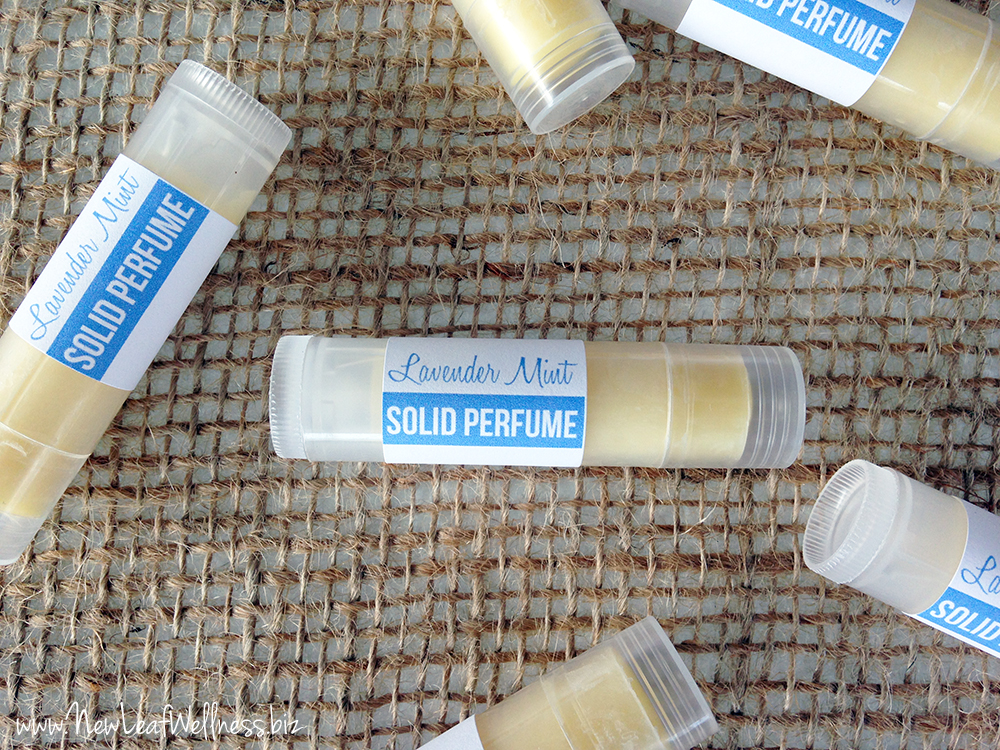 Excuse me for saying this, but store-bought perfumes stink!  I love the idea of wearing perfume, but I can't stand the smell of 99.9% of stuff sold in stores.  I prefer "clean" smells and skincare products that smell like citrus, coconut, or peppermint.
I also recently found out that perfumes that contain the word "fragrance" or "parfum" in their list of ingredients can contain hundreds of harmful chemicals known to be "carcinogens, endocrine disrupters, and reproductive toxicants" (source).  Just another reason to avoid the stinky stuff.
What's girl to do who wants to smell sweet?  In a previous blog post, I shared my love for homemade roll-on perfumes.  I make them with two ingredients (oil and essential oil) and they smell great.
I also started making solid perfume "sticks" in empty chapstick containers.  I think the scent lasts a tad bit longer than my roll-on perfumes, and the little tubes are just too cute.  I made extras so I could give them to my friends for their birthdays this year.
Since I love pretty things, I designed a simple label for my solid perfume sticks.  Here's the free printable so you can use it too: Solid Perfume Printable Label.  All you have to do is print it on address label paper and stick the labels to your perfumes.  When you open the file, you'll see that I included the lavender mint labels pictured above as well as "all-natural solid perfume" labels for solid perfumes made with other scents.  (To conserve ink, delete the ones that you don't want to use before printing.)
Make Your Own Solid Perfume Sticks
Yields: 10, .15oz solid perfume sticks
Materials
Directions
On your stovetop, melt coconut oil and beeswax in small, nonstick pan over low heat.
Add essential oil, and stir.
With the pan still on the stovetop, use your medicine syringe to fill each chapstick container with about one teaspoon (5ml) of the melted liquid.  (You need to keep the pan on the stovetop because the melted liquid will cool and harden very quickly if it's off the stove.)
Once the sticks harden, add a few more drops of the melted liquid to each chapstick tube so it's filled to the top.  Take your time to make sure your tops look pretty and rounded.
Let your solid perfume sticks cool completely, and then add their caps.
Label with printable labels (optional).
To use, simply rub onto your wrists or neck in place of perfume.  Smell and enjoy!
P.S. It's not too late to win a "make your own chapstick kit."  Enter here today because I'm picking a winner tonight!