This white chili recipe uses pre-cooked turkey, but it doesn't taste like leftovers at all.  It's the perfect way to use up leftover turkey after Thanksgiving or whip up a quick, weeknight meal.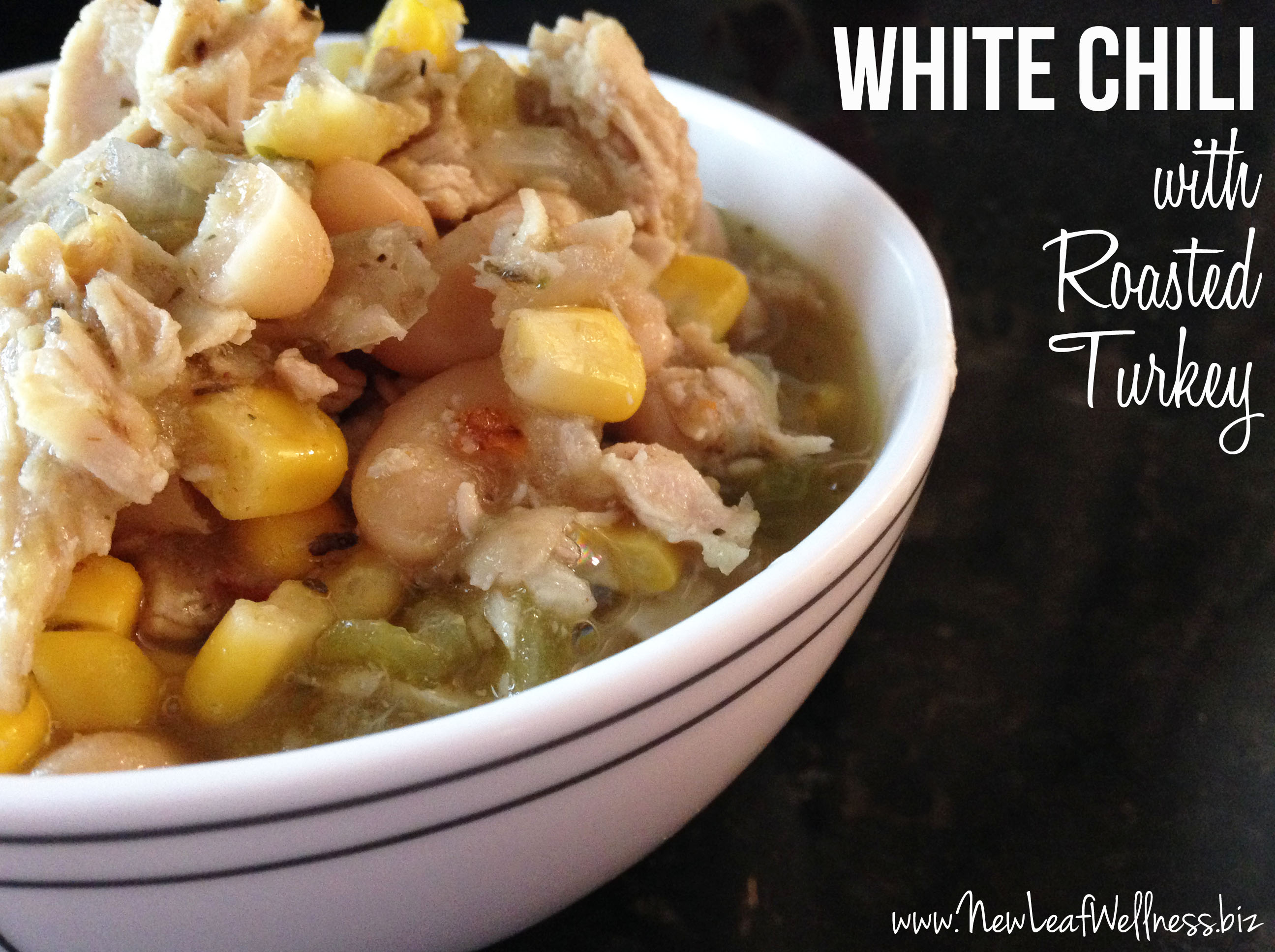 My husband and I roasted a 17-pound turkey over the weekend and we've been trying to get creative with leftovers since then.  (Wait, back up a minute…To be honest, it was my husband who roasted the turkey.  I was out 'n about finishing up some Christmas shopping.)
Yesterday, I shared a recipe for turkey pot pie.  I made two at a time and froze both of them.  (I also freeze chicken pot pies all the time and they re-heat great.)
What I love about this white chili recipe is that it has a totally different taste than the turkey that you'll eat on Thanksgiving.  The addition of cumin and diced green chiles transform the dish into a brand-new meal in less than 20 minutes.
We like thick, hearty chili, so I only add 2 cups of chicken broth.  If you want a more of a soup consistency, add another cup or two.  And feel free to sub cooked chicken breast for the turkey, if you feel inclined.
White Chili Recipe with Roasted Turkey
Ingredients
3 cups cooked turkey, cut into bite-sized pieces (I use the white meat.)
2, 15oz cans of cannellini beans (white kidney beans), drained and rinsed
1, 4oz can diced green chiles (I love these things.  I always add them to my chicken enchiladas.)
1 cup frozen sweet yellow corn
2 cups fat-free chicken broth
1 tablespoon cumin
2 teaspoons dried oregano
1/4 teaspoon red pepper flakes
3 cloves garlic, minced
2/3 cup onion, diced
1 tablespoon olive oil
Directions
In a medium-sized pot, saute onion and garlic in olive oil until onion starts to soften and garlic becomes fragrant.
Add remaining ingredients and bring to a boil.
Turn heat down to low, and simmer for 10 minutes.
Serve with tortilla chips and freshly shredded cheese (cheddar or pepper jack would both be awesome).
Looking for more post-Turkey Day recipes?  Check out my Slow Cooker Cranberry Pork Roast and (freezer-friendly) Turkey Pot Pie!
Happy Thanksgiving, Friends!