Trying to come up with ways to use leftover turkey from Thanksgiving?  Look no further!  This turkey pot pie recipe is absolutely delicious and can be frozen for up to 3 months.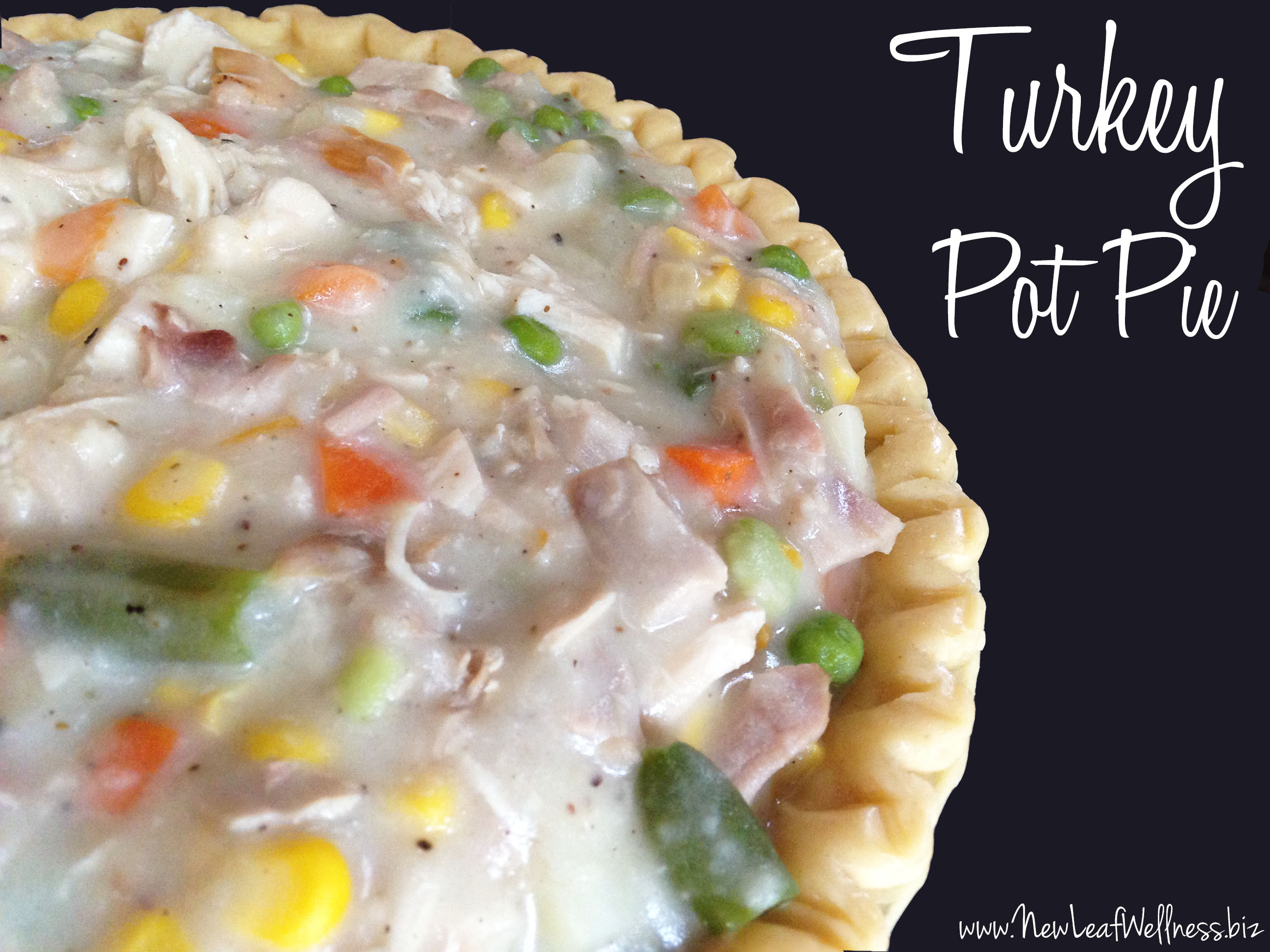 My husband and I roasted a 17-pound turkey over the weekend and ended up with a ton of leftovers.
Since we have so much leftover turkey I decided to go ahead and write up a recipe for two turkey pot pies.  You can certainly cut it in half if you don't want to make two at a time.
It takes about 20 minutes to prep the filling and sauce, so I think it's worth making two.  It doesn't take any extra time and if you eat one for dinner and freeze the second, it will save you a ton of time when you eat the frozen one because you won't have to cook!  Plus the crust is frozen raw so it tastes just as good after being frozen.
Turkey Pot Pie Recipe
Yields: Two turkey pot pies
Ingredients
5 cups cooked turkey, cut into bite-sized pieces (I use a mix of dark and white meat)
1 bag frozen, mixed vegetables
3 medium-sized potatoes, peeled and diced
1/3 cup butter
2/3 cup yellow onion chopped
2/3 cup all-purpose flour
1 teaspoon salt
1/2 teaspoon black pepper
1/2 teaspoon celery seed
1/4 teaspoon poultry seasoning
3 1/2 cups chicken broth
1 1/3 cup milk
2 deep-dish double pie crusts (I buy the frozen kind)
Directions
Pre-heat oven to 375 degrees F.
In a medium-sized pot, combine vegetables and potatoes. Add water to cover and boil for about 12 minutes, until potatoes are soft. Remove from heat, drain, and set aside.
In a large saucepan, cook onions in butter until soft and translucent. Stir in flour, salt, pepper, celery seed, and poultry seasoning to form a paste. Add chicken broth and milk. Stir and bring to boil for one minute or until sauce thickens. Remove from heat and set aside.
Prep the pie crusts according to directions on wrapper (EX: may need to thaw for a few minutes).
Combine cooked turkey, cooked vegetables and potatoes with sauce and pour into pie crusts.
Cover with top crusts, seal edges, and cut away excess. Make 3 small slits in the top to allow steam to escape.
Bake for 45 minutes, or until crust is golden brown and filling is bubbly. Cool for 10 minutes before serving, and enjoy!
To Freeze
Prepare pot pies to step 5.  Then, cool to room temp and complete step 6.  Wrap in wax paper and foil, and freeze up to 3 months.  When ready to eat, bake at 350 degrees F for about 2 hours (if frozen) or about 60 minutes (if thawed in refrigerator), or until crust is golden brown and filling is bubbly.
What's your favorite way to eat leftover turkey?  Please share in a comment below!