Tis the season for grilling!  Grill up a big batch of chicken breasts over the weekend and then use it throughout the week in these recipes.  They're different enough that you won't feel like you're eating leftovers!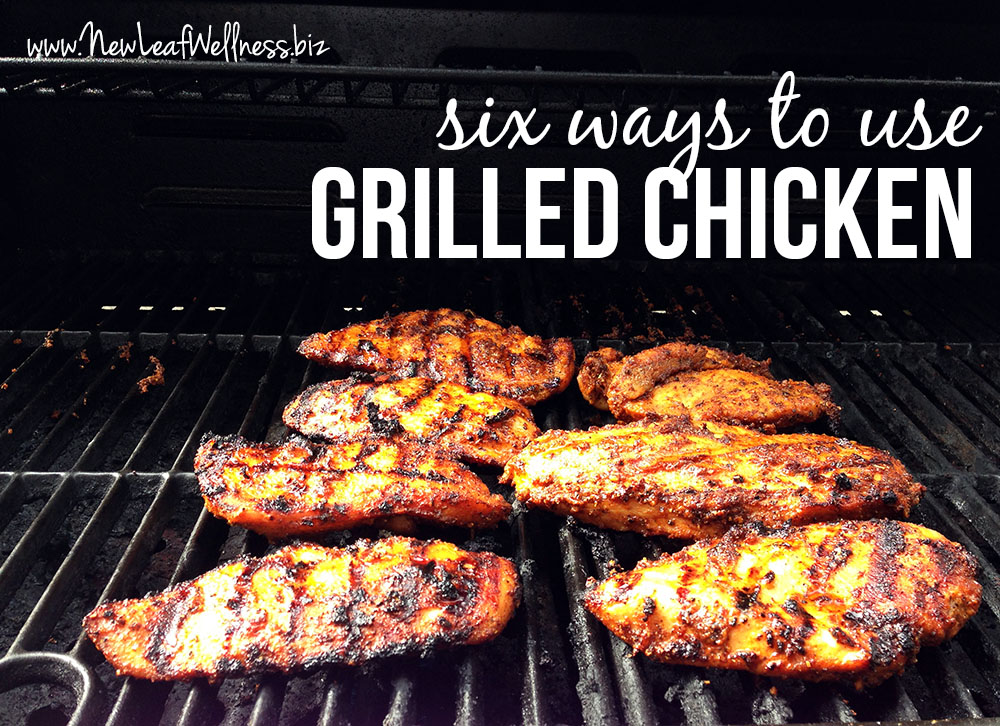 Here's our secret for marinating chicken:  Simply combine chicken with a packet of McCormick Grill Mates seasoning and a little bit of olive oil.  (Our favorite seasoning packet flavors are Chipotle and Mesquite.)  Use just enough olive oil to form a paste.
Using a seasoning packet may feel like cheating, but when you see how amazing the grilled chicken tastes, you won't care.
(Trust me.  Everyone who tries our grilled chicken asks how we marinated it.)
Here are six ways that I reuse grilled chicken in another meal.  Grill up a big batch over the weekend and you'll be set for the rest of the week!
Six Ways to Use Grilled Chicken
1. Grilled Chicken Tacos
Making grilled chicken tacos with leftover grilled chicken is so easy, and the tacos taste fresh and amazing!
Simply top taco-sized tortillas with grilled chicken, lettuce, tomato, and freshly shredded cheddar cheese.  Sour cream and avocado are also yummy additions.
2. Grilled Pizzas
This is our basic grilled pizza recipe.
Topping a pizza with grilled chicken is a fun twist on the typical pizza recipe.  Plus the grilled chicken has less fat than the typical meat toppings, like sausage and pepperoni.
Last weekend we made two pizzas – 1) a BBQ chicken pizza with red onion, broccoli, and cheddar cheese and 2) a BBQ chicken pizza with pesto and mozzarella cheese.
Both delicious.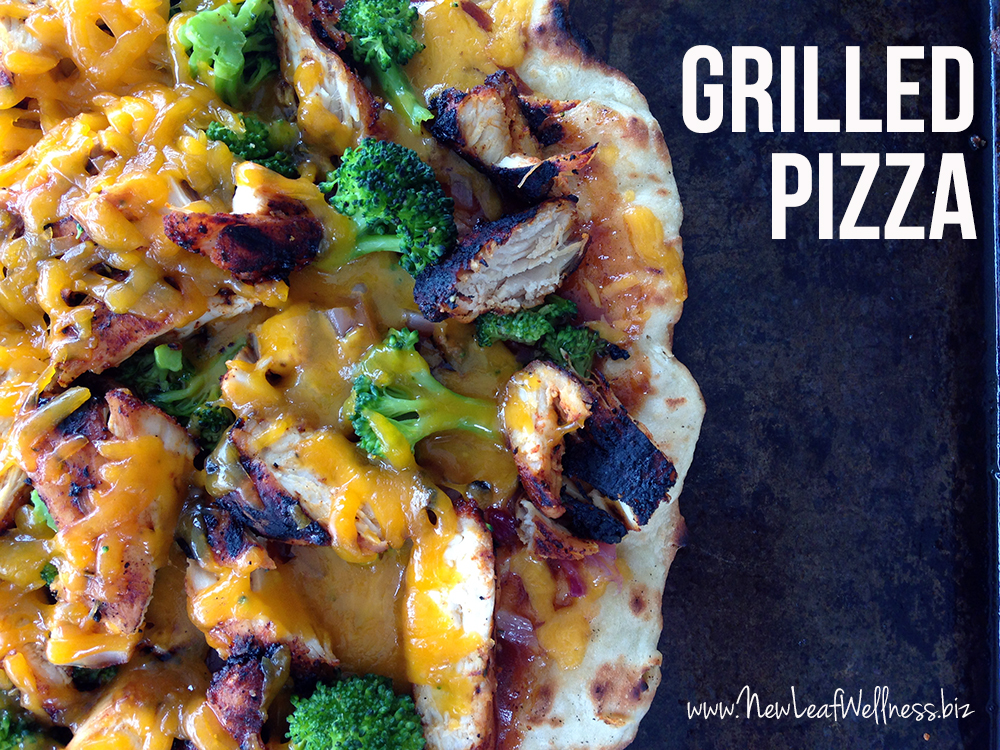 3. Calzones
I love making calzones so much that I included two calzone recipes in my '15-Minute Freezer Recipes' cookbook (Ham & Broccoli Calzones and Mexican 'Chicken' Calzones).
Calzones are so fun and easy to make.  I think of them as homemade "hot pockets" that are perfect for eating on-the-go.
Here's my recipe for chicken pesto calzones.
Calzones also freeze great, so these would be a good thing to make if you're sick of eating grilled chicken and want to save some for another day.  Since they're packaged individually, you can re-heat one at a time.
4. Fresh Salads with Grilled Chicken on Top
Does it get any easier?
Throw together a fresh salad with your favorite seasonal vegetables.  My favorite salad includes lettuce, sliced tomatoes, carrots, cucumbers, and (roasted) beets.  Top with some freshly shredded cheddar cheese and sliced grilled chicken and you're good to go.
(French fries are also awesome on top of salads.  Not-so-healthy, but freaking tasty.)
5. Pasta with Grilled Chicken
Boil some of your favorite pasta and top with grilled chicken and steamed broccoli.
We alternate between using jarred pasta sauce and homemade pesto.  Both taste great.  (Although I'm a little biased toward my pesto recipe.)
6. Chicken Salad Pitas
Chop some extra grilled chicken and mix it with mayo, mustard, and salt and pepper.
I love to eat chicken salad on a whole wheat pita.  Just add pieces of lettuce and tomato.  YUM.
Chicken salad is also great on a bagel with lettuce and tomato.  (Tip: If you pack a lunch the night before, layer your slice of tomato between two pieces of lettuce.  That way the bread won't get soggy from the tomato.)
What am I missing?  What's your favorite way to eat grilled chicken?