We've been pretty busy the past couple of weeks, FINALLY moving into and immediately starting projects on our 101 year old farm house. As I unpacked everything from our rental kitchen, I also unpacked a bunch of squash. One of the beautiful things about squash is that it can sit around for awhile without going bad. So there sat a spaghetti squash just waiting for me to make it into something even more delicious than it already would be on its own.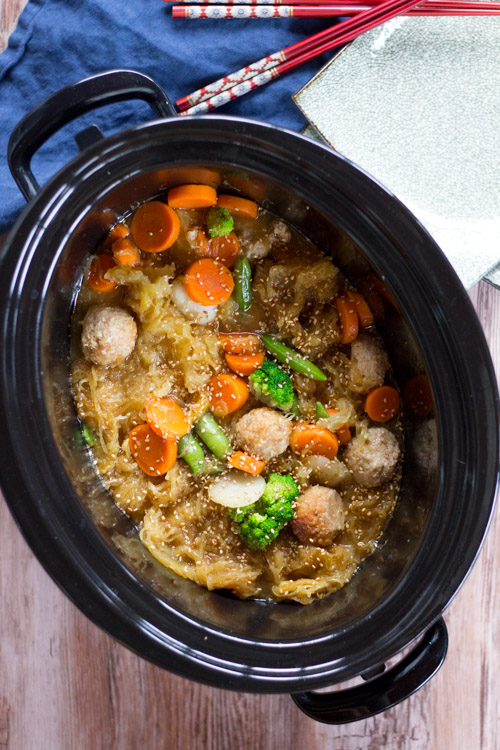 I thought and thought about some of our favorite noodle dishes and then it came to me…Lo Mein! Our kids love the freezer-to-skillet Easy Veggie Lo Mein recipe and when I made a spaghetti squash in the crockpot with marinara they were pretty into that too. I knew this recipe would be a win.
My family has no problem going without meat, but without the actual noodles, I didn't think that this dish would be very filling. So,I decided to add in meatballs! I made them super simple with ground pork and panko to go with the other Asian inspired ingredients in the meal.
The verdict…my husband liked that all of the vegetables, including the squash were still crunchy, my six year old said, "Mom, this is pretty much the best dish ever. The squash is my favorite part" and my three year old said, "This is so yummy, can you save me more for later?"
Hope it becomes a new favorite in your house too!
Slow Cooker Spaghetti Squash "Lo Mein"
Yields: 6 servings
Ingredients
1 small spaghetti squash
4 cloves garlic, minced
1/4 cup soy sauce
2 tablespoons sesame oil
2 tablespoons light brown sugar
1 inch fresh ginger root, peeled & grated
1 bag of frozen vegetables (I used a stir-fry mix that had carrots, broccoli, snow peas and water chestnuts)
Meatballs (combine ingredients below in a large bowl and roll into meatballs)
1 pound ground pork
2 large eggs
1 teaspoon onion powder
3/4 cup panko or unseasoned breadcrumbs
Directions
Combine all ingredients, except frozen vegetables, in crockpot.
Cook on "low" setting for 6 hours.
Remove squash from crockpot and cool to touch (10-15 minutes).
Cut squash, remove seeds, and scoop "guts" into crockpot with frozen vegetables.
Cook for additional 30 minutes or until veggies are desired consistency.
To Freeze and Cook Later
Label your freezer bag with the name of the recipe, cooking instructions, and use-by date (three months from when you prepped the meal). Add all ingredients, except frozen vegetables, to your bag. You can freeze the squash or just add it the day of cooking. Remove as much air as possible, seal, and freeze for up to three months.  When ready to cook, thaw in refrigerator overnight or in morning in water and and then follow cooking instructions above.
Sprinkle with sesame seeds.
---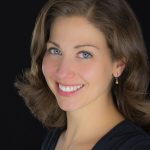 Jill Petrush Rogers is an artist and former bookbuyer/seller. Jill recently moved back to her hometown of Pittsburgh, PA with her husband, Tom, and their two energy-filled boys. Jill loves to channel her creativity by coming up with recipes as a contributing writer for New Leaf Wellness.