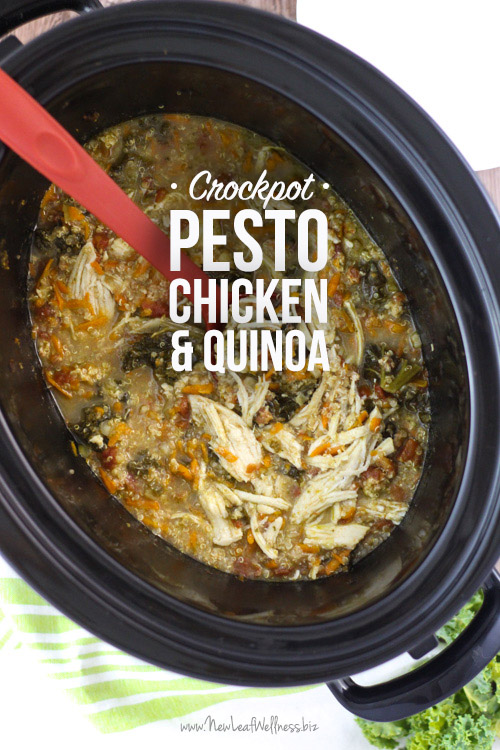 Several months ago, Kelly raved about a Pesto Chicken Quinoa Bowl that she had at a restaurant.  Before I even had it myself, I was determined to replicate it for the crockpot. (It's just what I do!)  Kelly wrote up this great recipe for Make-Ahead Quinoa Salad Bowls that you can store in the refrigerator and my determination to make a crockpot version grew stronger.
I combined low fat chicken breasts with kale, shredded carrots, pesto, fresh lemon juice, and protein-packed quinoa to create the perfect healthy, one-pot meal.  Top with feta crumbles and fresh herbs and be prepared to swoon.
This Crockpot Pesto Chicken Quinoa Bowl is a hearty and heart-warming dish that will be sure to warm you up this fall. Enjoy!

Crockpot Pesto Chicken Quinoa Bowl
Yields: 6 servings
Ingredients
2lbs boneless, skinless chicken breasts
½ cup uncooked quinoa
2 cups low-sodium chicken broth
3 carrots, shredded
14.5oz can fire roasted diced tomatoes
juice & zest of one lemon
3 green onions, chopped
¼ cup pesto (store-bought or homemade)
3 cups kale, chopped (If you would like your kale al dente, you can wait until the last half an hour of cooking to put it in the crockpot to steam it)
Directions
Add all ingredients to crockpot and cook for 6-8 hours on low setting.
Shred chicken and stir in crockpot to absorb sauce.
To Freeze and Cook Later
Label your freezer bag with the name of the recipe, cooking instructions, and use-by date (three months from when you prepped the dip).  To your freezer bag, add all ingredients.  Remove as much air as possible, seal, and freeze for up to three months.  When ready to cook, thaw in refrigerator overnight or in morning in water and and then follow cooking instructions above.
Top with crumbled feta cheese and chopped basil and parsley.
---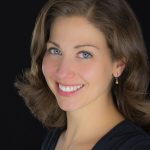 Jill Petrush Rogers is an artist and former bookbuyer/seller. Jill recently moved back to her hometown of Pittsburgh, PA with her husband, Tom, and their two energy-filled boys. Jill loves to channel her creativity by coming up with recipes as a contributing writer for New Leaf Wellness.