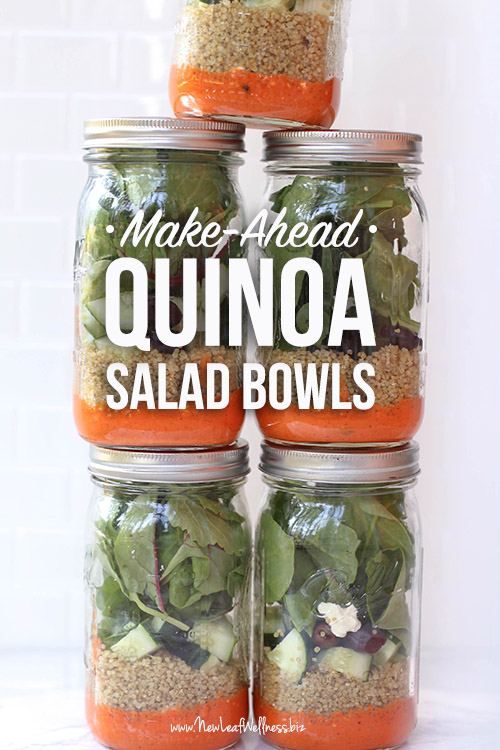 Back in June, my cousin Jill and I attended a food photography workshop in Minnesota.  It was hosted by the amazing blog, Pinch of Yum, and it was totally life-changing.  We mastered manual mode on our cameras, met a bunch of other fun food bloggers, and ate some of the yummiest food imaginable.
One of the foods that we styled, photographed, and ate was a Mediterranean Quinoa Bowl and I fell in love with its roasted red pepper sauce and combination of healthy ingredients.
Fast-forward three months, and I'm scrambling to adjust to life with a first grader, a baby, and two kids in between who I'm trying to homeschool.  I knew we had to pack lunch for our first homeschool co-op so I whipped up five quinoa salad bowls to stash in my fridge.

What's so great about these quinoa salad bowls?
I only spent $21.84 on ingredients (that works out to only $4.37/bowl)
They only take 20 minutes to make (4 min/bowl!)
They're healthy and DELICIOUS
As soon as I tasted one I wished I had made more because I wanted to share them with my family and friends.  If you have enough jars, I would double this recipe because you're going to fall in love.
Make-Ahead Quinoa Salad Bowls
These easy and healthy quinoa salad bowls can be made ahead of time and stored in the fridge up to 7 days!  I recommend reading the original recipe at Pinch of Yum for more ingredients that you can add to your bowls. 
Yields: 5 bowls (I used mason jars)
Ingredients
5-Minute Roasted Red Pepper Sauce
16oz jar roasted red peppers, drained
1 clove garlic
juice from one lemon (1/4 cup)
1/2 cup olive oil
1/2 cup almonds (mine had sea salt)
Bowls
4oz pitted kalamata olives
4oz crumbled feta cheese
12oz quinoa, cooked and cooled (I used my programmable rice cooker)
1 large cucumber, chopped
5oz bag baby kale mix
Directions
Puree sauce ingredients in a blender or food processor. (I used my magic bullet.)
To each jar, add: 1/2 cup sauce, 1/4 cup olives, 2 tablespoons feta, 2/3 cup cooked and cooled quinoa, and 1 handful baby kale mix. (Since the greens are at the top of the jars away from the sauce, they won't get soft or mushy.)
Add lids and store in the refrigerator up to 7 days.
When ready to eat, dump into a bowl (or paper plate), and dig in.  If you pack your lunch, I recommend packing a large spoon too, so you can scoop every last bit of delicious sauce out of your jar.  YUM.

Thoughts or questions?  Please leave a comment below.  I'd love to hear from you. XO, Kelly