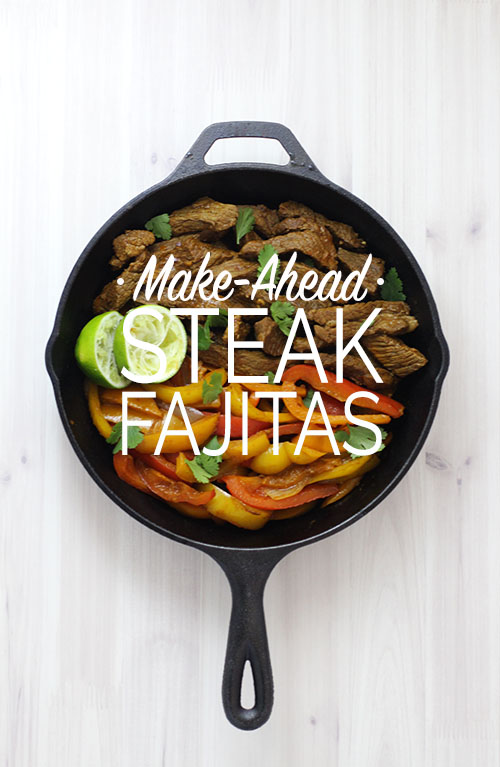 I recently become obsessed with the idea of homemade frozen skillet meals.  I'm a total crockpot addict, but even I need a break from the crock a few nights a week. When I realized I could freeze some of my favorite stovetop meals raw like my crockpot freezer meals, it was like a lightbulb went off.  
You know those bagged meals made by T.G.I. Fridays sold in the freezer section at the grocery store?  That's what I'm going for here.  Only homemade.  And healthy.  The real genius comes in when you pick recipes that can be frozen without any cooking ahead of time.
Why freeze everything raw?
It's quick and easy.
The meal will cook for the first time out of the freezer so it will taste exactly like a freshly prepared dish.
You can take advantage of meat and veggie sales at the grocery store and stock your freezer for busy weeknights.

I've been making tons and tons of recipes like this, and I'm excited to share this new recipe for steak fajitas with you.  The flavor is fresh and the spices are on point. Plus, anything that can be served with guacamole is a winner in my book. Enjoy!
Make-Ahead Steak Fajitas
Yields: 6 servings
Ingredients
2 pounds boneless beef chuck roast, fat trimmed and cut into strips (You can also use tenderized skirt steak or flank steak, but they're tougher)
3 medium-sized sweet bell peppers (I like a mix of red, orange, and yellow), sliced
1 large sweet yellow onion, sliced
4 large cloves of garlic, minced
The juice from 1 lime
1 tablespoon chili powder
2 teaspoons cumin
1 teaspoon paprika
1/4 teaspoon crushed red pepper flakes
To Cook
Combine all ingredients in a large skillet, sauté pan, or pot and cook for 10-15 minutes or until beef is cooked through and peppers are tender.
To Freeze and Cook Later
Combine all ingredients in a gallon-sized plastic freezer bag and freeze for up to three months.
When ready to eat, thaw overnight in the refrigerator (or in warm water, if you forget).
Cook in large pan on stovetop for 10-15 minutes or until beef is cooked through and peppers are tender.
Serve on tortillas or rice with shredded cheese, chopped fresh cilantro, and guacamole. YUM.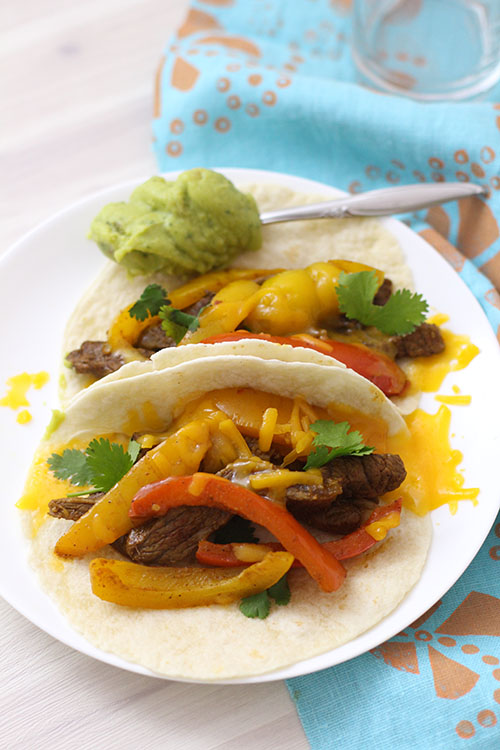 Thoughts or questions?  Please leave a comment below and I'll respond as soon as I can.  I'd love to hear from you.