Description
This eCookbook will teach you how to prepare healthy freezer meals for your crockpot.  Simply combine the meat, vegetables, sauces, and spices and freeze for up to three months.  When you're ready to eat, add a meal to your crockpot and dinner is done.
This method of easy meal prep inspired my best-selling Freezer Meals eCookbook Bundle and I'm excited to release these gluten-free dinner options.  After making hundreds of slow cooker freezer meals myself I realized most of them were naturally-gluten free, so I asked registered dietitian and gluten-free expert Tricia Thompson to review the ingredients in my Crock'd Slow Cooker Freezer Meals eCookbook and I adapted it to be gluten-free.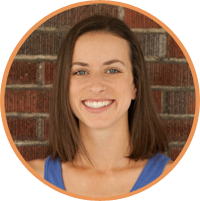 Hi!  I'm Kelly.  I'm a crockpot-loving mom of five living in Pittsburgh, PA.  After trying thousands of freezer meals myself, I worked with my husband, Andy, and cousin, Jill, to package the very best recipes into digital eCookbooks.  Over the course of nine years we created healthy freezer recipes with enough different flavors, textures, and cooking methods for every night of the week. These recipes were taste-tested by our families and thousands of happy customers.  I know you're going to love the new healthy recipes in this eCookbook.
What's inside this cookbook eBook?
Delicious and simple recipes that your family will love (most recipes have 10 ingredients or less!)
Affordable ingredients that you can find at any grocery store
Ingredient lists that make the most of your groceries and leave little leftover to go to waste
In this blog post, you can read about how I prepped all 28 meals at once for a total of $241 (which works out to $8.60 per meal or $1.05 per serving).
What's NOT inside this cookbook eBook?
Bland meals
Canned condensed soups
Complicated, time-consuming recipes
Goodies Inside the eBook
98 pages of step-by-step instructions and delicious gluten-free slow cooker freezer recipes
Color photos of the finished meals
A "master" grocery list if you want to prep all of the meals at once
Four smaller grocery lists that will help you seamlessly prep seven meals at a time
Nutritional information for every recipe inside
Filled-out freezer labels that you can print on Avery stickers or regular computer paper
A printer-friendly format that will allow you to print the recipes on regular 8.5×11″ computer paper
Gluten-Free Recipe List
Asian Chicken Lettuce Wraps
BBQ Baby Back Ribs
BBQ Chicken
Chicken Cheesesteaks
Chicken Taco Soup
Chicken Tortilla Soup
Chili-Spiced Beef and Carrots
Classic Pot Roast
Creamy Potato Soup
Garden Vegetable Soup with Ground Turkey
Grandma's Beef Stew
Hamburger Potato Soup
Honey Dijon Chicken
Italian-Style Pot Roast
Jalapeno Lime Shredded Pork Tacos
Lemon Pepper Chicken
Mediterranean Shredded Pork Pita Pockets
Minestrone Soup
"Monster" Cheeseburgers
Orange-Ginger Shredded Beef with Soy Glaze
Orange Ginger Chicken
Pulled Pork
Red Pepper Chicken
Shredded Buffalo Chicken
Sloppy Joes
Spicy Beef Curry Stew
Super Simple Meatball Veggie Soup
Taco Chili
Every recipe cooks for the first time in your crockpot so it tastes exactly like a freshly prepared meal (just without all the work!).
Over 35,000 people already bought my eCookbooks and changed the way they cook.
"What really sets your cookbooks aside is the level of organization and planning you put into the meal preparation process. Everything from the grocery lists, nutritional information, and freezer labels was so well thought out I was throughly impressed. It is so nice to come home after working 10-11 hours to have a meal ready to go. I don't have to look up the directions again on the Internet, I don't have to guess the calorie count, I don't have to make a a shopping list. It's all there." -Natalie
"I start work at 5:30 a.m. so your freezer meals have saved my life on so many days! They are wonderful!! We're having guests for a week and I already have super large crockpot meals in the freezer for each day so there's no stress about how to feed everyone after a day at work." -Caroline
"I prepped eight of your meals in September when I flew back to the USA for 10 days leaving my husband and eldest three kids at home. WOW! Taste is awesome, FULL of veggies, super fast prep and just a win in all circumstances!" -Jordan
"My fiance and I decided to try out several of your recipes and just finished up our second batch of bag prepping this weekend! So far everything has been great!" -Stacey
"You have taken the anxiety out of cooking. Thank you. No one makes it this simple and thought out. No more random trips to the grocery store. I can't thank you enough." -Carl
Frequently Asked Questions
Is it safe to freeze raw meat with veggies?
Yes. If you're nervous about combining raw meat with other ingredients, let me assure you that it's perfectly safe. (Remember, people cook raw meat and vegetables together in their crockpots and ovens all the time!) The USDA Food Safety and Inspection Service explains that freezing food inactivates any microbes that are present (like bacteria, yeasts, and molds).  You will also cook the food before eating it.
Do freezer meals actually taste good?
You bet.  Since they're frozen without any cooking ahead of time, they cook for the first time out of the freezer.  That means they taste like freshly-prepared meals and not like leftovers at all.
Are the recipes healthy?
Yes.  You won't find any ingredients like condensed soup or soda pop.  I try to eat as many vegetables as possible and very limited amounts of processed foods.  The ingredients in my recipes are healthy, delicious, and sold at most local grocery stores.
How long will a freezer meal last in the freezer?
Most freezer meals will last in a standard fridge-freezer combo for at least 3 months.
How many servings are in each recipe?
It varies per recipe, but the average is six. If you are cooking for less people, split each recipe into two freezer bags and cook in a smaller crockpot (2-4 quarts).
What's an eCookbook?
All of my eCookbooks are printer-friendly pdf files. They can be read on computers, smartphones, and tablets (No special e-reader required).  They are also formatted to print on regular 8.5×11″ computer paper so you're welcome to print a copy if you want.
After making a purchase, you will be automatically redirected to a page where you can download your copy of the eBook.  You will also be emailed a copy to save to your computer.  Thank you for your support!