Slow cooker freezer meals are a game-changer.  Whether you've made slow cooker freezer meals before or are brand-new to freezer cooking, I want to share 17 things that you need to know to make all of your freezer meals a huge success.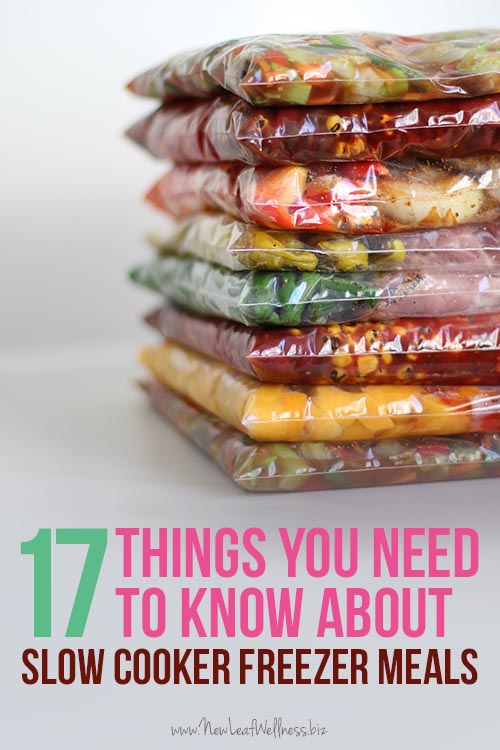 I think it's obvious that I'm obsessed with slow cooker freezer meals.  There's simply nothing easier than dumping a meal into the crockpot in the morning and turning it on.  Add some bread or microwave rice as a side dish at 6pm and dinner is done.
Besides the time you save in the morning, there are some major benefits to assembling and freezing slow cooker meals ahead of time:
They don't require any cooking ahead of time, so they're very easy and quick to prep.
They cook for the first time out of the freezer and don't taste like leftovers at all.
You can take advantage of sales at the grocery store and stock your freezer with healthy meals at a fraction of the cost.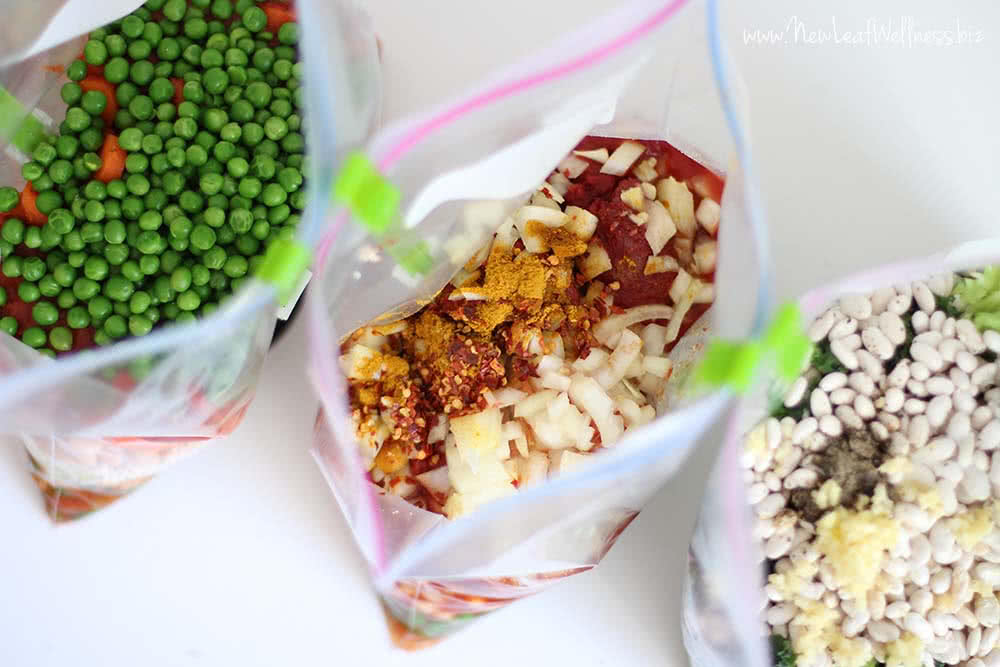 To prepare for the launch of my new CROCK'D Slow Cooker Freezer Meals cookbook, I asked my email subscribers what questions they have about freezer cooking.  Here are my answers to the 17 most common questions…
17 Things You Need To Know About Slow Cooker Freezer Meals
Q1: Do slow cooker freezer meals actually taste good?
YES. Oh my, they're delicious! We eat slow cooker freezer meals 5-6 nights a week.
Q2: Where do you store all of your meals?  Do I need to buy an extra freezer?
I store most of my meals in the freezer in my kitchen, but I do have an extra fridge/freezer combo in my basement.  (This came in handy when I froze 27 meals before my third baby was born.)  You really don't need a lot of space to get started. A 12×12″ space is plenty of room to stack freezer bags – think of this as an excuse to clean out your freezer and get rid of anything old and expired!
Q3: What do I need to get started with slow cooker freezer meals?
To put it simply: A vegetable peeler, cutting board, knife, and slow cooker. I use a 6-quart slow cooker with a timer for most of our meals. I also have a 4-quart slow cooker and it works just fine.  Baggy stands are also nice when you make a lot of meals, but they're not necessary.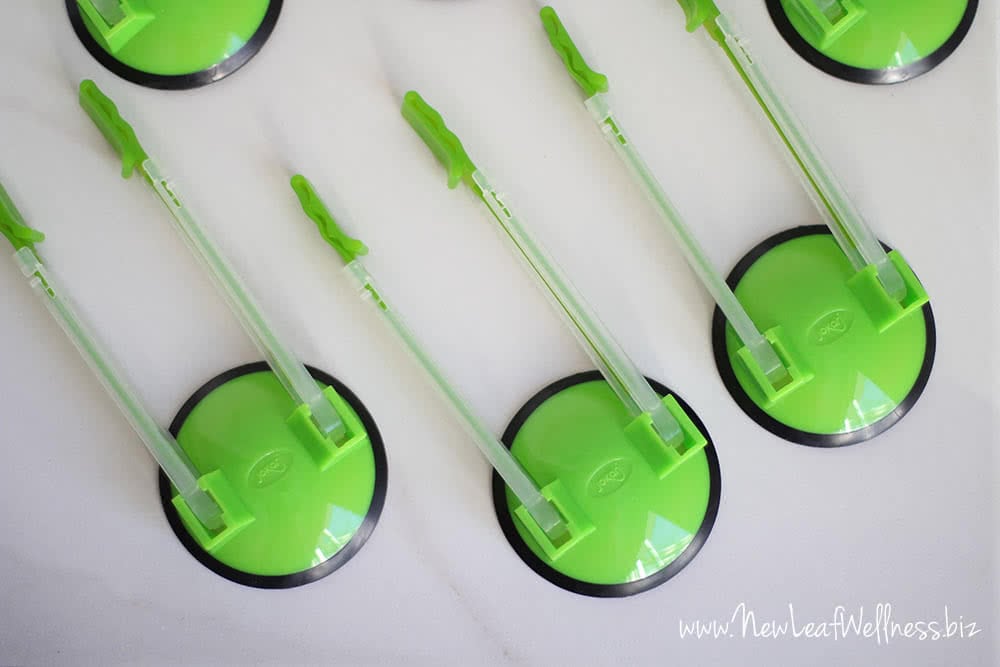 Q4: Do you really freeze everything raw?  Even the meat and vegetables?
Yep. I used to brown my ground meat before freezing, but I found it was completely unnecessary and only took more time.  All of my frozen raw veggies turn out great – even potatoes!  The only vegetable that I don't freeze raw is broccoli, because I don't like it's taste and texture after cooking.  I use frozen broccoli florets in my recipes instead.
Q5: Is it safe to freeze raw meat with veggies?
Yes. If you're nervous about combining raw meat with other ingredients, let me assure you that it's perfectly safe. (Remember, people cook raw meat and vegetables in their slow cookers and ovens all the time!) According to the USDA Food Safety and Inspection Service, freezing to 0 °F inactivates microbes present in food (like bacteria, yeasts, and molds).
Q6: Most of your recipes call for fresh meat.  Can I substitute frozen meat instead?
Yes.  Go ahead and add the frozen meat right to the plastic bag.  Don't thaw it ahead of time.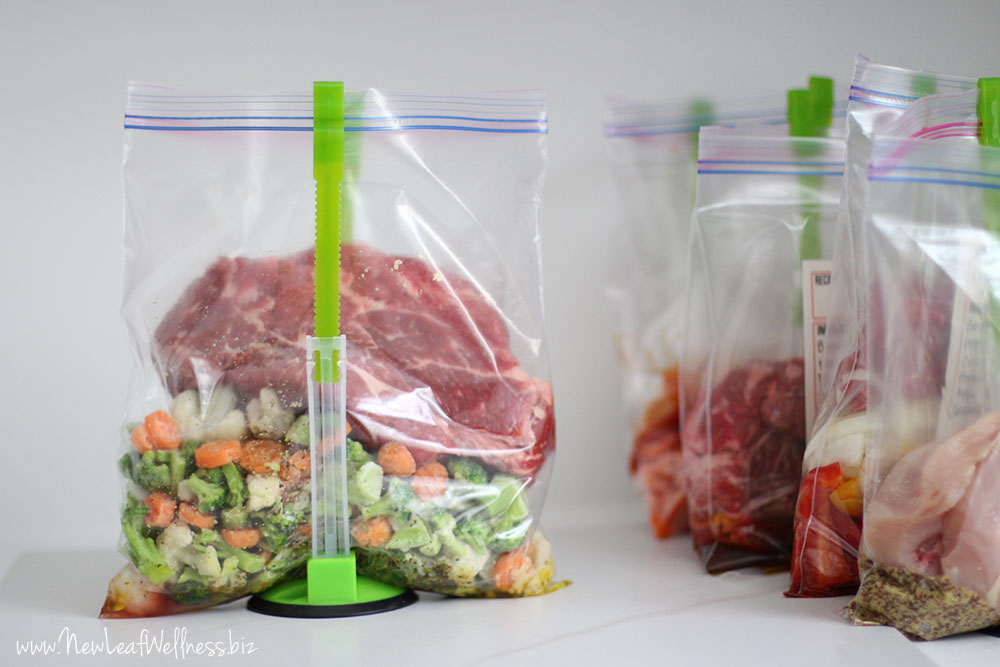 Q7: Some of your recipes don't include a lot of liquid.  Should I add broth or water so the meal doesn't burn?
No. Meat and vegetables release quite a bit of liquid while cooking.  If you add extra liquid it will dilute the flavor of the dish.
Q8: How does freezing affect the texture, taste, and nutrition of the dish?
Since slow cooker freezer meals are frozen without any cooking ahead of time, the texture and taste isn't changed a bit. They taste exactly the same as freshly-prepared meals. According to the USDA Food Safety and Inspection Service, the freezing process does not break down nutrients and the nutritional value should change very little.
Q9: How long does it take to assemble a meal? 
Most slow cooker freezer meals can be prepped in 15 minutes or less. Some marinated meat recipes (like my favorite honey dijon chicken) only take 1-2 minutes.  I can usually prep 6-8 recipes in an hour, including clean-up.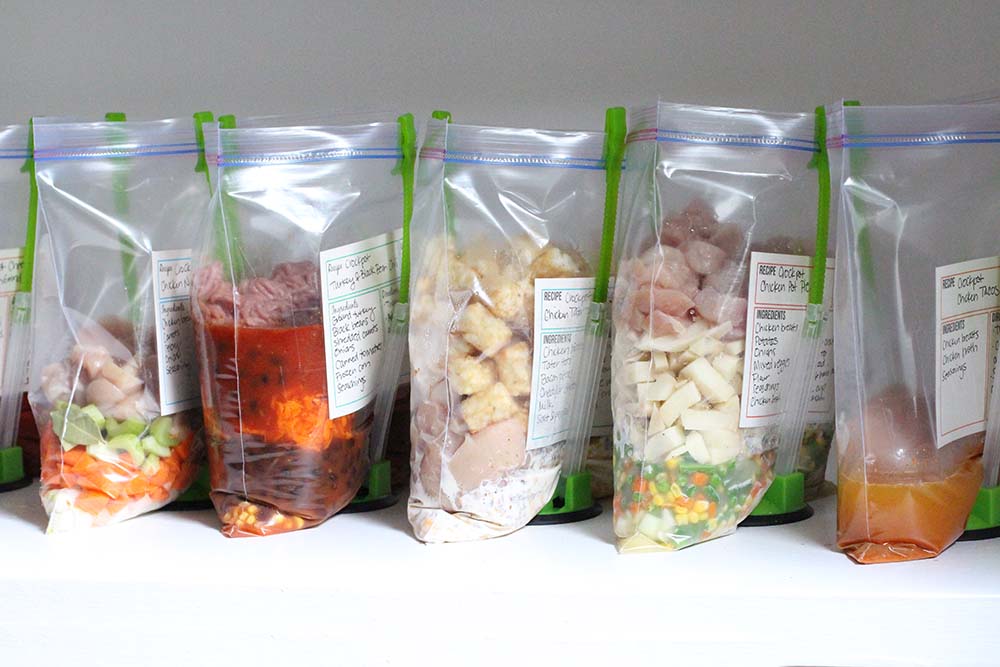 Q10: How in the world do you prep your meals so quickly?  Are there shortcuts that I can take to make my meals faster? 
I like to prep 6-8 meals at a time so I only have to wash my knife and cutting board once. You can also prep meals every other weekend or once a month. To save time, using pre-cut fresh vegetables or frozen vegetables is a great option. A vegetable chopper is also handy.
Q11: How long can slow cooker meals be stored in the freezer?
They can be stored in a standard fridge/freezer combo for at least three months.
Q12: Do frozen meals need to be thawed before cooking? If so, how do you thaw them?
I thaw my slow cooker meals by placing them in the refrigerator the night before I'm planning to cook them. They are not always 100% thawed in the morning, but they're thawed enough to fit in my slow cooker and they always cook perfectly. You can also thaw meals in a bath of cold water or in the microwave (If you use this method, you will need to transfer the meal from a freezer bag to a microwave-safe dish).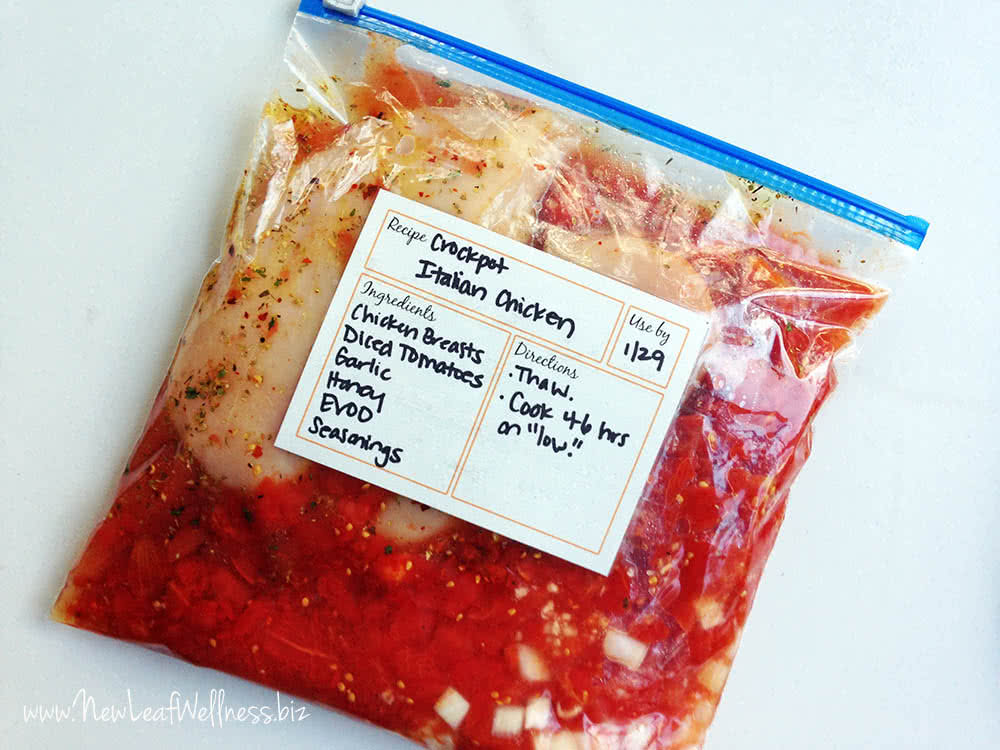 Q13: How do I know exactly how long to cook a meal in my slow cooker? I don't want my veggies to be super crunchy, but I don't want my chicken breasts to dry out either.
Start with the average cooking times, 6 hours in a 6-quart slow cooker and 8 hours in a 4-quart slow cooker. If your veggies are still crunchy and your meat isn't cooked through, cook them longer. If anything is mushy or dried out, decrease the cooking time next time. If you need to be out of the house for a longer period of time, I recommend purchasing a slow cooker with a timer or using a simple light timer to turn off your slow cooker an hour before you get home.
Q14: How many servings are in a meal? Can I cut them in half to feed less people or double them to feed a crowd?
Slow cookers work best when they're at least 1/3 full and no more than 2/3 full.  Most of my recipes have 4-6 servings and fit within those guidelines. If you're only feeding two people, but are willing to eat leftovers, I recommend making them as-is. If you are feeding more people, an easy way to increase the number of servings is to add an extra pound or two of meat.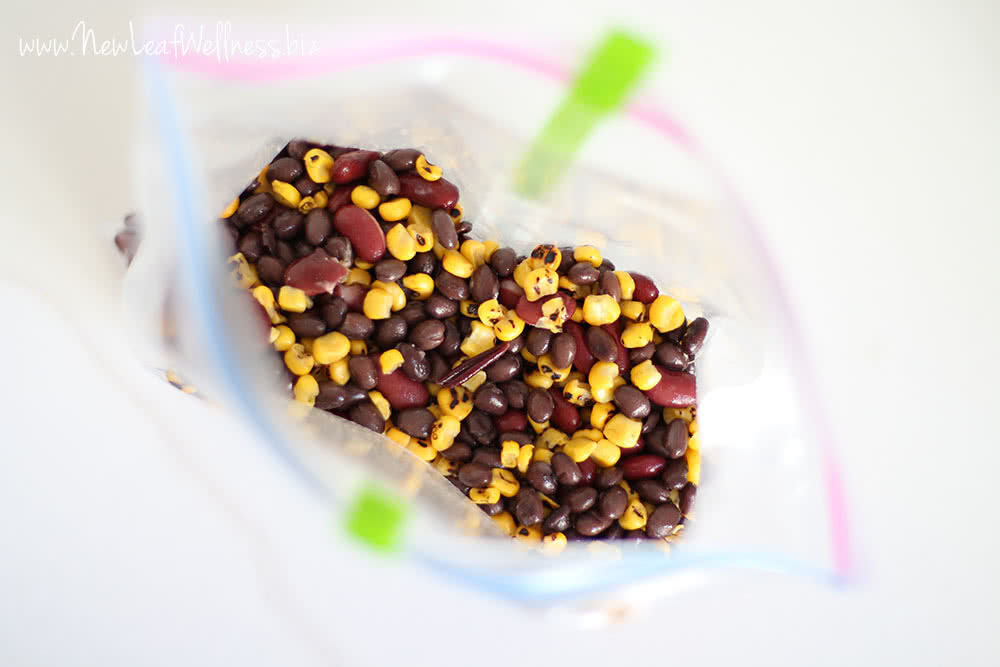 Q15: How will slow cooker freezer meals save me money?
There are so many ways!  Here are some of my favorites:
My favorite recipes are simple ones that don't require a lot of ingredients.
You can take advantage of sales at the grocery store and prepare a bunch of meals when your favorite meats and vegetables go on sale. (Most freezer meals will last at least three months.)
You can buy ingredients for your freezer meals in bulk at a better price than when you buy smaller quantities.
If you're good at planning ahead, you can slowly stock your freezer and save those meals for a time when you'll have less money to spend on food or will need extra money for another purchase. For example, I slowly stocked my freezer with a month's worth of meals when I was pregnant with my third daughter. Adding 1-2 meals per week only made a small difference in our food budget and when she was born we ate for free for a month. (Which was awesome because she was born on Thanksgiving and we were able to put our monthly food budget toward Christmas gifts instead.)
Q16: Can every slow cooker recipe be frozen?  
Most slow cooker recipes can be, but I've run into problems with fresh broccoli, rice, pasta, and some dairy products.  If you want to convert your favorite slow cooker recipe to a freezer meal, these instructions on Money Saving Mom are helpful.
Q17: Do you have any recipes for vegetarians?  Is it possible to adapt slow cooker freezer recipes to make them dairy-free and gluten-free?   
My cookbooks contain a handful of vegetarian recipes and you can find more for free on my blog here.  Most of my freezer meals are naturally dairy-free and gluten-free. My favorite ingredients are fresh vegetables, meats, spices, and healthy canned goods liked diced tomatoes and beans. It's also easy to swap proteins in slow cooker meals, if you don't eat red meat or pork.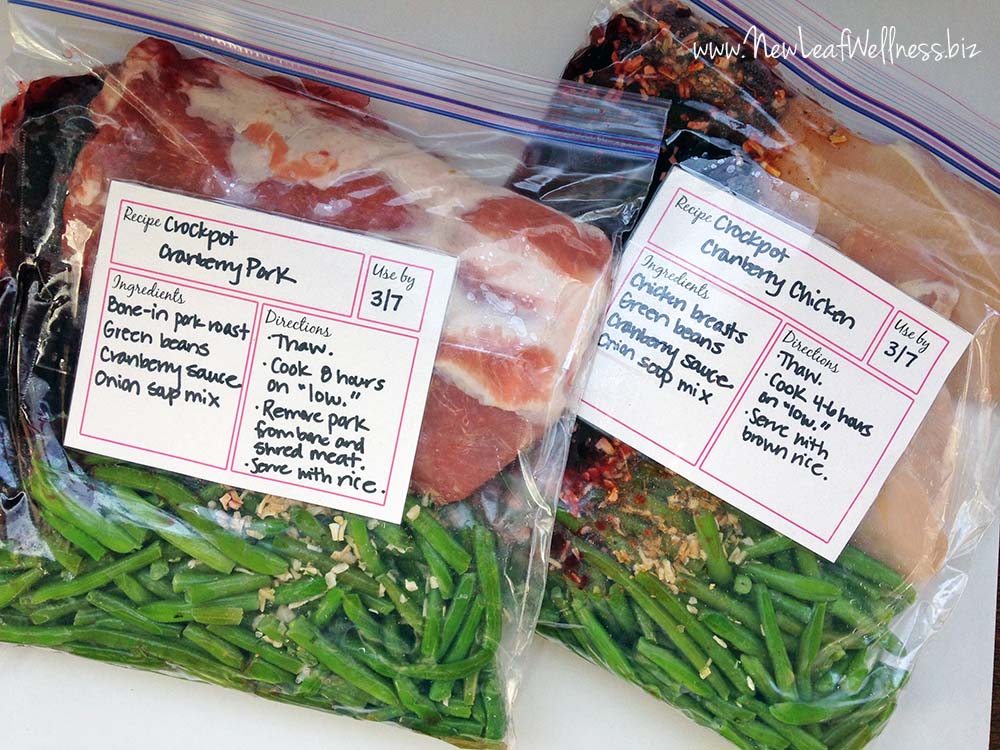 If you're new to freezer cooking, my crockpot freezer cookbooks contain a ton of great recipes and tips.
Thoughts or questions?  Please leave a comment below and I'll get back to you as soon as I can.