This sausage stuffed peppers recipe is pure genius.  A lot of people use ground beef to make stuffed peppers, but the sausage, onion, pepper combo can't be beat.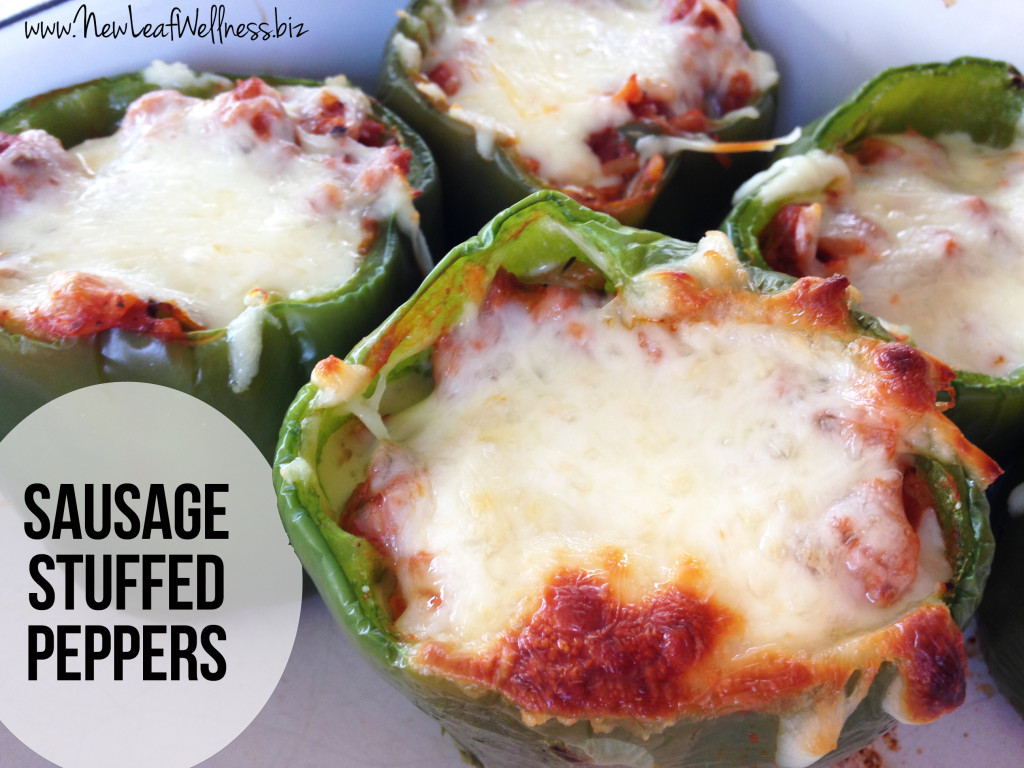 I mean, yum.  Look at that browned mozzarella cheese.
I'm a sucker for quick 'n easy slow cook recipes (like my crockpot turkey & black bean chili), but sometimes I like to mix things up and cook with my stovetop and oven.
My mother-in-law told me that she started using ground sausage in her stuffed peppers, so I jumped on the bandwagon too.  (If you're one of the people who has tried her famous baked mac 'n cheese, you know that this woman can cook.  When she says try ground sausage, you do it. Pronto.)
These sausage stuffed peppers are super easy to make.  Simply combine browned ground sausage, diced onions, and peppers with brown rice, store-bought pasta sauce, and seasonings.  Top with freshly shredded mozzarella cheese and bake until you're left with a bubbly, golden brown deliciousness.  We eat these sausage stuffed peppers all by themselves, but serving with a big piece of buttered bread would also taste great.
Let's get cookin'!
Sausage Stuffed Peppers Recipe
Ingredients
1 pound spicy or sweet ground Italian sausage (We prefer spicy)
6 medium-sized green bell peppers
1 medium-sized yellow onion, peeled and diced
1 cup of cooked brown rice (Sometimes I use the microwaveable stuff to save time.  Don't judge.)
1 cup of your favorite pasta sauce
1/2 teaspoon dried basil leaves
1/2 teaspoon dried oregano leaves
1/4 pound of mozzarella cheese, freshly shredded (1/4 pound = 4 oz = about one cup)
Directions
Preheat oven to 375 degrees F.
Cut off the very top of each pepper and set aside.  Place the bottoms of the peppers in a large pot.  Cover with water and blanch by boiling for 4 minutes.  Strain water and set peppers aside.
Go back to the tops of your peppers and discard their stems in your garbage disposal or compost bin.  Dice what remains of the tops of peppers. (I don't like to waste food, so I add these right into the stuffed pepper filling.)
In a large saucepan, combine sausage, diced peppers, and diced onions and cook on medium-high heat until sausage is cooked through and peppers and onions are soft.
Turn heat down to low and add pasta sauce, rice, basil, and oregano.  Stir to combine.
Arrange bottoms of peppers in a 8×8 casserole dish.  Fill with cooked sausage-rice mixture and sprinkle with mozzarella cheese.
Bake in preheated oven for 15 minutes or until cheese is melted and filling is hot and bubbly.
ENJOY.