You are going to love this recipe for slow cooker shredded orange beef. The orange flavor is absolutely delicious and the meal is so easy to make!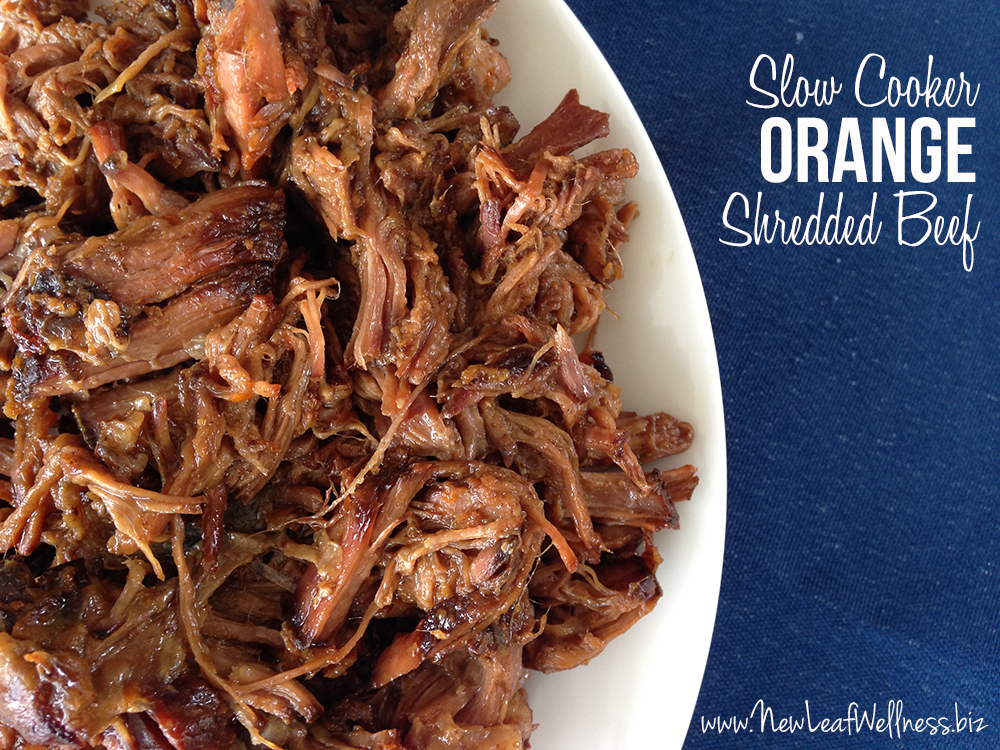 Don't let the fact that it's easy to make fool you.  This slow cooker orange beef recipe tastes so good that you'll want to serve it to family and friends.  The last time I made it, my husband and I both ate seconds.
This orange shredded beef is a nice vacation from my slow cooker traditional beef roast and slow cooker spicy pepper beef roast.  The orange flavor really sets it apart.
I always use boneless beef chuck shoulder roasts when I make beef in my crockpot.  The meat slow cooks in your crockpot until it falls apart and melts in your mouth.
My husband and I like to eat our shredded beef plain with sides of steamed broccoli and brown rice, but it tastes great on sandwiches, wraps, and salads too.  Get creative with the leftovers and you'll have a whole new meal to enjoy.  Yay!
Slow Cooker Orange Shredded Beef
Ingredients
2.5 pound boneless beef chuck shoulder roast
The juice from one navel orange (about 1/4 cup), pulp removed
The zest from one orange (about 1 tablespoon)
2 tablespoons white sugar
2 tablespoons rice wine vinegar or apple cider vinegar
1 tablespoon soy sauce
3 cloves garlic, minced
1-inch ginger root, peeled and grated (about 1 tablespoon)
Directions
In a bowl, create sauce: Add orange juice, orange zest, sugar, vinegar, soy sauce, garlic, and ginger.  Stir to combine.
Place beef roast in your slow cooker.
Pour sauce over beef roast and cover.  Cook on "low" setting for 8-12 hours, or until meat easily pulls apart with a fork.
Shred beef with a fork and return to slow cooker to mix with sauce.
Serve!
To Freeze
Add all ingredients to a gallon-sized plastic freezer bag.  Remove as much air as possible and freeze for up to three months.  When ready to eat, thaw overnight in refrigerator.  Cook on "low" setting for 8-12 hours, or until meat easily pulls apart with a fork.  Shred meat, mix with remaining sauce in slow cooker, and serve!