Here's a recipe for BBQ chicken cornbread casserole that starts in your Crockpot and then finishes in your oven.  It's the perfect weeknight meal when you're too busy to do a lot of prep work in the kitchen.  Plus, it's a delicious dish that your whole family will love!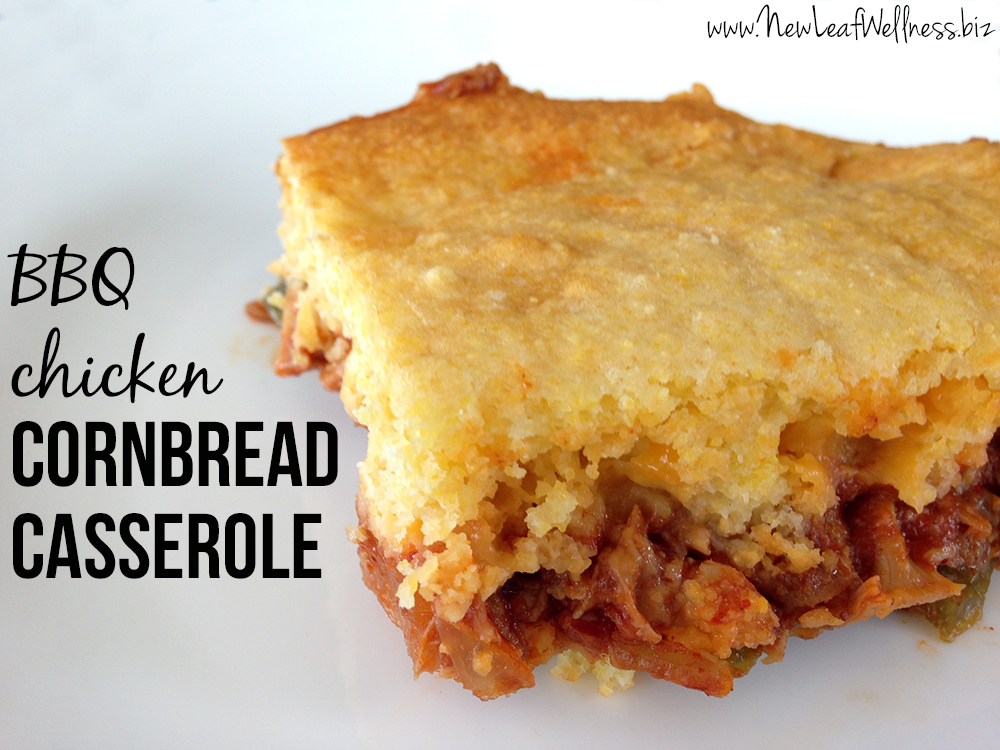 This recipe was inspired by two of my favorites: Crockpot BBQ Chicken + Mexican Chili Cornbread Casserole.
You start by cooking some chicken in your slow cooker with green peppers, onions, and BBQ sauce until the meat cooks down to flavorful, shredded deliciousness.  Then, you pour your BBQ chicken into a casserole dish and top with cheese and cornbread mix.
BBQ and cornbread are soul mates.  Don't you think?
Pop your casserole into the oven for 40 minutes and you'll be ready to devour the golden cornbread topping.  Yummmm.  This casserole is the perfect blend of spicy and sweet.
You'll probably notice that I use chicken thighs in this recipe instead of chicken breasts.  You can certainly sub chicken breasts, but I find that chicken thighs are so much juicier.  If you're one of those people who complains about chicken breasts drying out in your Crockpot, chicken thighs are your answer!  (Plus chicken thighs are typically cheaper than chicken breasts.  Another win!)
Let's get cookin'.
BBQ Chicken Cornbread Casserole
Ingredients
1lb boneless, skinless chicken thighs
1 small green pepper, diced (about one cup)
1 medium-sized yellow onion, diced (about one cup)
1 cup BBQ sauce (I use this simple homemade BBQ sauce)
1/4lb sharp cheddar cheese, shredded (about one cup)
1 box Jiffy corn muffin mix + the necessary ingredients listed on the box (one egg and 1/3 cup milk)
Directions
Add chicken thighs, green pepper, onion, and BBQ sauce to slow cooker.
Cover, and cook on "low" for 3-6 hours, until chicken is cooked through and onions and peppers are soft. (The cooking time will depend on the size and strength of your slow cooker).
Preheat oven to 350 degrees F.
Shred chicken in your slow cooker and add the BBQ chicken mixture to an 8×8″ casserole dish.  Cover with shredded cheese, and set aside.
In a bowl, prepare corn muffin mix according to directions on package.  Pour corn muffin mix over 8×8 casserole.
Place in oven and bake 40 minutes or until top is golden brown and cooked through.
This BBQ chicken cornbread casserole tastes great by itself.  Or add a salad on the side.
Enjoy!