You are going to love these shower vapor disks for colds and coughs.  Like everything else that I make, these shower vapor disks are a super simple DIY.  All you need is baking soda, water, and a little bit of essential oil!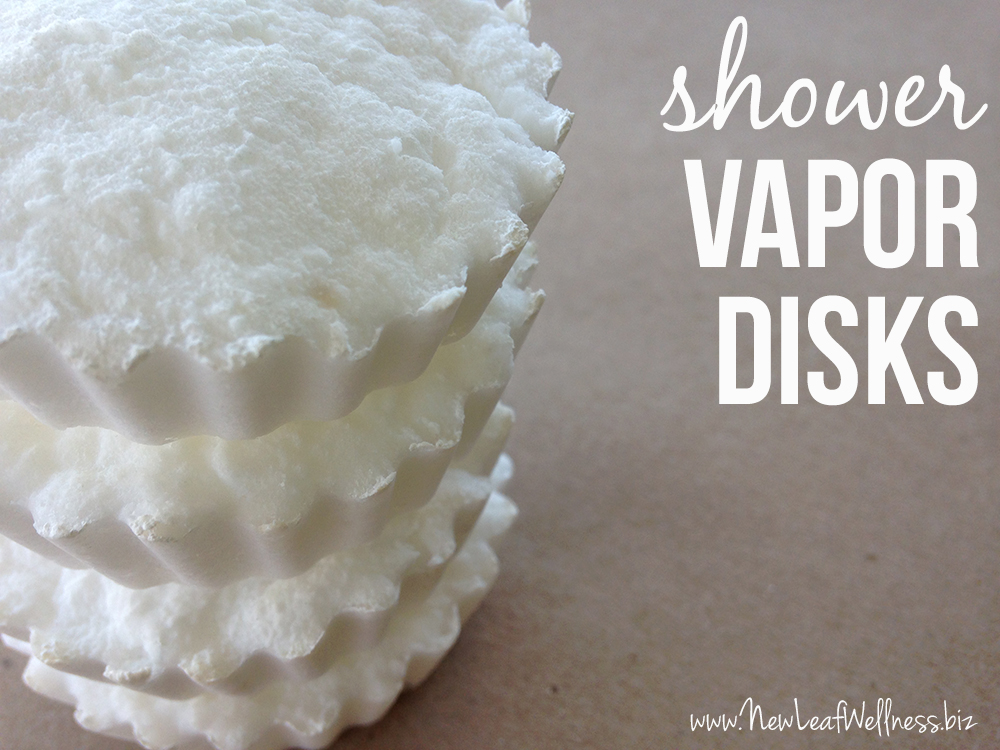 My whole family has a nasty cold.  Since I'm breastfeeding and my baby is only three months old, I'm trying to use as many natural remedies as possible.  Plus, I don't like giving my 2-year old and 4-year-old tons of meds.
We've had the most luck with "Breathe Blend" essential oil from Wyndmere Naturals.  (If you're new to essential oils, they're all-natural, highly concentrated extracts from the aromatic parts of plants.)  According to Wyndmere Naturals' website, Breathe Blend "helps support healthy respiratory and immune systems."
The smell of Breathe Blend reminds me of a cleaner, more natural version of Vicks® VapoRub®.  I simply can't get enough of it!
I started by making my own natural vapor rub for our chests and feet.  Then, my husband climbed aboard the essential oil train and started adding a few drops to our cool mist humidifier each night.  When I added a couple of drops to our daughters' bath, the idea to make shower vapor disks hit me.
A hot, steamy shower just feels so good when you have a cold and cough.  Not only do these disks make my bathroom smell like a spa, they clear out my sinuses and relieve the pressure in my head.  Thank goodness!
Here's everything you need to know to make some shower vapor disks of your own.
DIY Shower Vapor Disks
Yields: 12 shower vapor disks
Materials
Directions
Preheat oven to 350 degrees F.
Line cupcake pan with 12 silicone baking cups.
In a medium-sized bowl, combine baking soda and water and mix into a paste.
Spoon paste evenly into prepared pan and smooth the top of each cup with your fingers.
Place pan in oven, and bake for 20 minutes.
Remove from oven and cool for 5 minutes.
Add 8 drops of Breathe Blend essential oil to each cup.
Remove silicone baking cups from pan and cool completely on wire cooling rack.  (This takes about 15 minutes.)
Remove shower vapor disks from silicone cups and use!
Storage
Store in an airtight glass jar.  Since Breathe Blend essential oil isn't meant to be ingested, keep the vapor disks out of the reach of pets and small children.
To Use
Use one shower vapor disk  each time you shower.  Place the disk at on the floor of the shower away from the drain.  (The disk will dissolve very quickly if it's by all the water going down the drain!)  Each disk will last about five minutes in a hot shower.  Relax, and breathe in the vapors while it dissolves!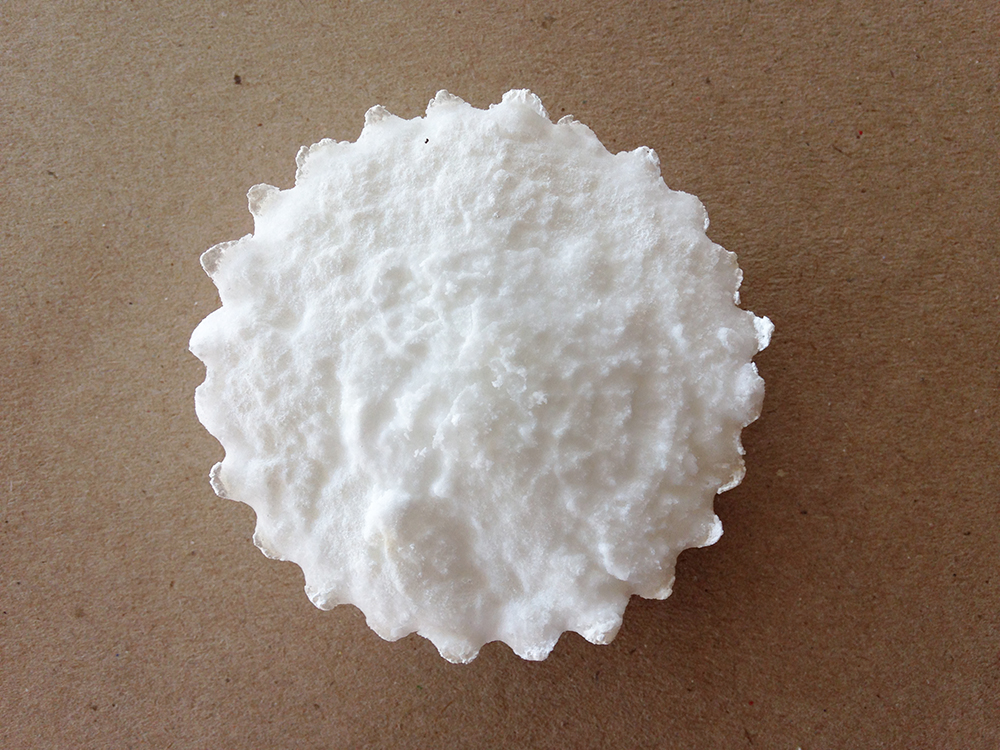 By the way, since I only want to use products that are safe for my family, I use high-quality essential oils from  Wyndmere Naturals and a 1% dilution.  (That means my shower vapor disks are 99% baking soda and 1% breathe blend essential oil.)  Here's a great article about the safety of essential oils, if you're interested.