Trying to figure out what to do inside with your kids this winter?  Look no further.  Here's a list of 20 indoor activities for kids that my 4 year old and 2 year old absolutely love!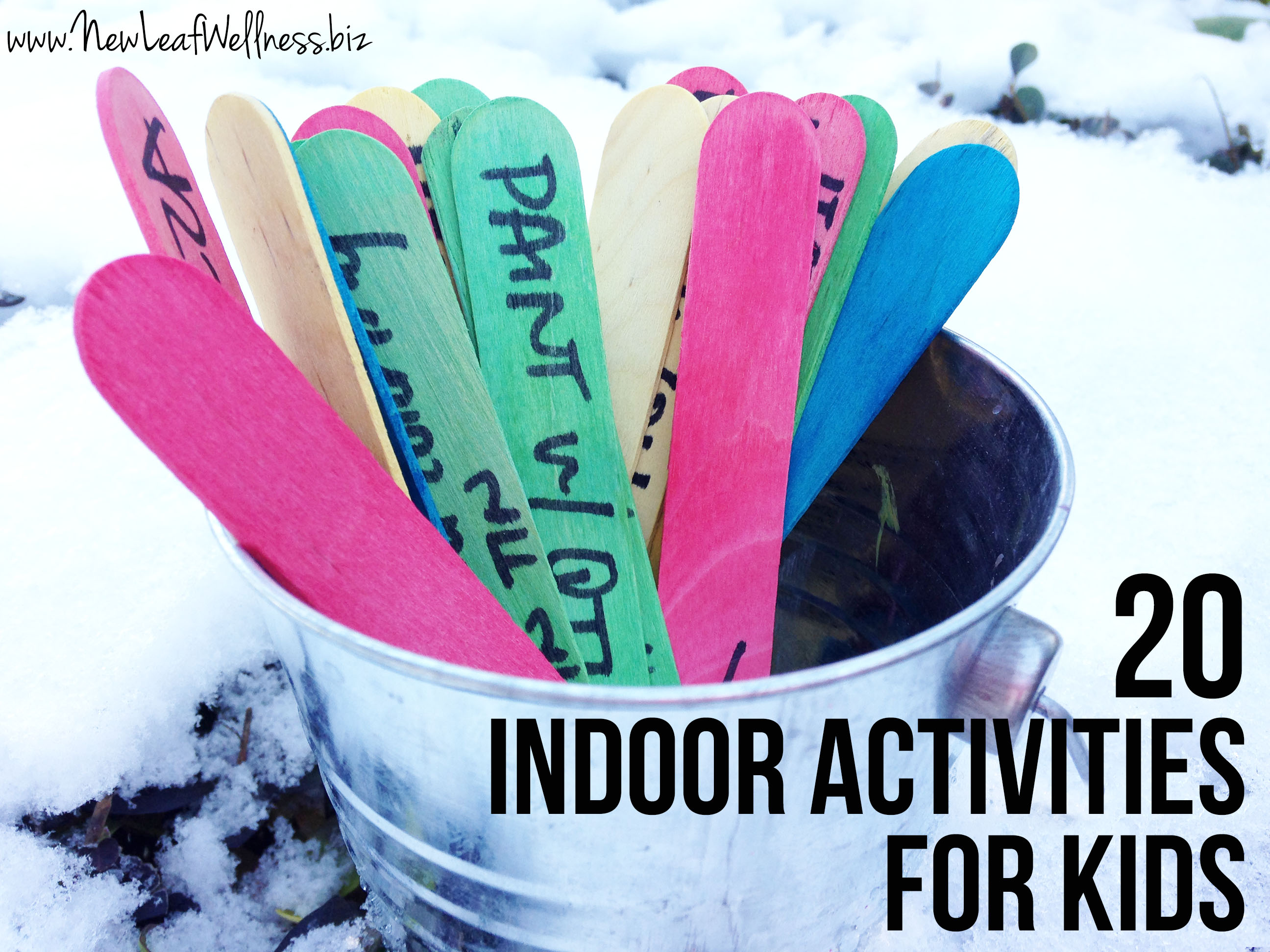 I gave birth to my third baby last November and my biggest concern was how I was going to survive the winter without going crazy.  The thought of being stuck inside with a 4 year old, a 2 year old, and a newborn was really scary.
While I was still pregnant, I decided to be proactive and come up with a list of 20 indoor activities for kids that my daughters and I could do whenever we started to feel stir crazy.
I started with all of the indoor activities that my daughters love.  Then, I racked my brain for new, easy, and creative ideas.  I turned to my "Toddler Fun" board on Pinterest and asked the moms who "like" my New Leaf Wellness Facebook Page to share their favorite indoor activities for kids.  (You can see their responses here.)
When all was said and done, I had a list of 20 fun activities.  (I purposely only included activities with materials that we have on-hand.  I didn't want to have to spend extra money or stock-up on supplies.)
Then, I decided to get all cute and write the activities on leftover colored craft sticks from my shape and letter kid's project.  (I got the idea to write on craft sticks from an "outdoor adventure jar" that I saw on the blog 'Along The Shores of An Inland Sea.')  I put all of our indoor activities sticks in a little bucket and voila!  We we're set with indoor fun this winter!
Twenty Indoor Activities for Kids
Make shaving cream bathtub paint (Mix shaving cream and food coloring in a muffin tin and "paint" in the tub)
Make a road for toy cars with painters' tape
Put paint in a gallon-sized plastic bag and "paint" on it with a Q-Tip
Play with cookie or pizza dough
Write and illustrate a book
Play with water and flour in the kitchen sink
Make homemade fruit snacks (I love this recipe from Mommypotamus)
Have a "beach party" in the bathroom (Complete with bath towels, bathing suits, and sunglasses)
Make cereal necklaces by threading Cheerios onto string
Pillow fight!
Have a dance party
Draw a family portrait
Make collages with old magazines or birthday/Christmas cards
Stack Cheerios on dry spaghetti noodles stuck standing up in Play Doh
Use a medicine dropper to drop dyed vinegar onto baking soda for colored, fizzy fun
Make homemade Play Doh (I'm going to try this recipe from Mom Advice)
Build a tent
Make salt dough ornaments (This is our favorite recipe from All Recipes)
Make homemade bath paint (1 tbsp cornstarch + 2-3 drops food coloring + 5 pumps baby shampoo + 1-2 tsp water)
Make homemade flubber (I'm going to try this recipe from The Sweeter Side of Mommyhood – I might substitute cornstarch for the Borax since I don't have any on-hand.)
What's your favorite indoor activity for kids?  Please share in a comment below!
PS For more indoor activities for kids, be sure to follow my "Toddler Fun" board on Pinterest.