Ladies, I've cracked the code!  My experiments with homemade cleaners and lotions have finally yielded something to brag about.  Here's everything you need to know to make some of your own, including a giveaway of essential oils to help you get started.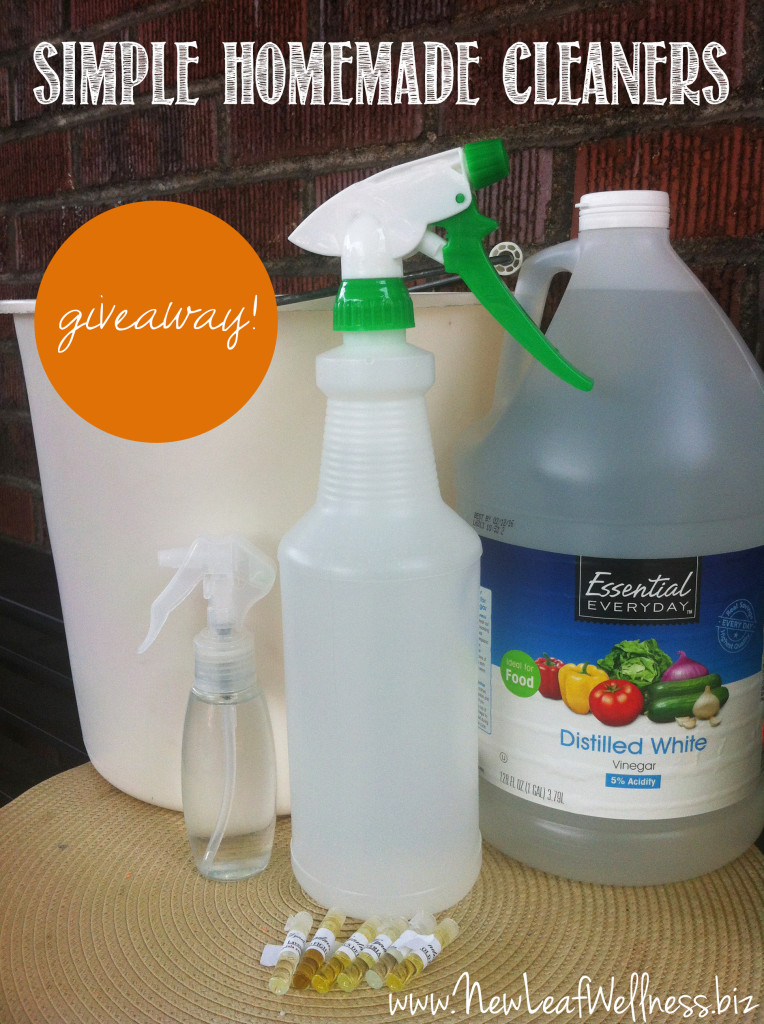 My journey with homemade cleaners started with simple vinegar and water mixtures.
This one gallon jug of distilled white vinegar only cost me $2.50.   And can you make out the green circle?  It says, "Ideal for food."  That means no need for a Mr Yuck sticker.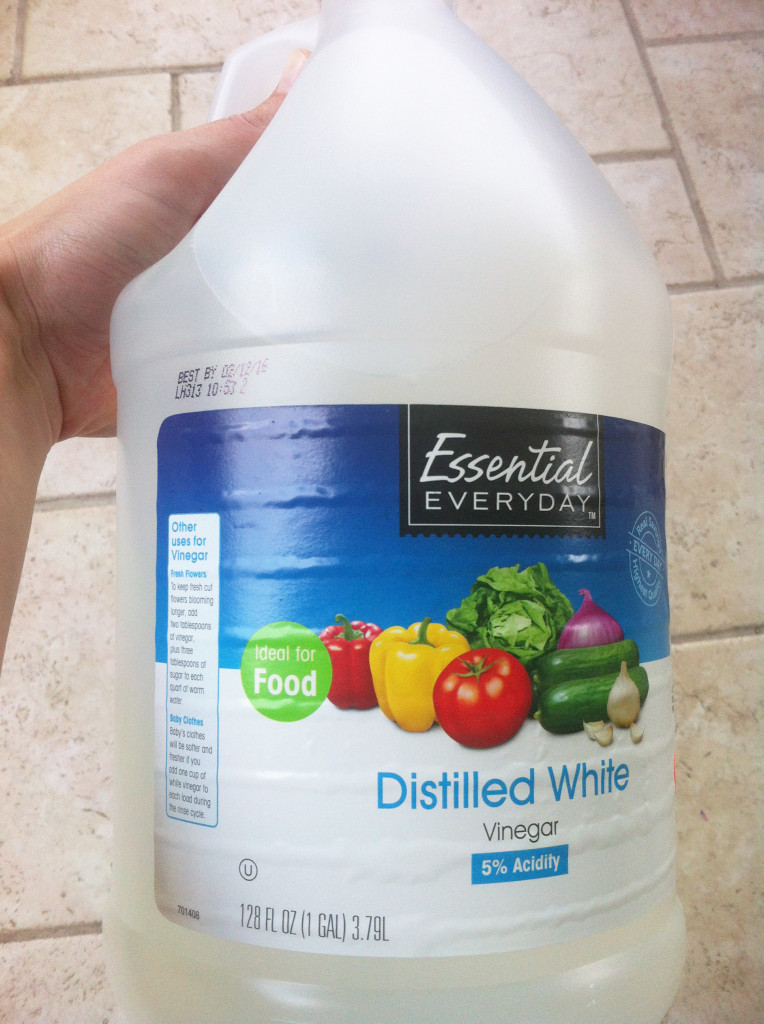 My only issue with homemade vinegar cleaners is that they, well, smell like vinegar.  Not exactly the fresh and clean smell that I'm going for when I clean my house.
Well, my friends, I found a solution: Wyndmere Naturals Essential Oils!
What the heck are essential oils, you ask?
Essential oils are totally natural, highly concentrated extracts from the aromatic parts of plants.  They're diluted in oils, lotions, water, added to baths, diffused in the air, and used many more ways to clean, disinfect, and improve your mind and body through aromatherapy.
Whether or not you buy into the whole field of aromatherapy is up to you.
Personally, I like the idea of using essential oils because they smell good and they're all-natural.  If they truly have added bacteria-killing and mind and body enhancing properties, all the better.
Wyndmere Naturals Essential Oils
Wyndmere Naturals is a Minnesota-based company that sells fresh and high quality essential oils .  Whenever possible, Wyndmere Naturals essentials oils are extracted from plants that are indigenous and either grown "organically, ethically wildcrafted or pesticide free."
Wyndmere Naturals sells essential oils from individual plants and also combines complementary oils into their own signature blends – perfect for essential oil newbies like me!
The stars aligned and Wyndmere Naturals offered to send me six samples to try out.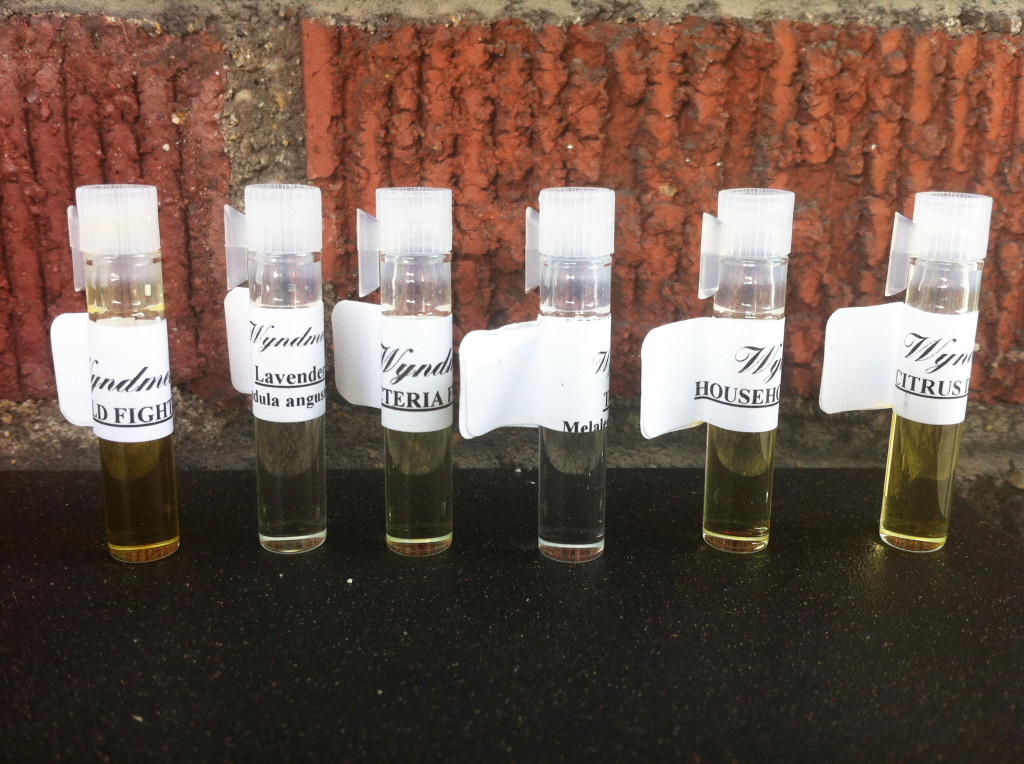 From left to right:
Each sample vial contained 1/4 teaspoon of essential oil.
Wyndmere Naturals recommends a "1% dilution" of essential oil in a carrier oil, lotion, or cleaning solution for pregnant women and children, so I took that into account when I was using my oils.
Here's how I used them…
Homemade Cleaners and Lotions with Essential Oils
All-Purpose Spray Cleaner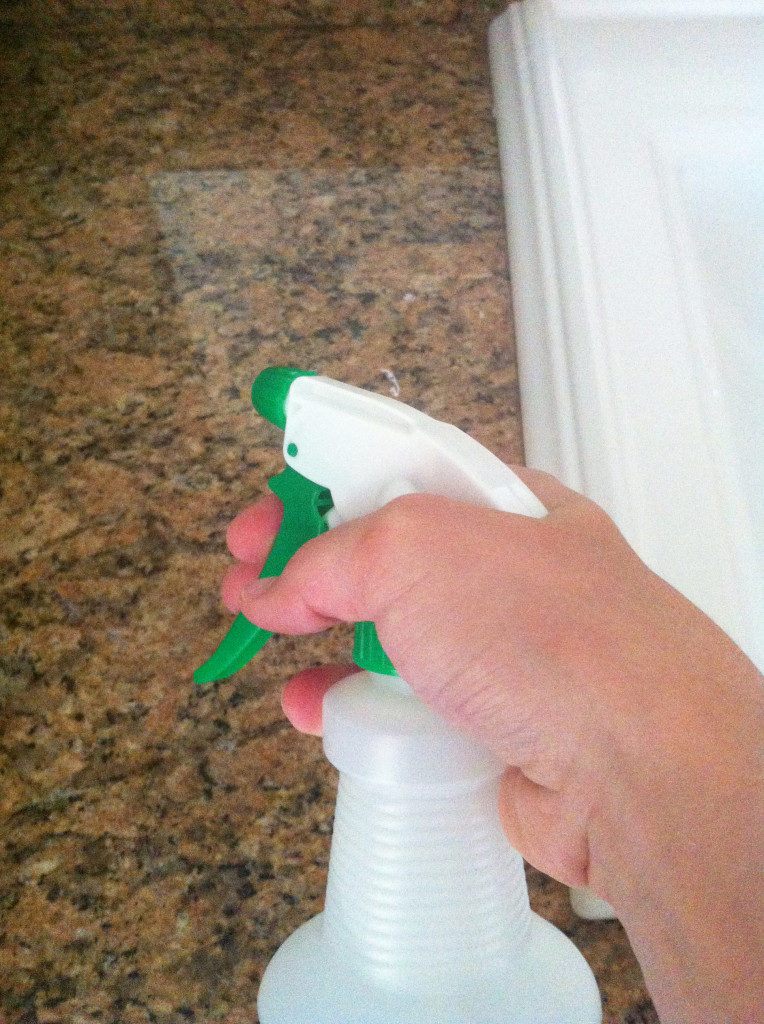 2 cups water + 2 cups vinegar + 1/4 tsp bacteria fighter essential oil = awesomeness.
Since I had a total of 4 cups of liquid, a 1% dilution would have actually required 2 teaspoons of essential oil.  But even the 1/4 teaspoon from the sample vial made the spray smell great.   I put my nose right up to the counter and I couldn't smell a bit of vinegar.
(Note: When I was doing research on cleaning with vinegar I found that it isn't recommended for use on porous surfaces, like marble.)
Hardwood and Tile Floor Cleaner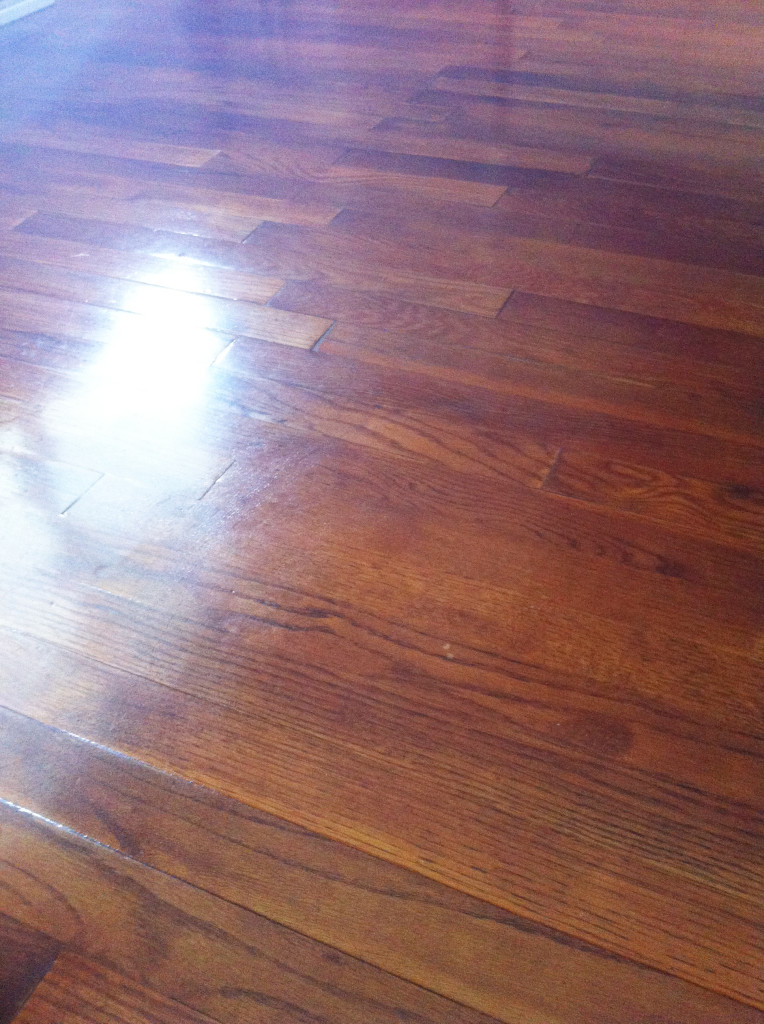 1 gallon warm water + 1/2 cup vinegar + 1/4 tsp household purifier essential oil = shiny, streak-free floors.
While 1/4 teaspoon is very little essential oil for this much homemade cleaning solution, it still worked perfectly, dried quickly, and smelled great.
When I was mopping the floors, my 3 year old asked, "Mom, what is that smell?"  I replied, "What does it smell like?"  And she said, "Clean."  Enough said.
Shower Cleaner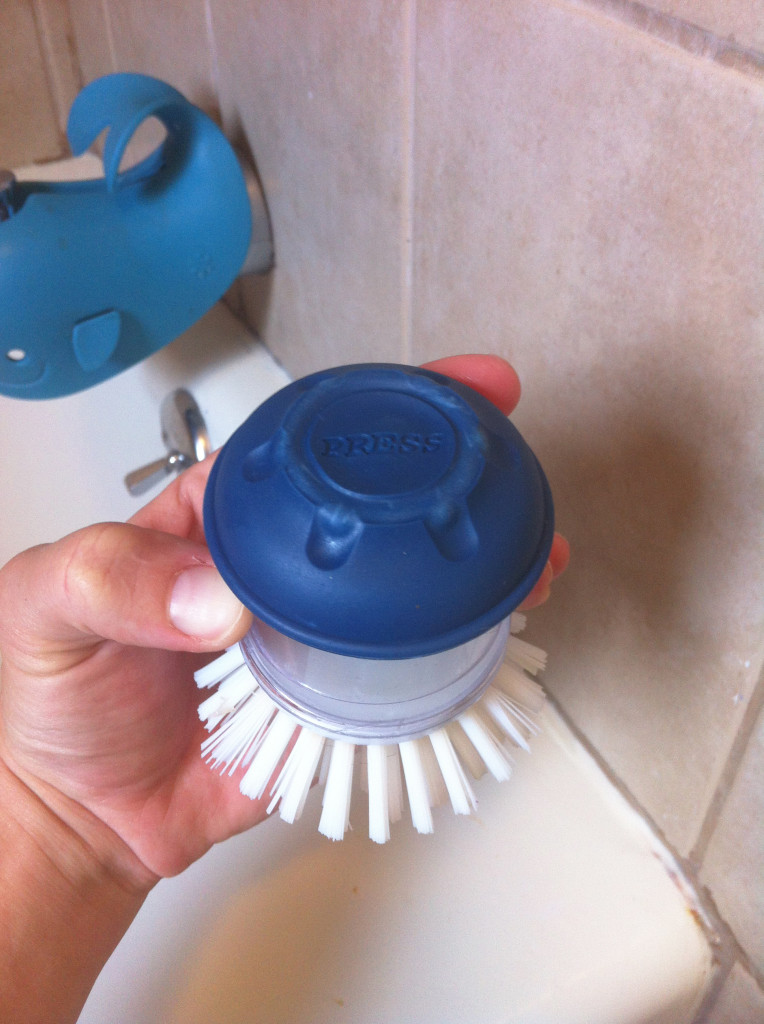 1/4 cup vinegar + 1/8 tsp mold fighter essential oil = one squeaky clean tub.
I mixed the liquids in this little scrubber thing and got to work.  It was the perfect amount to clean the bathtub and shower tile.
For this amount of liquid, 1/8 tsp of essential oil is exactly a 1% dilution.  I used the other half of the sample vial from Wyndmere Naturals the following week.
While this smell was definitely better than bleach or other harsh cleaning products, I have to say it was my least favorite of the samples from Wyndmere Naturals.  My husband remarked that it smelled like "hippies." (No offense to my free spirited friends – this just isn't the smell I'm going for when cleaning my house.)
Air Freshener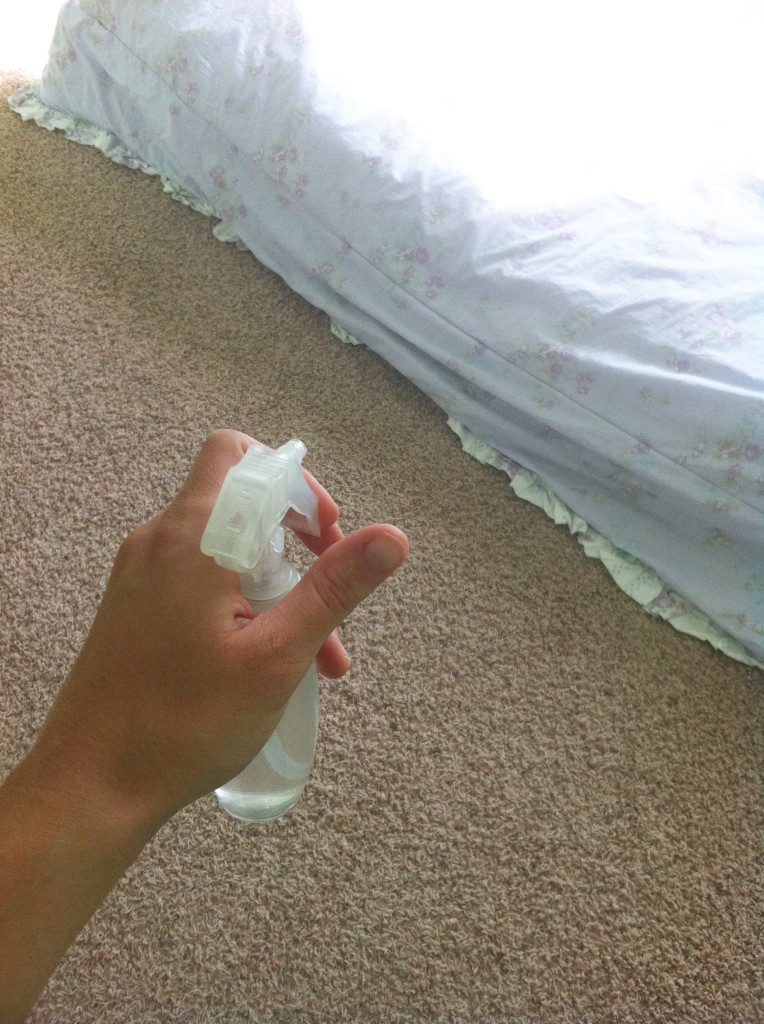 1 cup of water + 1/4 tsp citrus delight essential oil = sunny smelling rooms.
I never buy air fresheners, but I've gotten kind of obsessed with this stuff.  I keep it in our hall bathroom and spray it in our bedrooms and upstairs playroom every morning.
Homemade "Lotions"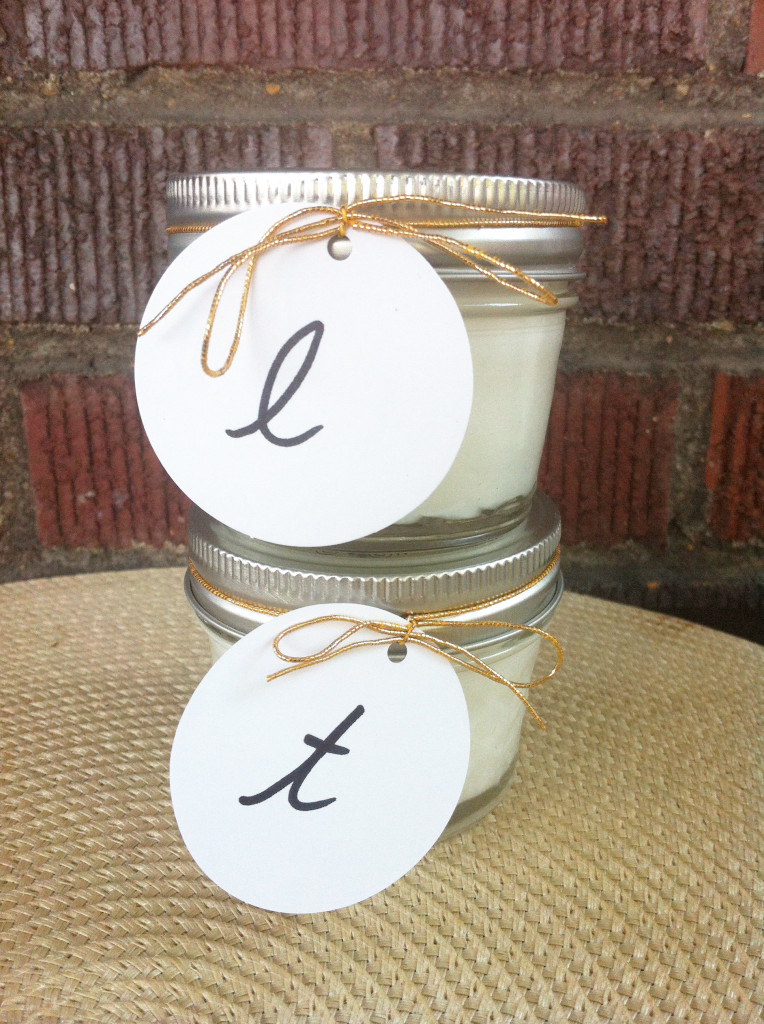 1/2 cup coconut oil + 1/4 tsp essential oil = heaven in a jelly jar.
I made two homemade "lotions" – one with lavender essential oil and one with tea tree essential oil – and labeled them with leftover tags from my DIY fabric jar cover project.
I bought Trader Joe's coconut oil (sold on Amazon.com here) and mixed it with essential oils in glass jelly jars. (I either buy the jars at my local grocery store or on Amazon.com here.)
I've completely fallen in love with this stuff.  I've been using it on my legs, feet, nails, preggo belly…even my face!  My daughters love it too, so I've been rubbing it on their bellies and backs after their bath at night.
What I Learned
You don't realize how bad chemical cleaners smell until you start using all-natural ones.  The same goes for store-bought vs. homemade lotions.
The only tricky part was figuring out how much essential oil to use.  To make your life a little bit easier, here's a free printable that you can hang on your refrigerator.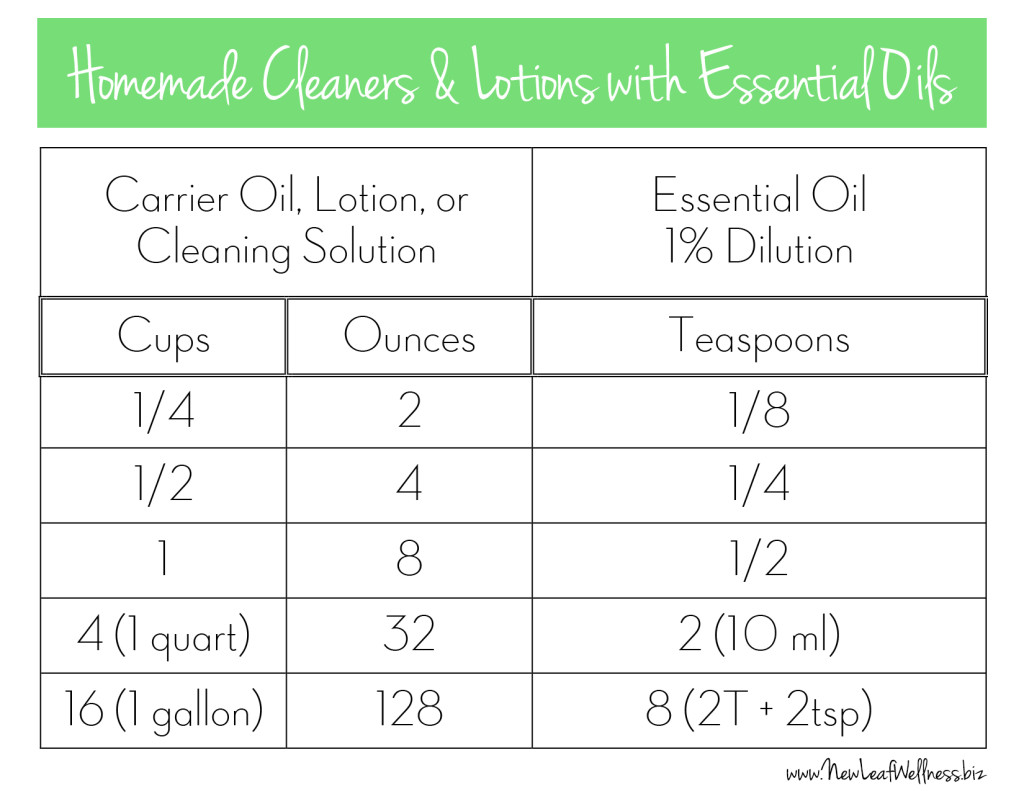 ESSENTIAL OILS FREE PRINTABLE PDF
You can certainly use less than a 1% dilution (or more – some people prefer 2-3%), but at least this chart is a reference point.
After trying all of the samples from Wyndmere Naturals, I went ahead and bought two bottles of bacteria fighter essential oil, one bottle of certified organic lavender essential oil, and one bottle of certified organic geranium essential oil (recommended to me by a friend).  I stocked up on extra spray bottles and coconut oil and I can't wait to start gifting homemade all-purpose spray cleaners and coconut oil "lotions" to friends!
Giveaway! (CLOSED)
Wyndmere Naturals generously agreed to send me a second sample pack of oils for one lucky reader.  (If you don't want to wait, you can go ahead a purchase essential oils through Wyndmere Naturals' website.)
This giveaway ends Sunday, September 8th at 9pm EST.
Open to U.S. residents only.
To enter (mandatory):
Leave a comment below saying which essential oil you're most excied to try.
Extra entry (optional):
The winner – determined by a random number generator – was Stephanie.  Congrats, Stephanie!