Oh my, I hope this won't make you think I'm crazy.
I'm pregnant with my third baby right now, but – for the first time – I won't be getting a 20-week ultrasound ("u/s").
Here's some of the info that went into my decision.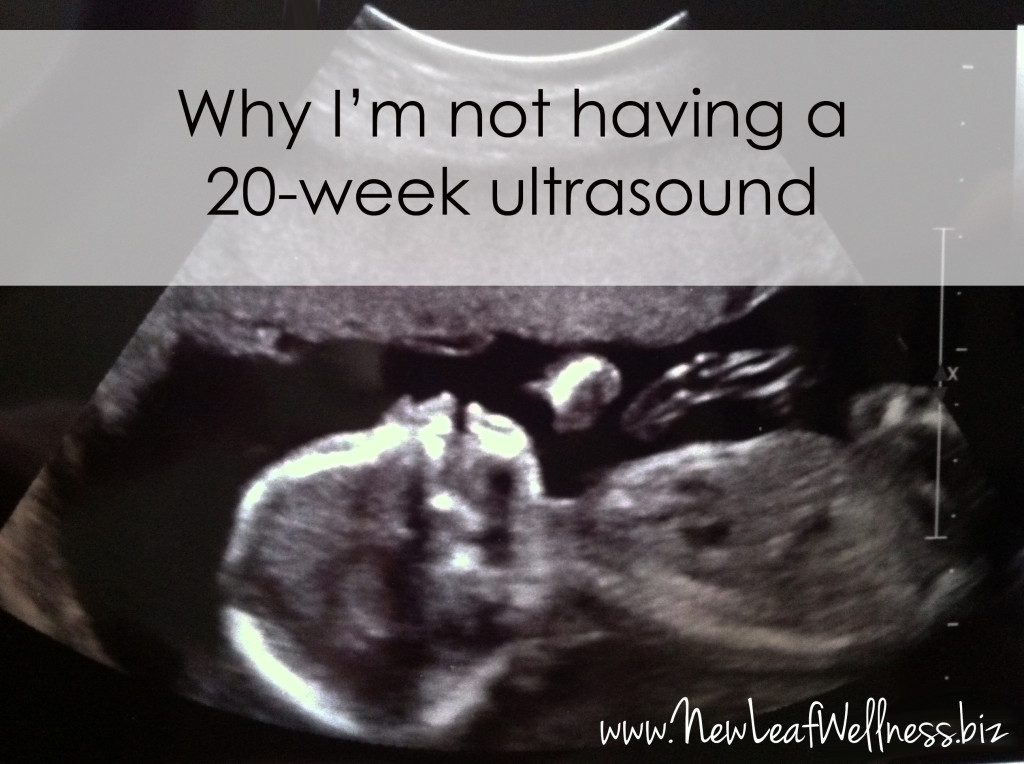 What's a 20-week u/s anyway?
If you've never been pregnant before, the 20-week ultrasound is the one where they check the baby's size, spine, and major organs. The ultrasound tech also looks at the placenta, umbilical cord, and amniotic fluid.  This is the appointment when many people find out their baby's sex.
Benefits of getting a 20-week u/s
People feel very differently about ultrasounds.  Here are some potential benefits:
Opportunity to see and bond with your baby
Chance to rule out potential problems (like birth defects)
Peace of mind (if all measurements and scans are within the "normal" range)
Problems that can be detected
Overall, 3% of babies born in the US have a major malformation at birth (source).
Here are some potential problems and birth defects can be detected during the 20-week u/s:
Low birth weight
Increased risk for Down's Syndrome and other chromosomal abnormalities
Low-lying placenta that's covering your cervix
Serious birth defects (like problems with the baby's heart, brain, and spine)
Cleft lip
Some conditions are easier to detect than others.  It's possible for the baby to have a problem that goes undetected.  It's also possible for a problem to be detected, but after more testing (or the baby's actual birth) to find out that the baby is perfectly healthy.  (This is known as a "false-positive.")
What to do if an anomaly is detected
If the u/s reveals an increased risk for a problem, your doctor or midwife will present you with options for more tests and counseling.
If a serious problem is detected with your baby, you may have the option to abort the pregnancy or prepare for treatment after birth.  Remember, this is very rare because only 3% of babies are born with a birth defect, and some will go undetected during the ultrasound.
Why I'm skipping the 20-week u/s
I'm working with a group of midwives who do not require a 20-week u/s unless there is a cause for concern with the baby or pregnancy.
Everything seems to be fine with my baby and me right now, but I was planning to have an ultrasound anyway…until I heard the first cost estimate from the hospital where I was going to have it done ($823).
Having to pay a large sum out of pocket raised a red flag to me, especially since the u/s was considered "optional."
I polled the ladies who follow my New Leaf Wellness Facebook Page to see if I should suck it up or skip it:
"I would get the ultrasound just because of all the things they can catch now a days, I'd rather know ahead of time if there was something potentially wrong." – Amy

"We had the same thing, totally worth the $$ just to know everything is ok." – Andrea

"Skip." – Heather
After more phone calls between my insurance, the hospital, and the midwives (and an endless amount of frustration), the final number that I would pay out of pocket looked more like $290.
(I should add that I'm only temporarily on a health insurance plan with a high deductible because my husband's new work insurance will kick in until the end of this month.  If I can avoid paying the deductible until then, I won't ever have to pay it.)
So I talked to my husband and one of my midwives again and we decided to skip the ultrasound.
I trust that my midwives will request an ultrasound later down the road if there's any cause for concern (and I will gladly have an ultrasound done if that's the case.)
To me, it's not worth it to pay $200+ if the likelihood of detecting a problem is very, very small.  (I wouldn't do anything if a problem was detected anyway.)
I'm also a pretty relaxed, non-anxious, and optimistic person.  So the whole "paying for peach of mind" thing doesn't apply to me.  I already feel confident that all is well with me and my baby.
I'll just have to bide my time and wait until my baby is born to see his/her sweet face.
So what do you think: Does my decision make sense to you or do you think I'm nuts?  What was your 20-week ultrasound experience like?