New to gardening?  Me too!  Join me for some basic Q&A with a plant-growing pro to find out how to get started…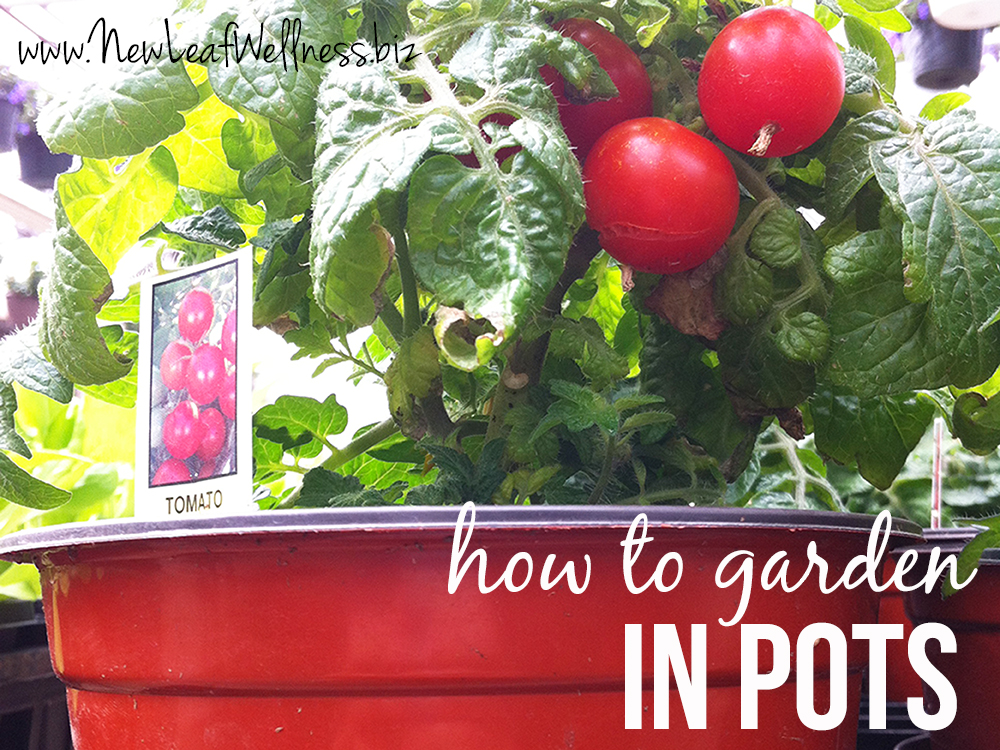 I must admit that I have never tried to grow anything before.  I have no confidence in my ability to keep plants alive.  I don't even keep houseplants.
Heck, I don't even own pets.
That being said, I love cooking with fresh, seasonal produce and a home garden seems like the perfect place to get it.
While planting an all-out garden is not going to happen, I think I can manage a handful of potted plants on my back deck.
To figure out how to get started, I enlisted the help of Lori Chapon, a mom of three who owns Chapon's Greenhouses in Pittsburgh, PA with her husband Pete.  The Chapons are personal friends of mine and I wouldn't trust anyone else with my gardening needs.
Lori graciously agreed to answer all of my questions and not laugh at me for being clueless.  Here are Lori's answers in her own words…     
What vegetables, fruits, and herbs can I grow in pots?
Easy to grow in pots: tomatoes, herbs, peppers, lettuce, small cucumbers, and strawberries.
To be honest, I have a covered back porch, not a deck.  Do the plants in question #1 do better in shade or sunlight?
Lettuce will tolerate some shade, along with some herbs.  Others do best in sun.  Even though your porch is covered, sun may hit somewhere on the ground.  If so, the spot will probably change as summer goes on.
Can I buy the plants already potted or should I try to grow them from seed?
You are likely to be more successful if you purchase plants.  If seeding, you can try lettuce, cucumbers, squash, onions, beans, peas, radishes, and cucumbers.  These can all be started directly outside in time for you to harvest.  Peppers, tomatoes, broccoli, kale, and cabbage are easier to start indoors.
What supplies do I need to get started?
For plants outside (or seeds started outside):
quality potting soil for pots
compost for plants in the ground
lime
water
fertilizer for veggies or flowers
To start seeds indoors:
seed starter
heat mats are helpful
lighting is helpful
mister for watering
When is the best time of year to get started?
Most plants will not tolerate frost, or temps below 40 degrees.  Usually, in our area last frost is mid may.  Cole crops can be started early, and replanted in the end of summer for a late crop……broccoli, cabbages, kale, cauliflower, brussel sprouts, lettuces, onions, kohl-rabi are all examples of cool weather tolerant plants.
What are the biggest threats to plants (bugs/animals/etc)?  How do I protect mine from them?
Deer are always a concern, especially in gardens in ground.  Organic sprays and granules are available.  Hot pepper wax is a safe spray to apply onto your plants, and Deer Scram is an organic granular that is applied on the ground as a barrier.
How often do I need to water my plants?
Plants in full sun will usually need to be watered daily.  Whether in the ground or in containers, soil is most important.  Organic matter (compost) is crucial for good root growth and a good harvest.  We recommend Bumpercrop in the ground, Gardener's Gold as a potting soil, Lime in both planting ways, and Garden Elements Bud and Bloom or Tomato Vegetable Food.  These are only available at Master Nursery Garden Centers.
Am I forgetting anything?
Of course, I am anti chain store, but new gardeners will find the best answers from independent garden centers.
——————————–
Thank you, Lori, for answering my questions and sharing your expertise!  I can't wait to visit your Greenhouses to purchase my plants and supplies and get started!
If you live near Pittsburgh, you can visit Chapon's Greenhouses for gardening advice and all your spring planting needs.  For more information about gardening, check out Chapon's Greenhouses on Facebook and Pinterest.