GIVEAWAY IS CLOSED.
In 1984, President Ronald Reagan declared March 6th as National Frozen Food Day.  President Reagan called upon the "American people to observe such day with appropriate ceremonies and activities."
Never celebrated this momentus occasion before?  Me neither!
I'm a sucker for celebrating holidays though.
To help you celebrate this national holiday in a healthy way, I'm giving away FIVE copies of my cookbook, '15-Minute Freezer Recipes.'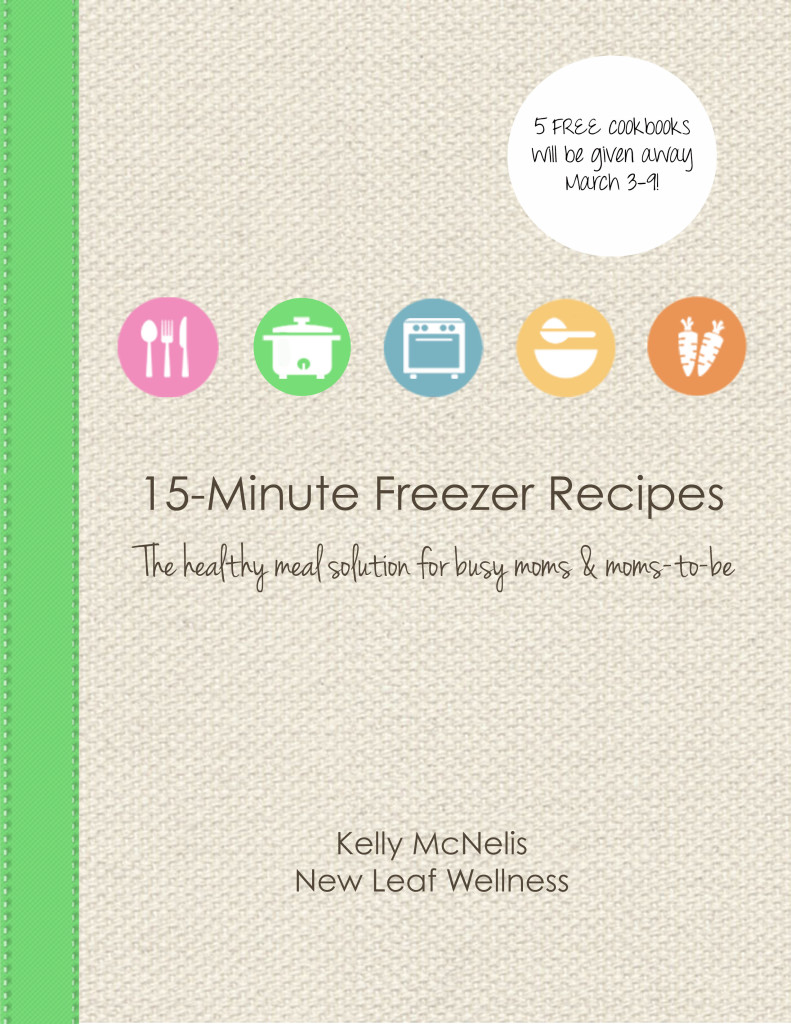 I started freezing meals when my daughter Cameran was a baby and I wanted to save time and stress around the holidays.
Before my second daughter Isla was born, I prepped and froze two week's worth of dinners. It was amazing to have homemade meals on-hand while I was recovering and bonding with the newest member of my family.
Since then, I've mastered an easier method of freezing meals: Simply chop your meats and vegetables, add the sauces and spices, and freeze. Since you're not doing any cooking ahead of time, each recipe can be prepped in 15 minutes or less!  (Hence the title of my cookbook, '15-Minute Freezer Recipes.')
All of my recipes cook in your oven or slow cooker when you're hungry.  Since they're cooking for the first time, they don't taste like typical "frozen foods" or "leftovers."
Inside the Cookbook
My 10 favorite freezer recipes – including recipes for breakfast, dinner, and dessert
My best freezer meal tips – including prep, storage, and cooking
A grocery list for all 10 recipes
Cute labels for your freezer meals
Nutritional information for every recipe
A review from Registered Dietitian Dana White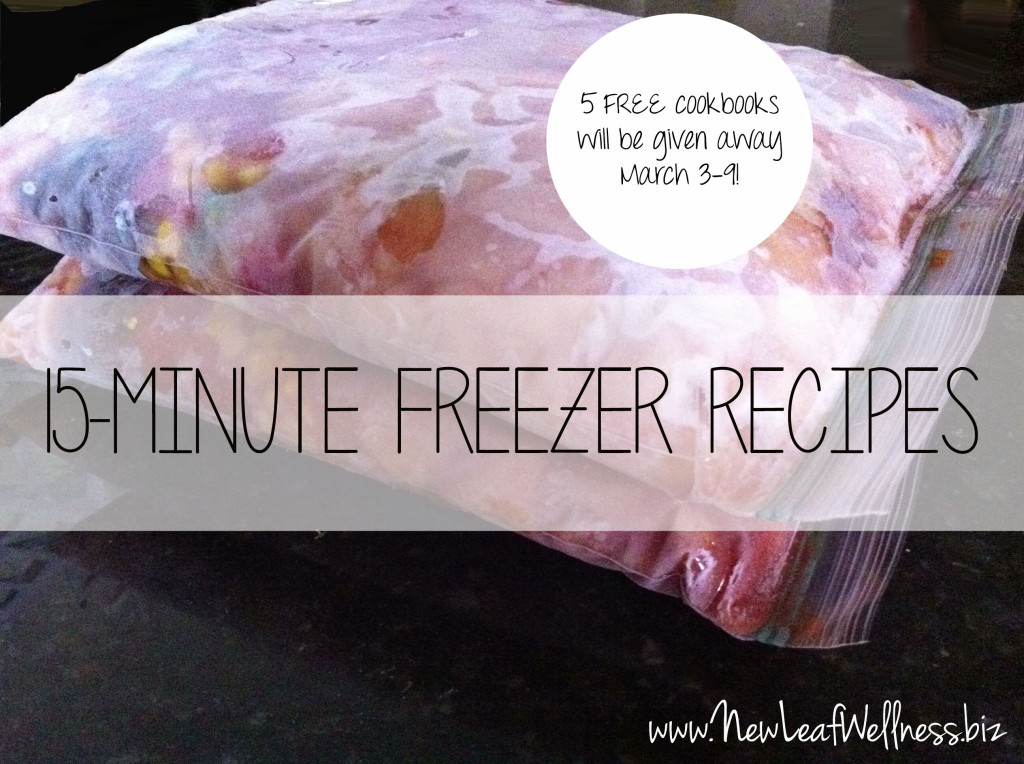 My recipes are so easy that anyone can make them.  No fancy kitchen tools, exotic ingredients, or previous cooking experience required.  Just check out some of the easy recipes I've posted on this blog before: Slow Cooker Turkey Black Bean Chili and Slow Cooker Sweet & Spicy BBQ Chicken.
My daughter Isla is 19 months old now and I still make freezer meals for busy nights when I don't have the time or energy to cook. There simply isn't anything faster than dumping a freezer meal into your slow cooker in the morning.  Plus I love coming home at the end of a busy day to a house that smells like a homemade meal has been simmering in my slow cooker all day.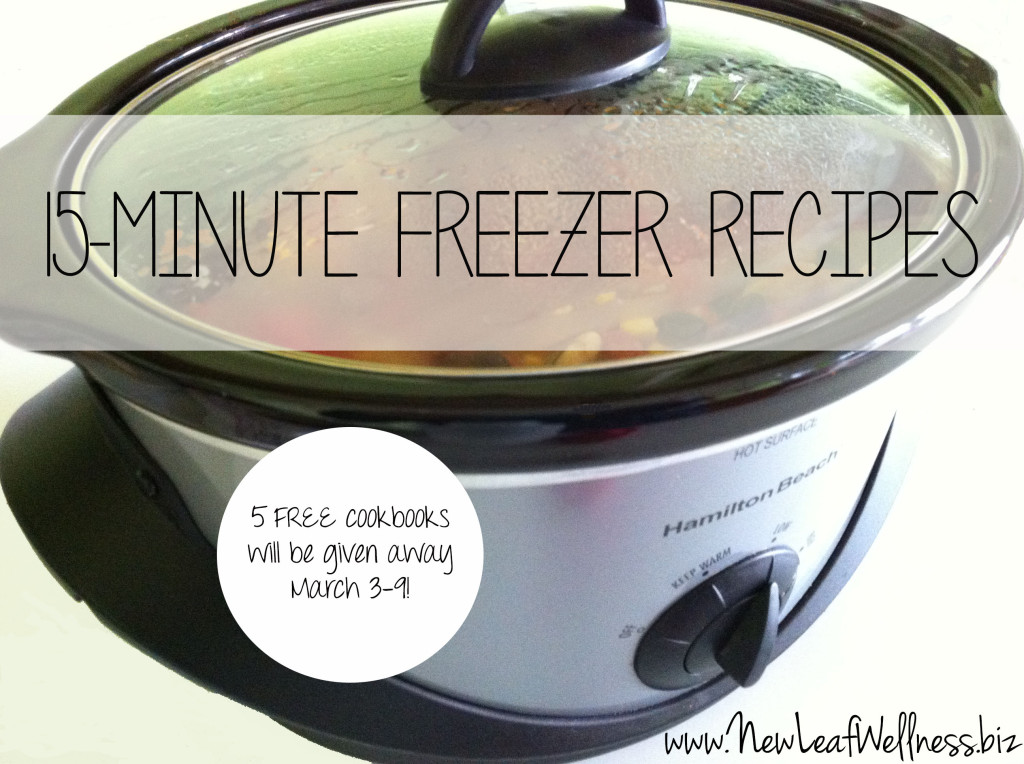 I love sharing my easy, healthy recipes with my private coaching clients and my best friends.
Cookbook Recipe List
Classic Oatmeal
Spiced Carrot Bread
Ham & Veggie Strata
Beef Roast & Carrots
Chicken Chili
Vegetable Barley Soup
Ham & Broccoli Calzones
Mexican Calzones
Chicken Enchiladas
Oatmeal Chip Cookies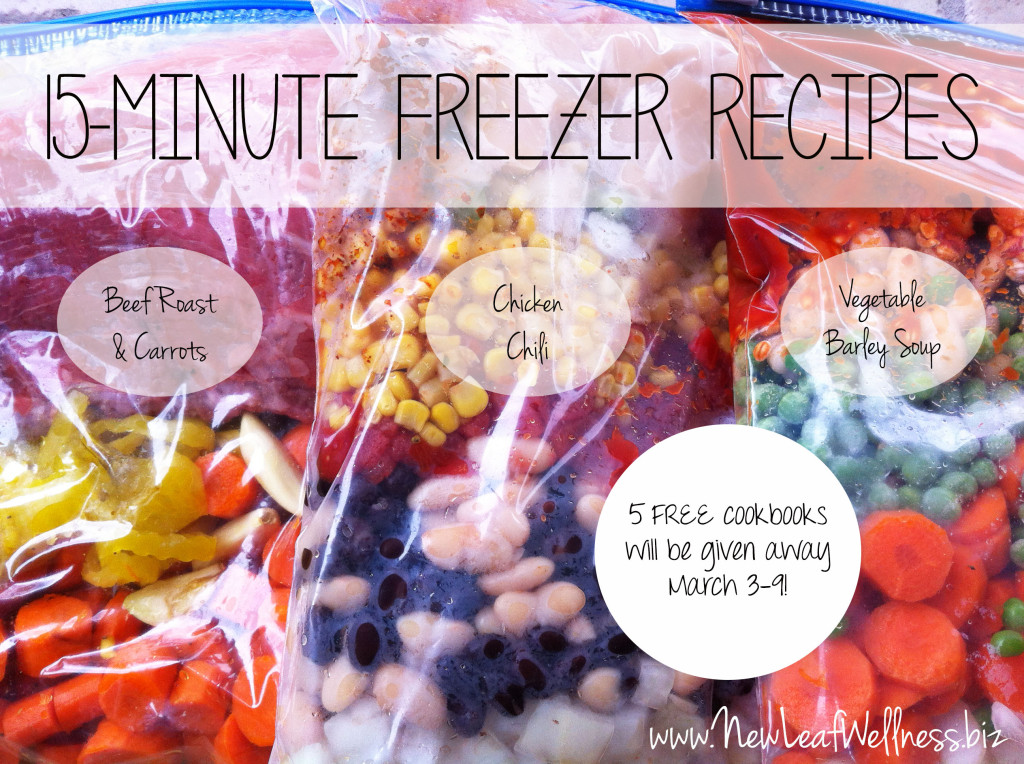 In a previous blog post, I shared my best freezer tips for beginners.  Now is your chance to win a free copy of my cookbook and my very best freezer meal recipes.
If you already have a copy – or simply aren't into freezer meals – this cookbook would make a super cute gift for a pregnant friend.
I will pick FIVE cookbook winners on Saturday, March 9, 2013!  Open to U.S. Residents only.
If you don't want to wait that long, you can purchase '15-Minute Freezer Recipes' as an e-cookbook ($5.99) or printed cookbook ($8.99) today.
To enter (mandatory):
Leave a comment below sharing how you plan meals in advance (or don't)!
Extra entry (optional):
Pin a photo from this blog post to Pinterest with the following, I want to win a 15-Minute Freezer Recipes Cookbook from @kellymcnelis #recipes
GOOD LUCK!
GIVEAWAY CLOSED.  Winners chosen 3/9/13: Leah, Danielle, Karis, Jana, and Cheree.  Congrats, Ladies!