You guys – I have fallen in love with overnight oats. I prep a bunch at a time and eat them every morning after I workout.  They're so good!  I've been sharing pics on my Instagram stories and people keep messaging me for the recipe, so here you go…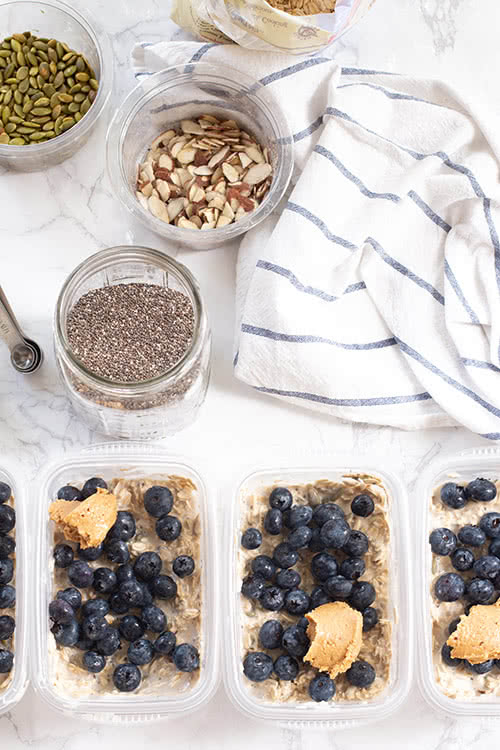 First, let me back up a minute and tell you how they work if you've never made overnight oats before: All you have to do is mix oats with milk and yogurt and let them sit in the refrigerator overnight. (More info about what I use to make them gluten-free and dairy-free later.) I've actually tried skipping the "overnight" step and eating them right after mixing, but the texture is much more "raw."  Not nearly as good.
What's so great about this overnight oats recipe?
The texture is crunchy. I'm the type of person who ALWAYS puts toppings on my oatmeal, yogurt, ice cream, etc. After these oats sit overnight they're creamy, but not too creamy.  This is a big one for me.
They're healthy. I make a special trip to Whole Foods to buy all of the ingredients and it's worth it.  They're so delicious and don't require any extra added sugar.
They're super easy to make ahead of time. I can prep four servings in less than 10 minutes and be set for the week. Yay!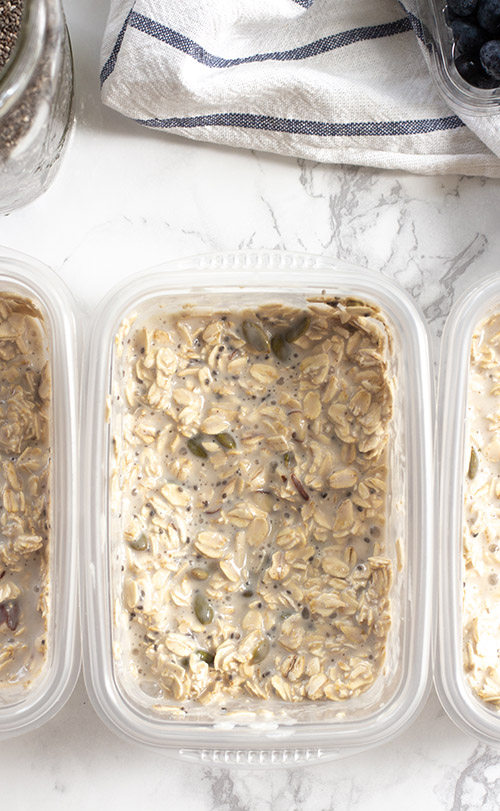 Like I said, I eat these after I workout, so I eat something small when I wake up (like a Clif Bar and coffee) and then workout.  When I get home, I fill up on these oats and a big glass of water.  This recipe yields a large serving that keeps me full until lunch and cuts out a lot of my unhealthy snacking.   Amazing, right?
Print
Gluten-Free Dairy-Free Overnight Oats Recipe
---
Description
This recipe is for one large serving of overnight oats. You can make several at a time and store them in the refrigerator for up to five days.  I buy 24 oz containers of yogurt so I make four at a time.
---
Ingredients
6 oz

yogurt (I use Forager cashew yogurt – vanilla flavor)

1 cup

gluten-free rolled oats (I use Bob's Red Mill brand)

1/4 cup

milk (I use flax milk with protein – Good Karma brand)

1 tablespoon

roasted unsalted pepitas (for crunch)

1 tablespoon

raw sliced almonds (for crunch)

1 teaspoon

chia seeds (for fiber, protein, and other magical healthy stuff)

1/4 pint

of blueberries

1

scoop natural peanut butter (for extra protein; optional)
---
Directions
Mix yogurt, oats, and milk to desired consistency. (See my photos for how I like it.)
Add pepitas, sliced almonds, and chia seeds and mix.
Top with blueberries and peanut butter (optional) or whatever else you like.
Thoughts or questions?  Leave a comment below and I'll respond as soon as I can. I'd love to hear from you. xoxo, Kelly