You're going to love this easy recipe for crockpot chicken with peach stuffing.  The whole thing cooks in the crockpot – even the stuffing!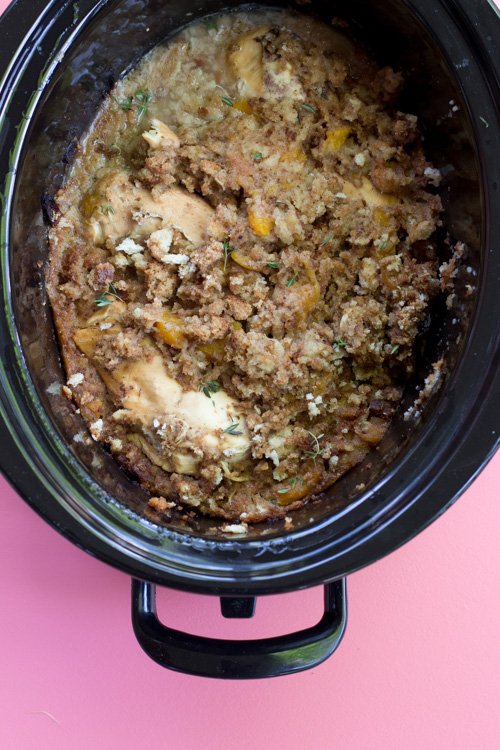 One of our readers sent us her favorite recipe for crockpot chicken with peach stuffing. We loved that it was a one-pot meal and that it contained a starch, which doesn't happen that often in crockpot meals. I was also really intrigued by the use of allspice as I had only ever really used it in Jerk food like my Crockpot Caribbean Jerk Chicken Tacos.
Honestly, the only thing I changed about it was that I used frozen peaches instead of canned peaches because canned peaches are often served in heavy syrup which isn't that great for you.  I also used chicken broth instead of water to add a little more savory flavor. Oh, I also doubled the amount of chicken because we like leftovers! The first time I made it I used plain dry stuffing. It was delicious, but I decided to try it again using herbed dry stuffing and I liked it even more.
Crockpot Chicken With Peach Stuffing
Yields 6 cups
Ingredients
2 pounds boneless skinless chicken breasts, fat trimmed
16oz frozen sliced peaches
1 cup chicken broth
2 tablespoons butter
1 tablespoon brown sugar
1 tablespoon apple cider vinegar
1/4 teaspoon allspice
4 cups herbed dry stuffing (8-10oz) (not needed until day of)
Directions
Combine all ingredients, except dry stuffing, in crockpot.
Cook on low for 6-8 hours.
Add dry stuffing.
Stir and let sit for 5 minutes.
To Freeze and Cook Later
Label your freezer bag with the name of the recipe, cooking instructions, and use-by date (three months from when you prepped the dip).  To your freezer bag, add all ingredients, except for dry stuffing.  Remove as much air as possible, seal, and freeze for up to three months.  When ready to cook, thaw in refrigerator overnight or in morning in water and and then follow cooking instructions above.
Serve with cranberry sauce and Brussels sprouts.
---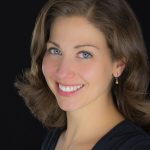 Jill Petrush Rogers is an artist and former bookbuyer/seller. Jill recently moved back to her hometown of Pittsburgh, PA with her husband, Tom, and their two energy-filled boys. Jill loves to channel her creativity by coming up with recipes as a contributing writer for New Leaf Wellness.