This sweet and spicy shredded beef barbacoa is the perfect spring/summer crockpot meal.  It's fresh, healthy, delicious, and so easy to make!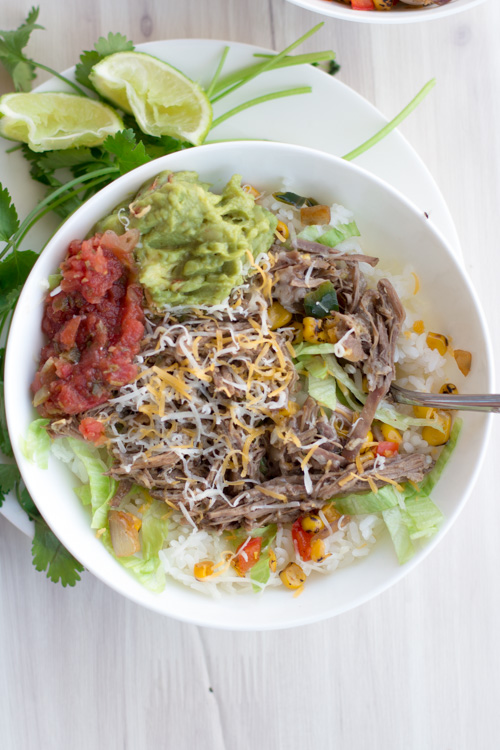 This recipe was inspired by a fresh salsa that I bought from Whole Foods.  It had the perfect amount of sweetness from mango/pineapple and spice from jalapenos.  I knew I had to replicate it in a crockpot recipe, and beef barbacoa immediately came to mind. The word "barbacoa" refers to slow cooking the beef and that's exactly what you do here.  The meat will easily shred when it's down cooking and melt in your mouth.
I chose to use a small can of pineapple chunks instead of fresh pineapple because a whole pineapple would have been way too much and I don't like to have leftover ingredients.  (Plus, the can was only $1!) . If you have a fresh pineapple on-hand, and can spare a cup, feel free to substitute.
A tablespoon of brown sugar is included in the recipe because it helps the beef taste sweet, but not too sweet.  You can omit it if you're following the Whole30 diet, and the meat will still taste delicious.  It just won't have the sweet/spicy combo that I adore.

Crockpot Mango Pineapple Beef Barbacoa
Yields: 6 servings
Ingredients
2-pound boneless beef round sirloin tip roast (or chuck roast)
1 mango, diced
1 jalapeno pepper, diced (omit the seeds for a mild dish)
1 small red onion, diced (1 cup)
4 cloves garlic, minced
the juice from 1 lime
8oz can pineapple chunks in 100% juice (or 1 cup fresh)
1 tablespoon packed light brown sugar (omit for Whole30)
1 teaspoon salt
Directions
Add all ingredient to crockpot and cook on low setting for 6-8 hours or until beef shreds easily with a fork.
Shred meat and mix with liquid in crockpot.
Serve with a slotted spoon.
To Freeze and Cook Later
Label a gallon-sized plastic freezer bag with the name of the recipe, cooking instructions, and "use-by" date (which should be 3 months from when you prepped the meal).  To the freezer bag, add all ingredients. Remove as much air as possible, seal, and freeze flat for up to three months.  When ready to eat thaw overnight in refrigerator or in morning in water.  Cook for 6-8 hours on low setting.
Serve on soft tortillas or rice (or cauliflower rice).  Top with shredded lettuce, chopped fresh cilantro, salsa, and guacamole.
Thoughts or questions?  Please leave a comment below and I'll respond as soon as I can.  I'd love to hear from you. X+O, Kelly