Who doesn't LOVE a warm, cheesy, restaurant-worthy Italian dish on a cold snowy evening?! I sure do! And so does my family.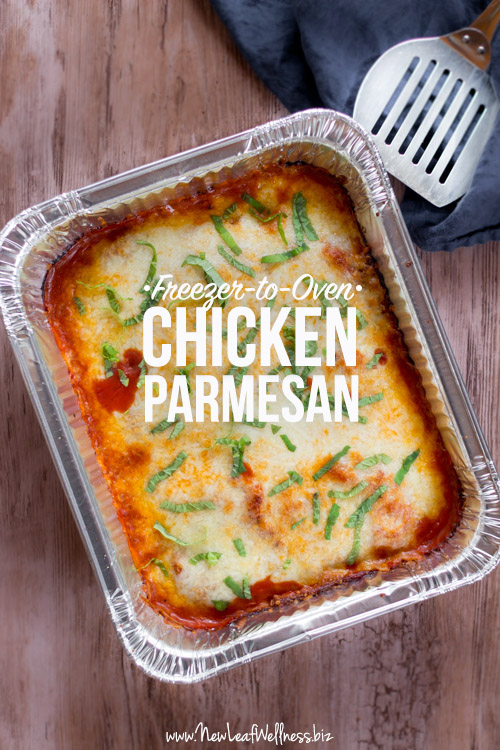 We try to eat a healthy, well-balanced diet, but we're also firm believers of "everything in moderation".  Chicken Parmesan often involves breading and frying chicken cutlets before covering in sauce and cheese. This healthier version takes away the stress, mess, and extra fat and calories from frying. All you have to do is bread and freeze the chicken for up to three months. Then, on a cozy Sunday afternoon, you pop it in the oven (still frozen!) and bake for 1-2 hours.  Add some sauce and cheese at the end to melt and brown.  So easy!
I love this method because you can spend and hour or so breading several pans, store them in your freezer and be ready for a company-worthy meal at the drop of a hat. You don't even have to thaw it before putting it in the oven!
This is how Kelly and I prepared all of the dishes in our Freezer Oven Mini eCookbook and I know you're going to love this new chicken parm recipe.

Easy Freezer-to-Oven Chicken Parmesan
Yields: 6 – 8  servings
Ingredients
1/4 cup all purpose flour
1 large egg, lightly beaten
2 tablespoons 2% milk
1/2 cup Italian seasoned bread crumbs
2 tablespoons grated parmesan cheese
2 teaspoons dried parsley
1/2 teaspoon garlic powder
2 pounds boneless skinless chicken breasts
20 oz jar marinara sauce (not needed until day of cooking)
8 oz shredded mozzarella cheese (not needed until day of cooking)
To Freeze and Cook Later
Coat 9×13″ pan with cooking spray.  (An aluminum or disposable pan will work.  I don't recommend using glass because it can't go straight from the oven to the freezer.)
Add flour to a shallow bowl or plate.
In a separate bowl, combine egg and milk.
In a third bowl, combine remaining dry ingredients (breadcrumbs, parmesan cheese, parsley, and garlic powder).
Dip each chicken breast in flour first, then wet mixture, then dry mixture, and place in pan.
Cover pan with lid or aluminum foil and freeze for up to three months*
To Cook
Pre-heat oven to 400° Fahrenheit.
Add frozen pan to oven and bake 1 1/2 hours covered.
Uncover, pour on sauce, and sprinkle with cheese.
Bake, uncovered, for an additional 15 minutes, or until cheese starts to brown and chicken reaches an internal temperature of 165° Fahrenheit.
*If you want to skip the freezing step, bake for 30-40 minutes covered  and then an additional 15 uncovered with sauce and cheese.
Serve with pasta and a fresh garden salad.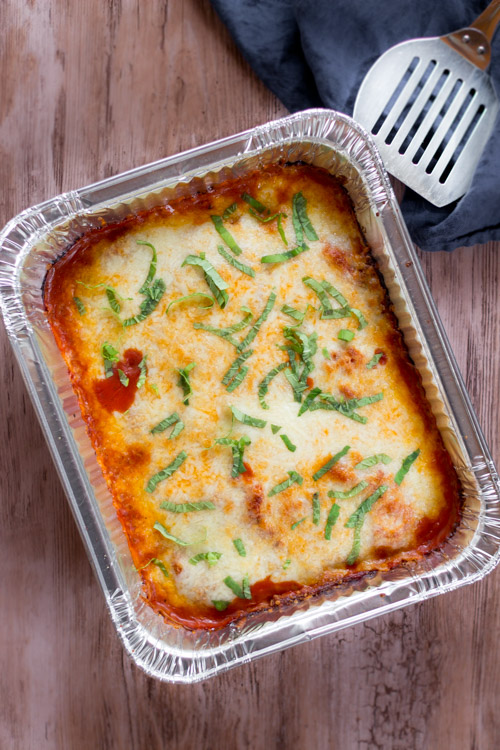 ---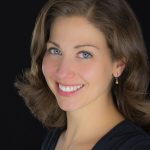 Jill Petrush Rogers is an artist and former bookbuyer/seller. Jill recently moved back to her hometown of Pittsburgh, PA with her husband, Tom, and their two energy-filled boys. Jill loves to channel her creativity by coming up with recipes as a contributing writer for New Leaf Wellness.