Ditch the canned stuff and make this easy crockpot recipe instead!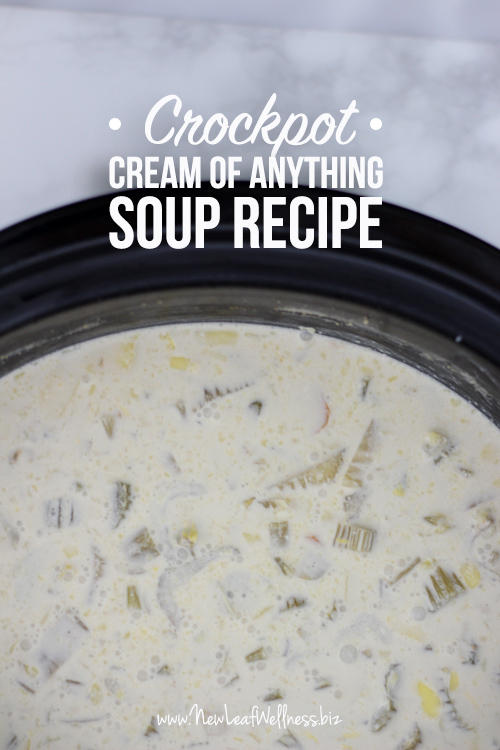 It's always such a bummer to come across a recipe that sounds so good, to find out that it calls for a can of "cream of something soup".  I like easy recipes, but I also like them to be minimally processed, so I decided to come up with my own homemade substitutes.  Below, you'll find my favorite recipe for homemade "cream of anything" soup.
What's so great about this "cream of anything" soup recipe?
It's healthy. This recipe is wholesome, delicious, and doesn't contain any of the nasty ingredients (like monosodium glutamate…MSG!) that are in popular canned brands.
It's easy to make.  All you have to do is put the ingredients in your crockpot and forget about it.
It's freezer-friendly. That means you can make a big batch at once and then grab individual containers anytime you need one.  Work once, eat many, many times.
Unlike canned soups, this one holds its own.  It is just as delicious left whole (not pureed) and served with warm, crusty bread.  In fact, if you're all right with added texture in your recipes it's completely fine to not puree it at all!

Healthy Homemade "Cream of Anything" Soup Recipe (Crockpot Version)
Yields 11 cups or 8 cans
Ingredients
1 1/2 pounds chopped main ingredient – celery, mushrooms, or raw chicken breasts
2 carrots, chopped
1 yellow onion, diced
2 cloves garlic, minced
32oz low sodium chicken (or vegetable) stock
16oz whipping cream
1 tablespoon butter
1 teaspoon black pepper
1/2 teaspoon salt (optional)
2 bay leaves
*if you want to skip pureeing, finely chop main ingredient, carrots, onion.
Directions
Place all ingredients in crockpot and cook on "low" for 8 hours.
Remove bay leaves.
Eat or freeze!
To Freeze
Instead of freezing BEFORE cooking, like so many of our other recipes, I like to freeze this one AFTER cooking.
Cool completely.
Puree in blender or food processor (optional).
Add to freezer bags or individual containers and freeze.  I like to freeze in 10.5oz increments like the little canned soups.  I use my liquid measuring cup to pour about 10.5oz into each of these 16oz containers.  They're large enough to leave enough room for freezing, stack well, and are easy to use one or two at a time in my favorite recipe.
Although, if you have extra chicken/celery/mushrooms on hand, you're welcome to combine all of the ingredients and freeze for later.  The soup can still be frozen after cooking too.
Note: This soup is not condensed, so if you use it in a recipe you may want to use 2 containers instead of one and/or cut some of your liquid out of the recipe. If you have any questions about conversion, feel free to post your question here!
Thoughts or questions?  Please leave a comment below.  I'd love to hear from you. 
---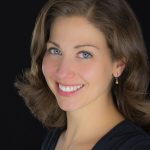 Jill Petrush Rogers is an artist and former bookbuyer/seller. Jill recently moved back to her hometown of Pittsburgh, PA with her husband, Tom, and their two energy-filled boys. Jill loves to channel her creativity by coming up with recipes as a contributing writer for New Leaf Wellness.