Stock your freezer with these turkey burger burritos and you'll never want to eat out again. They're healthy, budget-friendly, and so easy to make!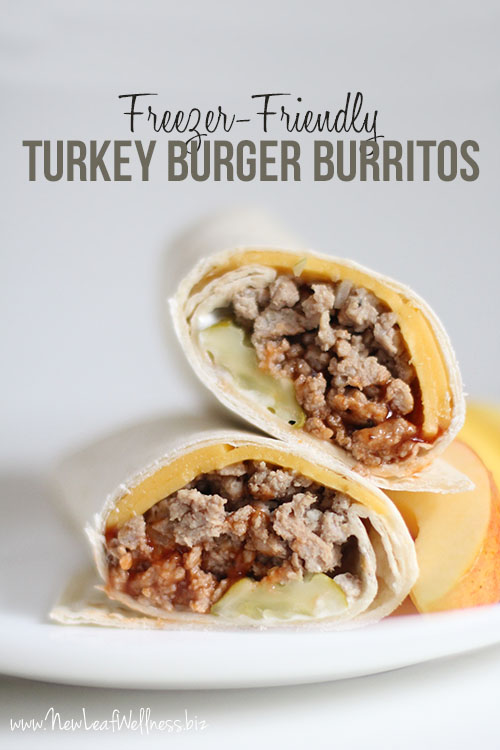 Reasons I love these Turkey Burger Burritos:
They're the perfect quick meal.
THEY'RE DELICIOUS.
You can buy the turkey in bulk and freeze a bunch at once. (I bought my ground turkey at Costco for $2.79/lb.)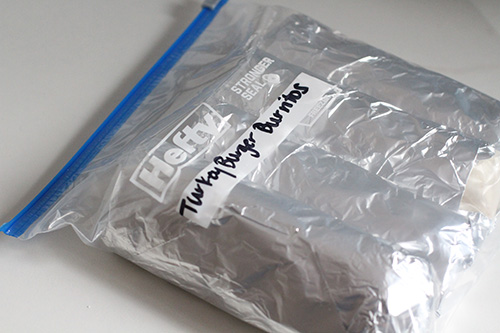 Freezer-Friendly Turkey Burger Burritos
Yields: 8 burritos
Ingredients
Olive oil or cooking spray
2 pounds ground turkey
1 tablespoon minced onion flakes
1 tablespoon Montreal steak seasoning (you can substitute salt and pepper in a pinch)
8 burrito-sized tortillas
16 slices of cheese (optional)
Waxed paper
Foil
Gallon-sized freezer bags
To Freeze and Eat Later
Place a large skillet on your stovetop and coat with olive oil or cooking spray.
Add ground turkey and brown it with minced onion flakes and Montreal steak seasoning.
Cool ground turkey mixture to room temperature.
Top each tortilla with two slices of cheese and 2/3 cup ground turkey and wrap up like a burrito.   (You can see how I wrap my burritos in my Breakfast Burrito Recipe.)
Wrap each burrito in layers of waxed paper and foil and place in freezer bag.
These burritos will last three months in a standard freezer.  To eat, remove individual burrito from foil and wax paper and heat in microwave or oven until filling is heated through.
Serve with fresh fruit and your favorite burger condiments, like ketchup, mayo, and relish.  YUM.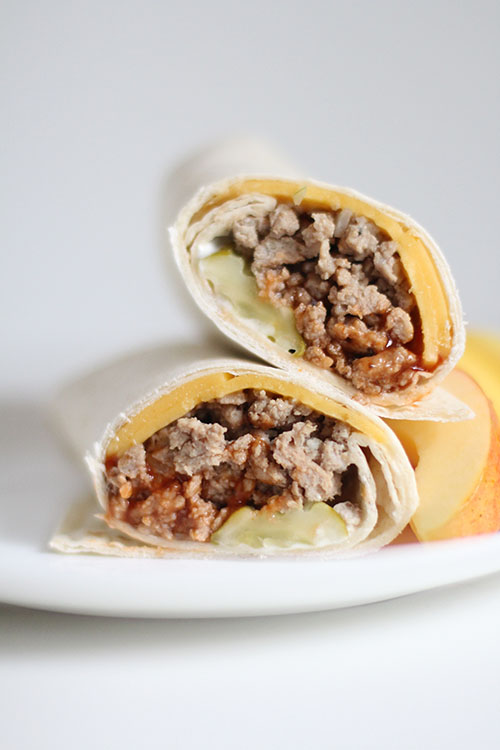 Thoughts or questions? Please leave a comment below and I'll respond as soon as I can. I'd love to hear from you.