A lot of people swear by slow cooker liners so I decided to test them out myself.  If you're new to slow cooker liners too, let me explain exactly what they are and if I think they're worth it.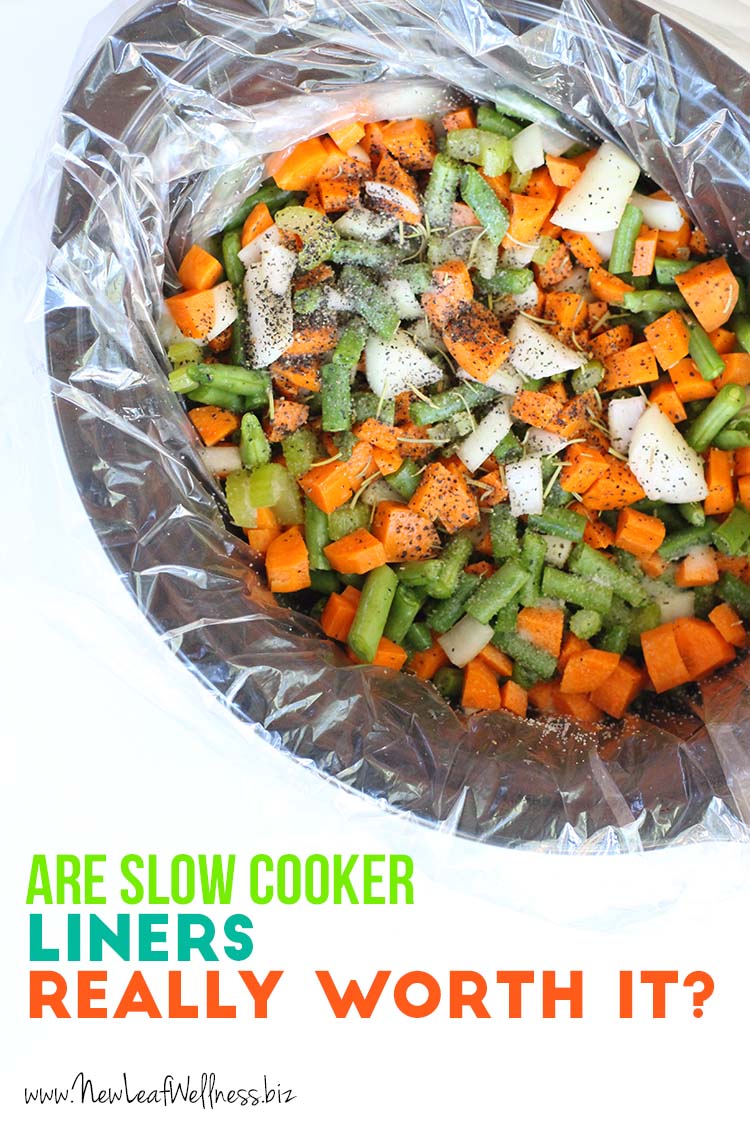 What are slow cooker liners?
They're plastic bags that you put into your slow cooker (AKA crockpot) before adding the food.  One liner is used per meal and thrown away after the meal is eaten.
Why would I use slow cooker liners?
The biggest benefit is that they line your slow cooker so there is no mess left to clean up.  When you're done eating, you simply remove the bag and throw it away.  There will be some moisture left in the slow cooker, but all you need to do is wipe it out – no soaking or scrubbing necessary!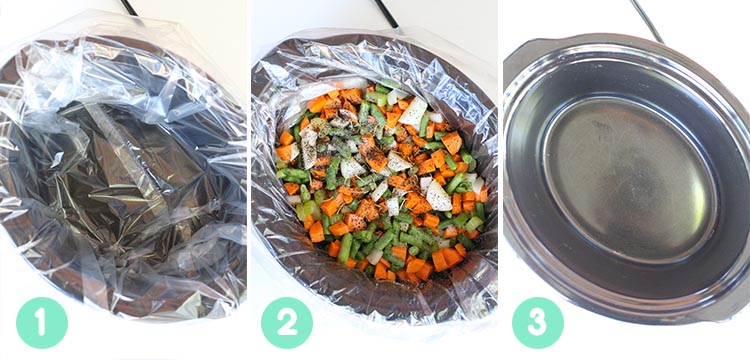 Who should use slow cooker liners?
Anyone with a medical condition that limits use of their hands
Anyone who hates doing dishes
Anyone who gives slow cooker freezer meals as gifts (I bought slow cooker liners for my grandparents to go with their 20 mini crockpot freezer meals and I'm going to start giving them to my pregnant friends when I make them freezer meals.)
Are liners BPA-free?
Many people avoid using plastic items with their food (like plastic Tupperware and slow cooker liners) because some plastics contain BPA (bisphenol A), a chemical that can seep into food and have negative health consequences.  (You can read more info about BPA from the Mayo Clinic.)
There are many different brands of slow cooker liners, so I would read the box carefully before buying or research the brand online.  Crock-Pot brand liners are BPA-free.  So are Reynold's Slow Cooker Liners, which are the ones that I tested.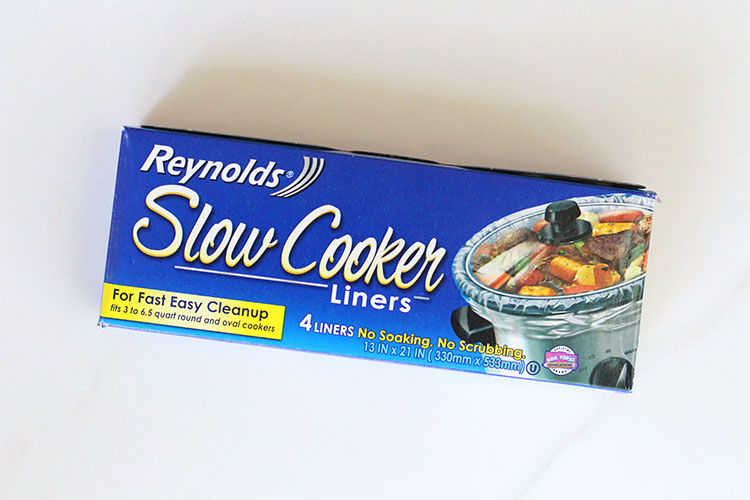 What size slow cooker do they fit?
It looks like most liners fit 3-7 quart oval and round slow cookers.  My grandparents have a 2.5 quart slow cooker and I don't think it's too small for a liner.  There will just be extra liner hanging outside the slow cooker.
Can you use liners with slow cooker freezer meals?
Readers have left comments on my blog saying that they assemble their slow cooker freezer meals in slow cooker liners and then place the liners in gallon-sized plastic freezer bags and place them in the freezer.  (Most people say that they reuse the outer freezer bag after cooking the meal.)  Now that I've used the liners myself I have no idea how this is done.  I stack my freezer meals to save space in the freezer and can't figure out how to properly seal the liner so that the meal doesn't spill out.  In my case, I would freeze the meal in a regular freezer bag and then dump it into the liner the day of cooking.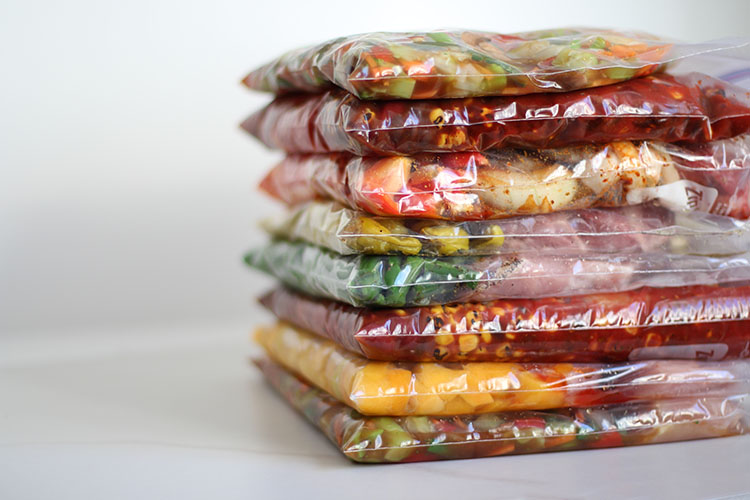 How much do they cost?
There are a bunch of different brands of slow cooker liners and the cost varies.  My local grocery store had boxes of four Reynold's Slow Cooker Liners on sale for $1.99 each, which works out to about 50¢ per liner.  This pack of 20 liners on Amazon costs $13.70, which works out to about 69¢ per liner.  I saw some cheaper liners sold on Amazon, but they had bad reviews so I would be wary of those.  (P.S. I'm not great at clipping coupons, but I saw a 55¢ off coupon in the most recent Red Plum ad.  Doubled that would be $1.10 off a box!)
Where can you buy slow cooker liners?
A quick search online shows that they're sold in a ton of different stores.  (For example, Kohl's, Target, eBay, Amazon, and Walmart.)  You can find slow cooker liners at most grocery stores near the foil and plastic wrap.  I've also heard of people finding them at The Dollar Store.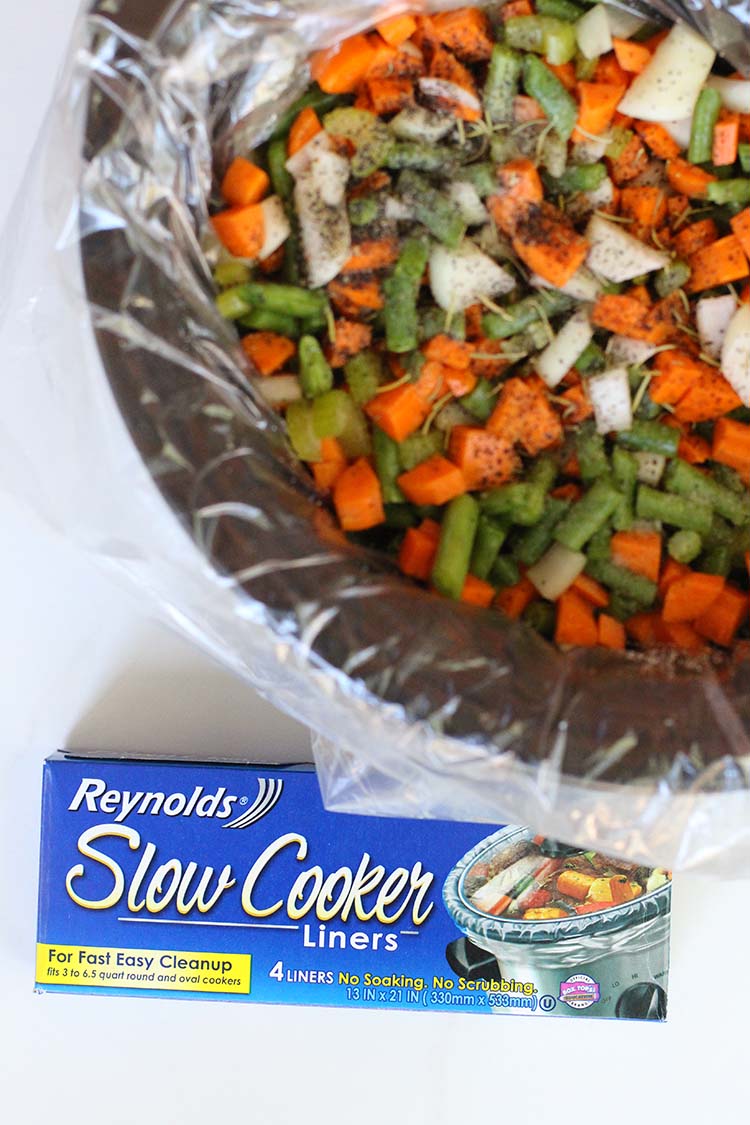 Are slow cooker liners really worth it???
A lot of people swear by slow cooker liners so I decided to test them out myself.  My husband does the dishes after dinner so I thought he would be most excited about them.  After trying a couple of them we decided that they were a cool invention but not something that we'll use everyday.  I make slow cooker meals A LOT (usually 5x a week), so the cost would add up and the idea of cooking our meals in plastic everyday wasn't appealing to us.  I'll buy them when I see a great sale or have a coupon and use them for meals that tend to stick to the pan.  I'll definitely buy them for slow cooker freezer meals that I make as gifts.
Have you ever used slow cooker liners?  If you have an experience to share or a question to ask, please comment below.  I'd love to hear from you.