I'm kind of obsessed with these mini chicken pot pies.  They taste like the ultimate comfort food and are the perfect meal to have on-hand when you only need one serving at a time.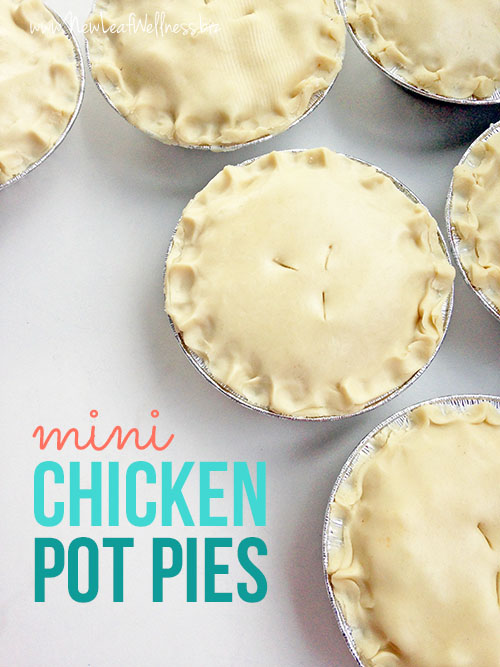 These mini chicken pot pies were inspired by my three-year-old and my grandparents. My daughter loves chicken pot pie and I've been wanting to make her a healthier option than the frozen stuff at the grocery store.  I also like the idea of giving them to my grandparents, who simply can't eat a whole 9″ pie.
I actually looked up mini disposable pie pans on Amazon, but found them for sale at my local grocery store chain the same day!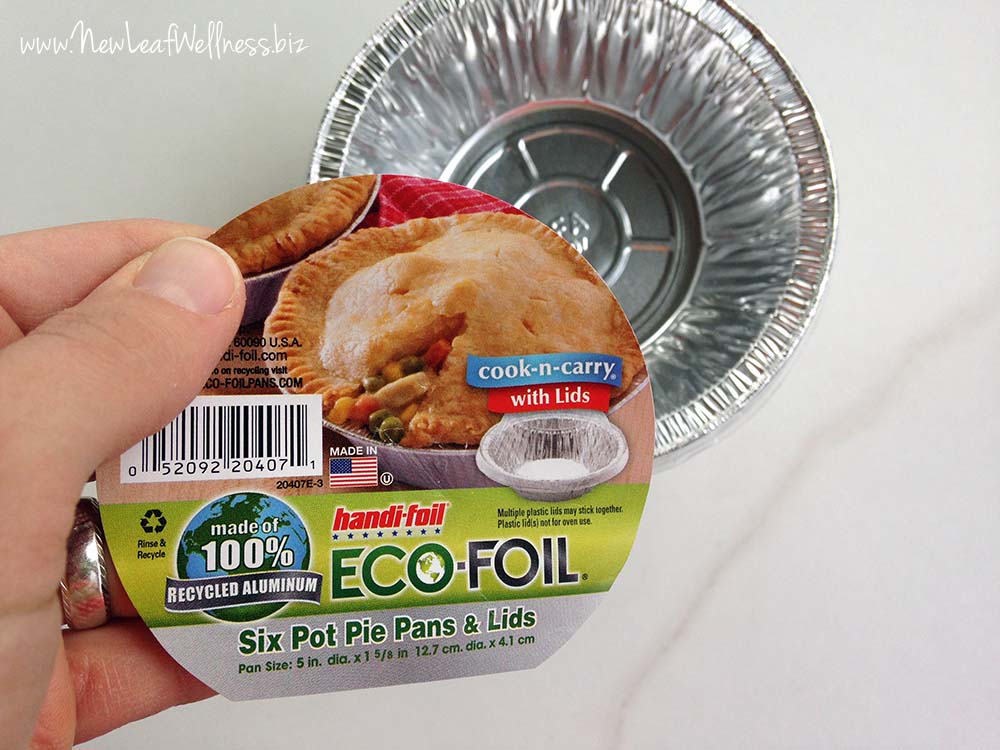 If we love eating these mini chicken pot pies as much I think we will, I'm going to invest in reusable glass mini pie pans next time (affiliate links).
The thought of making my own pie crust totally intimidates me so I bought two boxes of the refrigerated stuff at the grocery store.  They were on sale for 2 for $5 and I decided the extra cost was worth it.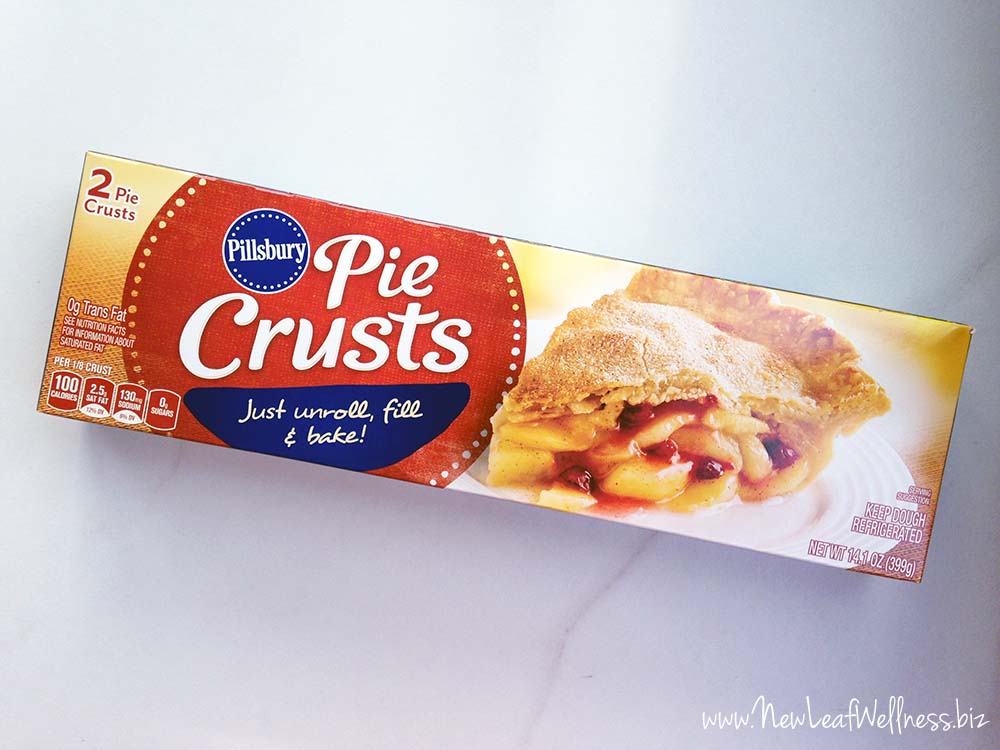 Overall, I spent $17.49 on the crusts, chicken, vegetables, and pans needed to my mini chicken pot pies.  That works out to only $2.92 per pie!  But, if you want to save money, making your own crust is definitely the way to go.
I doubled my favorite chicken pot pie recipe and ended up with six mini pot pies.  (That means each mini is 1/3 of a regular, deep-dish chicken pot pie.)
To figure out how to cut the right size of crust for the bottoms and tops of my pies, I followed the advice on Everything Pies and measured all of the bowls and lids in my kitchen until I found two that were the right size.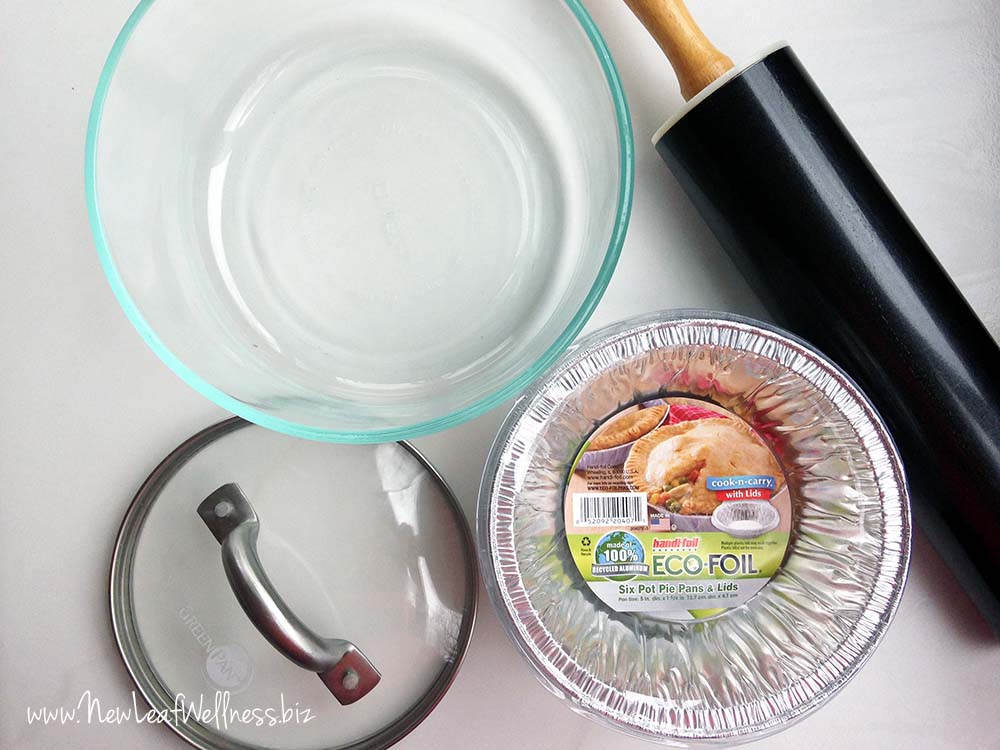 I love stocking my freezer with homemade meals, so froze all of my chicken pot pies.  There's no reason why you can't bake your pies immediately instead though.  Just make sure to shorten the cooking time so you don't burn them.
Mini Chicken Pot Pie Recipe
Yields: 6 mini chicken pot pies (5″ across each)
Ingredients
2 lbs boneless skinless chicken breasts, fat trimmed
1 pound bag of frozen mixed vegetables (corn, carrots, peas, green beans, and lima beans)
3 medium-sized potatoes, peeled and diced (3 cups)
1/3 cup unsalted butter
2/3 cup yellow onion, diced
2/3 cup all-purpose flour
1 teaspoon salt
1/2 teaspoon black pepper
1/2 teaspoon celery seed
1/4 teaspoon poultry seasoning
2 cups chicken broth
2 cups 2% milk (or whatever you have on-hand)
4 pie crusts (I used store-bought)
Directions
In a large pot, combine chicken, vegetables, and potatoes. Add water to cover and boil for 12 minutes, or until chicken is cooked through. Remove from heat, drain, and set aside.
In a large saucepan, prepare sauce: Cook onions in butter until soft and translucent. Stir in flour, salt, pepper, celery seed, and poultry seasoning to form a paste. Add chicken broth and milk. Stir and bring to boil for one minute or until sauce thickens. Remove from heat, set aside, and cool to room temperature (about 30-45 minutes).
Prepare the pie crusts according to your favorite homemade recipe or the directions on the box.  Cut the circles for the bottoms and tops of your pies and place the bottom crusts in each pan.
Combine sauce with cooked chicken and vegetables, and spoon into prepared pie pans.
Cover with top crusts, seal edges, and cut away excess. Make 2-3 small slits in the middle of each top to allow steam to escape.
If freezing, cover each pie with a layer of wax paper and the lids that came with the pans.  (If you don't have lids, add a layer of foil instead.)
Place in the freezer for up to three months.
When you're ready to eat, pre-heat the oven to 350 degrees F and bake uncovered pies for 75 minutes, or until the crust is golden brown and filling is bubbly.  Enjoy!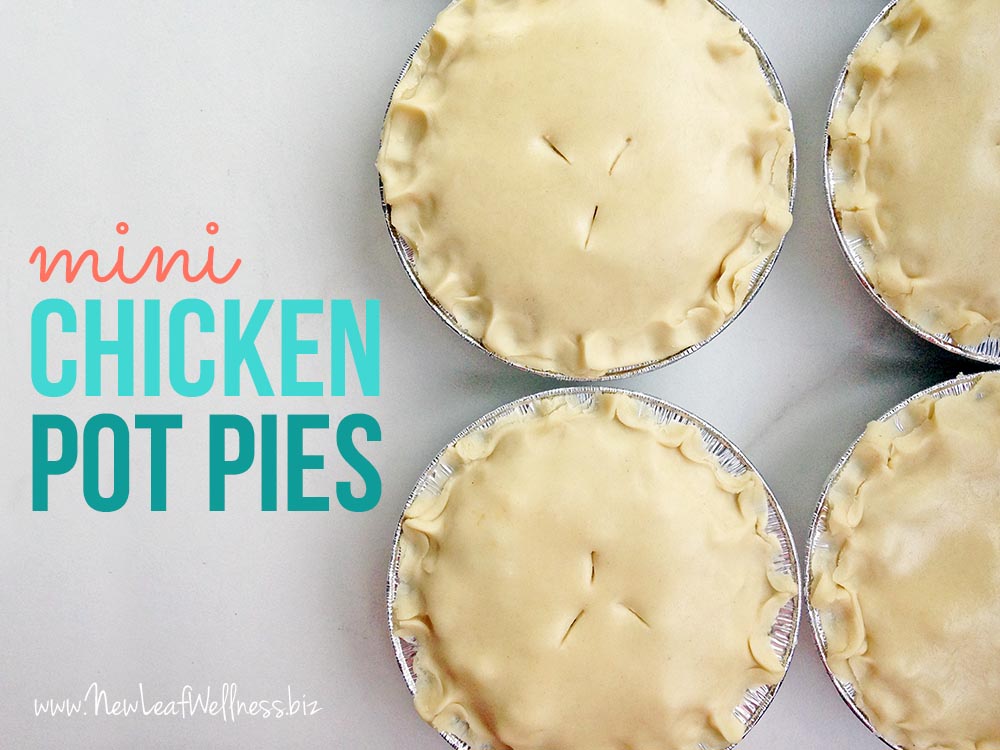 Thoughts or questions? Leave a comment below. I'd love to hear from you.