Homemade pumpkin purée is so easy to make: Simply cut a pumpkin in half, roast it in the oven, and purée the inside.  Yum!  Here's exactly what you need to know to save time and money by making this delicious stuff yourself.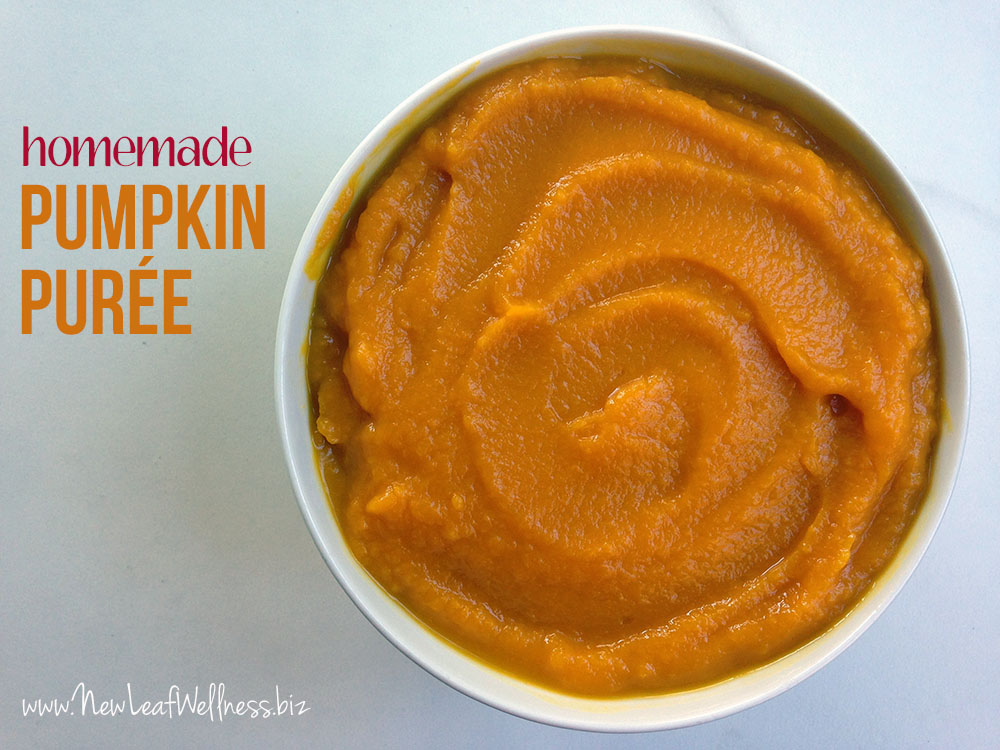 Last week, I drove by a local farm stand selling pumpkins and couldn't resist stopping.  My 5-year-old and 3-year-old hopped out of the minivan to pick pumpkins to carve while I settled on three pumpkins to cook.
I knew exactly what I wanted to make: Homemade pumpkin purée for pumpkin pie smoothies.  I'm addicted!  I made my first batch of pumpkin purée a few weeks ago and can't get enough.
Small pumpkins were BOGO, so I spent a total of $6 on three.  That's about half as much as it would have cost me to buy a similar amount of canned pumpkin purée at the grocery store!  Sometimes I'm willing to pay more for the convenience of a can, but homemade pumpkin purée tastes so good that it's worth making myself.
How to Make Homemade Pumpkin Purée
Yields: About 4 cups of homemade pumpkin purée
Ingredients
5 pound pumpkin (about 6 inches around)
1/2-3/4 cup liquid (like water or milk) to help with puréeing, optional
Directions
Pre-heat oven to 400 degrees F.
Wash the outside of the pumpkin and cut off the stem.  Cut the pumpkin in half length-wise.
Scoop out the seeds and slimy stuff inside and discard (or save the seeds to make roasted pumpkin seeds!).
Place both pieces of the pumpkin inside-side down on a cookie sheet and bake 50 minutes or until the outside is soft and has some "give" when with touched with an oven mitt.
Cool to touch (about 30 minutes).
Remove peel and discard.
Purée everything left in a blender or food processor until smooth.  I use this simple smoothie machine. (Amazon affiliate link).  You may need to add 1/2-3/4 cup liquid to help your machine.
Store your homemade pumpkin purée in the refrigerator up to a week or freeze up to three months.

To Freeze
Freeze in quart-sized plastic freezer bags or ice cube trays.  I froze my pumpkin purée as cubes so I could easily add it to my pumpkin pie smoothies.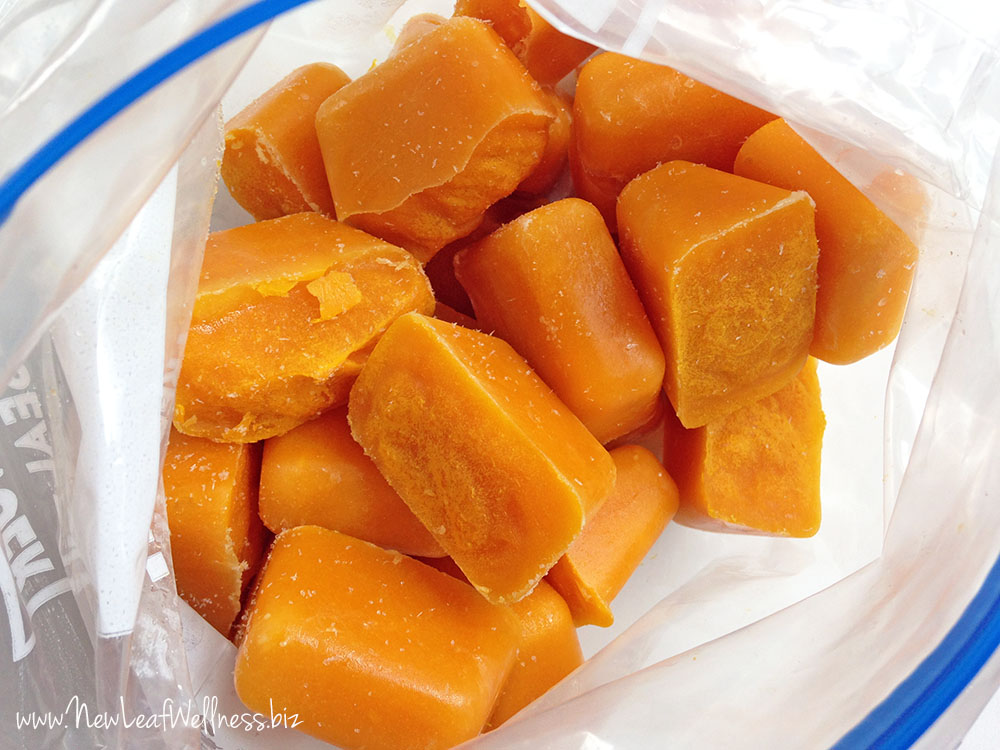 You can also use your purée to make pumpkin pie, soup, or whatever you like.  Pumpkin is packed with Vitamin A and fiber, so enjoy!