Here's a recipe for freezer-friendly egg muffin cups made with ham, broccoli, cheddar cheese, and seasoned croutons.  Simply combine the ingredients and bake, and you'll be set with hearty, homemade breakfasts for mornings when you don't have time to cook.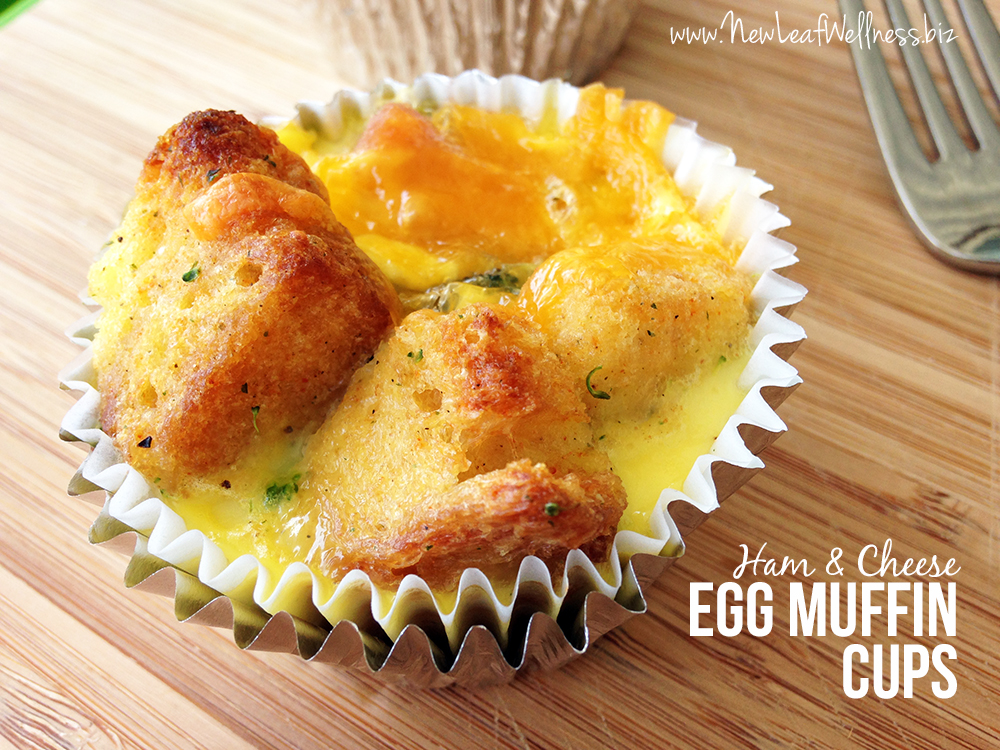 I don't know what it is about these egg muffin cups, but they just work.  I love the taste of ham, egg, and cheese, and including broccoli makes me feel like I'm starting the day off right.
Toss in a bag of seasoned croutons and you're left with the perfect combination of textures and seasonings.
I'm calling this recipe egg "muffin cups" because, well, they're baked in muffin pans.  The consistency is much more egg than bread though, so don't be misled by the "muffin" reference.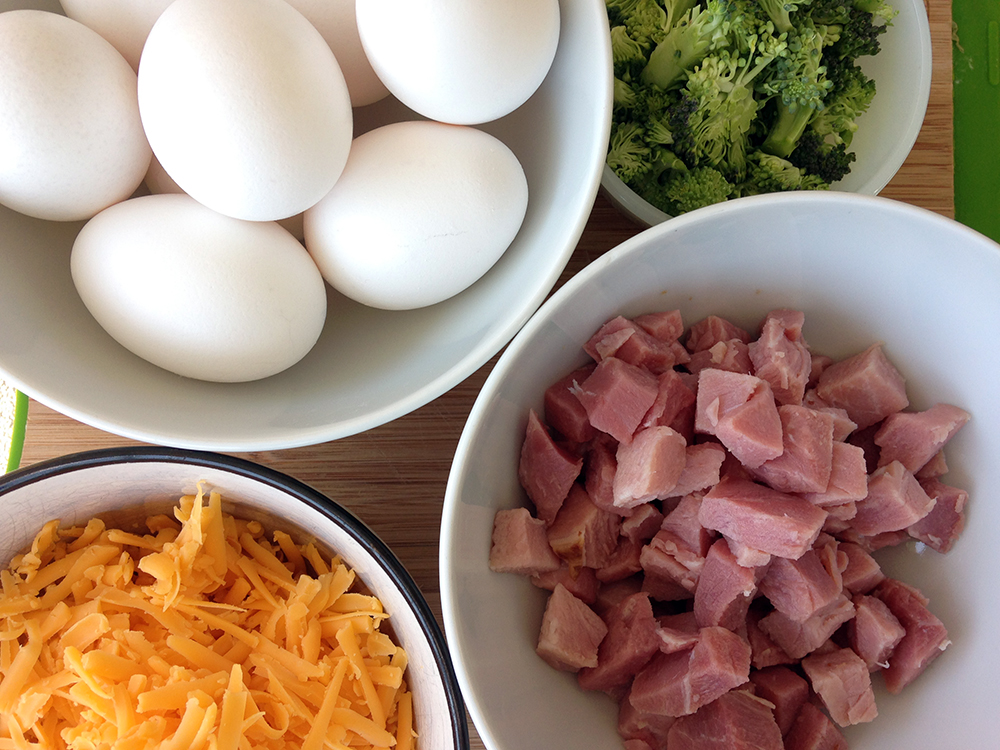 These ham and cheese egg muffin cups work out to be just under 120 calories per cup.  That's a darn good thing because I ate no less than three of them right out of the oven last week.
The great thing about these egg muffin cups is that you can freeze them cooked and reheat one at a time in your microwave or toaster oven.  Bake them in foil baking cups and they're ready to pop in your toaster oven on busy mornings.  Yum.
Ham and Cheese Egg Muffin Cups
Yields: 18 egg muffin cups
Ingredients
8 large eggs, beaten
1/2 lb boneless ham, diced (about 1.5 cups)
2 cups skim milk
1 teaspoon ground mustard powder
1 cup fresh or frozen broccoli florets
1 bag seasoned croutons (5 oz)
1/4 teaspoon pepper
1/4 lb mild cheddar cheese, shredded (about 2 cups)
If freezing, gallon-sized plastic freezer bag or reusable neat-os food storage bag (I love these things!)
Directions
Preheat oven to 350 degrees F.
Combine all ingredients (except cheese) and ladle into muffin pans lined with baking cups.
Top with cheese and bake 20-25 min, or until egg muffins are cooked through in the middle.
Remove from oven, cool for a minute or two, and dig in!
To Freeze
Follow recipe directions, cool egg muffin cups to room temperature, and add to a gallon-sized freezer bag.  Freeze for up to three months.  To eat, reheat individual egg muffin cups in your microwave or toaster oven.
Enjoy!

---
P.S. This recipe is based on the Ham & Veggie Strata recipe in my 15-Minute Freezer Recipes cookbook.  (Currently on sale for $2.99.)  When I make the strata, I combine all of the ingredients in a 9×13-inch pan and freeze it raw.  Such a great breakfast to have on-hand for holidays and overnight guests.