Finally!  I've figured out an easy way to make chicken pot pie in my slow cooker.  Yippee!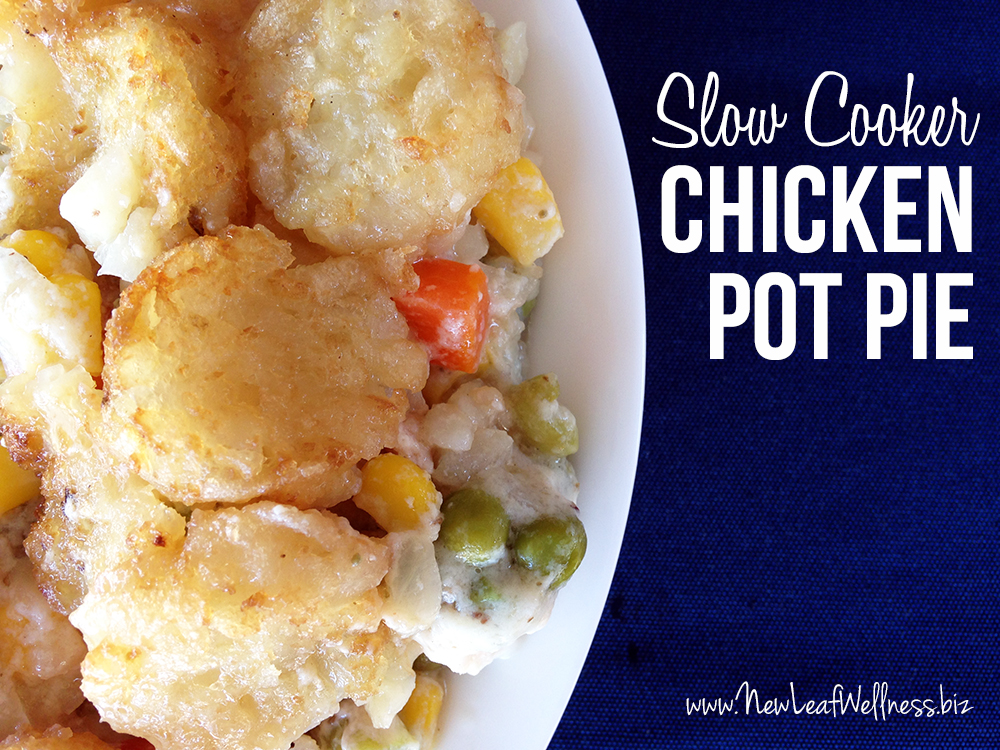 I have a treat for your today: Chicken pot pie that you can make in your slow cooker!
My family absolutely loves chicken pot pie, but I don't make it that often because it takes a while to prep the ingredients and bake.
Chicken pot pie for the slow cooker?  Sign me up.
Five reasons you need to make slow cooker chicken pot pie ASAP:
It's super easy to make.
It takes less than 10 minutes to prep. (You can even make the sauce ahead of time and store in the refrigerator until the day of cooking.)
It's topped with tater tots. (Genius, right?  I got the idea from SweeterSideMom on Instagram.)
IT'S DELICIOUS.
Your whole family will eat it.
Slow Cooker Chicken Pot Pie Recipe
Ingredients
Sauce
1/4 cup unsalted butter (4 tablespoons or 1/2 stick)
2 small yellow onions, diced (about 2/3 cup)
1/4 cup flour
1/2 teaspoon salt
1/2 teaspoon black pepper
1/2 teaspoon celery seed
1/4 teaspoon poultry seasoning
1 cup 2% milk (or whatever you have on hand)
2 cups fat-free reduced sodium chicken broth
Filling & Topping
1 pound boneless chicken breasts, fat trimmed and cut into bite-sized pieces
8oz frozen mixed vegetables – carrots, corn, green beans, peas and lima beans (about 2 cups or half of a 16oz bag)
15oz tater tots (about 4 cups or half of a 30oz bag)
Directions
Create sauce in a pan on your stovetop: Melt butter, add diced onions, and cook until soft and translucent.  Add flour and all of the seasonings and mix.  Add milk and chicken broth and bring to a boil.  Reduce heat an simmer until the sauce starts to thicken (about 5 minutes).
Combine sauce, chicken, and vegetables in your slow cooker.  Cover with tater tots and add lid.
Cook on "low" 6-8 hours or until chicken is cooked through and vegetables are soft.
ENJOY.
To Freeze
Prepare the sauce, cool to room temperature, and freeze with raw chicken and mixed vegetables in a gallon-sized plastic freezer bag.  Thaw in refrigerator overnight before cooking.  Pour into slow cooker and cover with tater tots.  Cook on "low" for 6-8 hours or until chicken is cooked through and vegetables are soft.
By the way, I purposely used HALF of a bag of frozen vegetables and tater tots so it would be easy to prep two batches at at time.  Just buy an extra pound of chicken breasts, double the sauce, and follow the directions to freeze the second chicken pot pie for later.  Trust me.  Once you see how delicious this slow cooker chicken pot pie is, you'll wish you had another waiting in your freezer!