This recipe for burger burritos includes seasoned ground beef and hamburger toppings in a burrito-sized tortilla. It's the perfect quick weeknight meal or lunch on-to-go, and it freezes great!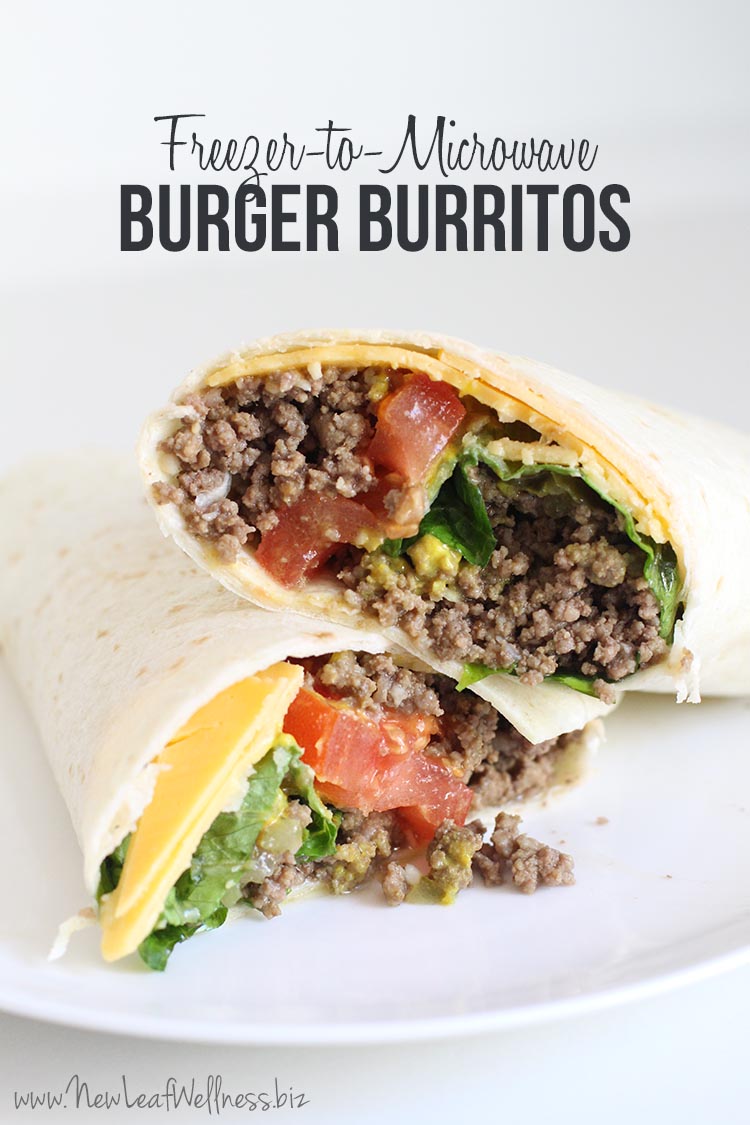 Last week, my husband was looking for a quick lunch and I remembered pinning a recipe for grilled cheeseburger wraps from Life in the Lofthouse.  We had ground beef and tortillas on-hand, so he threw the ground beef in a skillet and a few minutes later we were enjoying tasty burgers in burrito form.  (We skipped the grilling step because we were hungry and we don't have an indoor grill.)
I started thinking about how "burger burritos" would freeze perfectly and got all giddy.  (Yes, I actually get really excited about this kind of stuff.)
Frozen or not, these burger burritos are the perfect meal for on-the-go.  Pack one for lunch, feed them to your kids on the way to soccer practice, or eat one in the car while you're driving to a book club meeting.  Whenever you need a quick meal, these burger burritos are there for you.
If you decide to freeze your burger burritos, you can also re-heat one at a time for dinner when you're home alone. The tortillas re-heat great – they don't end up soggy or crunchy at all.
When I make these burger burritos for dinner, I double the recipe and freeze the extra four burritos for later.  Such as easy way to keep our freezer stocked!
Recipe for Burger Burritos
Yields: Four burger burritos
Ingredients
1lb lean ground beef
1/2 teaspoon seasonings (regular salt and pepper or a mix, like Montreal Steak Seasoning)
Olive oil or cooking spray
4 burrito-sized flour tortillas (The ones I buy measure about 8.5 inches across.)
Your favorite burger toppings (I like cheddar cheese, lettuce, tomatoes, ketchup, dijon mustard, and relish, but if I had bacon and avocado on-hand I would go all-out.)
Directions
Place a large skillet on your stovetop and coat with olive oil or cooking spray.
Add ground beef and brown it with seasonings.
Assemble your burritos by topping each tortilla with 2/3 cup ground beef mixture and your favorite burger toppings.
Wrap and enjoy!
To Freeze
Follow the directions to Step 3 and then cool ground beef mixture to room temperature.
Cut four 12×12″ pieces of wax paper and foil.   Set up an assembly line with each piece of foil topped with a piece of waxed paper and a tortilla.
Top each tortilla with 2/3 cup ground beef and your favorite burger toppings. (Fresh lettuce and tomato don't freeze and reheat well, but feel free to add the cheese and condiments – or save the condiments for dipping later.)
Wrap each burrito's tortilla around the filling.  Then wrap each burrito in wax paper.  Lastly, wrap each burrito in foil.  (For more details and photos of how I wrap my burritos, check out my recipe for Freezer-to-Microwave Breakfast Burritos.)
Place all wrapped burritos into a gallon-sized plastic freezer bag and freeze for up to 3 months in a standard freezer.
To eat, remove individual burrito from foil and wax paper and wrap in a paper towel.  Microwave for 2 minutes or until filling is heated through.
These burger burritos are filling as-is, but they also taste great served with a side salad or some oven-baked french fries.  YUM.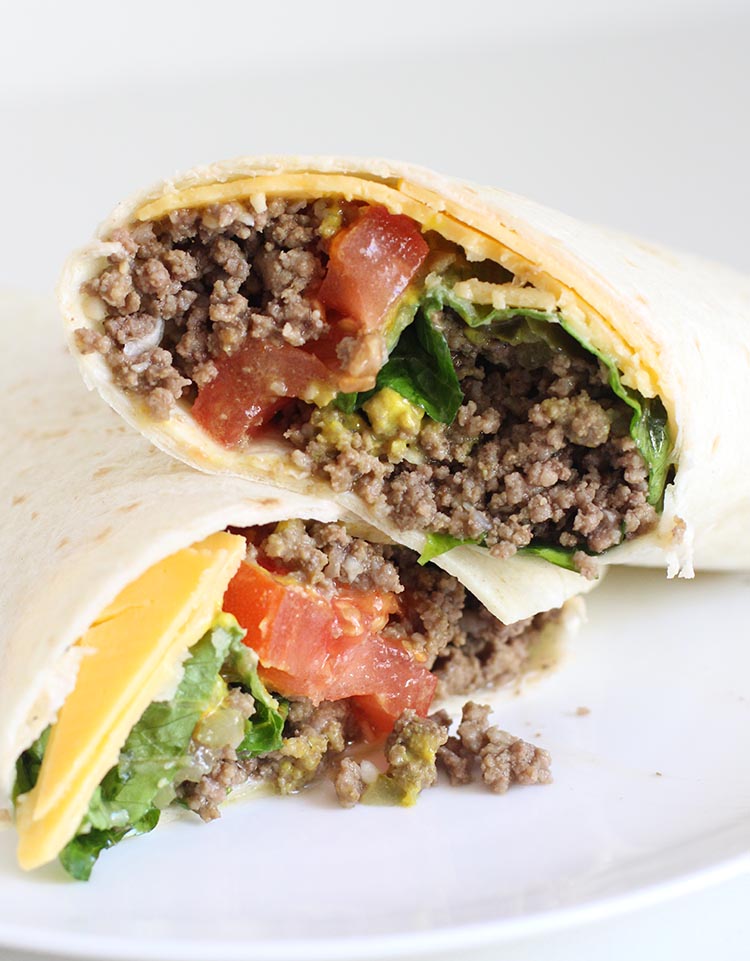 Enjoy, Friends!