Here's an easy tutorial for recycled heart crayons that you can make with your little ones and give to friends.  (I'm including a free printable gift tag!)  We had all of the materials on-hand, so we spent a whopping $0 on our cute heart crayons.  Wahoo!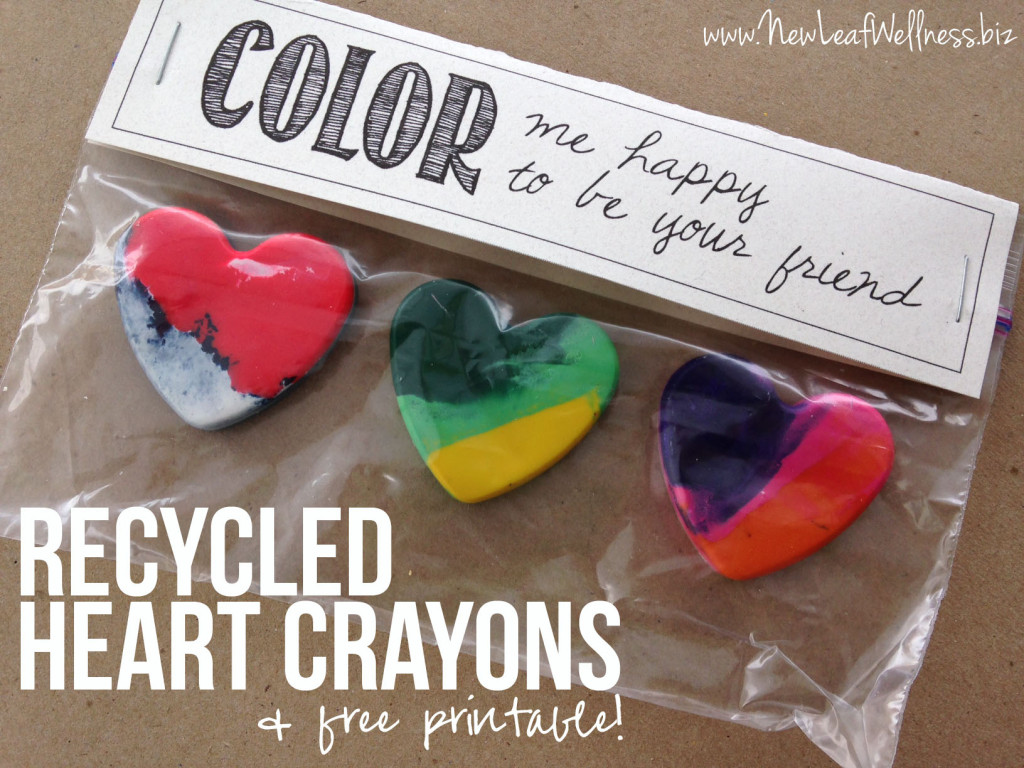 I decided to make recycled heart crayon valentines for my daughter's preschool class this year.  They turned out so great that I'm planning to use them again as favors for my 2 year old's birthday party.  You gotta love a cute craft idea that can be used over and over again.
These recycled heart crayons were so easy to make that even non-crafty moms can use them to look like superstars. (I followed this tutorial from The Sweeter Side of Mommyhood.)
My four year old even helped me peel the paper off our old, broken crayons.  She had so much fun breaking up the big pieces and putting all of them into the heart mold.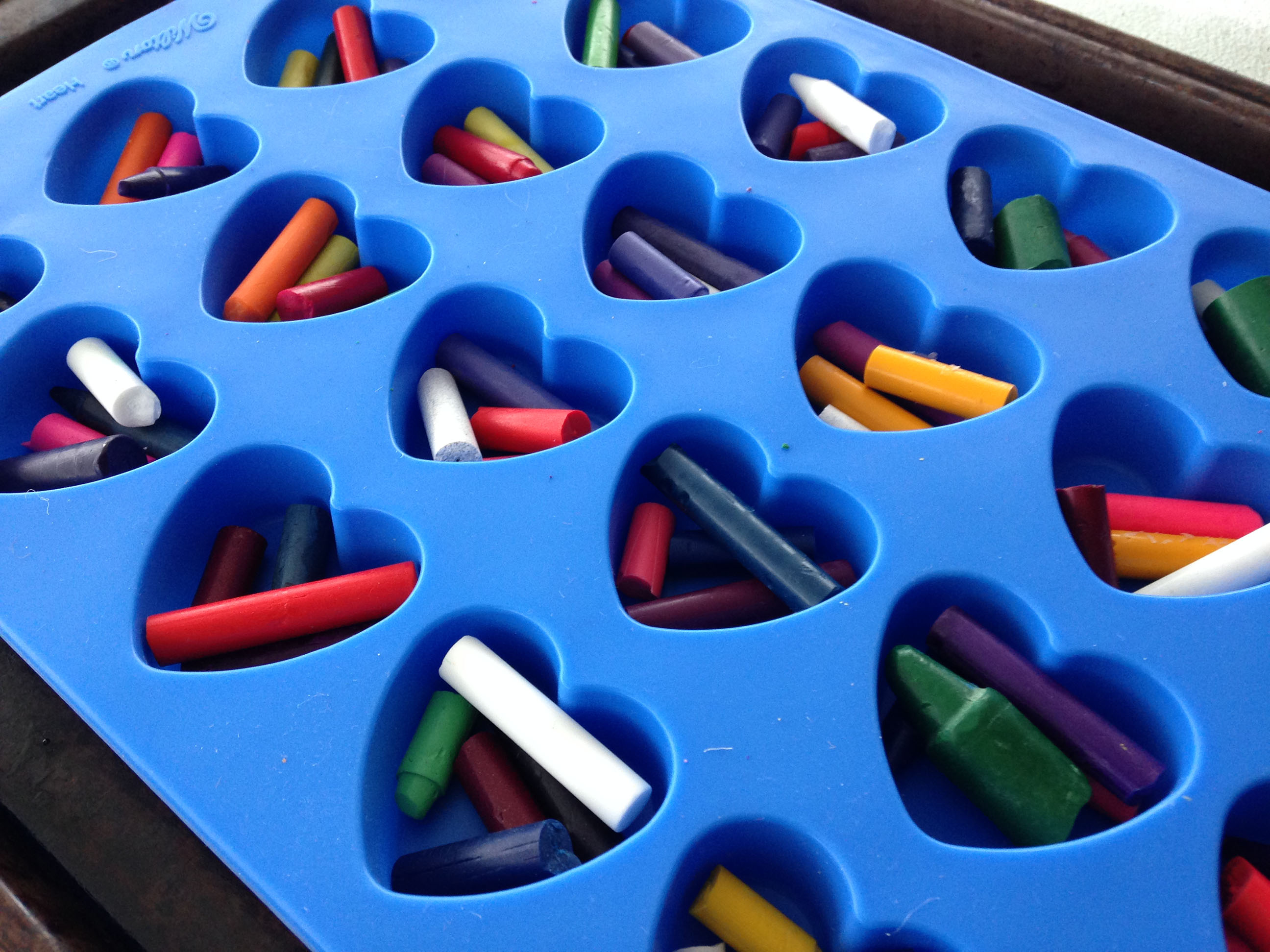 I may or may not have rearranged a couple of the pieces so the colors would look better together.  (Shhhh.  Don't tell!)
I popped the mold into our oven for 15 minutes, and voila!  Recycled heart crayons.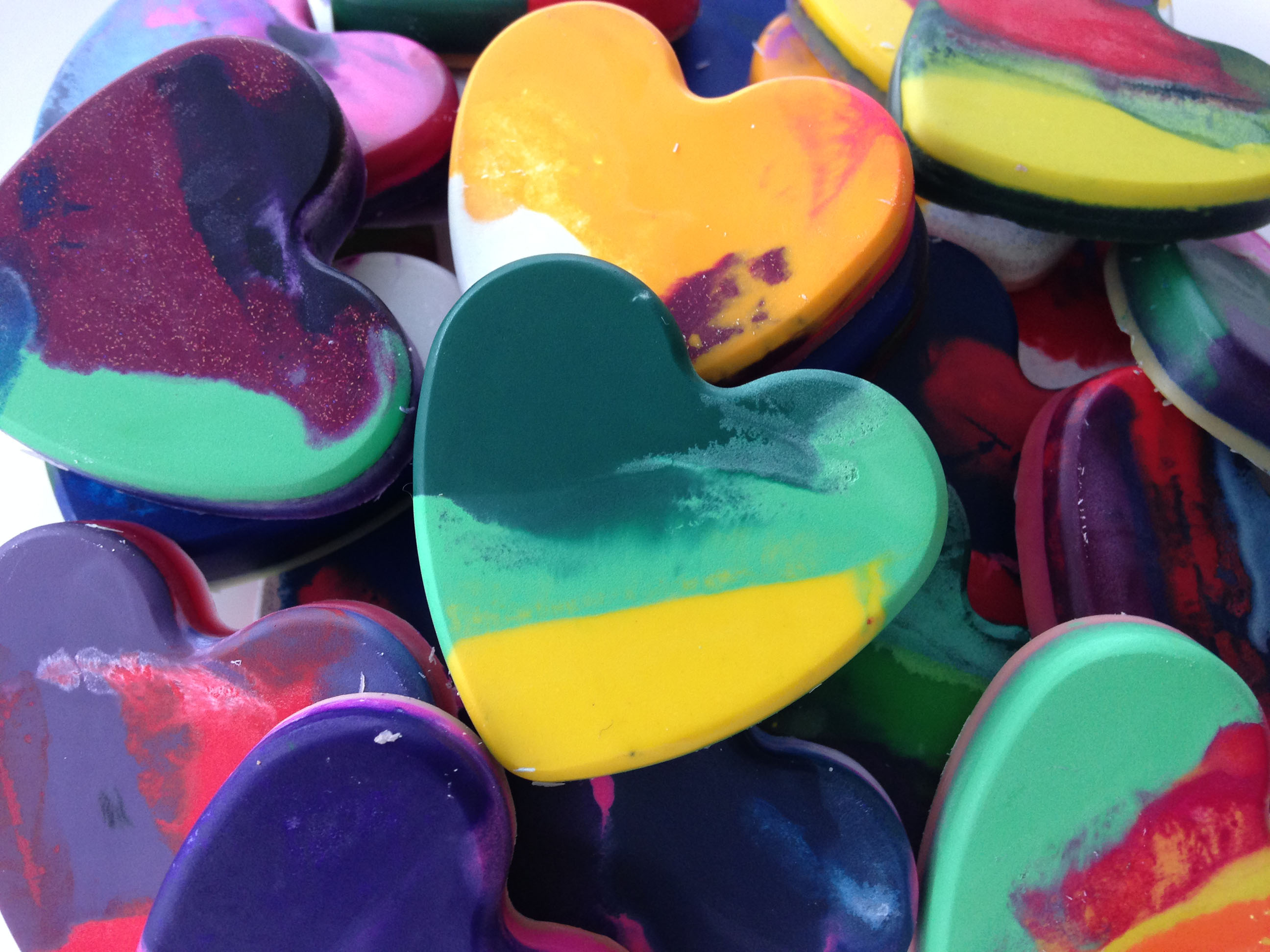 Super cute, right?
Then I divided the heart crayons into snack-sized plastic bags and stapled on a homemade printable gift tag.
Some of my smart and clever girl friends helped me come up with the saying, "Color me happy to be your friend."  Other top contenders were, "Color your heart out," and "Hugs and hearts."
Here's the free printable so you can use it too: Free Printable Gift Tag for Recycled Heart Crayons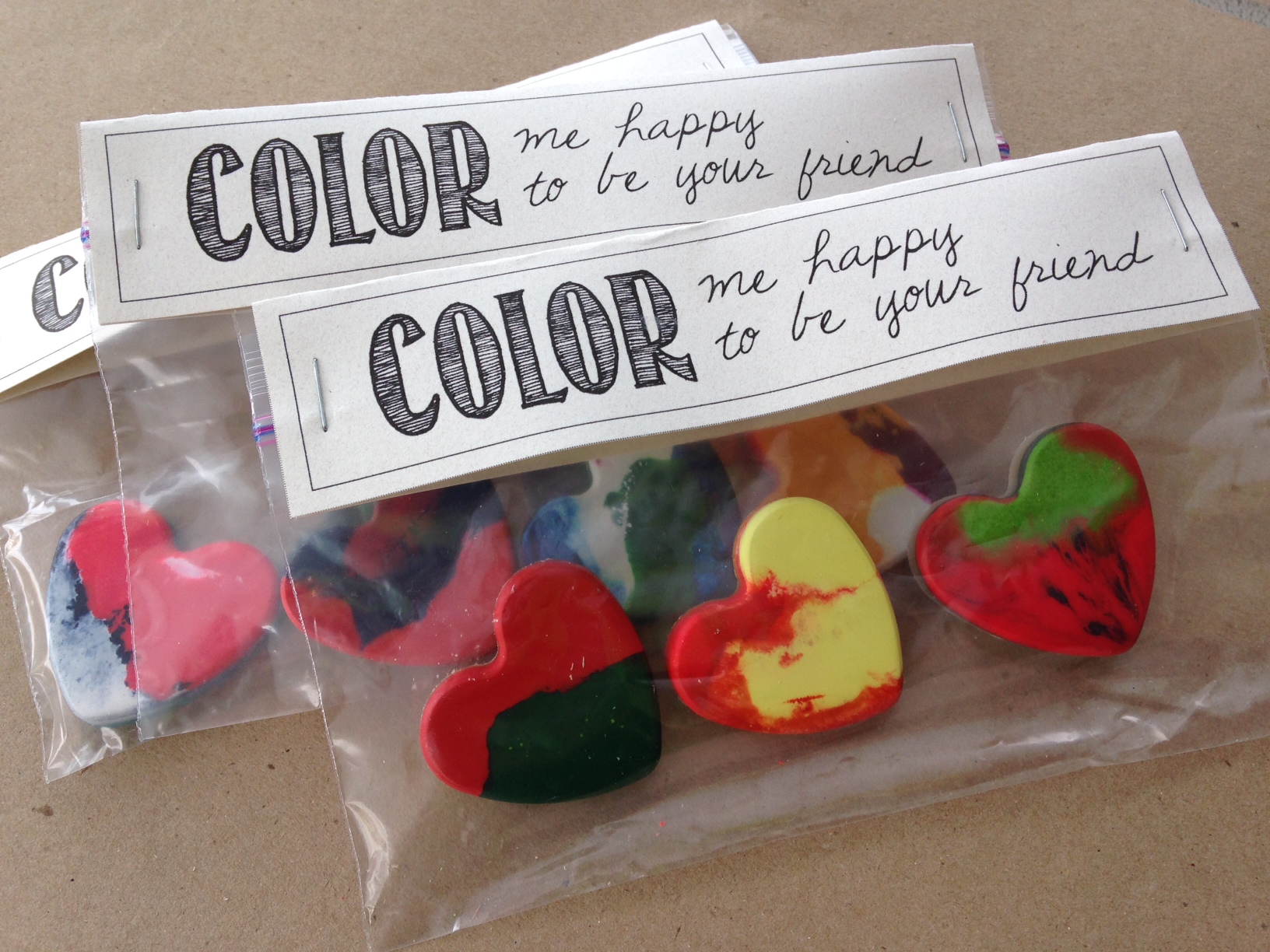 Recycled Heart Crayons
Yields: 24 recycled heart crayons
Materials
32-36 whole crayons (If you use broken crayons, you'll need 3-5 small pieces per heart crayon. I purposely make our heart crayons thin so they would fit through the slot of a Valentine's Day box.)
24-cavity mini heart silicone baking mold
Directions
Peel the paper off your crayons.  (Warning: This is a major pain.  All of the other steps are quick and easy though.)
Break whole crayons into smaller pieces.  (About 4 pieces per crayon.)
Place broken crayons in silicone mold, and put mold on top of a baking pan or cookie sheet.
Bake at 275 degrees for 15 minutes.
Remove from oven and cool completely. (About 30 minutes.)
Pop your crayons out of the mold and start coloring!
If you're planning to give these as gifts, simply add to snack-sized plastic bags and staple my free printable gift tag to the top.
If you're short on time and patience, I think using a couple of whole crayons would work too.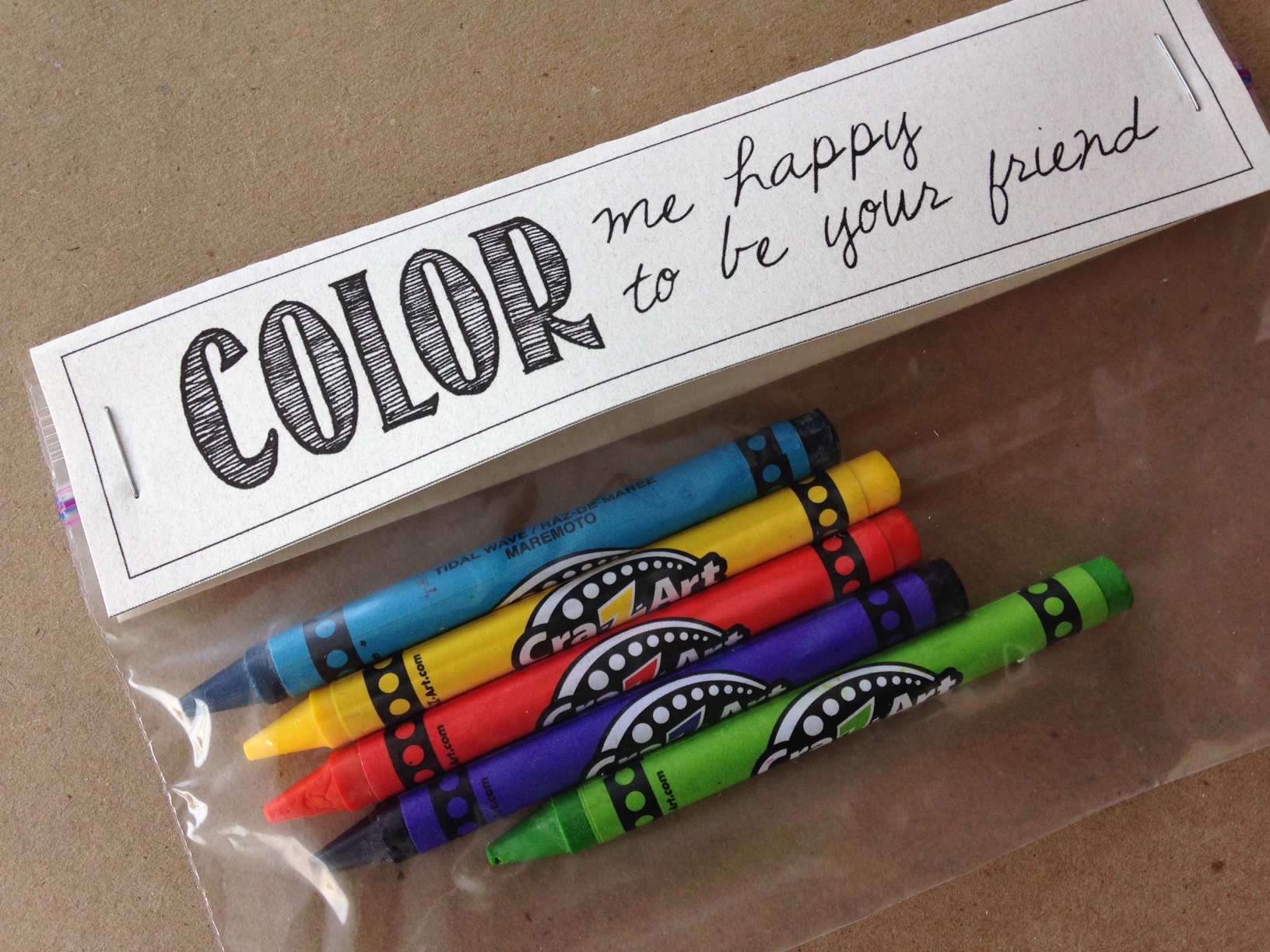 And just for laughs, here are a few other crayon phrase suggestions from my friends:
Don't be blue.  I like you.
Orange you glad I gave you a valentine?
For crayon out loud!
Valentine, so glad you're not a pigment of my imagination.
LOL.