I try to share mostly healthy recipes, but this recipe for spiced cookie creme pies is just too freaking delicious not to post.  It's one of those recipes that you have to share with your friends and family after you try it because they are "OMG amazing."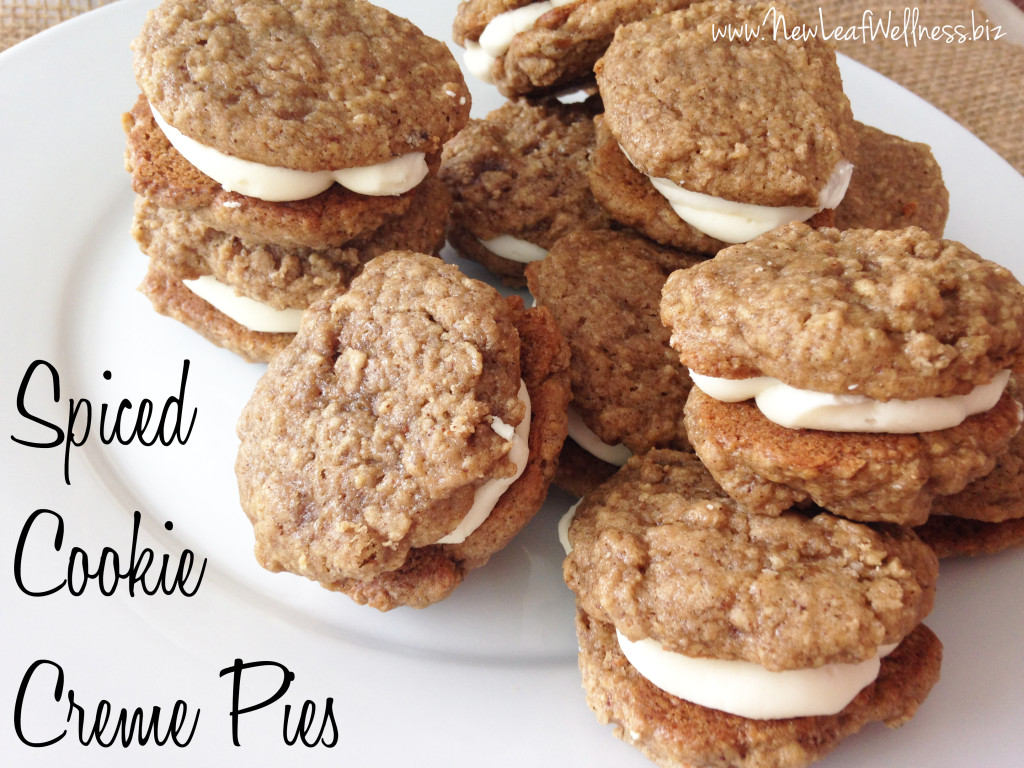 Of the 45 recipes that I've shared on this blog, this is my very first dessert recipe.  (Which is hard to believe considering I bake once or twice a week.)
I make at least one batch of these spiced cookie creme pies every fall.  I know everyone is baking pumpkin-flavored treats right now, but I'm not much of a pumpkin gal.  I make roasted pumpkin seeds, and that's about it.
Soft spice cookies sandwiched together with rich cream cheese frosting?  Now that's another story.
Think of these spiced cookie creme pies as my fall-flavored version of the "whoopie pie."
The cookie parts of the pies include dark brown sugar and are perfectly spiced with cinnamon, ground cloves, and nutmeg.
The cream cheese frosting center is my mother-in-law's famous recipe.  (Just a head's up…you're going to be tempted to lick the bowl clean before assembling your creme pies.)
I beg you not to make any substitutions or changes to this recipe.  These spiced cookie creme pies are sheer perfection as-is!
Spiced Cookie Creme Pies
Yields: 24 creme pies
Ingredients
Cookies
2 large eggs
1/2 cup unsalted butter, room temperature (one stick)
2 and 1/4 cups all-purpose flour
1 and 1/2 cups packed dark brown sugar
1 and 1/4 teaspoons baking soda
1 teaspoon baking powder
2 teaspoons ground cinnamon
3/4 teaspoon ground cloves
1/2 teaspoon ground nutmeg
1/2 teaspoon salt
3 tablespoons 2% milk (or whatever you have on-hand)
Cream Cheese Frosting
1/2 cup unsalted butter, room temperature (one stick)
4 oz cream cheese, room temperature (1/2 package)
1 lb confectioner's sugar (AKA powdered sugar) (1 pound = about 4 cups, unsifted)
2 teaspoons vanilla extract
1 tablespoon 2% milk (or whatever you have on-hand)
Directions
Cookies
Pre-heat oven to 350 degrees.
In a large bowl, combine eggs and butter.  Add remaining cookie ingredients and mix until just combined.  (Don't overmix!)
Form cookie dough into small balls and place on cookie sheets. (Aim for about 48 cookies, which will make a total of 24 creme pies.)
Bake 8-9 minutes. (I switch the top and bottom cookie sheets in my oven half-way through the cooking time so they bake evenly.)
Remove from oven and cool on cookie sheets 4 minutes.
Move to cooling rack and cool completely.
Cream Cheese Frosting
Combine all ingredients and mix until smooth.  (To avoid a huge mess, I add about one cup of confectioner's sugar at a time and mix by hand.  Once everything is mostly blended, I use my hand mixer to get a super-smooth consistency.)
Assembly
Match cookies based on shape and size.
Spread frosting onto 24 cookies and top with their matching unfrosted cookie.  (To made spreading easier and less messy, spoon the frosting into a gallon-sized plastic bag, cut off one of the bottom corners, and pipe onto cookies.)
Store in refrigerator and serve cold.
Dig in.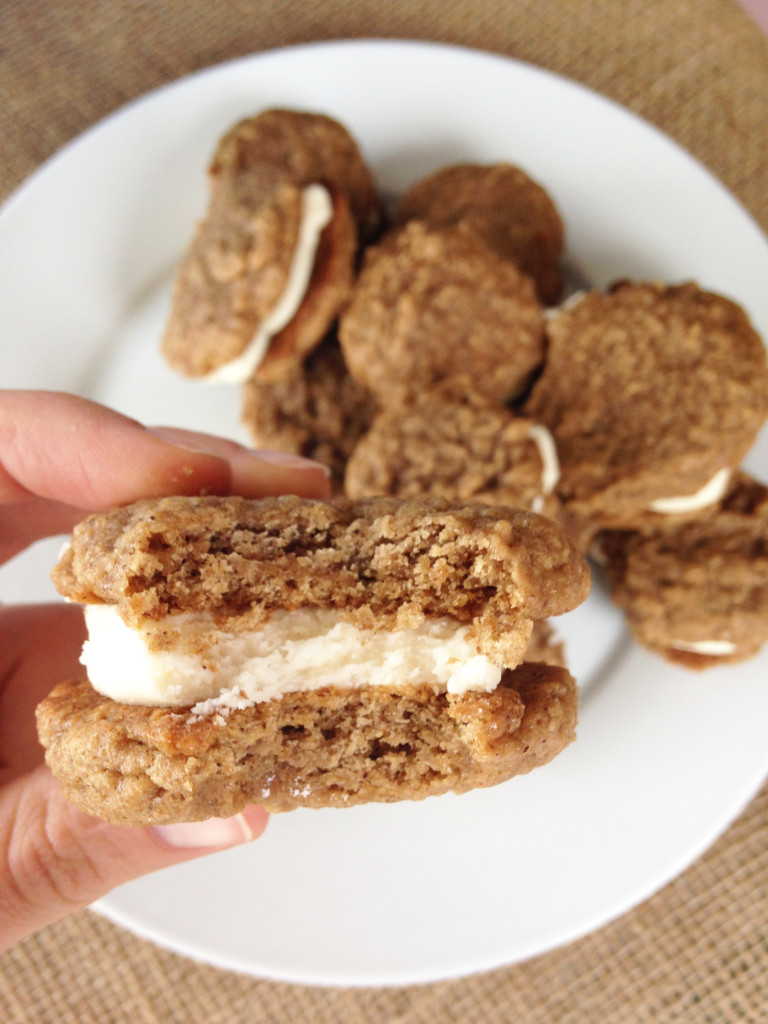 OMG amazing.
Just try not to eat too many at a time, because they're super rich.
Question: What's your favorite thing to bake in the fall?