This chocolate coconut zucchini bread recipe is a delicious twist on the typical zucchini bread. The addition of cocoa powder makes it taste extra decadent and the coconut flakes add the perfect amount of crunch.
The final product is so moist and flavorful that your taste buds will never guess that it includes flax seeds and half the oil of traditional recipes.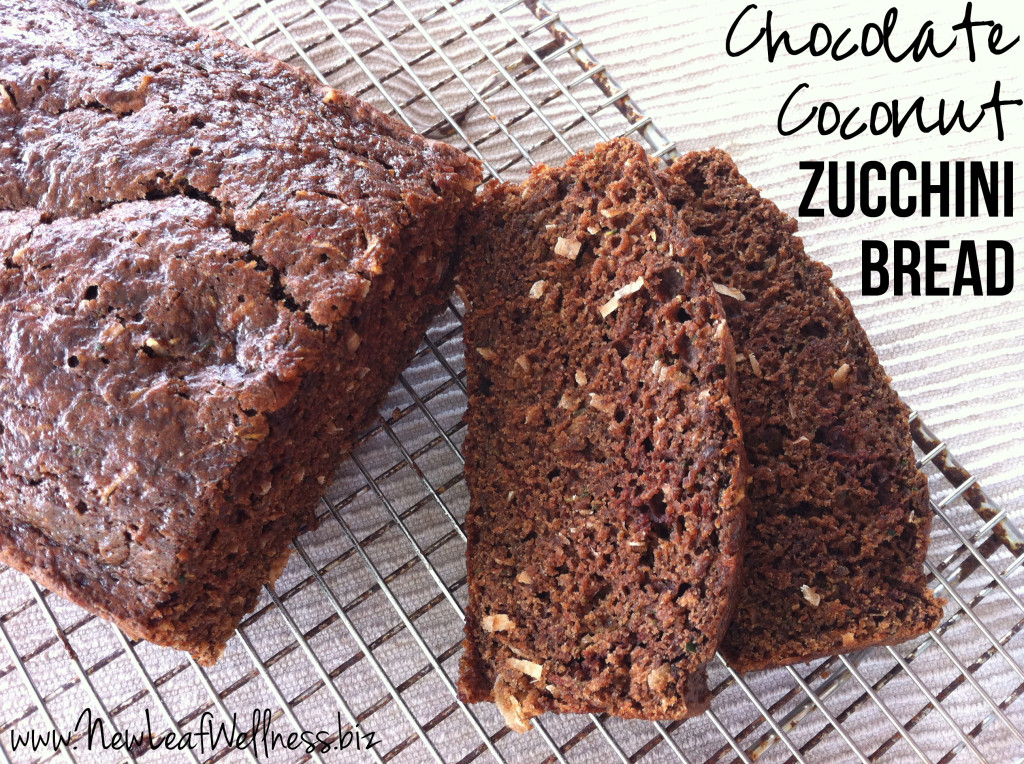 In fact, I'd wager that even non-zucchini-lovers will enjoy this chocolate coconut zucchini bread.  (Do non-zucchini-lovers even exist?  Zucchini is such an amazing vegetable.  What's not to love?!)
This recipe calls for finely shredded zucchini.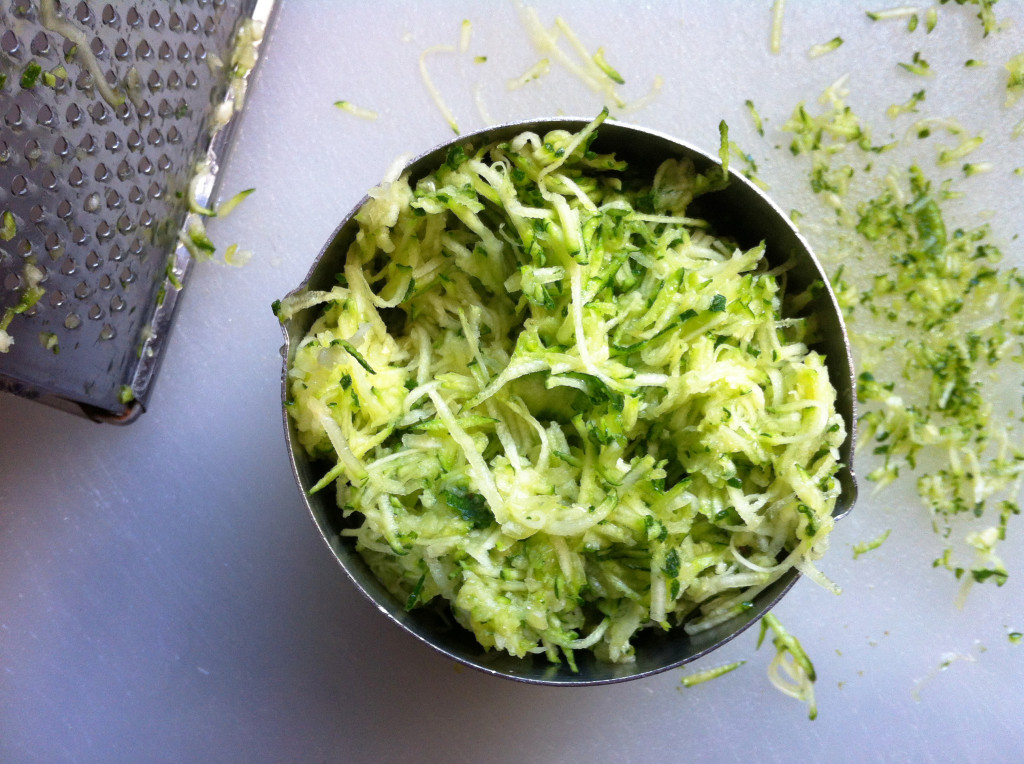 If you're looking for ways to use fresh zucchini from your garden or local farmer's market, here are some of my other favorite zucchini recipes:
BBQ chicken foil packs (loaded with broccoli and zucchini)
The zucchini "lasagna" and garden vegetable soup in my 'Easy & Healthy Slow Cooker Recipes' Cookbook
Zucchini is low in calories, saturated fat, sodium, and cholesterol.  It's a good source of protein and vitamin C.  (More nutrition info about zucchini here.)
Zucchini is a healthy addition to baked goods that you and your littles ones are sure to love.
So let's get started.  Pre-heat your ovens, mamas!
Chocolate Coconut Zucchini Bread
Ingredients
2 large eggs
1/4 cup applesauce
3 tablespoons canola oil
3 tablespoons flax seeds (if you don't have flax seeds, simply add another tablespoon of oil)
2 teaspoons vanilla extract
1.25 cups all-purpose flour
1/4 cup unsweetened cocoa powder
1/2 cup brown sugar
1/2 cup granulated sugar
1/2 teaspoon baking soda
1/2 teaspoon baking powder
1/4 teaspoon salt
1 cup finely shredded zucchini (one small zucchini, washed, ends cut off and shredded – no need to peel)
1/2 cup sweetened coconut flakes
Shortening or cooking spray
Directions
Preheat your oven to 325 degrees F.
Grease a 8.5×4.5-inch loaf pan with shortening or cooking spray.  (I use shortening.  There's nothing worse than a bread or cake that sticks to the pan.) (Note: You can also use a 9×5-inch loaf pan.)
In a large bowl, combine the wet ingredients, including eggs, oil, applesauce, and vanilla extract.
Add the dry ingredients, including flour, cocoa powder, brown sugar, granulated sugar, baking soda, baking powder, and salt.  Stir until just combined.
Fold in zucchini and coconut flakes.
Pour into prepared loaf pan and bake 40-60 minutes, until top "springs back" when lightly touched.  (Mine was perfect at 50 minutes.)
Remove from oven and cool in pan for 10 minutes.
Remove from pan and place on cooling rack until totally cool.
Voila!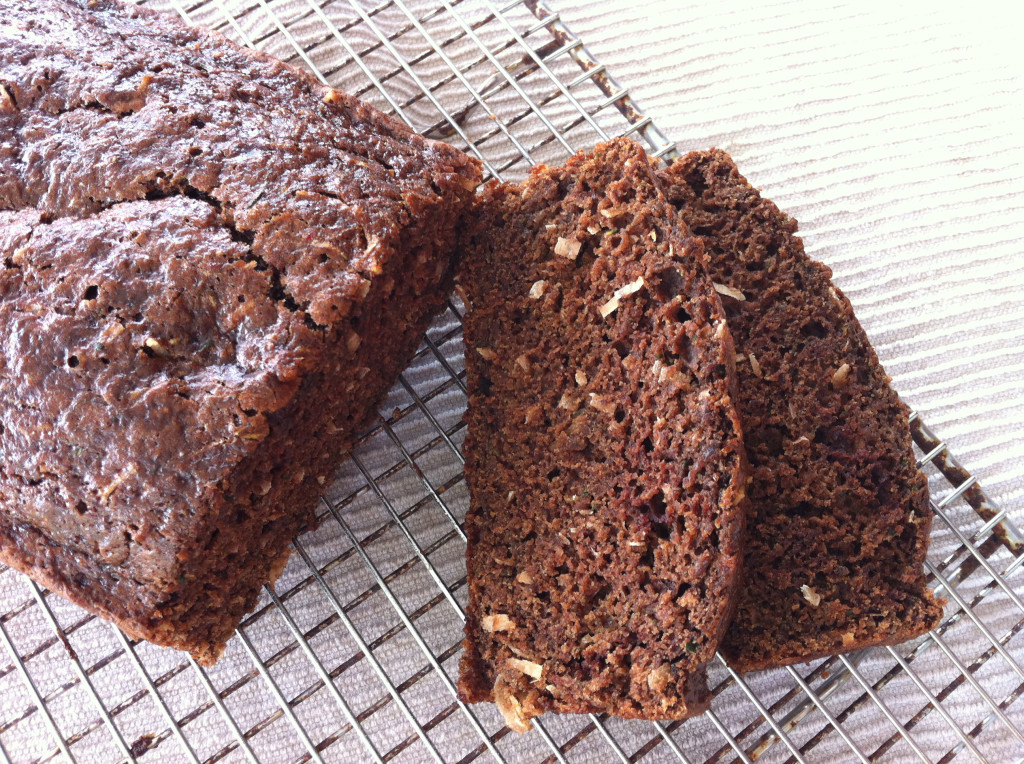 I may or may not have eaten those two slices immediately after snapping the photo…
Yum.
So tell me: What's your favorite zucchini recipe?