My love affair with foil packs started with a sausage foil pack recipe that I found on Pinterest.  (You can see the pin here.)  The sausage was OK.  When I started experimenting with chicken foil packs, things got awesome.
I decided to create some BBQ Chicken Foil Packs loaded with zucchini, broccoli, and onions.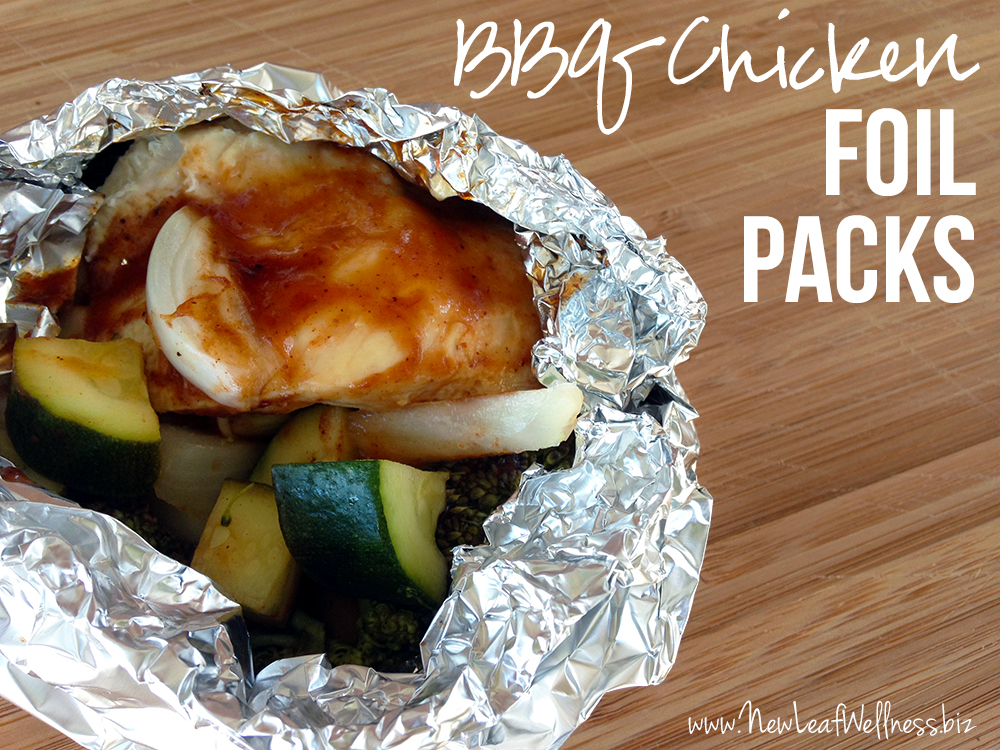 Reasons these BBQ Chicken Foil Packs may be my new BFFs:
You can get creative and use whatever fresh vegetable you have on-hand.  Broccoli, onions, peppers, zucchini, potatoes, etc.  Experiment!  Everything I've tried has been super yummy.
My husband will eat just about any vegetable that is cooked in them.  I've even witnessed him eating green peppers and red peppers in them. ( True story.)
They're freaking easy to make.  You can throw together these pouches in 10 minutes flat and then play with your kids until dinner time.  Or watch the news or chat on Facebook.  Whatever strikes your fancy.
I like to make these foil packs in the afternoon when my younger daughter is napping and then store them in the refrigerator until closer to dinner time.  Then all I have to do is pop them in the oven.  Makes dinner time such a breeze!
You're gonna love this easy recipe for BBQ Chicken Foil Packs because it's so simple.  Chicken, vegetables, and store-bought sauce.  You can't go wrong with a recipe with this many fresh vegetables.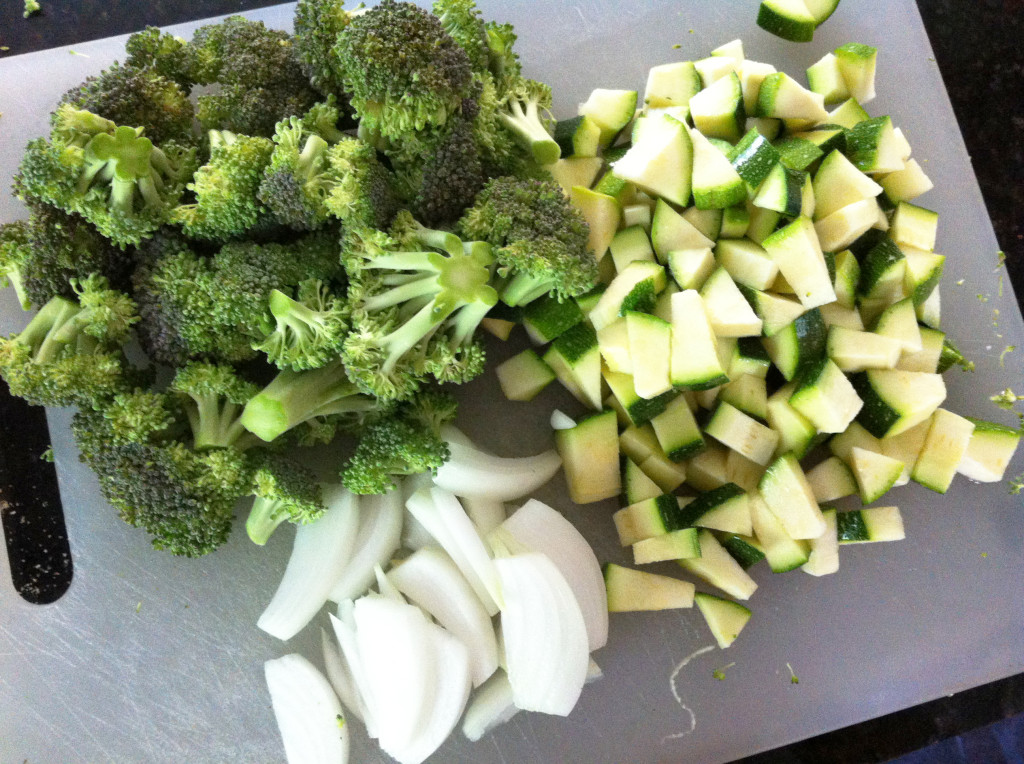 And did I mention they're delicious too?
Let me introduce you to the "secret ingredient."  A.1. Bold & Spicy Steak Sauce.  (I know, I may be a genius.)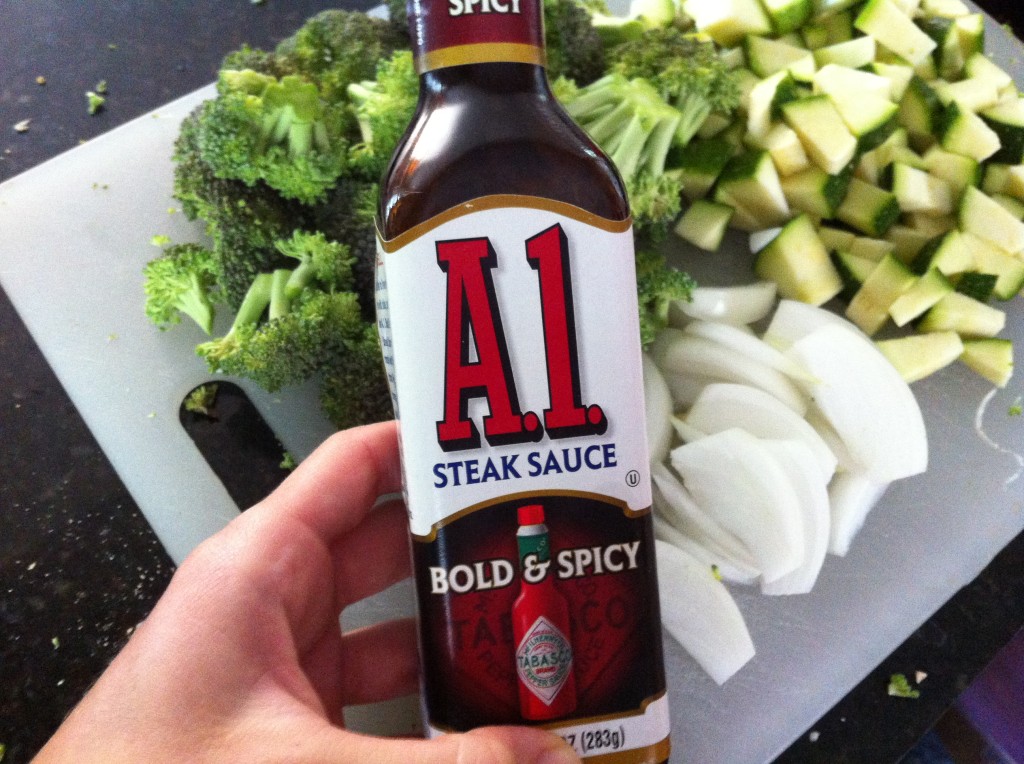 It's so wrong, it's right.
Here's the recipe so you can make some of your own.  Let's get cookin'….
BBQ Chicken Foil Packs
Ingredients
1lb boneless, skinless chicken breasts
2-3 heads of fresh broccoli, chopped into bite-sized pieces
1 large zucchini, chopped into bite-sized pieces (ends discarded)
1 medium white onion, peeled and sliced
1/2 cup of your favorite BBQ sauce
1-2 tablespoons of A1 Bold & Spicy Sauce
1, 12″x12″ piece of foil for each chicken breast (I used 4 because there were 4 pieces of chicken in my pound)
Directions
1. Preheat oven to 400 degrees F.
2. Set up your foil like an assembly line and place a chicken breast on each piece.
3. Top each chicken breast with broccoli, zucchini, and onion. (No need to measure – just divide the veggies evenly among your chicken breasts.)
4. Top each chicken breast veggie pile with 2 tablespoons of BBQ sauce and 1 teaspoon of A1 sauce.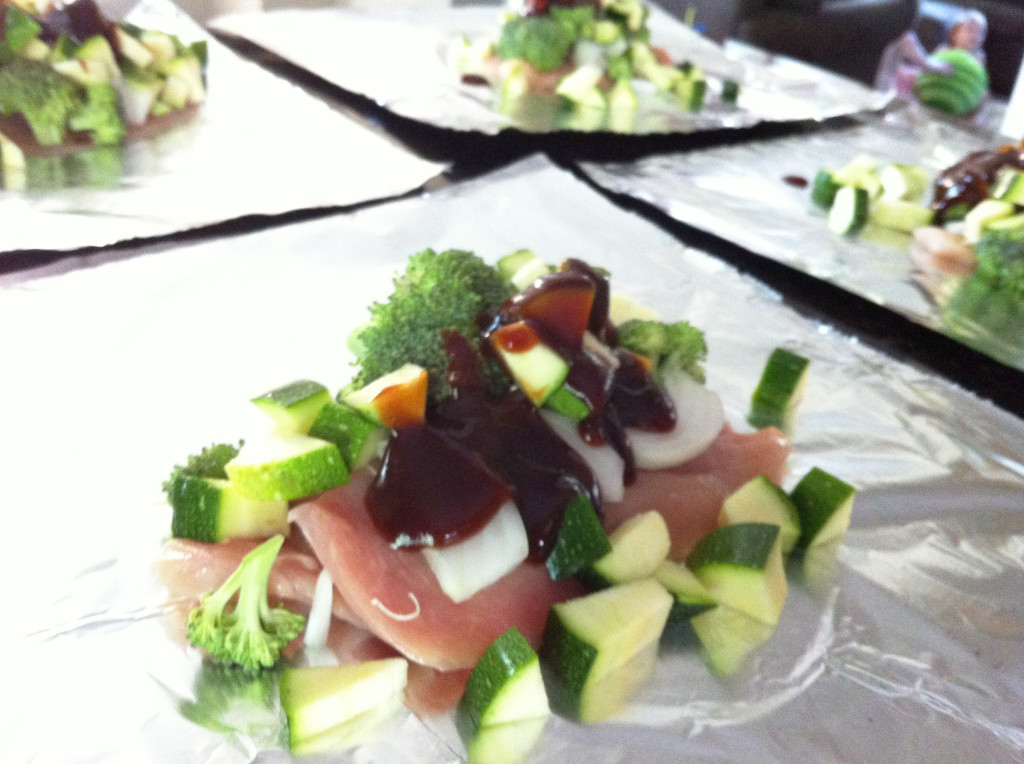 5. Roll up the foil on the top and sides to form a pouch.  Place on cookie sheet.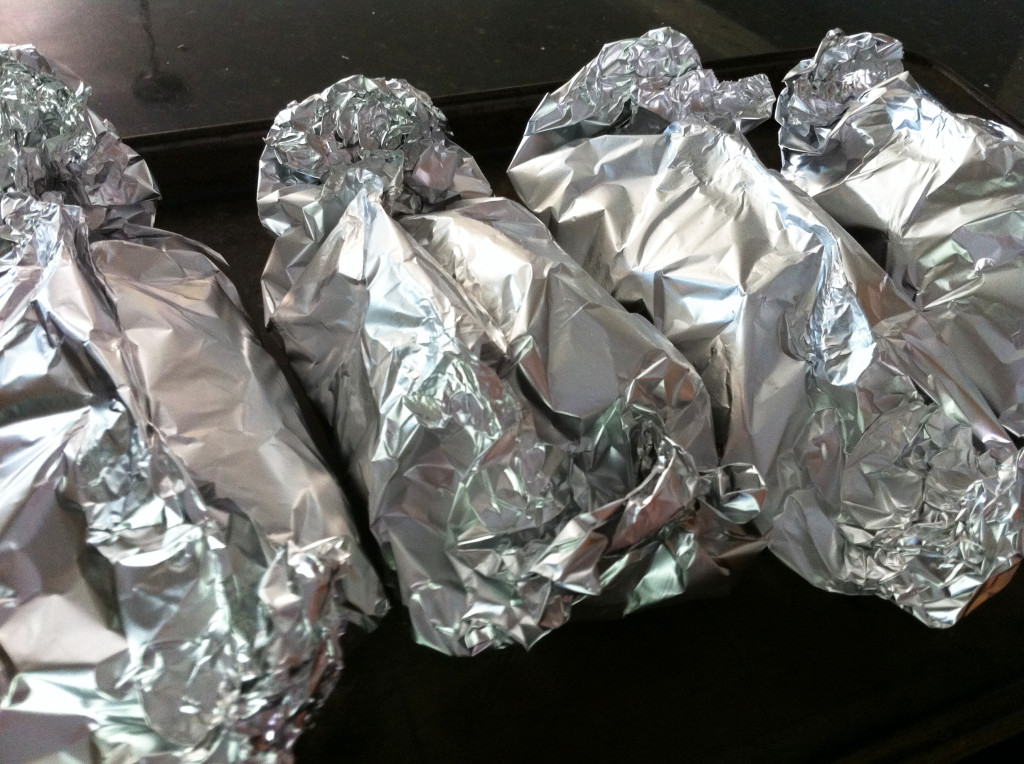 6. Bake for 45 minutes, or until chicken is cooked through.
Voila!  (Be careful not to get burned by the steam when you open the packs.)
Since everything is cooked in foil, you won't even have to scrub any pans!  That's my kind of dinner.
These BBQ Chicken Foil Packs would be great to eat as-is, or you can add a side like my starch-loving family likes to do.  My Easy Baked Macaroni and Cheese would be awesome. So would corn muffins or brown rice.  (If you're short on time, go ahead and buy the Uncle Ben's 90-second pouch.  I won't tell.)
Tell me: Have you ever tried to cook anything in a foil pouch before?