If you've never grilled a pizza before, I have a treat for you…my absolutely delicious, tried-and-true grilled pizza recipe!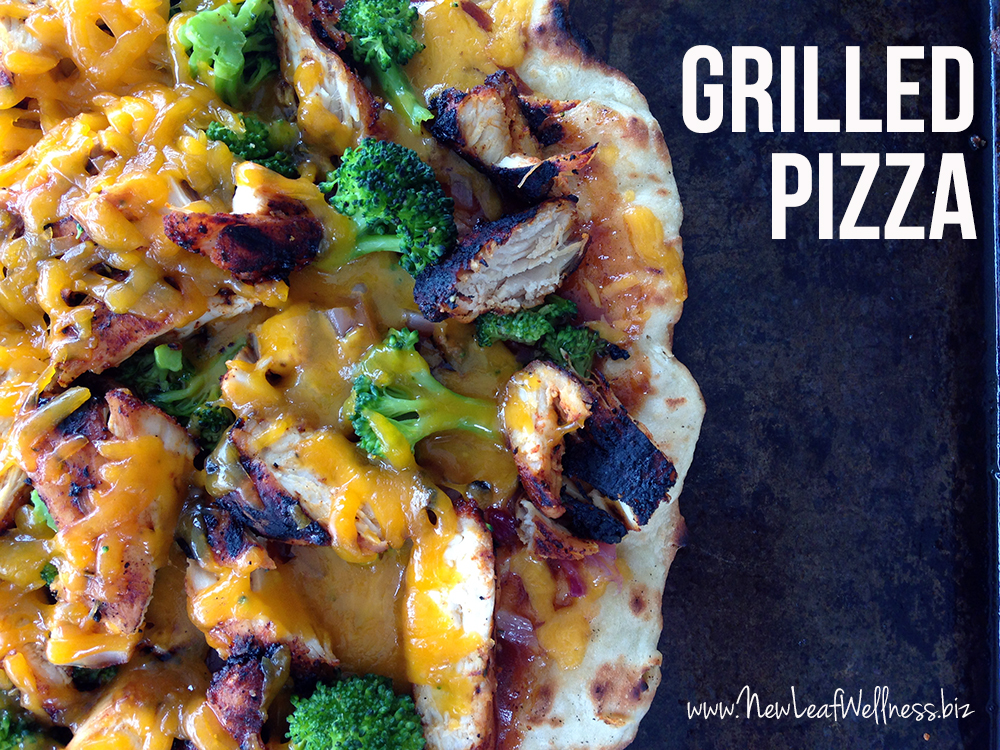 To be totally honest, this is my husband Andy's grilled pizza recipe because he does the grilling in our house.
Grilled pizzas are one of our warm weather dinner staples.  We even joke around about opening a take-out only grilled pizza restaurant in our driveway, aptly named "Sistas' Pizza. Driveway Grill."  If Sistas' was ever to become a reality, these would be the five pizzas on the menu:
Taco Pizza
Buffalo Chicken Pizza
Pesto Chicken Pizza (using my amazing homemade pesto, of course)
Traditional Italian Pizza
BBQ Chicken Pizza
(Yes, we actually planned a menu for our imaginary driveway restaurant.  We're a weird couple.)
Our BBQ Chicken Pizza with broccoli and red onions is freaking amazing.  The grilled crust is thin and cripsy, the chicken is moist and flavorful, and the broccoli + red onion + BBQ sauce combo is to die for.
Here's the recipe so you can try it yourself.
Grilled Pizza with BBQ Chicken, Broccoli, & Red Onion 
Ingredients
Chicken
One pound of boneless, skinless chicken breasts
One packet of McCormick Grill Mates Mesquite Marinade
3 tablespoons extra virgin olive oil
One gallon sized plastic bag
Toppings
2 cups of fresh broccoli florets, chopped into bite-sized pieces and steamed
One small red onion, diced
One teaspoon of extra virgin olive oil
One 12×12″ piece of foil
About 1/4 cup of your favorite BBQ sauce, divided
1/4 pound of mild cheddar cheese, freshly grated (about 1 1/2 cups)
Other
One, 6.5oz package of pizza crust mix (we like Betty Crocker)
Cookie sheet or some kind of pan that you can use on your grill
One tablespoon of extra virgin olive oil (to oil pan)
(This is what the pizza crust mix and chicken seasoning looks like.  The Grill Mates Mesquite Marinade is the best seasoning to use on grilled chicken.  Like, the best ever.)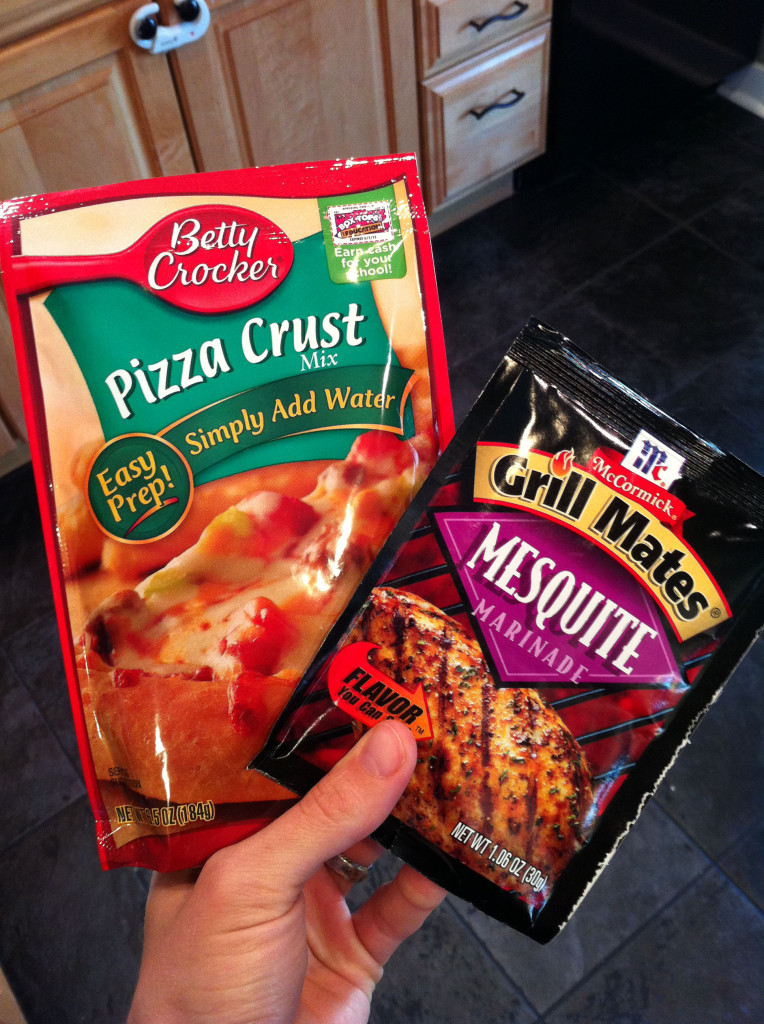 Directions
Place chicken breasts in a gallon-sized plastic bag and marinate with McCormick seasoning and 3 tablespoons of olive oil.  Place in refrigerator for 15 minutes.
While chicken is marinating, prepare pizza crust according to directions on package. (Betty Crocker says to add 1/2 cup of warm water and let sit for 5 minutes.)
Place diced onion and one teaspoon of olive oil onto piece of foil. (You will be cooking the onions on the grill).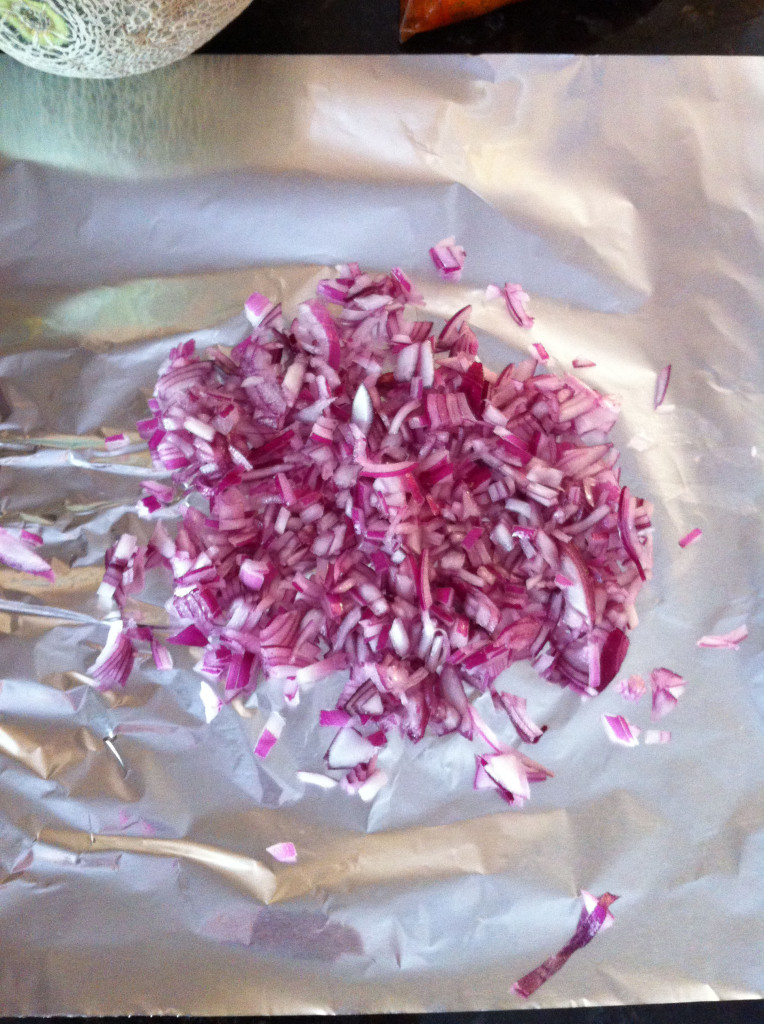 Fold in both sides of the foil as well as the top and bottom to create a foil pack for the grill.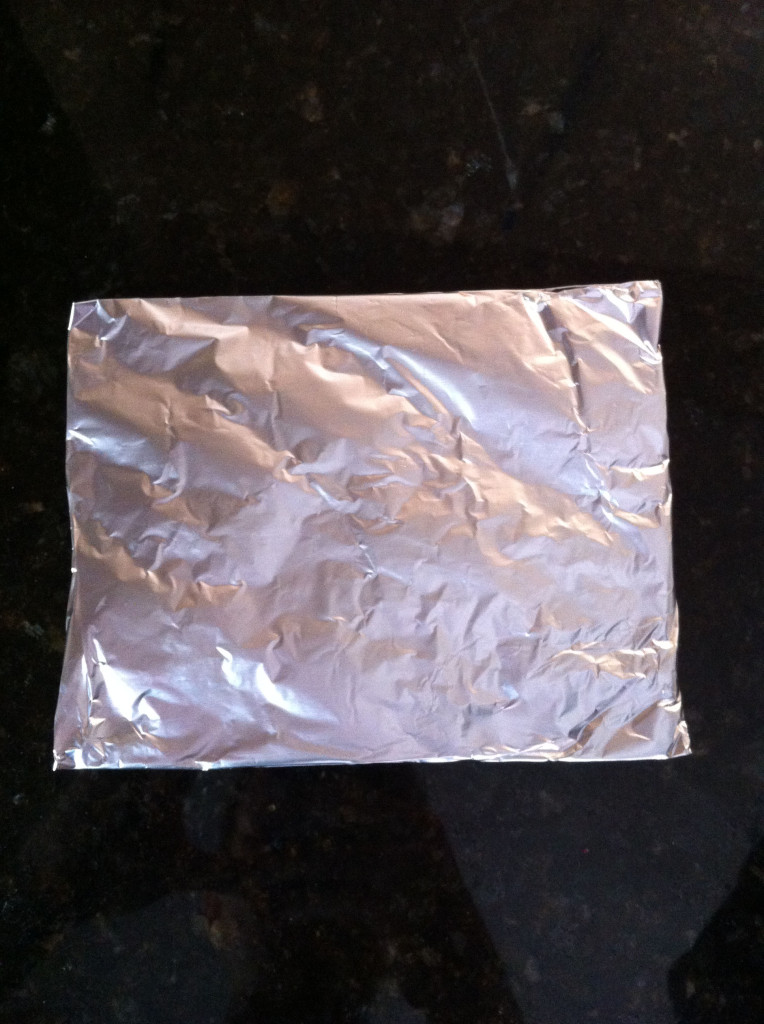 Remove chicken from refrigerator and take out to grill with the foil packet of red onions.  Place onion packet on the grill – out of the way – and let them cook while you are grilling the chicken.
Place chicken breasts on the grill and cook for 5-10 minutes until chicken is cooked through (flipping half-way through). (Note: Andy cooks our chicken on high heat.)
When chicken is finished cooking, remove chicken and red onion packet from grill and take inside.
Oil pan with one tablespoon of olive oil.  Spread pizza crust very thin on oiled pan and take out to grill.
Turn the grill down to medium heat. Grill the pizza on the pan for a couple of minutes or until bottom starts to firm up.  (It's important to use a pan so the crust doesn't seep through the grill grates.)  You can check to see if the bottom is firm by working under the dough with a spatula.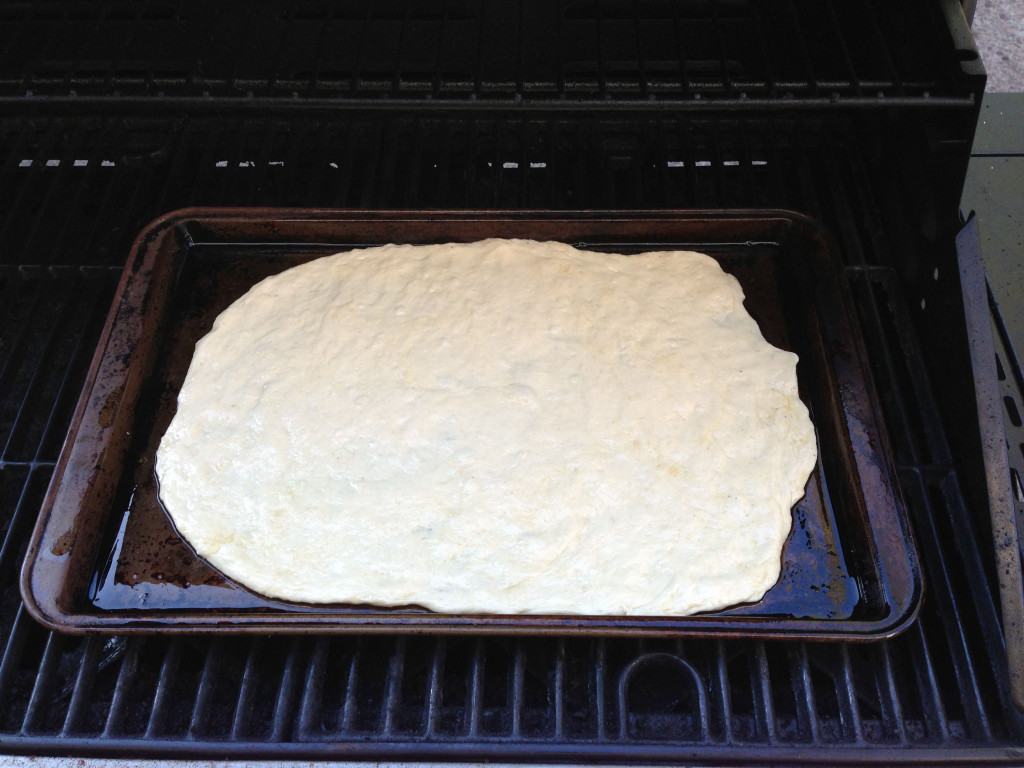 When the bottom is firm and the top of the crust looks like this, it's time to slide it from the pan directly to the grill.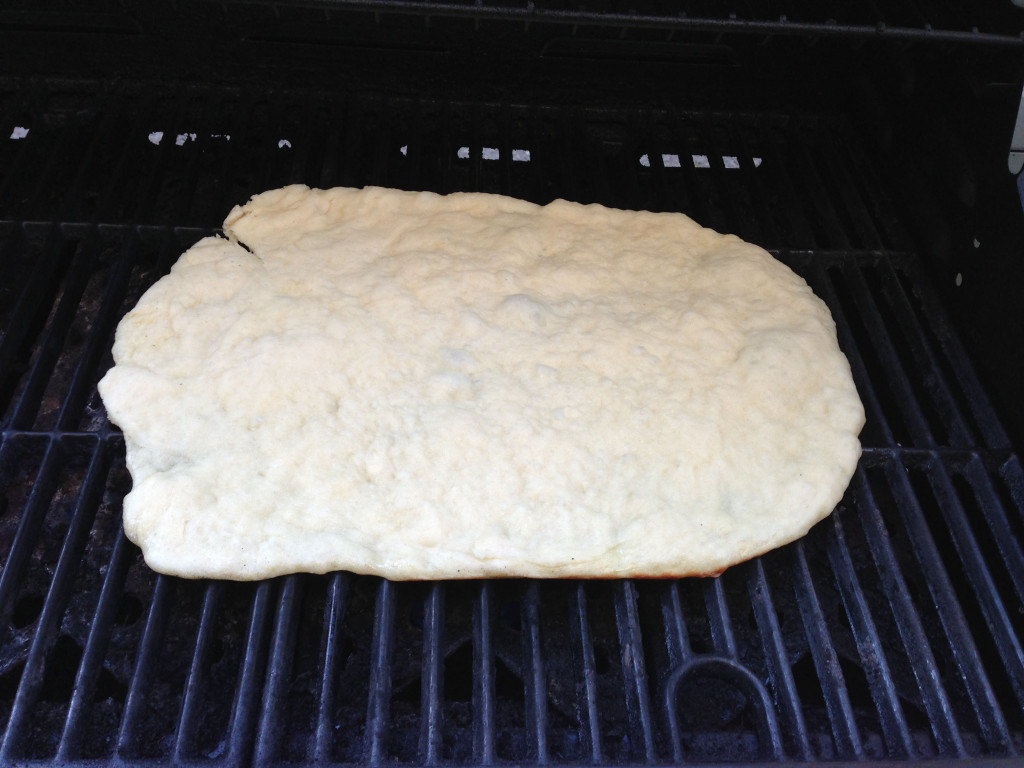 Flip it over and grill the other side too.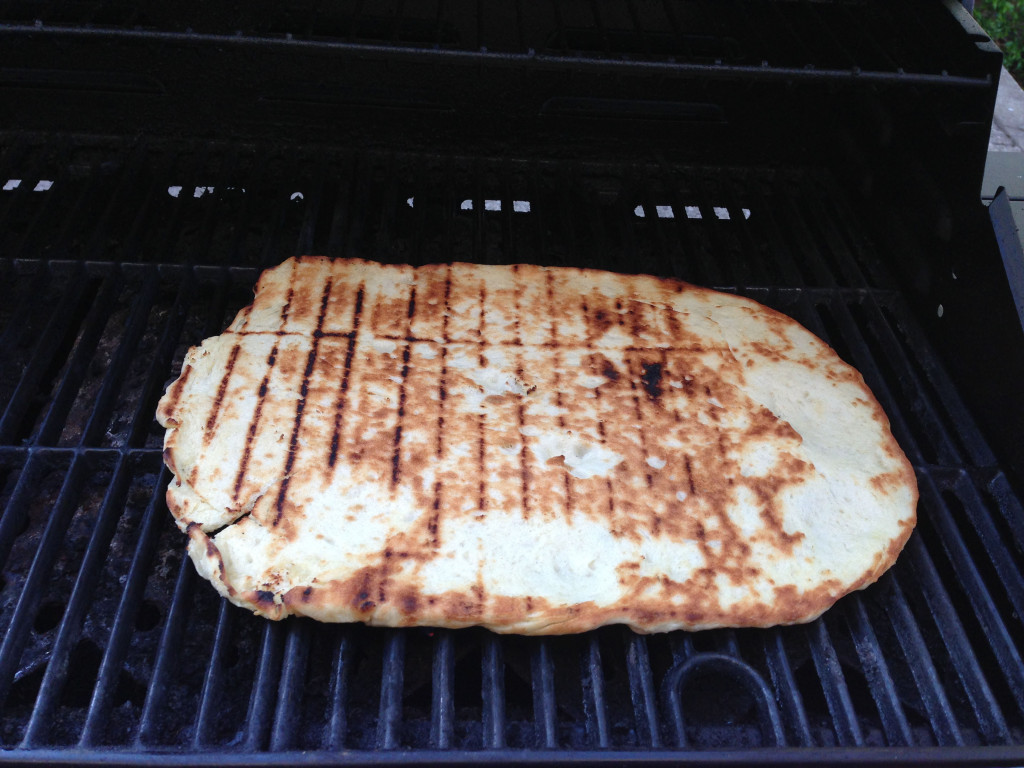 Put your crust back on the pan and take it inside. (Before you go inside, turn your grill down to low heat.)
Chop the grilled chicken and toss with 2 tablespoons of BBQ sauce.
Add toppings to your crust in this order – remaining BBQ sauce, red onion, BBQ chicken, broccoli, and cheddar cheese.
Take your topped pizza back out to the grill (still on the pan).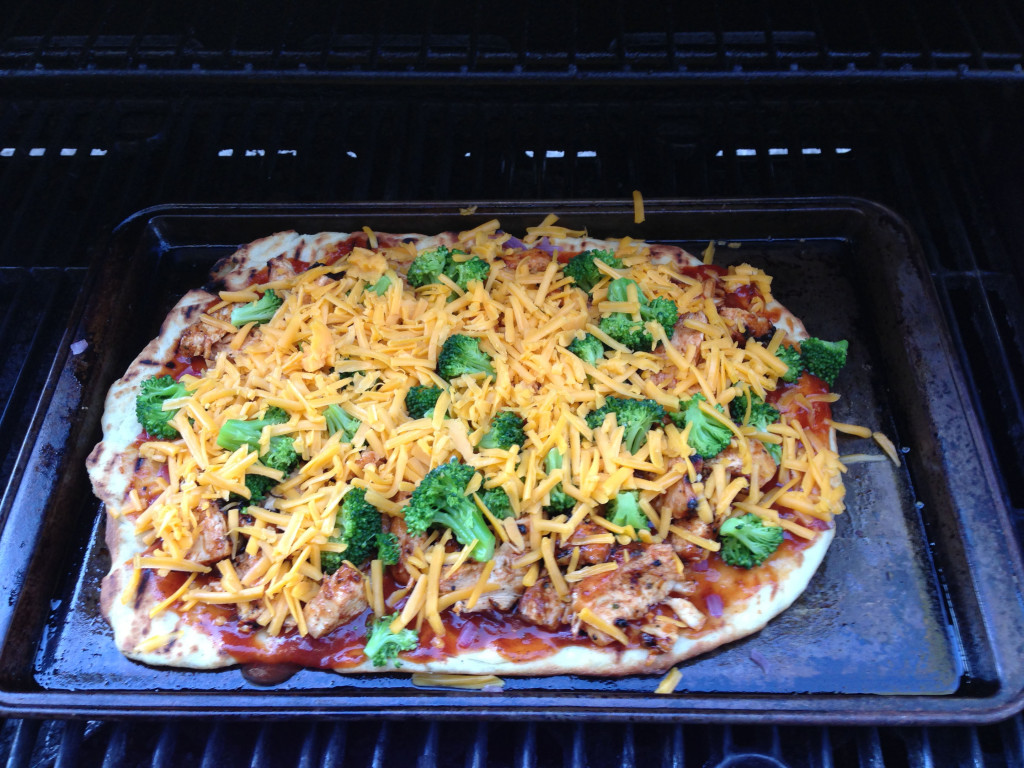 Grill on low heat until cheese is totally melted and toppings are heated through.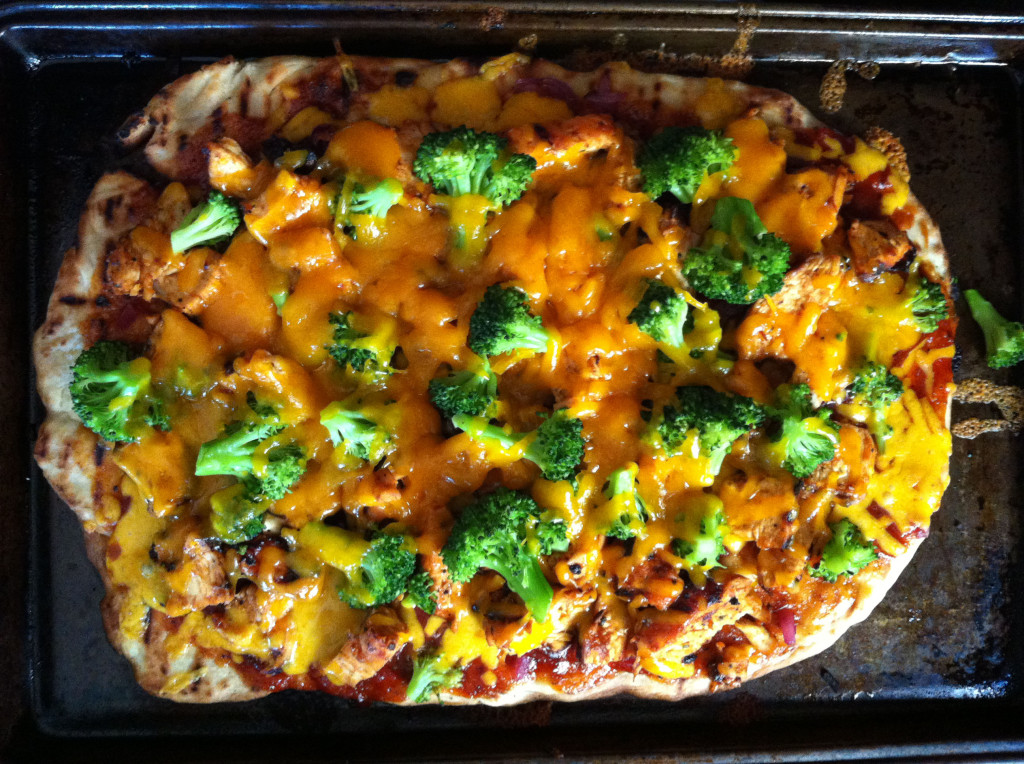 ENJOY.
If you're looking for more tried-and-true delicious recipes that I would serve to guests, these are my favorites:
Question: What's your favorite thing to grill? 
———————-
Want to stay up-to-date with everything that I'm cooking?  Be sure to follow me on Pinterest @kellymcnelis!