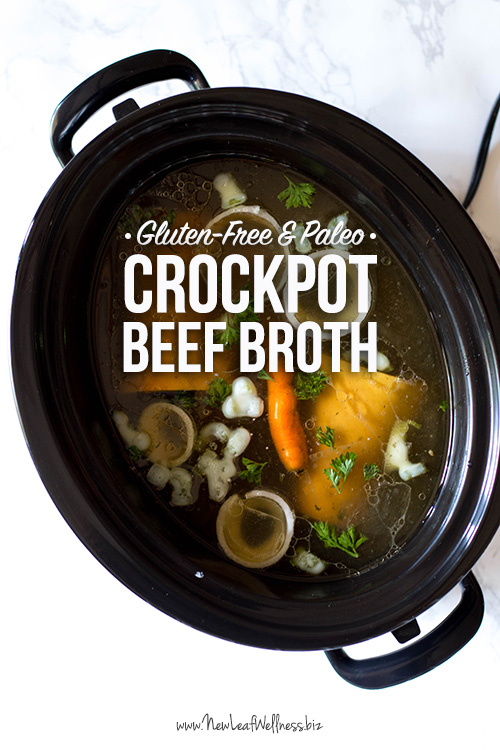 It's so easy to make homemade beef broth in the crockpot that I don't know why I didn't make it sooner.  I made two batches myself last week and now my freezer is stocked with healthy, delicious, budget-friendly broth for soup.  Yay!
The whole reason I decided to make my own broth was because I was adapting my regular crockpot recipes to make them Paleo.  I sell both Paleo Crockpot Freezer and Gluten-Free Crockpot Freezer eBook cookbooks on my site, and I wanted to come up with a homemade crockpot beef broth that I personally use and love.  It's included in the Paleo eBook for easy reference, but I wanted to share it here on my blog as well.

Why make this beef broth yourself?
It's healthier than the store-bought stuff. No preservatives, MSG, mystery ingredients, or anything you can't pronounce.  Google "bone broth" for more info.
It's cheap. If you use bones from the meat you eat, veggies scraps, and seasonings on-hand, it's virtually free.  Amazing, right?
You can control all of the ingredients.  This is especially important for people on special diets, like gluten-free, Paleo, low sodium, etc.
I like to make my beef broth with 2 teaspoons of sea salt or regular table salt.  This works out to about 464mg of sodium per cup of broth, which is similar to the lower sodium stuff that you'll find at the grocery store.  I find that the salt adds a lot of flavor to the broth and eventually recipe that you use it in, but you're welcome to decrease or omit entirely if you want.
Homemade Beef Broth in the Crockpot (gluten-free and paleo)
Yields: 80oz beef broth (10 cups)
Ingredients
2 pounds beef soup bones (sold by the packaged meat at the grocery store)
2 carrots, washed and chopped (no need to peel)*
2 celery ribs, washed and chopped*
2 small yellow onions, washed and chopped (no need to peel)*
1 tablespoon apple cider vinegar
2 bay leaves
2 tablespoons parsley
2 teaspoons sea salt
1 teaspoon black pepper
96oz water (12 cups)
*Tip: To save money, wash the ends of your carrots, celery ribs, and onions when cooking other recipes and store them in a quart-sized plastic freezer bag in the freezer.  When it's full, substitute them for the fresh vegetables listed in this recipe.

Materials
Large crockpot (6-7 quarts)
Plastic freezer bags (if freezing)
Directions
Add all of the ingredients to your crockpot.
Add lid, and cook on low 8-10 hrs or on high 4-5 hours. You will know when the broth is done because it will take on a darker color and smell amazing.
Strain out the bones and vegetables and discard. (I do this over a big pot to catch the broth.)
Cool to room temperature and scoop fat from top.
Store in the refrigerator for up to one week or freeze for up to three months.
To Freeze
I recommend freezing in quantities that you plan to use so it's easy to thaw/use.  For example, I typically use 2-4 cups of broth at a time to make soups and stews, so I fill two gallon-sized plastic freezer bags with four cups each and one quart-sized plastic freezer bag with two cups.

Thoughts or questions?  Please leave a comment below and I'll respond as soon as I can. XO, Kelly