Since I've made hundreds of freezer crockpot meals people often ask me which gadgets I use to prepare, freeze, and cook my meals.  Here are my 11 favorites!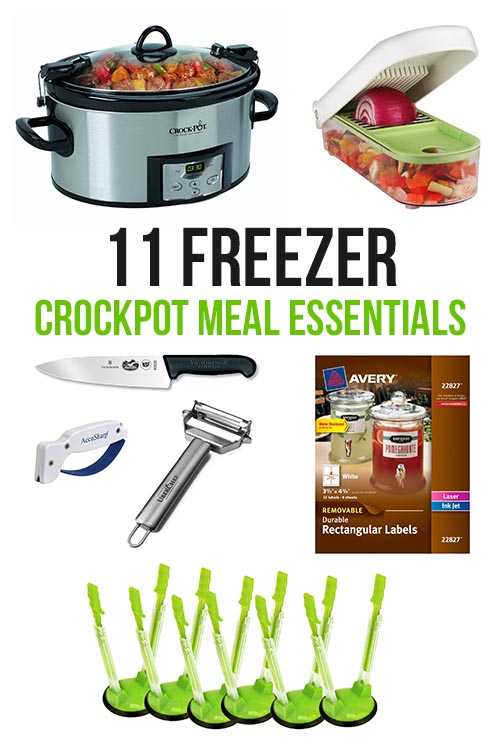 11 Freezer Crockpot Meal Essentials
Crock-pot 6-Quart Programmable 'Cook and Carry' Slow Cooker (My all-time favorite slow cooker)
Crock-Pot 2.5-Quart Slow Cooker (My favorite slow cooker when only cooking 1-3 servings at a time)
Jokari Hands-Free Baggy Rack – Pack of 6 (A must-have for big freezer meal prep sessions)
UberChef Premium Ultra Sharp Stainless Steel Vegetable Peeler (This is on my personal wish list)
Vidalia Chop Wizard (A must-have for chopping onions)
Ozeri Digital Kitchen Food Scale (Perfect for portioning out meat and produce that you buy in bulk)
Victorinox Fibrox 8-Inch Chef's Knife – plus the Victorinox Blade Safety Cover and AccuSharp Knife Sharpener (I LOVE this chopping knife)
FoodSaver Vacuum Sealing System (I bought this last month and I'm obsessed)
Rolls of Vacuum Sealer Bags (So much cheaper than individual bags)
Kenmore 13.8 cu. ft. Upright Freezer Model #22442 (I got a great deal at Sears)
Avery Durable Rectangular Sticker Labels (Perfect for labeling finished meals – this size is compatible with the printable labels in my Crock'd and Meat-Free Slow Cooker Freezer Meals eCookbooks)


All of these freezer crockpot meal essentials would make great gift for yourself, your sister, or your grown children.  I own all of them (except the vegetable-peeler, which is on my current wish list) and I can tell you that they are awesome.  I use these items over and over again.
You don't need anything fancy to make freezer crockpot meals, but I think these "essentials" make my time in the kitchen more fun, easy, and efficient.
The links above will take you to the products that I bought from Amazon.  I recently joined Amazon Prime, so most of my Christmas shopping will be done with free 2-day shipping.  Yay!  If you decide to purchase something after clicking on one of my links I will earn a small commission for referring you, so thank you.

Thoughts or questions?  Please leave a comment below and I'll respond as soon as I can.  I'd love to hear from you.