Here's my favorite recipe for waffles that can be frozen and reheated in the toaster.  They're healthier, cheaper, and 100x more delicious than the store-bought ones.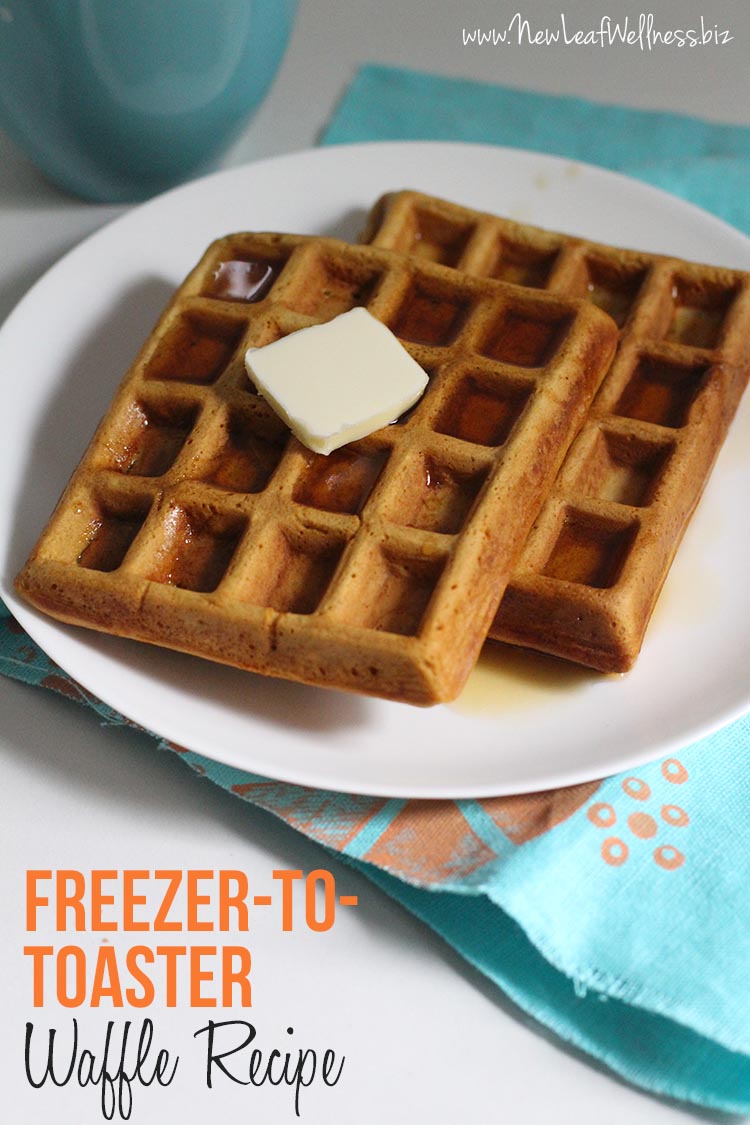 My oldest daughter is starting kindergarten this year and my fourth baby is expected in December, so I've been trying to come up with some quick and easy breakfast ideas.  My whole family likes waffles so I decided to make and freeze a bunch of them for the toaster.  That way it only takes a few minutes to make a homemade breakfast in the morning.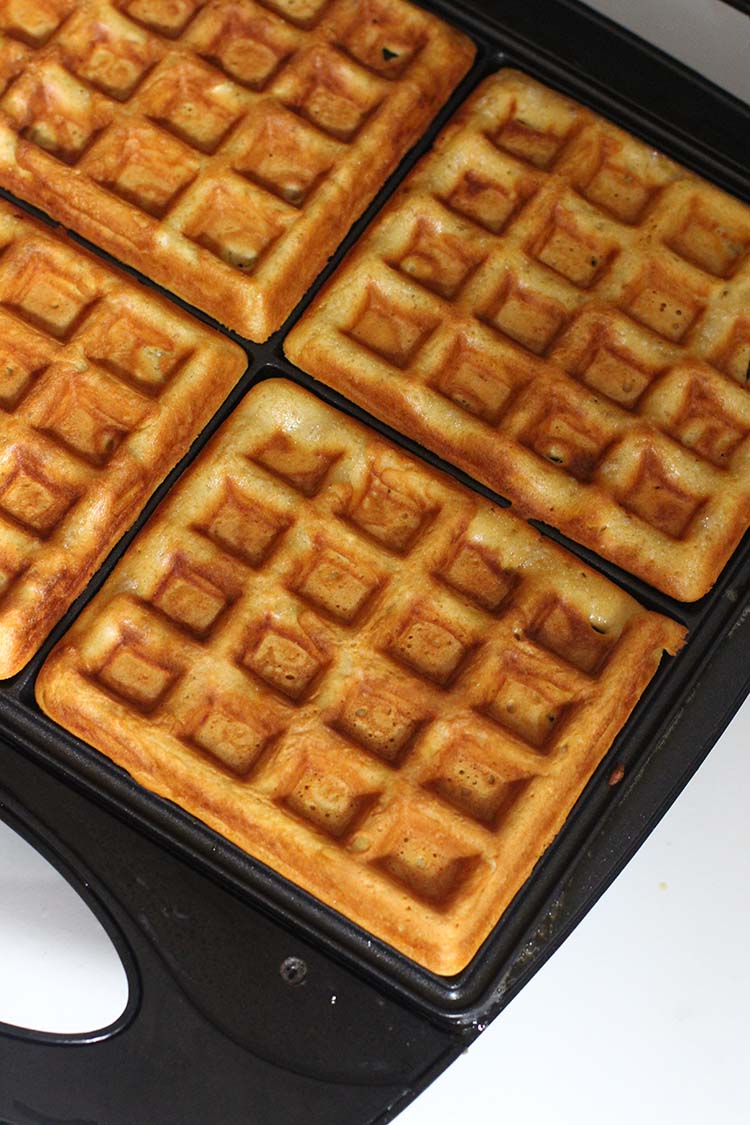 After doing a lot of research online, I decided to buy the Hamilton Beach Waffle Maker from Amazon.com.  It had high ratings and reviews, wasn't too expensive, and could be stored upright in my kitchen cabinet to save space.  Plus, it made the right-sized waffles to be reheated in the toaster.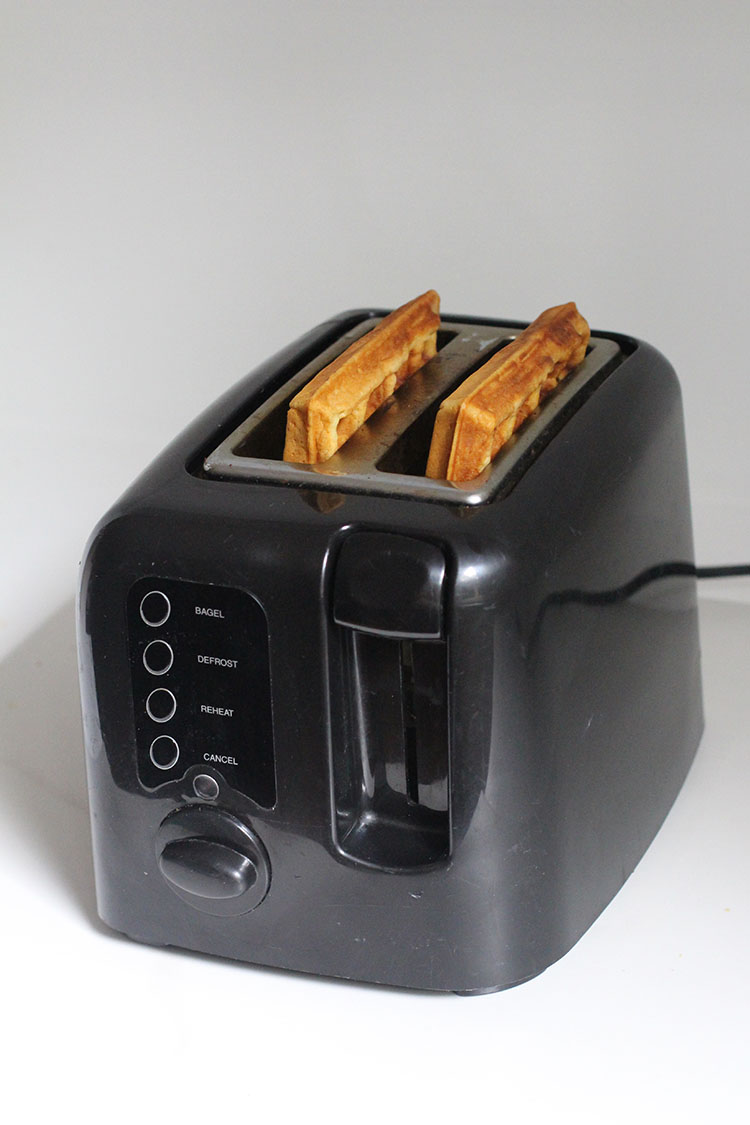 After making, freezing, and reheating a couple batches of waffles, I have to say that I'm hooked!  I'll share my recipe and freezer instructions below, but let me first compare my homemade waffles to store-bought ones in terms of nutritional info, cost, and taste.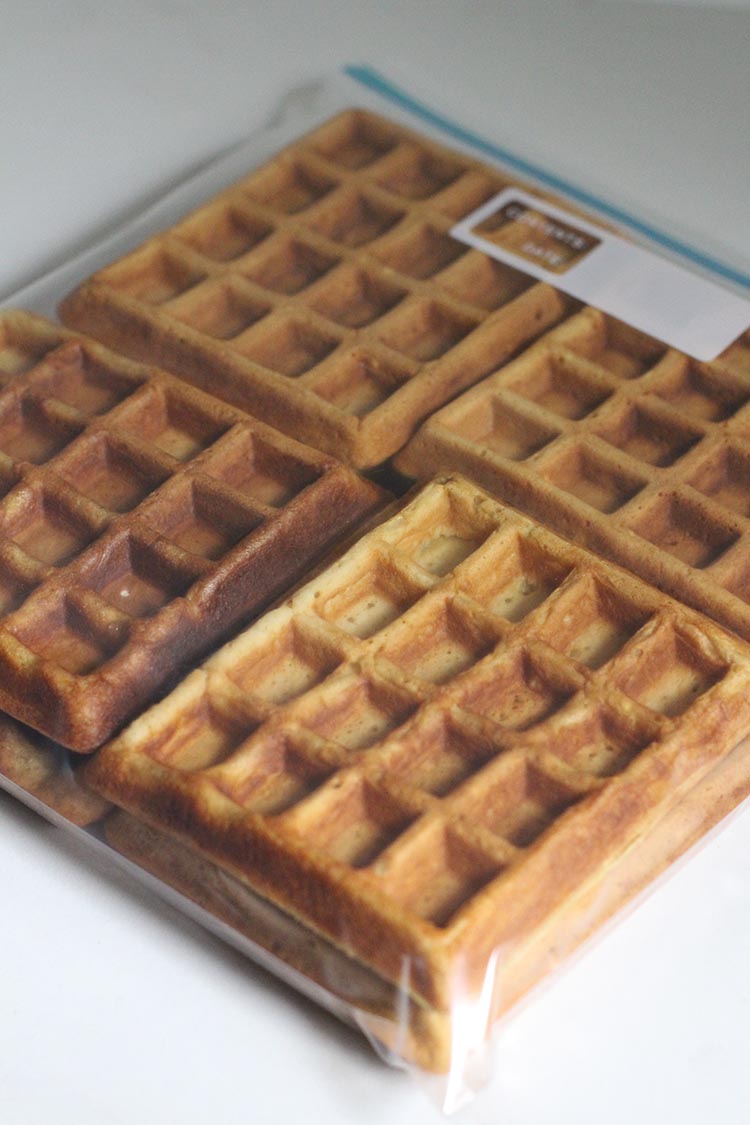 Nutritional Info
My main motivation for making these waffles was that they would be healthier than the store-bought frozen ones.  I'm not opposed to eating anything in moderation, but the thought of feeding my family Eggos® all year didn't sit right with me.  Here's the nutrition info for my homemade waffles:

I'm happy that they're a good source of protein and don't have an excessive amount of calories, fat, or sugar.  I'm very hungry in the mornings and two waffles is the perfect serving size.  My daughters only eat one at a time.
If you click here, you can see the nutritional information for Kellogg's frozen waffles.  It's hard to do a direct comparison because my homemade waffles are bigger than theirs, but it looks like my waffles have less fat and more protein and Kellogg's rate better in terms of cholesterol and sodium.
What I like best about my homemade waffles is that I know exactly what's inside. There are no "mystery ingredients" or items that are hard to pronounce.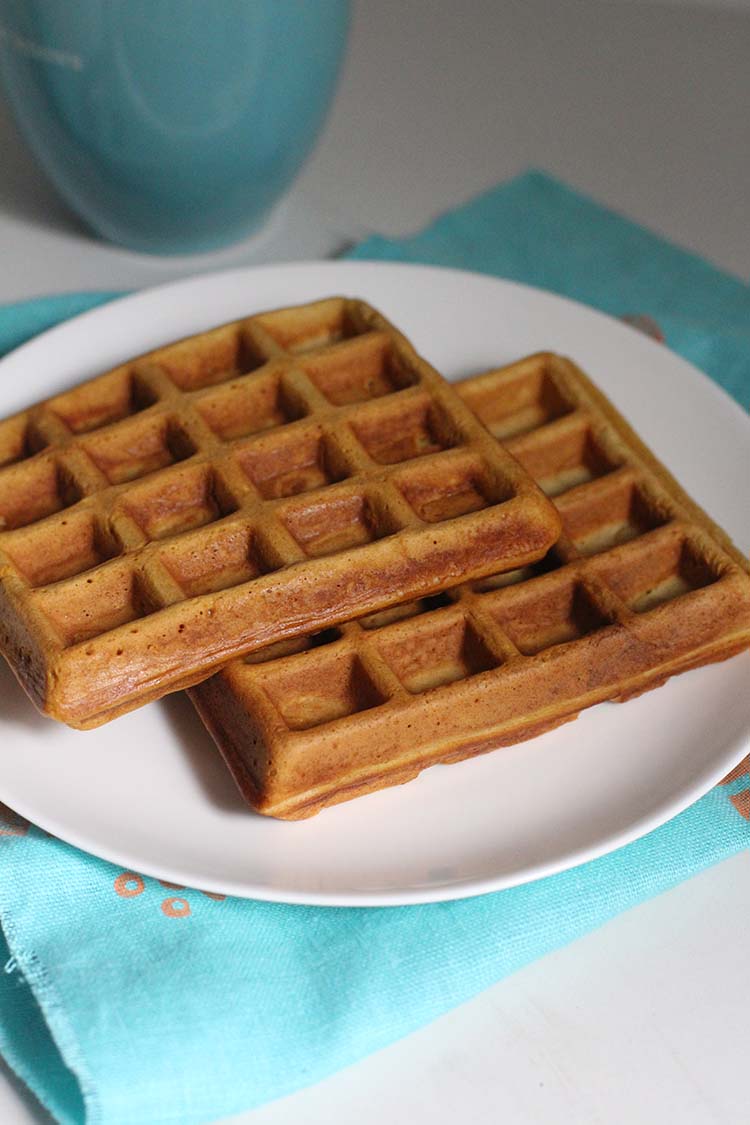 Cost
I thought making my own waffles could save me money, but I wasn't sure so I decided to look at the numbers.  On sale, the generic waffles at the grocery store cost $2 per box of 10 waffles.  That works out to 20¢ per waffle.  Here's the cost breakdown for a batch of 10 homemade waffles:
Flour – 99¢ for 5 pounds or 20¢ for the 2 cups used in this recipe
Milk – $3.49 for a gallon or 44¢ for 2 cups
Eggs – $2.49 for a dozen or 42¢ for 2 eggs
Baking Soda – 49¢ for a box or 1¢ for 2 teaspoons
Sugar – $1.49 for 4 pounds or 1¢ for 1 tablespoon
Salt – 39¢ for a 26 oz container or less than 1¢ for 1/2 teaspoon
Vanilla Extract – $1.99 for 2 fl oz or 8¢ for 1/2 teaspoon
That means each batch of my homemade waffles costs $1.17 or 12¢ per waffle.  If we eat these waffles all year, we will save $43 and that savings will only increase if I compare them to name-brand or organic store-bought waffles.  (All of my cost estimates are based on their prices at ALDI in August 2015.)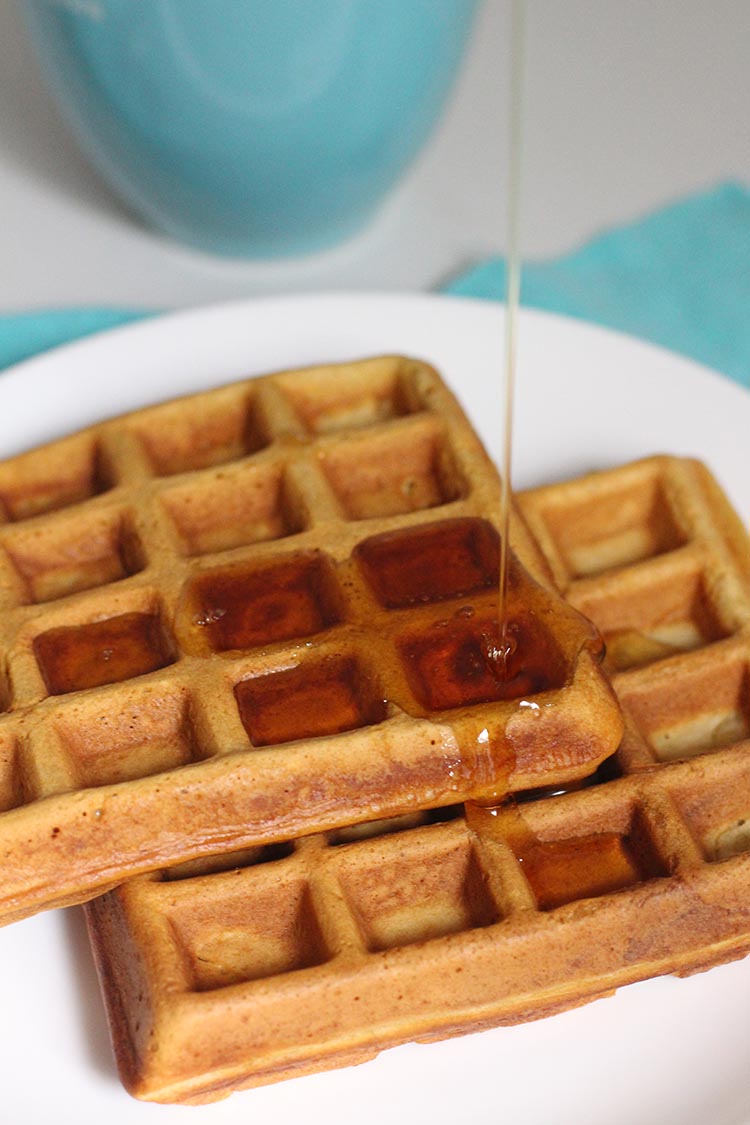 Taste
Hands-down my homemade waffles taste 100x better than the store-bought ones.  They're crunchy on the outside, soft on the inside, and the perfect amount of sweetness (a little bit sweet, but not too sweet to top with syrup or chocolate sauce).  They even taste awesome reheated in the toaster!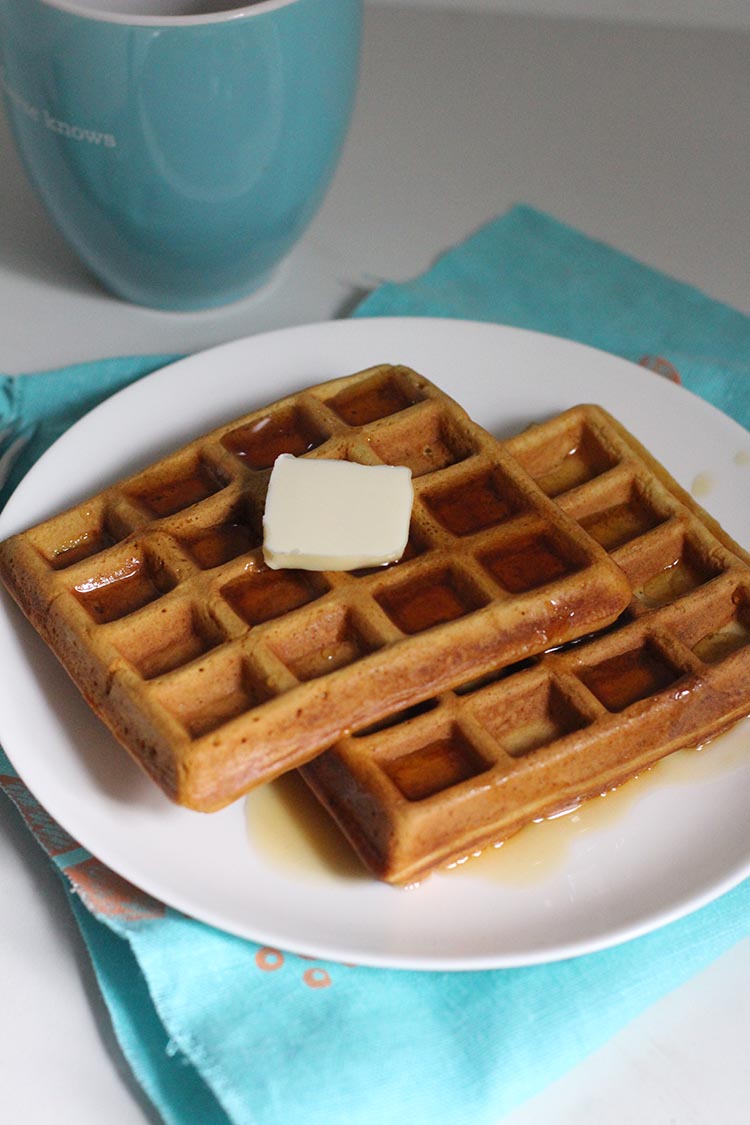 Freezer-to-Toaster Waffle Recipe
Yields: 10 waffles
Ingredients
2 cups flour
2 cups milk
2 large eggs
2 teaspoons baking soda
1 tablespoon sugar
1/2 teaspoon salt
1/2 teaspoon vanilla extract
Cooking spray
Directions
Preheat waffle iron.
Combine all ingredients in a large bowl (except cooking spray).
When waffle iron is ready, spray with cooking spray and fill each rectangle with 1/3 cup batter.
Close, and cook for 5 minutes.
Remove waffles and repeat Steps 3-4 until waffle batter is gone.
To Freeze
Place waffles on a large cookie sheet and "flash freeze" by placing it in the freezer for 20-30 minutes or until waffles are completely cooled and starting to harden.  (This will keep the waffles from sticking together in the freezer.)  Place all of the waffles in a gallon-sized plastic freezer bag and freeze for up to three months.
To Reheat
Reheat frozen waffles in the toaster.  (So easy!)  I recommend using a medium-high setting so your waffles heat throughout and become a little bit crunchy on the outside.
Enjoy!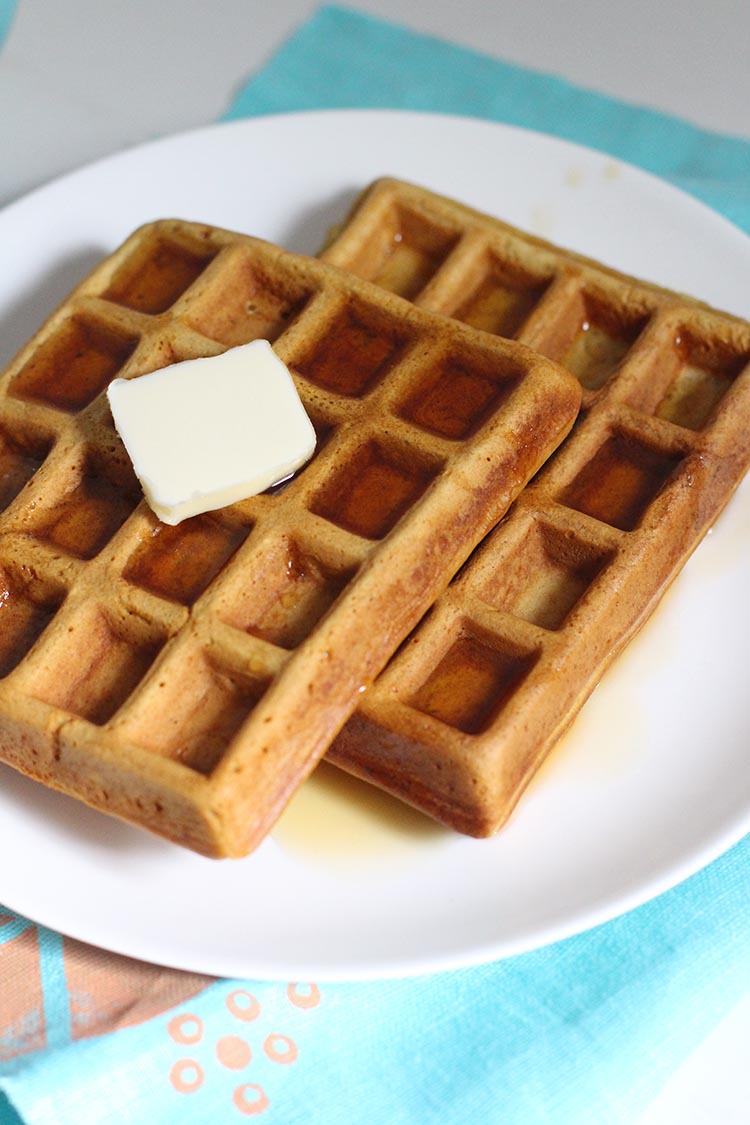 Recipe adapted from this one on Big Oven.com.
Thoughts or questions?  Please leave a comment below and I'll respond as soon as I can.