Did you know that you can make microwave popcorn with unpopped popcorn kernels and a paper bag?!  You can, and it's so easy!  Here's everything you need to know to make some of your own…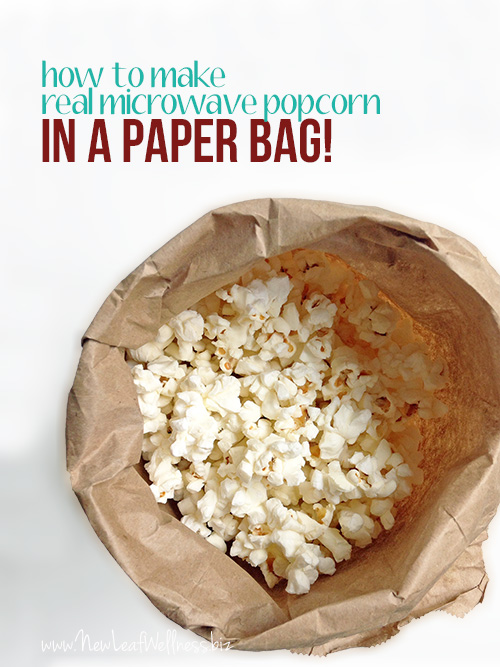 Our new house has an awesome addition in the back and we furnished it with a sectional sofa and flat screen TV.  Perfect for Friday night movies with my girls!
We recently starting making our own popcorn and it's delicious.  Add some unpopped popcorn kernels to a brown paper lunch bag and microwave into fresh, crunchy goodness.  The store-bought fake stuff can't complete with my homemade toppings (like real melted butter!).
Here are three reasons why you need to make your own microwave popcorn asap:
It's cheap. (This homemade stuff only costs pennies per bag!)
It's super easy to make!
You'll know exactly what's inside the bag.
Let's get popping!
How to Make Real Microwave Popcorn in a Paper Bag
Yields: About 7 cups of popcorn
Materials
1/3 cup unpopped popcorn kernels (where to buy)
Brown paper lunch bag
Directions
Add the kernels to the paper bag and roll down the top of the bag.
Place in microwave and cook for 2 minutes or until the "popping" sound starts to slow.
Add your favorite toppings, and enjoy!
We like to top our popcorn with melted butter and salt, but you can also eat it plain or add sugar for a sweet taste.  Experiment, and have fun!
Thoughts or questions?  Leave a comment below.  I'd love to hear from you!