Here's my favorite freezer cookie recipe made with oats and M&M's.  I scoop the dough into little balls and freeze it raw so I can have freshly baked cookies at a moment's notice.  Genius, right?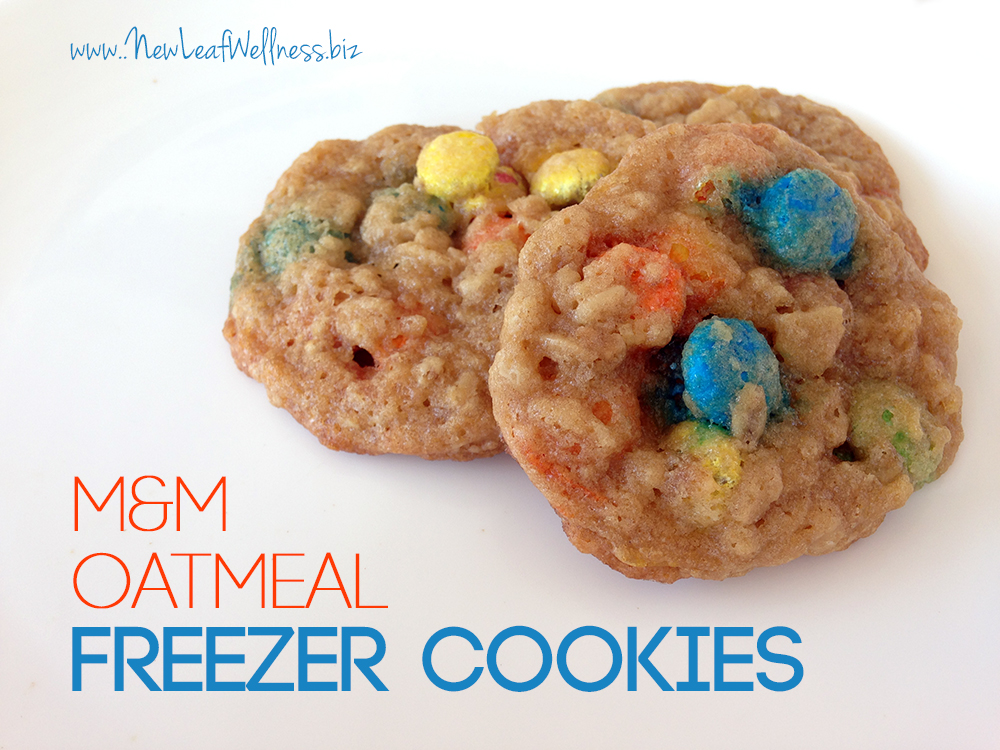 I perfected my freezer cookie recipe back when I was writing my 15-Minute Freezer Recipes cookbook.  I froze tons and tons of cookie dough until I got the ratio of baking powder, baking soda, and sugar just right.  I like cookies that rise while baking so the center stays soft and chewy.
At the time, I was making oatmeal chocolate chip cookies.  Then, I moved onto oatmeal raisin cookies for my No Cook Freezer Meals cookbook.  Both delicious.
I know you're going to love this freezer cookie recipe with oatmeal and M&M cookies too.  You can prep them in less than 10 minutes and bake them whenever you need a chocolate fix.
Freezer Cookie Recipe with Oats and M&Ms
Yields: 24 cookies
Ingredients
1 stick unsalted butter, room temperature
1 egg
3/4 cup all-purpose flour
1/2 cup old fashioned oats (not quick-cooking oats)
3/4 cup light brown sugar
1/2 teaspoon baking powder
1/4 teaspoon baking soda
1/2 teaspoon vanilla extract
1/4 teaspoon salt
1 cup M&M's
Prep
Mix butter and egg.
Add flour, oats, sugar, baking powder, baking soda, vanilla, and salt. Stir until just combined. (Don't overmix!).
Add M&M's and stir until combined. (Again, don't overmix!).
Scoop rounded tablespoons of dough onto cookie sheets. Use fingers to form into balls. (Tip: Wet your fingers with water to keep the dough from sticking).
Freeze until firm (about an hour).
Remove from pan and store in a gallon-sized plastic freezer bag for up to three months.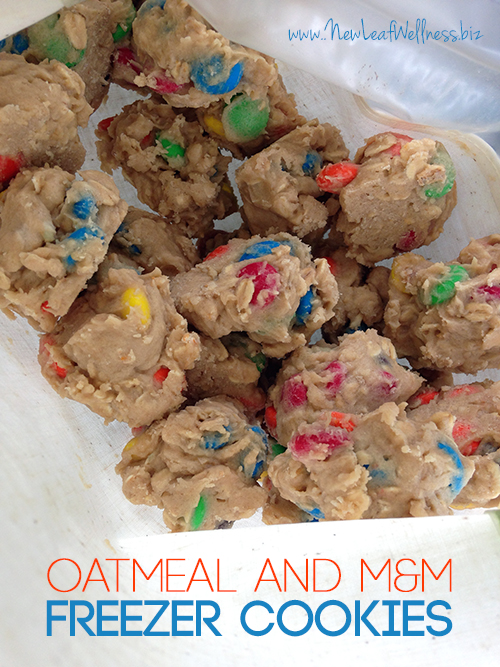 Bake
Remove from freezer, and place cookies on cookie sheet for 35 minutes to thaw.
Bake at 350 degrees F for 8-10 minutes or until lightly browned around edges.
Cool 5 minutes on cookie sheet. Remove and finish cooling on wire rack.
Nutrition Info for two cookies: 150 calories, 4.5g fat (2.5 saturated),  15mg cholesterol, 50mg sodium, 18g carbs (2g fiber, 14g sugar), 8g protein, 10% Vitamin A, 4% Iron, 2% Calcium, 4% Vitamin C