Move over, turkey.  In my family, Thanksgiving is all about the stuffing.  This is a bold statement, but this is probably the best recipe that I've ever shared on this blog.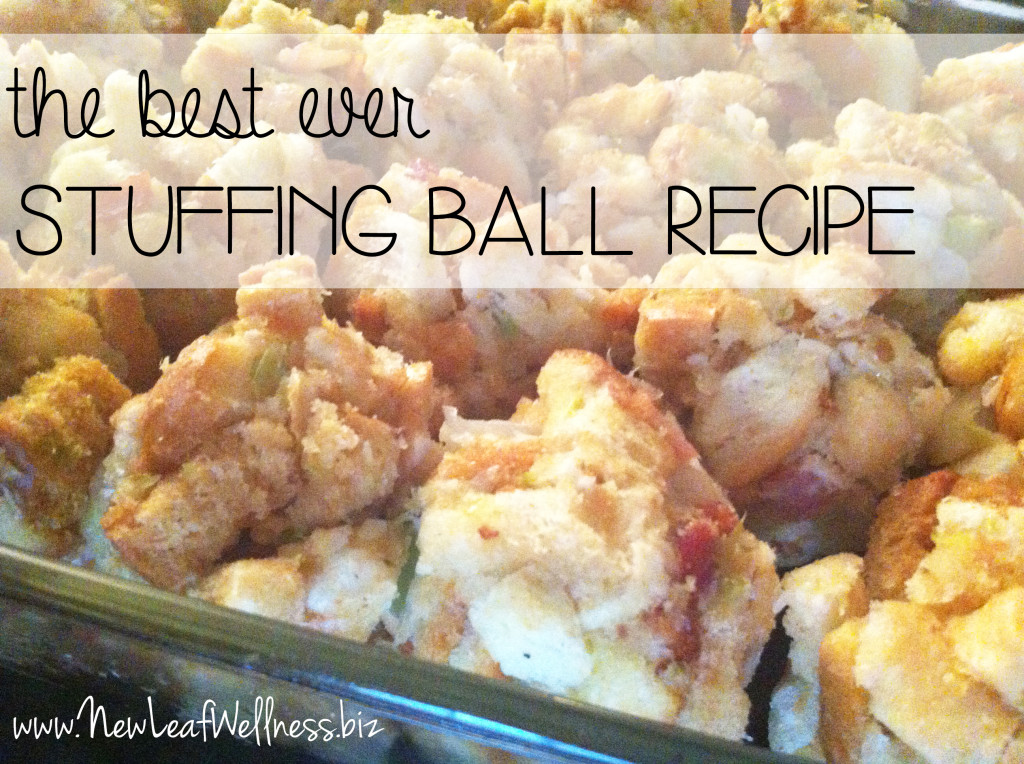 This stuffing ball recipe originated with my Great Grandfather and has been passed down generation to generation in my family.
Every year, my Dad, Brother, and I keep tabs on how many stuffing balls each dinner guest is eating to make sure they don't eat more than their share.  (Joking.  Kind of.)
Why balls, you ask?  Why the heck not?!
The ball form allows each stuffing ball to get a little crispy on the outside while staying soft and moist on the inside.  (I'm getting hungry just thinking about it.) Each ball is also the perfect serving size.  Although, it's almost impossible to eat just one.
Let's be honest: These stuffing balls aren't healthy in any way.  They include white bread, bacon, and margarine.  Because of that, they taste like pure bliss.
I'm a big fan of "all things in moderation," so I'm OK with that.
This stuffing ball recipe is one that my friends ask me for year-after-year, so I'm excited to share it with you too.
Stuffing Ball Recipe
Yields: 48 balls (Two 9×13 casserole dishes) << Sounds like a lot, but these things are addicting!
Ingredients
2 jumbo loaves of white bread, cubed and dried (The bread takes about a week to dry, so plan ahead!  Don't tell my Mom or Grandma, but I've also had success subbing the dried bread cubes that you can find in the bakery section of the grocery store.)
1 lb. of bacon, frozen (Freezing it makes it easier to dice.)
1 stalk of celery, diced (A stalk is the whole bag, not only one long piece!)
3 medium-sized yellow onions, peeled and diced
1 cup of margarine or butter (Two sticks)
4 eggs, scrambled
1 cup of chicken broth
Directions
Preheat oven to 300 degrees F.
Chop the bacon and add to a large sauté pan.  Cook until almost done and then add the celery, onions, and margarine (or butter).  Cook until soft.
Mix bacon/celery/onion mixture with dried bread cubes. Add eggs and form into balls.  (They will be slightly dry.)  Arrange balls in two 9×13 casserole dishes and drizzle with chicken broth.
Cover with foil, and bake for 40 minutes.  (They are very easy to burn and dry out, so please be careful.  My mom recommends placing a glass, oven-safe bowl of water in the oven while baking to help retain moisture.)
Taste test one to see how amazing they are.  Then, share with family and friends!
Note: If you are bringing this dish to someone's house for dinner, you can fully cook the stuffing balls ahead of time at home.  Then, store them in gallon-sized plastic bags and simply re-heat in the microwave before serving.  (You can also re-heat them in the oven, but be careful not to burn or dry them out.)
What's your favorite Thanksgiving dish?  Please share in a comment below!