Birds & Bees Teas sell six loose leaf teas that are especially designed for mamas and their families.
Lighthearted – for heartburn during pregnancy
Ripe & Ready – to prepare for labor and delivery
Peaceful Pregnancy – for added nutrients and minerals during pregnancy
Our Lady of Le Leche – to support breastfeeding
Easy Naps & Calm Nights – to prep for bed (great for you and your toddlers!)
Family Immunity – to boost your immune system
All of Birds & Bees Teas are herbal, 100% natural, and organic.
The ladies at Birds & Bees Teas let me pick a tea to try and I immediately went for the 'Family Immunity' blend.
The ingredient list for 'Family Immunity' Tea includes elderberry, astragalus root, rosehips, goji berry, and cinnamon chips.  I looked up all of these ingredients on WebMD and they're related to boosting the immune system and fighting colds and flus.  (Makes sense why they're in a 'Family Immunity' tea, right?)  Birds & Bees Teas also includes an "herbal glossary" on their website that explains the benefits of each herb in everyday terms.
I was so freaking excited when my tea tin arrived.  And the great news is that Birds & Bees Teas is going to give one of you a free tin too!  (Giveaway details at the bottom of this post.)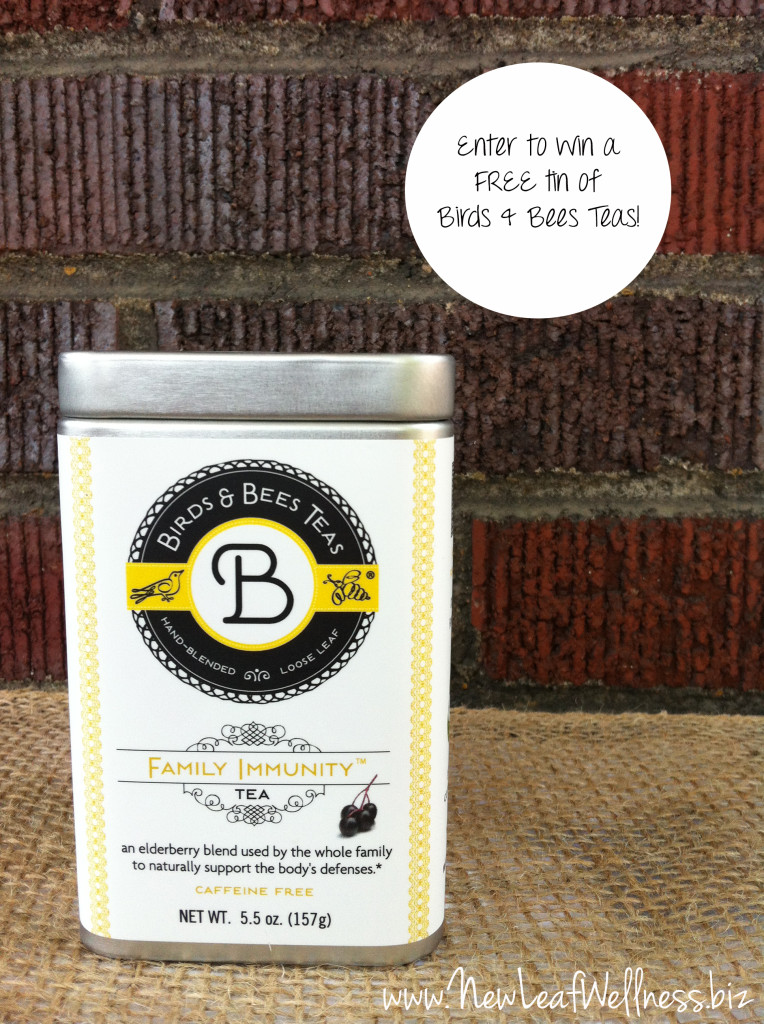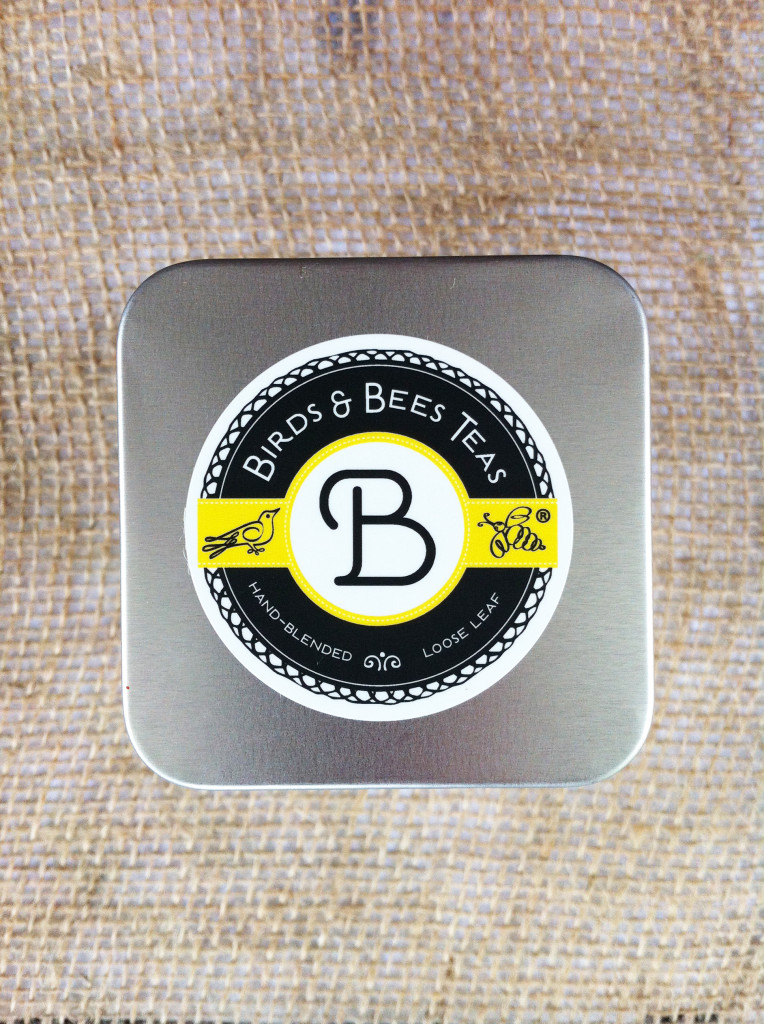 The tin is so cute and well-designed.  Birds & Bees Teas are now at the top of my list for baby shower and new baby gifts.  What a thoughtful and creative gift idea.
(I already ordered a tin of the 'Our Lady of Le Leche' tea for one of my favorite breastfeeding mamas who recently gave birth to her second baby.)
When I opened my tin of 'Family Immunity' tea, the the smell jumped out at me.  Intoxicating.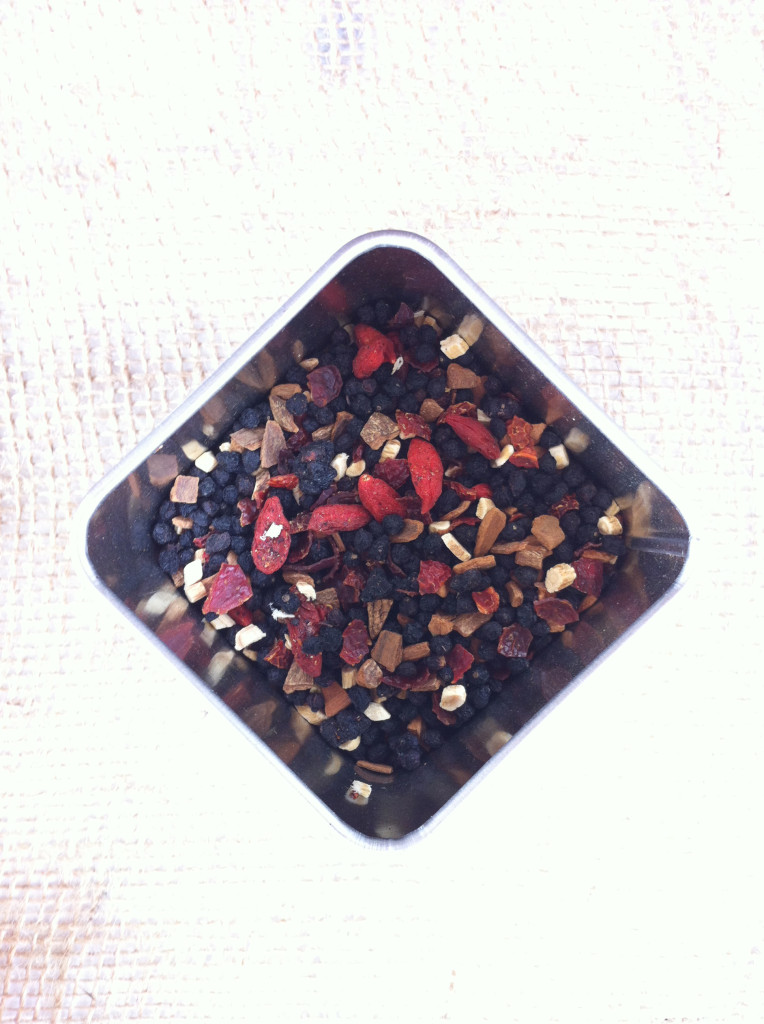 These aren't your grandma's tea bags, ladies.  This is gorgeous and glamorous loose leaf tea!
I brewed a cup of hot tea immediately.
(I bought this cute little pot to brew loose leaf raspberry tea when I was pregnant past my due date with my first daughter.)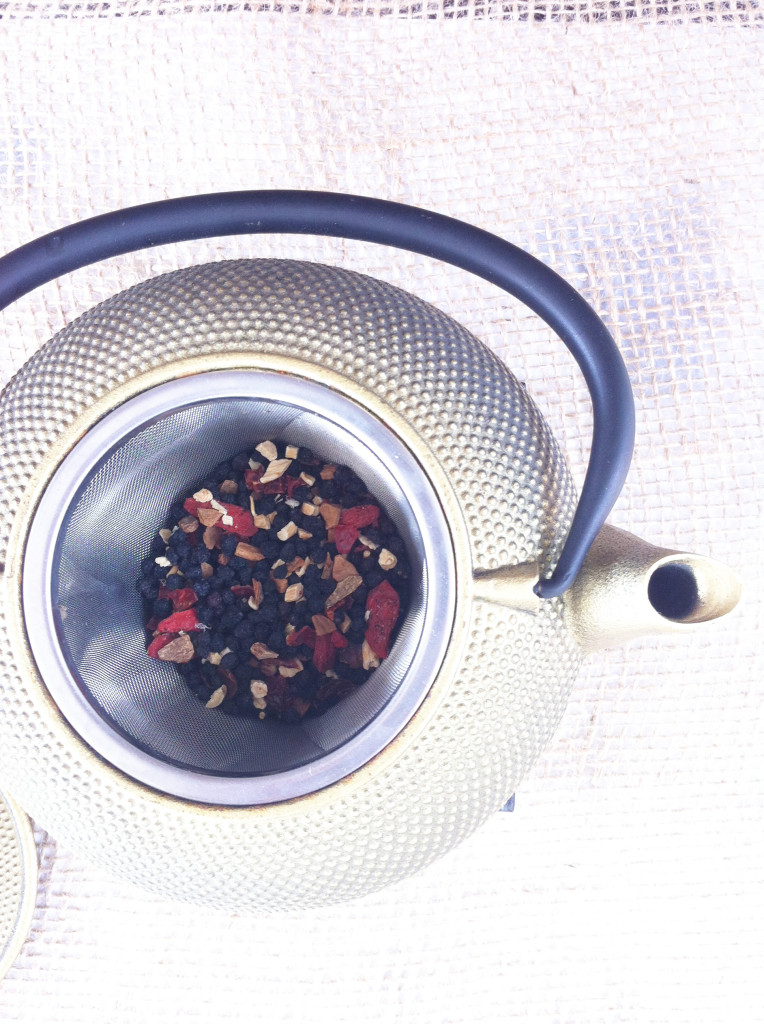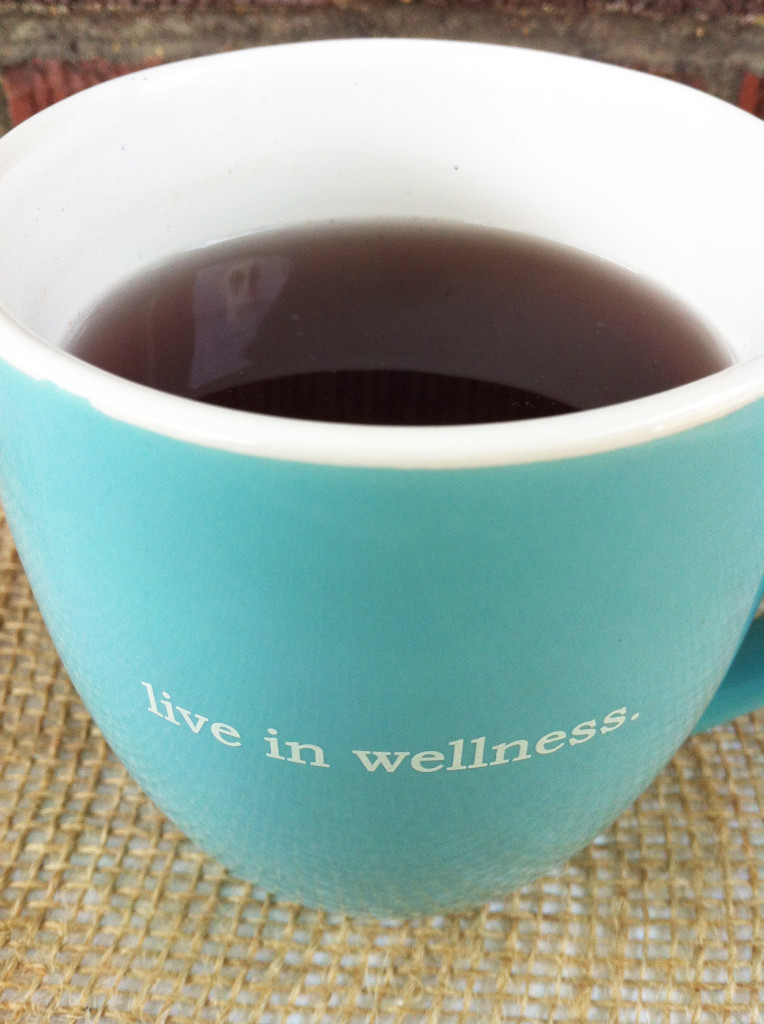 The tea smells so good when you're drinking it, too.  It tastes like berries, plus a hint of cinnamon.  Of course you can dress it up with honey and milk or whatever you like in your tea, but I like to drink it as-is.  This hot tea is a soothing and delicious way to stay hydrated.
You can bet I'll be drinking this tea during cold and flu season this year.
But why wait until then?  I decided to whip up some Family Immunity Iced Tea.
If you've never used loose tea before, Birds & Bees Teas make it easy for you to get started:  Each tin includes a small muslin bag that you can use as a tea bag. (So convenient!)  Simply scoop some tea into the bag and you're ready to brew.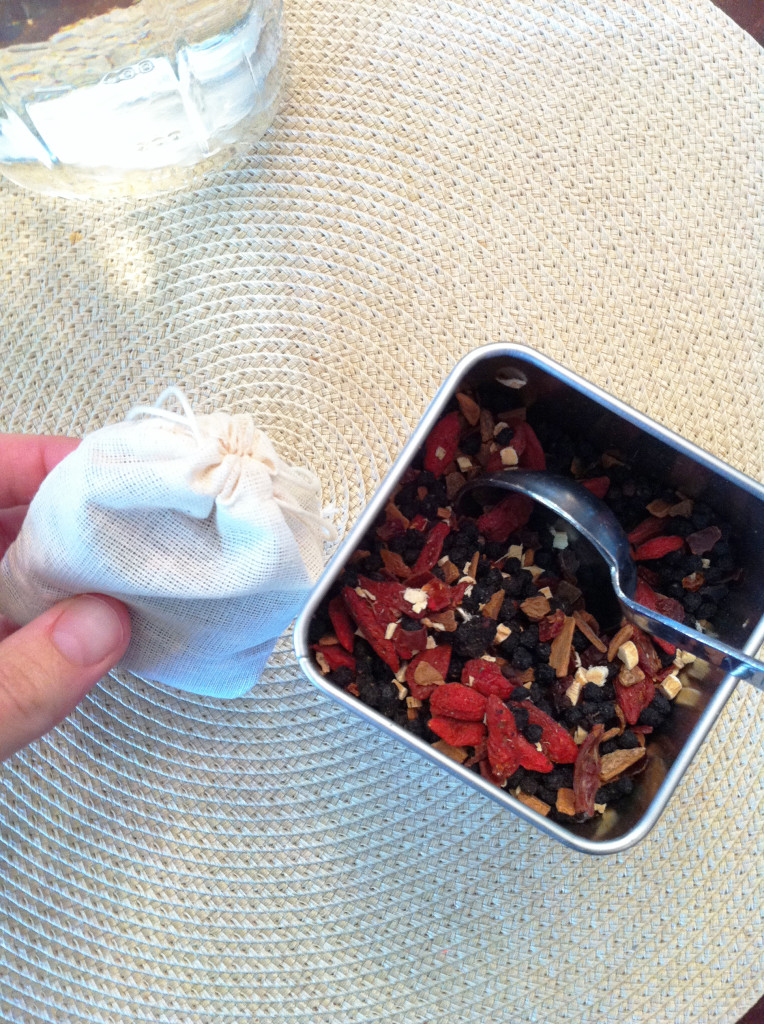 I let the tea steep in my refrigerator for a few hours and then added some honey and fresh squeezed lemon juice. Such a refreshing, immune-boosting summer drink!

Family Immunity Iced Tea
Ingredients
1/4 cup 'Family Immunity' loose leaf tea from Birds & Bees Teas
4 cups water
the juice from one lemon
2 tablespoons honey
Directions
Add loose tea to the small muslin bag that comes with Birds & Bees Teas.
Put the tea bag into a container with 4 cups of water.  (I like to use a quart-sized glass jar.)
Steep in refrigerator for 4-6 hours.
Remove tea bag and add lemon juice and honey.
Stir to combine.  (Or as I like to do, put the lid back on your jar and shake the heck out of it.)
Serve over ice.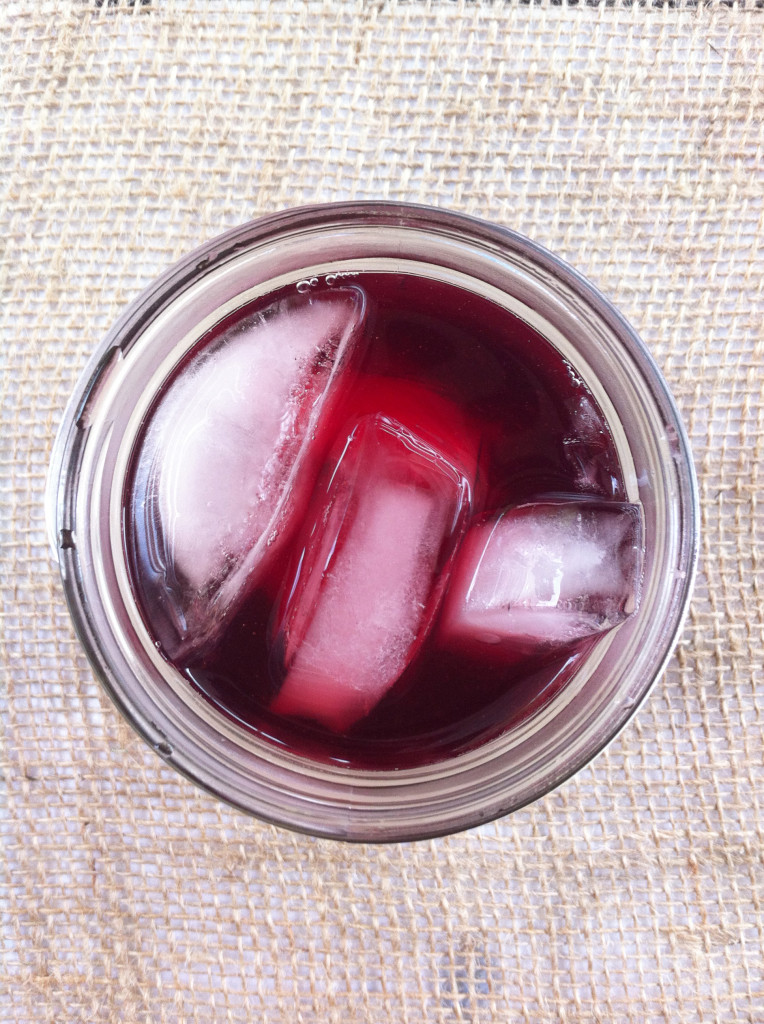 ENJOY.
Giveaway – Birds & Bees Teas – CLOSED!
Birds & Bees Teas has graciously offered to send one reader a tea of their choice!  This giveaway ends Sunday, September 1st at 9pm EST.
Open to U.S. residents only.
To enter (mandatory):
Leave a comment below saying which kind of Birds & Bees Teas you're dying to try.
Extra entries (optional):
Follow Birds & Bees Teas on Instagram (and leave an additional comment below saying that you did).
Follow Birds & Bees Teas on Facebook (and leave an additional comment below saying that you did).
Good luck!
The winner – determined by a random number generator – was Renee Gomez.  Congrats, Renee!
Thank you to everyone who entered!