Here's the nitty-gritty of a freezer meal swap: I make five batches of the same meal.  Five other moms do the same thing and we swap.  Genius!
Here are the benefits of participating in a freezer meal swap
Save time
Save money by buying in bulk
Try new recipes
Stock your freezer
For my last freezer meal swap I made six of my famous Chicken Pot Pies.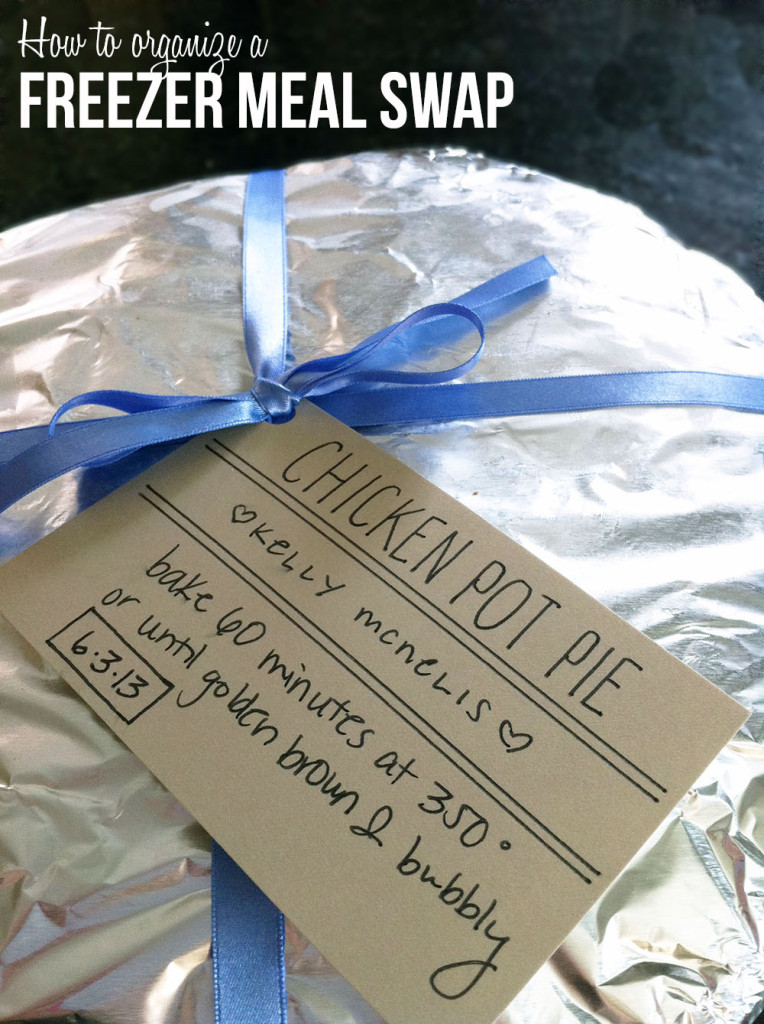 I brought five to the swap (I kept one for myself) and traded my chicken pot pies for five different freezer meals made by other moms, including Chicken Teriyaki and Rice, Texas Goulash, Beef Stew, Chicken Chili, and Slow Cooker BBQ Pulled Chicken.  (There were also Beef Fajitas but, unfortunately, they didn't end up being one of the five who came home with me.)
I came home with a cooler full of new recipes to stock my freezer.
It was awesome!!
Most people would probably save their meals for busy days when they need to make dinner FAST, but my husband and I couldn't wait.  We ate all of our meals the week after the swap took place.  I didn't have to cook at all that week!
If you're interested in organizing a freezer meal swap with your group of friends, here's everything you need to know to make it a huge success.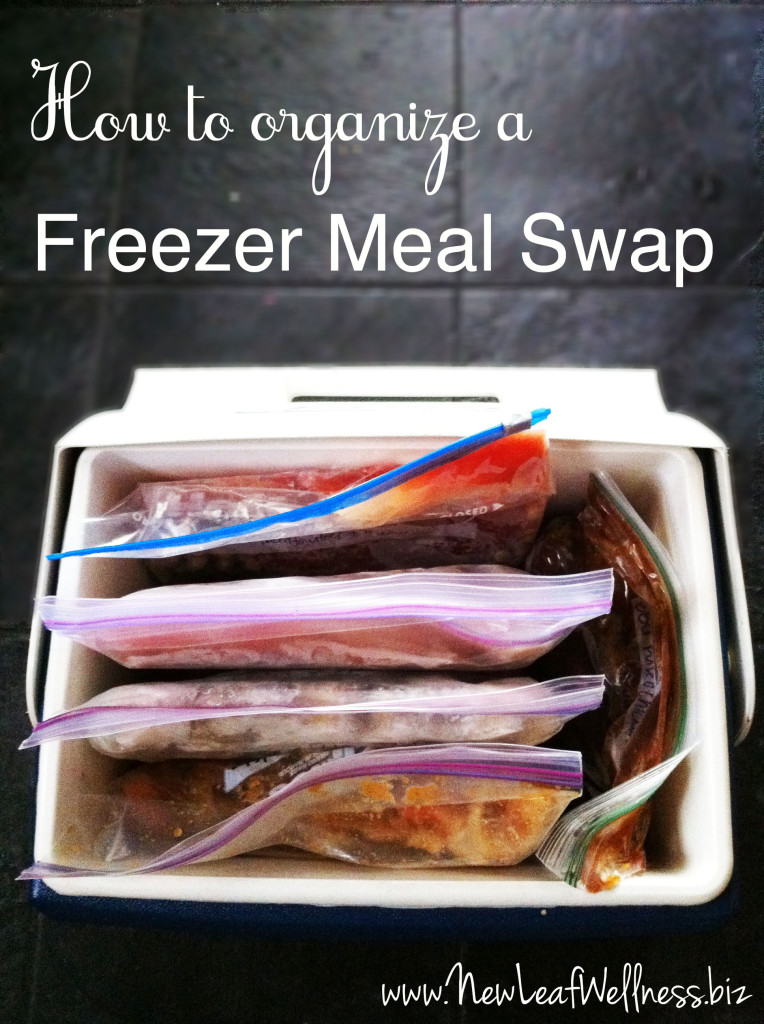 1. Start with a planning meeting
This is the time to discuss the basics of how to make homemade freezer meals.  If some (or all) of the women are new to making freezer meals, make sure everyone reads my Freezer Meal 101 tips. (This is very, very important because it will make sure everyone know how to properly prepare, store, and label freezer meals.)
You will also need to plan your freezer meal swap by discussing the following:
The date of the swap

2-3 weeks away is ideal.  This is enough time to prep your meals, but a short enough time to keep the excitement going and make sure no one drops out.
If someone can't make the same date as everyone else, you can 1) see if she's willing to join the next swap instead, 2) see if anyone else participating is willing to transport her meals to/from the swap, or 3) allow her to drop off her meals ahead of time and pick up her swapped meals at a later time (the host will need to have enough freezer space to store them).

The time of the swap

Keep the duration short.  Remember you have freezer meals that need to get home to the freezer.

The type of meals you'll swap

Find out if anyone has food allergies or food preferences.
Decide if each swapped meal has to be a complete meal (with meat/vegetables/starch).
If anyone is planning to make a slow cooker recipe, make sure everyone owns a slow cooker (AKA Crockpot).

The number of meals you'll swap

I think five is the magic number.  You won't be totally overwhelmed when you're trying to prep your meals and you'll still come home with a good number of freezer meals.

How the meals will be packaged

Gallon-sized plastic freezer bags (for slow cooker freezer meals) and disposable aluminum pans (for oven freezer meals) are probably easiest, but some people have issues with aluminum.
2. Decide what you're going to make
Like I said, I made Chicken Pot Pies for my last swap.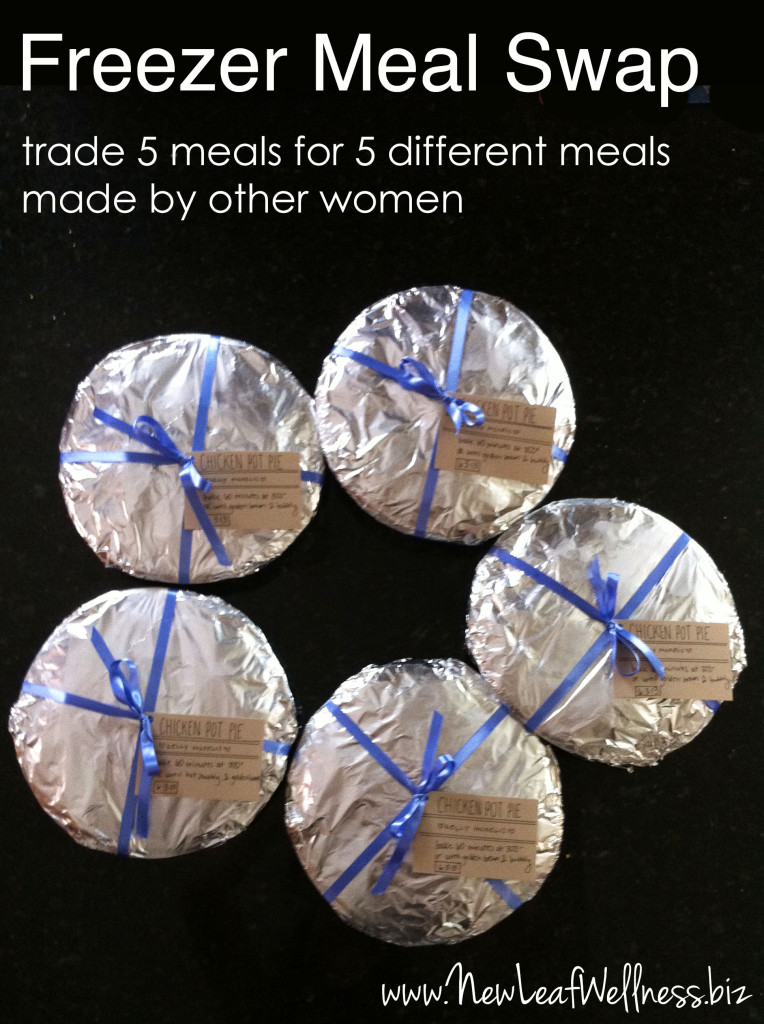 (Aren't the ribbons and cards cute??)
Moms loved my chicken pot pies, but I don't recommend taking on a recipe like that unless you are very famiilar with freezer cooking and willing to set aside 2-3 hours to make your meals.
I highly recommend picking an easy recipe.  Prepping five (or six) meals at a time is a lot of work, even when it's multiple batches of the same recipe!  Peeling and chopping one pound of carrots may not sound too bad, but what if you have to chop five pounds?
All of my freezer meal recipes are tried and true so if you don't have a recipe in mind, I recommend making one of mine.  They're super quick and easy, and delicious.
Here are my top five picks:
The Ham & Broccoli Calzones in my cookbook would also be awesome for a swap, but they will take more time to prep than a simple slow cooker recipe.
Once you decide what you're going to make, clear out some room in your freezer and go shopping for the necessary ingredients.
3. Prep your freezer meals
This is a great time to review my Freezer Meal 101 tips.  It may sound silly or repetitive but you wouldn't believe how many people package and label meals incorrectly.  (They're easy mistakes to make, especially if you're new to freezer cooking.)  Reading my tips will make sure your meals turn out great.
Consider how prepping five (or six meals if you're going to keep one) is going to be different than only prepping one.  Sure, you can brown one pound of ground beef in a pan on your stove top, but can you fit five pounds of ground beef in your pan at the same time?
I'm big into time-saving kitchen tips.  When I made my chicken pot pies, I chopped all of the chicken ahead of time to save time the day that I was going to assemble the pies.  If you can do any prep work ahead of time, it will make your life much easier when you're ready to assemble.
When your freezer meals are ready, label them with the following information:
the name of the recipe
your name
to thaw, if necessary
cooking instructions
use-by date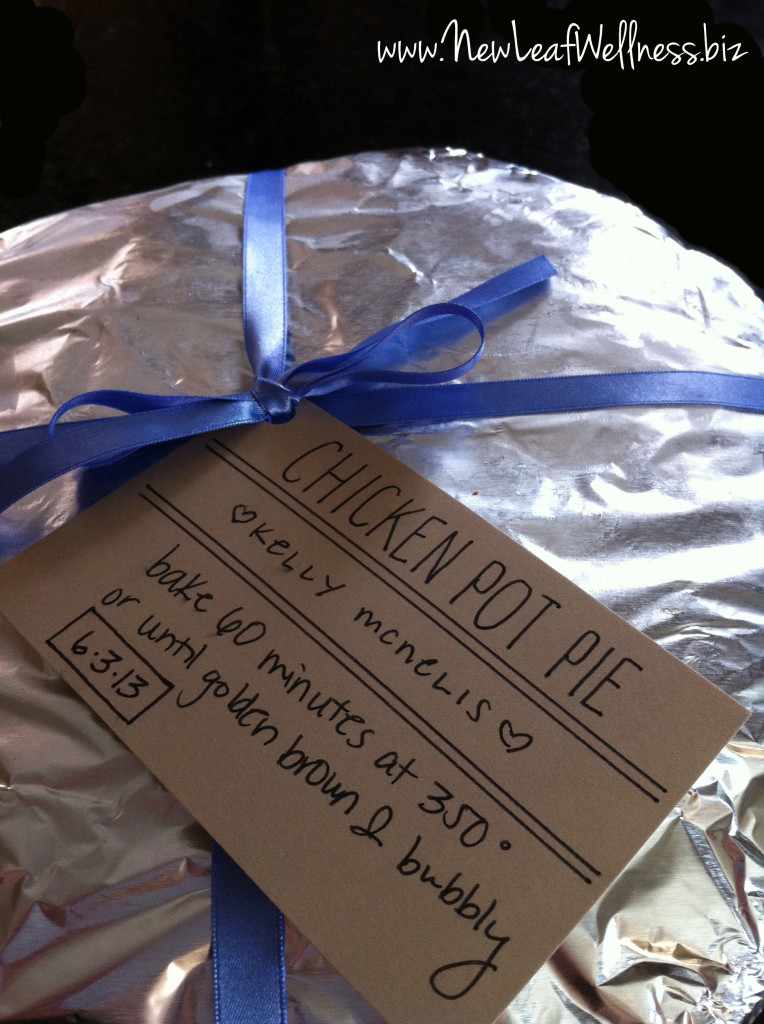 4. SWAP
Bring your recipe to hand out with your freezer meals or be prepared to share the link to your recipe online after the swap.  (Remember one of the benefits of swapping is trying new recipes, and this will allow you to re-make the ones that you love!)
If you have more than five women participating in your swap, figuring out which meals each person takes home can be hectic. Here's an easy way to do it: Assign each swap member a different color.  Ask the member to put their color by their pile of meals (You can use construction paper or simply write the name of the color on a white piece of paper).  Then put five pieces of paper for each color into a small brown paper bag.  Go around the swap, and let moms take turns picking paper out of the bag until they have five.  If they pick their own or a repeat of another in their hand, put it back in the bag.  (If this happens at the very bottom of the bag when all of the other colors are gone, ask moms to be nice and trade until it gets worked out.)
5. Take your meals home and enjoy!
———————
There you have it!  Everything you need to know to plan a super successful freezer meal swap.  As always, you can stay up-to-date on my meal planning tips and new recipes on Pinterest (@kellymcnelis).
Questions?  Post a comment below or email me anytime!  kelly@newleafwellness.biz
So what do you think?  Have you ever considered organizing a freezer meal swap?