Description
Hi! I'm Kelly, a mom of five, and I'm about to become your recipe-creating, list-making best friend!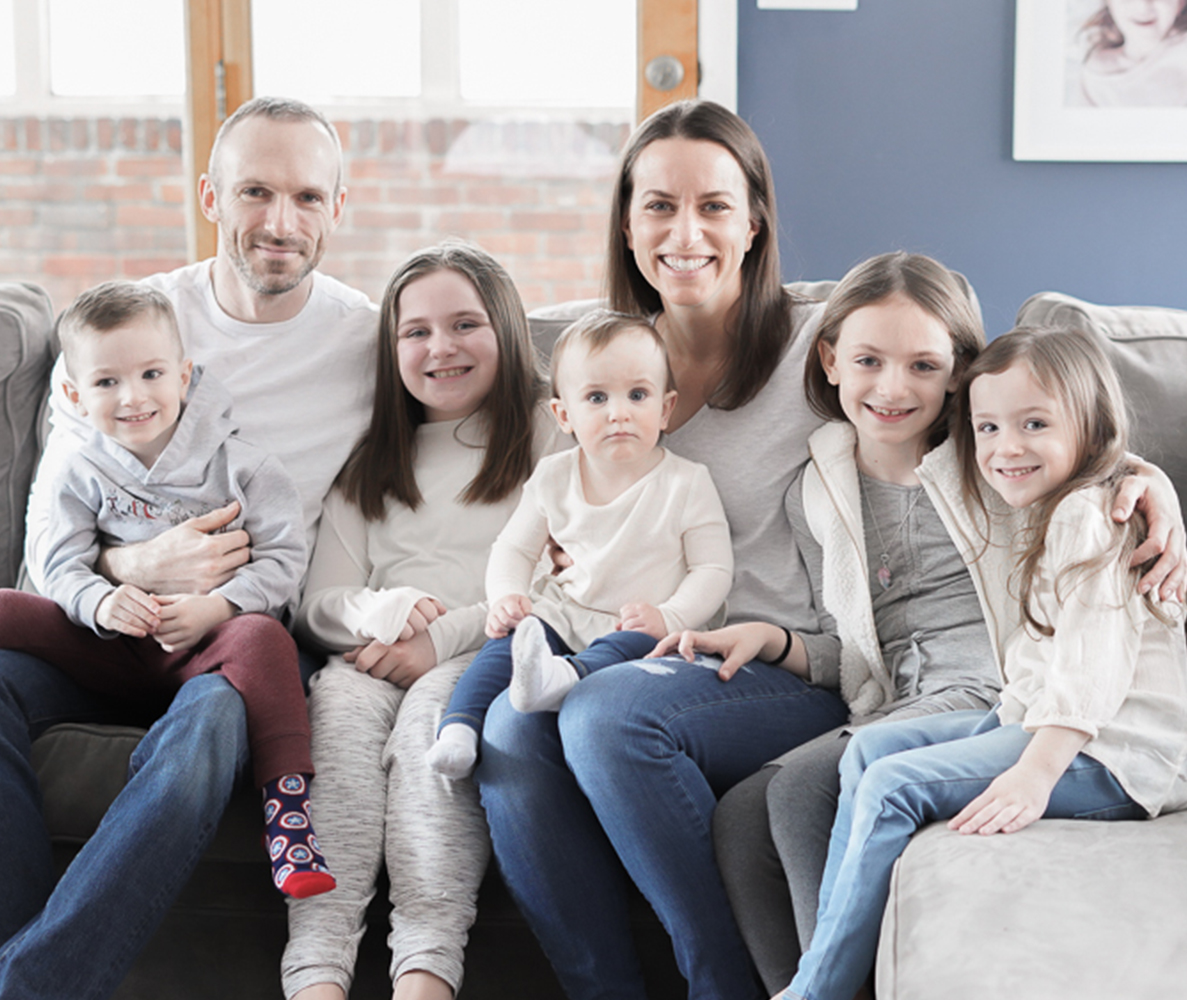 A few years ago, I polled my readers to see how I could help them simplify their lives. I thought they would want more cookbooks or a videos, but guess what everyone asked for? Meal plans!
I realized that I, or rather The Family Freezer, was the best friend that so many of my online readers needed.
They needed someone who could create, plan, and organize quick, healthy freezer recipes so that they wouldn't have to spend time doing that themselves. We know that everyone has distinct skills and strengths, well THESE are my skills! I am great at creating simple, healthy recipes for the freezer, and I am also great at organizing shopping lists and meal plans. I am your recipe-creating, list-making best friend!
2,095 people already bought our meal plans and loved them!
"Your meal plan totally changed my life. My husband and I both work full time and we have 3 kids: 1 in middle school, 1 in elementary and 1 in preschool - so we're busy! Lol! This has changed our dinner routine in that we actually have one instead of struggling each night to figure out what to make when we're already low on time. Having a plan and everything already prepared has simplified everything. The meals are all great and have even gotten some of my pickiest eaters to try and like new things! Can't thank you enough!!"

Chantal
"I recently bought your recipes for Sept, Oct and November. I have to say that I have a crockpot but rarely used it, I always felt like everything always tasted the same. You and your recipes have CHANGED our lives!! I am so grateful for your wonderful recipes, your Type A organization....the grocery list, the Freezer Meal Inventory Sheet and those labels, oh the labels. This is an absolute game changer for our family and the best part is that our daughter, she is 14 Months old loves every single meal! I feel like I'm winning on so many levels. I had to reach out and thank you for working so hard to help make our lives easier."

Jessica
"I had bought your fall meal plan and I can honestly say that I am so happy I did. I just had my first baby back in august and i felt like I never had time to make dinner , my husband and I were eating like crap / feeling like crap for weeks . I felt like since I was breast feeding my baby that I needed to eat better but I never had the time to prepare a meal. When I stumbled across the family freezer I thought I should give it a try . The meals are easy and quit to make( I can make them all during nap time) .. not to mention DELICIOUS . You have saved this tired newborn mamas life !! I can not thank you enough for these ideas and making them AFFORDABLE. My family appreciates you!!"

Marissa
"We became a one-income family in August and have needed to save money. Following the Fall meal plan has helped us stretch our grocery budget and has given me more time to enjoy my kiddos. The food is healthy, delicious, and worth every penny!"

Emma
"I make a bunch of freezer meals in prep for the birth of our first child. They were convenient, but all they tasted about the same. Then I stumbled upon your website and thought I would give it a shot. I loved the grocery lists and menus - I no longer had time to do that with a newborn. We have loved every single recipe so far! They each taste very different and we love the variety. Looking forward to making more!"

Alicia
"As we moved into the fall this year my wife and I were adjusting to life with our third child while our oldest child started kindergarten. It was overwhelming to figure out how we were going to be able to cook healthy meals for the family during the week. When we discovered your Fall Meal Plan it seemed like the perfect solution...and it has been! We order our groceries online using the shopping list and pick them up at the start of the month, which has been great for controlling the food budget. In the past we would leave the store with a cart full of food but no real plan for what to do with it and how we would put quality meals on the table. We would try to pull something together after work, meaning we either ate a junk convenience meal to get dinner in at a reasonable time or took the time to cook a good meal, but ruined the kids' bedtime routine because it was so late. Now we just drop the meal in the crockpot at the start of the day and serve the hungry kids as soon as we're home!"

Rhen
"Honestly, cooking stresses me out worse than any other aspect of household management.
I have purchased so many cookbooks and written down many recipes from friends and the Internet, hoping to become inspired. But really, what it boils down to is I don't have time to stare at a recipe and assemble all of this "stuff" when I'm being pulled 20 different ways! I gave your program a try and I honestly love it more than I can say. For THE first time in my life I feel "in control " of my kitchen. I don't feel hassled anymore by the tyranny of meal time or by people asking me that tired question, "what's for dinner"? I know exactly what's for dinner and in fact, it's cooking right now! This program also fulfills my strong need to "have my ducks in a row". I LOVE the act of packing the bags, sealing and stacking them. I enjoy gazing upon the result of my diligence and am excited to see what those bags turn out to taste like. In closing I just want to say, thank you for your hard work in putting this together. It really has taken so much stress off of me and I can tell you my husband is much happier knowing dinner will be ready when he gets home!

Ilsa
December Recipes
Salsa Verde Shredded Pork Tacos
Ranch Popcorn Chicken
Chicken Curry
Cabbage Rolls with Wild Rice
Orange Chicken
Steak Fajitas
Sweet Potato Lentil Chili
Steak Stir Fry and Bok Choy
Bacon Balsamic Chicken and Vegetables
Spiced Butternut Squash Soup
Honey Garlic Chicken and Peas
Beef Barley Stew
January Recipes
Italian-Style Pot Roast
Turkey Burger Macaroni
Beef and Cabbage Soup
Shredded Pork with Balsamic Pears
Tex Mex Beef and Cabbage
Five-Ingredient Kale and Chorizo Soup
Whole30 Crockpot Chili
Peanut Lime Chicken
Creamy Potato Soup
Lemon Chicken and Rice Soup
Ginger Chicken with Snow Peas
Black Bean Sweet Potato Chili
February Recipes
Chicken Noodle Soup
Pesto Chicken Quinoa Bowl
Vegan Korma
Pear Pork Tenderloin
Ground Beef Stroganoff
Spicy Sausage and Veggie Soup
Sausage-Stuffed Banana Peppers
Crockpot Cabbage Casserole
Healthy Minestrone Soup
Maple Pork Roast with Cinnamon Applesauce
Tuscan Chicken Tortellini
Spicy Beef Curry Stew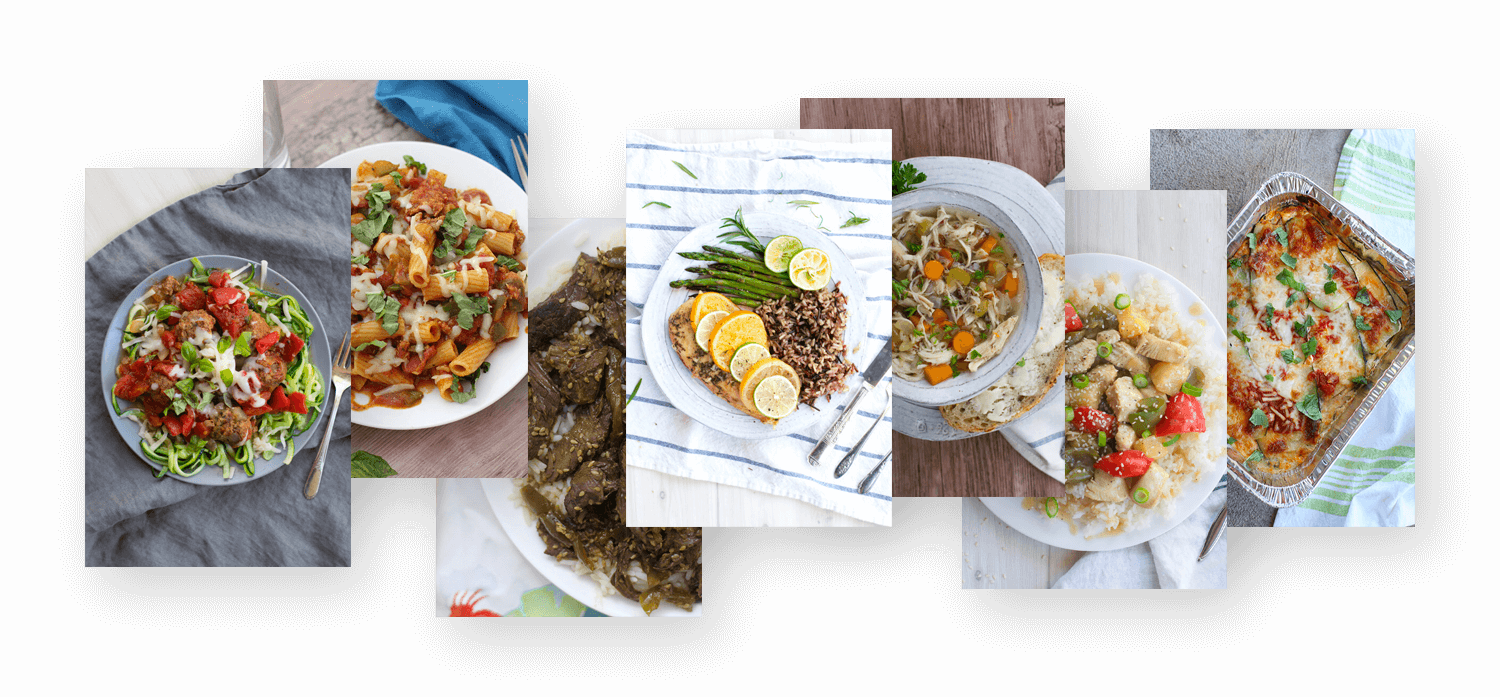 Is the Winter Meal Plan right for you?
You like simple recipes with ingredients that you can pronounce. (Most of our recipes have 10 ingredients or less.)
You don't have an hour to cook dinner every night. 
You're cooking for 2 or more people. (Most of the recipes have 4-6 servings. If you're cooking for two, eat the leftovers for lunch the next day or split the recipes in half.)
My Winter Meal Plan will make it easy for you to feed your family healthy meals on busy weeknights.
Chop the meat and veggies, and combine in freezer bags with sauces and spices.
Stack your meals in the freezer and store for up to three months.
Thaw overnight or in the morning and add to your crockpot.
Can you imagine having dinner on autopilot?
No last-minute trips to the grocery store.
No searching through your fridge for something to make.
No extra takeout.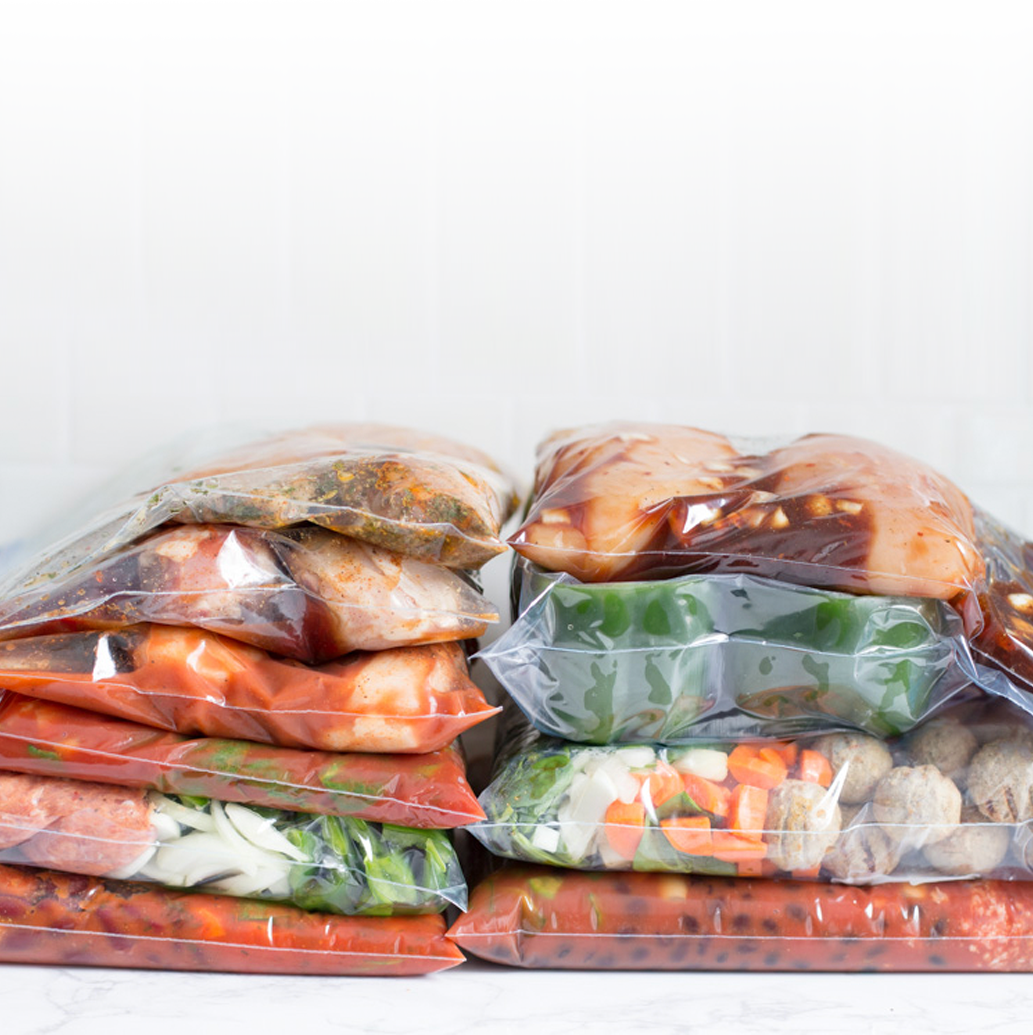 What's so great about the Winter Meal Plan?
The recipes are quick and easy to make.

None of the recipes require any pre-cooking, so each one can be prepped in 10 minutes or less. (I can prep a month's worth of meals in 1-2 hours and three months in less than six hours!) 

They're budget-friendly.

Most meals will six servings can be made for $12 or less. (I made all of the recipes in the Winter Meal Plan for $375, which works out to $10.42/meal.)

They're healthy and delicious! Most recipes include seasonal ingredients, like apples, butternut squash, cabbage, cauliflower, carrots, celery, kale, oranges, pears, potatoes, and sweet potatoes. (I made all of the meals myself and fed them to my picky family of seven.)
This week only, the Winter Meal Plan is available for only $24.95 (which works out to less than $9 per month!).  When I'm making freezer meals like this, I typically save $200/month or $600 over three months, so this is a no brainer!
What's the Catch?
It might sound too good to be true, but I promise this is the real deal. I don't have to pay a printer or publisher, so I'm able to pass on the savings to you. No strings attached.
Frequently Asked Questions
How is the Winter Freezer Meal different than what you share in your cookbooks and blog?
It's hard to understand the amazingness of the meal plan until you see it for yourself. The meal plan starts with a group of seasonal recipes and then spaces them out over the course of three months with printable calendars that you can edit yourself. I put all of my organizing skills to work creating a meal plan that will simplify your dinners like never before.
Do all of these crockpot recipes taste the same? Are they mushy?
I get it. Crockpot recipes have a bad rap. I'm excited to tell you that I spent YEARS creating and tweaking these recipes so they would be healthy and flavorful and then arranged them in this meal plan so you would have variety every single week. This meal plan also includes 12 recipes that can be made vegetarian, if you want, and 10 recipes that can be cooked on your stovetop in case you get sick of your crockpot. I literally thought of everything I could to make this the most helpful and practical meal plan possible.
Can these recipes be cooked in an Instant Pot pressure cooker?
If a recipe includes at least a cup of liquid it can be cooked in an Instant Pot pressure cooker. I add the meals completely frozen and then follow this cooking method:
1. Saute 5 minutes (to release some liquid)
2. Flip over and set to pressure cook according to the cut of meat in the recipe (25 minutes for whole chicken breasts, 15 minutes for chopped chicken breasts or sliced beef, and 60 minutes for roasts)
3. Natural release (I think this makes the meat more tender than a quick release)
Is it safe to freeze raw meat with veggies?
Yes. If you're nervous about combining raw meat with other ingredients, let me assure you that it's perfectly safe. The USDA Food Safety and Inspection Service explains that freezing food inactivates any microbes that are present (like bacteria, yeasts, and molds). You will also cook the food before eating it.
Are the recipes healthy?
Yes. You won't find any ingredients like condensed soup or soda pop. I try to eat as many vegetables as possible and very limited amounts of processed foods. The ingredients in my recipes are simple, healthy, and sold at most local grocery stores.
Do freezer meals actually taste good?
I love this question, because do I look like a girl who would eat something mediocre? Absolutely not! These meals aren't just good, they are DELICIOUS. I have personally taste-tested, created, and tweaked thousands of freezer meals to come up with a collection of recipes that are delicious enough to make again and again. The recipes in this meal plan are the best of the best that feature ingredients in season this winter.
How many servings are in each recipe?
It varies per recipe, but the average is 6. You can decrease the number of servings by splitting each recipe into two freezer bags and cooking in a smaller crockpot (2-4 quarts).
What materials do I need to freeze and cook these meals?
I freeze my crockpot meals in gallon-sized plastic freezer bags.
How long will a freezer meal last in the freezer?
At least three months, but, to be honest, I've never had a freezer meal go bad before.
Do you need to thaw crockpot freezer meals?
If I remember ahead of time, I thaw my crockpot freezer meals overnight in the refrigerator, but usually I do a "quick thaw" in the morning by running the bag under water. The meals aren't thawed 100%, but I'm able to break them apart enough to fit in the crockpot.
I'm in! What's next?
After purchasing a copy of the Winter Meal Plan, you will be automatically redirected to a page where you can view the PDF file on your computer, tablet, or smartphone. You will also be emailed a copy to save to your computer. The entire file is printer-friendly, so you can print the recipes, shopping lists, freezer meal labels, and calendars.